Planetarium Bar Tokyo: Japan's darkest bar
Planetarium Bar (プラネタリウム BAR) is one of a number of venues that comes up on those lists of "Top 10 Weird Themed Bars in Japan" and "Top 5 Crazy Cafes in Tokyo", but not many people seem to have actually visited this one. When I read about such venues on these types of lists and then I visit the bar/restaurant/cafe for myself, I'm often surprised at how different the place is to what I was expecting. Well, Planetarium Bar was certainly no exception to this rule!
I'd seen a couple of photos of the bar (from the bar's official site) which made it look reasonably spacious, modern and pretty classy. The website also gives the impression of a sophisticated, flash bar. I'm not saying that it was not modern or not classy, but in reality it seemed different to those photos.
When we got out of the lift, the door was partly open. As we opened it, a doorbell (an actual bell) rang and we realised we were walking into a pretty small place. A guy let us in (we think he may have been the owner) and showed us the way to our seat using a red lit torch. There was one other couple there, and they left shortly after we arrived.
We were then given a hot towel each, and an LED tea-light candle with which to read the menu.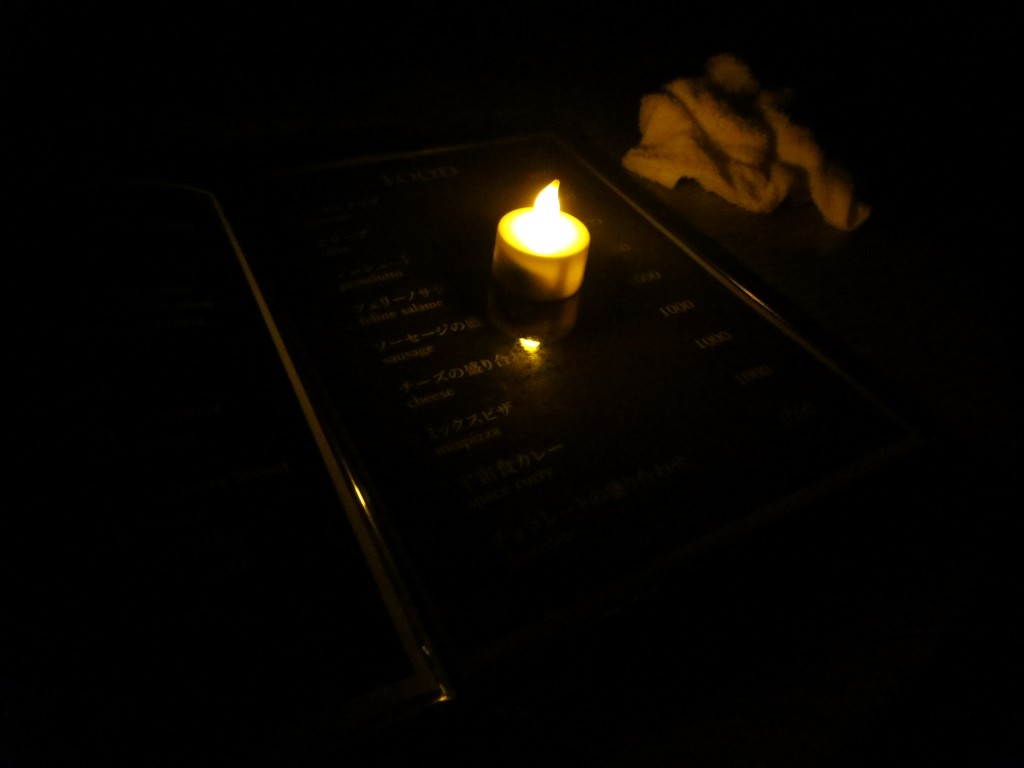 It felt more like we were in someone's apartment than in a bar. The layout of the bar really did feel like an open plan lounge room – we could only imagine that there must have been a bedroom off to the side. Even the bathroom (whilst nice enough) was like a bathroom in an apartment. The main seating area is under a domed ceiling, and a small home planetarium (a Megastar Zero Platinum, to be precise) projects stars here.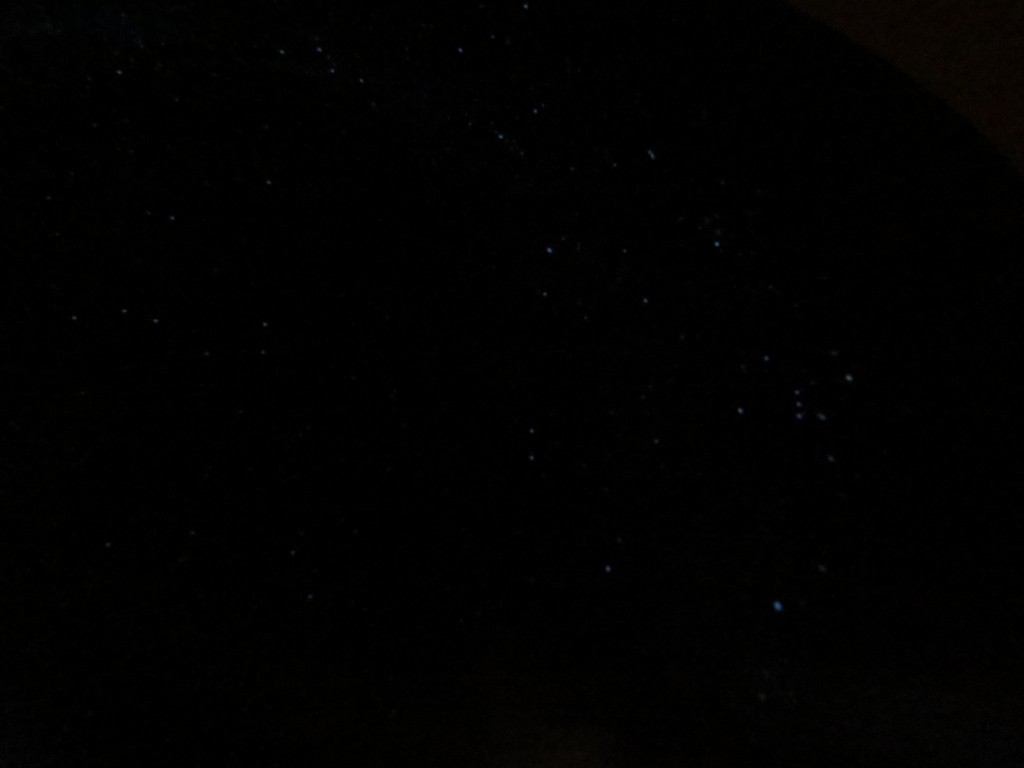 At first it was slightly awkward – as if we were sitting in someone's apartment, in the dark, drinking their alcohol, but as we realised that this is probably business as usual at the Planetarium Bar, we got used to it and started to appreciate having a quite place to sit and drink without the endless crowds of Tokyo. Another couple arrived not long before we left.
At one point our host used a remote control to open the curtains, displaying a great view out the window of the Tokyo skyline.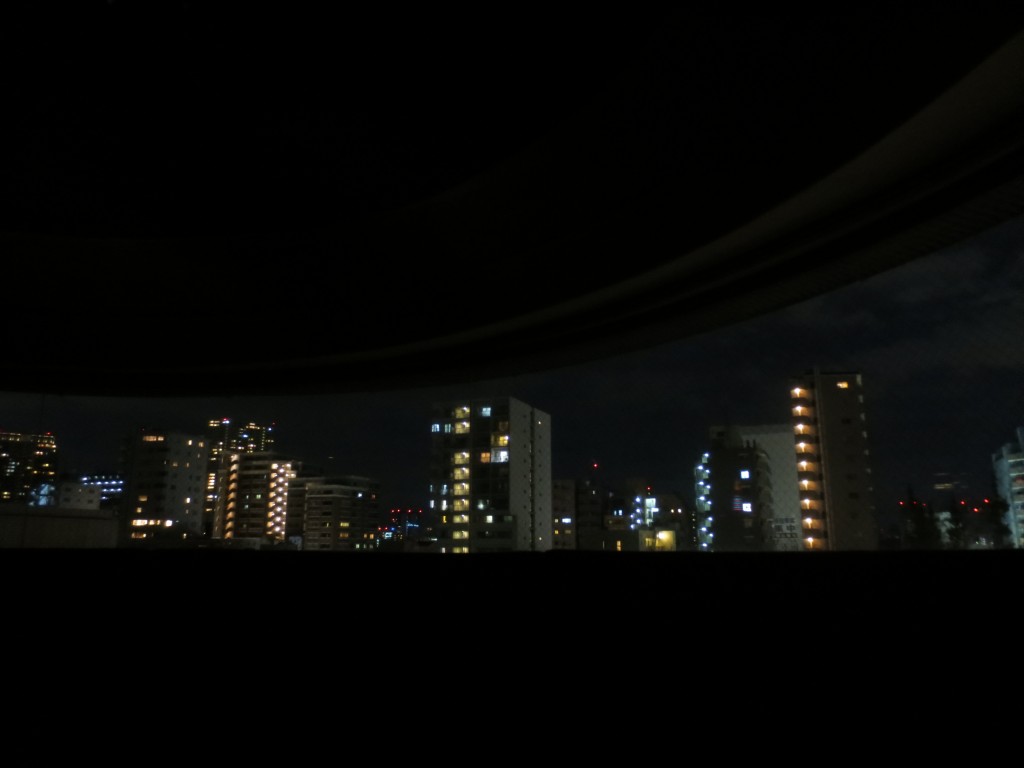 The pricing structure for Planetarium Bar is – at the time of writing this – per person:
1 drink

¥2,100 (tax & service fee included)

2 drinks

¥3,150 (tax & service fee included)

Unlimited drinks

¥4,200 (tax & service fee included)
This is for a two-hour sitting. Food, wine and champagne bottles can be purchased on top of this.
We went for the two drinks option (this comes to roughly the same price as buying two full-priced cocktails in Sydney), and we didn't eat there. The drinks list was interesting, whereas the food is mostly just finger food.
We actually attempted to go to this bar a couple of nights earlier, but when we arrived it was full. As a guess I'd say that about 25 people would fit in there at a time. On our second (more successful) attempt, we had our hotel call and make a booking ahead of time. That night was much more quiet anyway, but I'd recommend calling ahead to make a booking just to be sure.
All in all, I did like Planetarium Bar. It's something different, and sometimes it's nice to have a change of scenery and sit in a small, very quiet bar for a quite drink and a chat. I'd recommend this for couples or very small groups. Although you can get the unlimited drinks deal, this doesn't seem like the place for a big night out. And although it might show up on lists of weirdest, craziest bars in Japan, it doesn't have the same gimmicky feel that a lot of the others have.
Being almost completely dark in the bar, I wasn't able to take a photo to show what it looked like – and really, we couldn't see what it looked like anyway. In case you're wondering what it looks like with the lights on, here's a shot from Google Street View: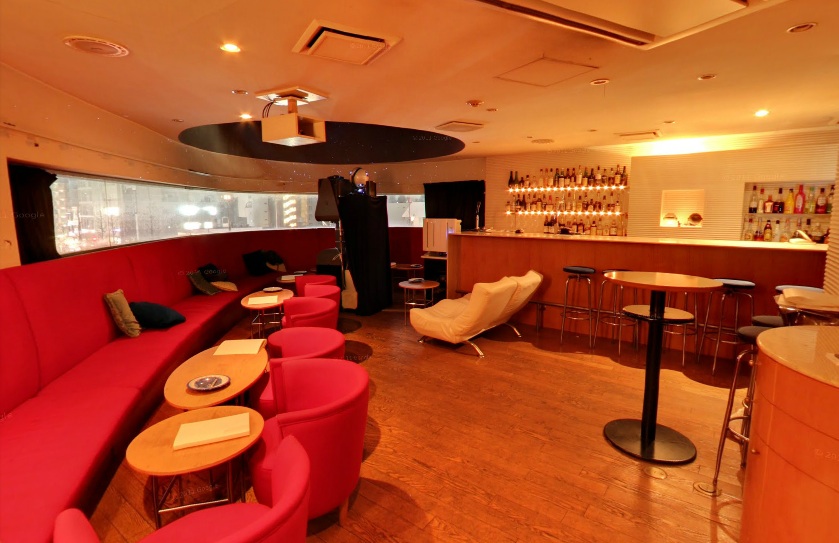 How to get there:
The closest station is Shirokanedai. Since we stay in Shibuya, we get the JR Yamanote Line to Meguro, change to the Tokyo Metro Nanboku Line and then exit at Shirokanedai Station. This takes about twelve minutes.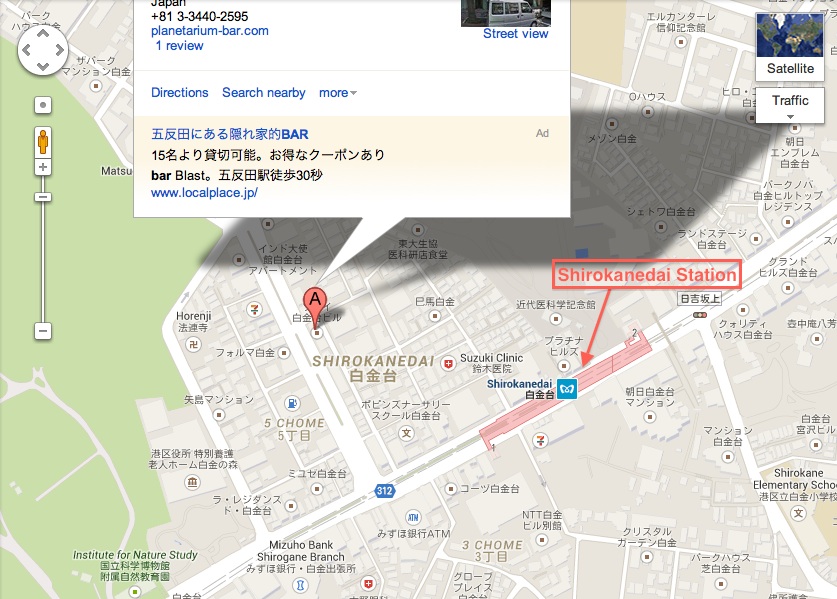 Once out of the station, have a look at the map that you'll find at street level. Essentially you'll just need to walk down the main road that you should be standing on at this point, and then turn right at a large intersection and walk until you see this building: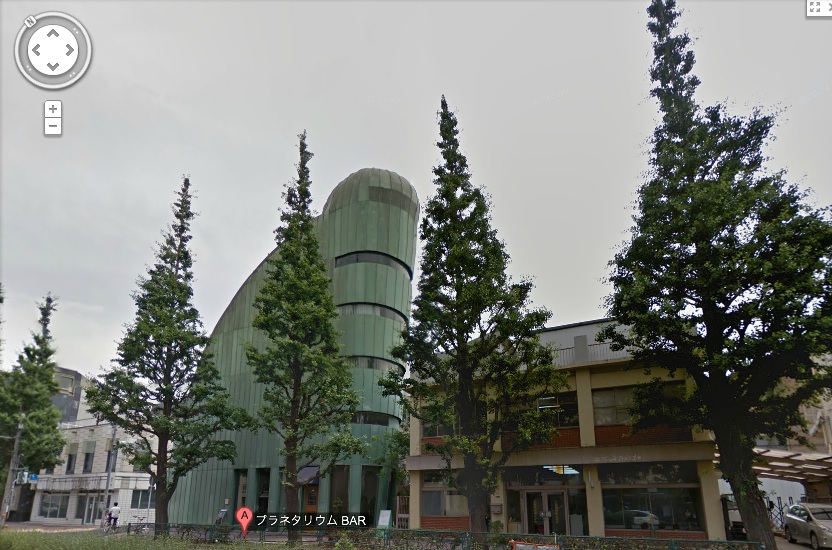 The building is hard to miss. The bar is in the dome on the top floor. (Thanks to Google Street View for the photo!)
Of course, it'll be dark when you visit, so keep an eye out for the sign with the LED fairy lights: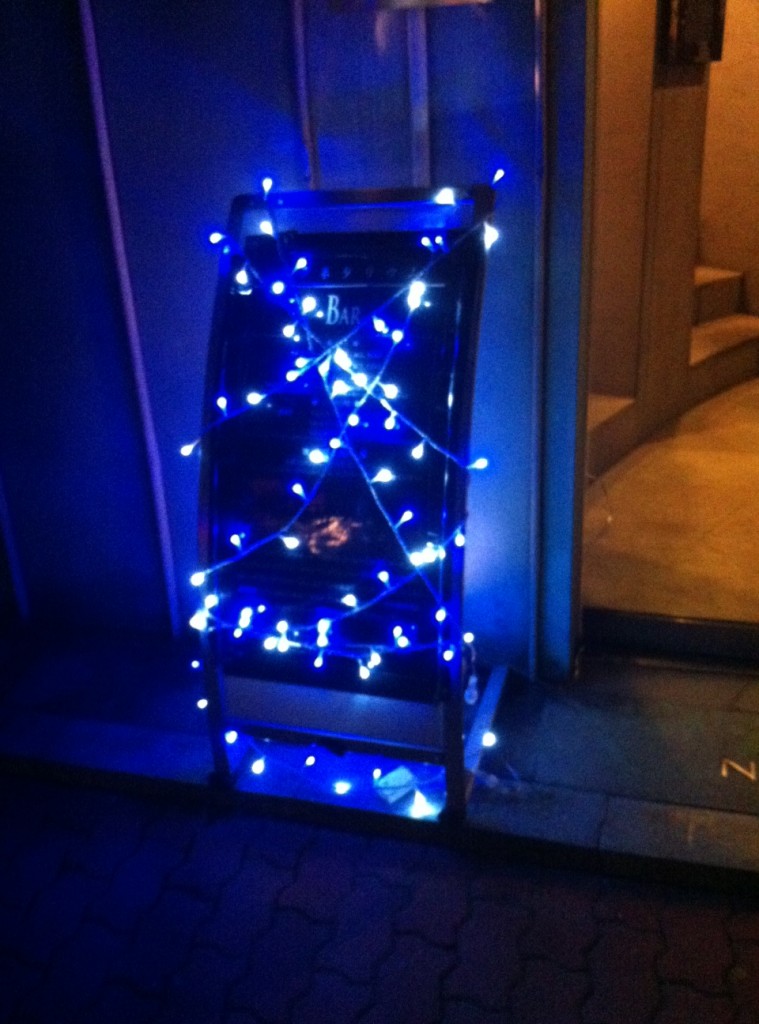 Go in the door, up the concrete steps and take the lift to the 5th floor.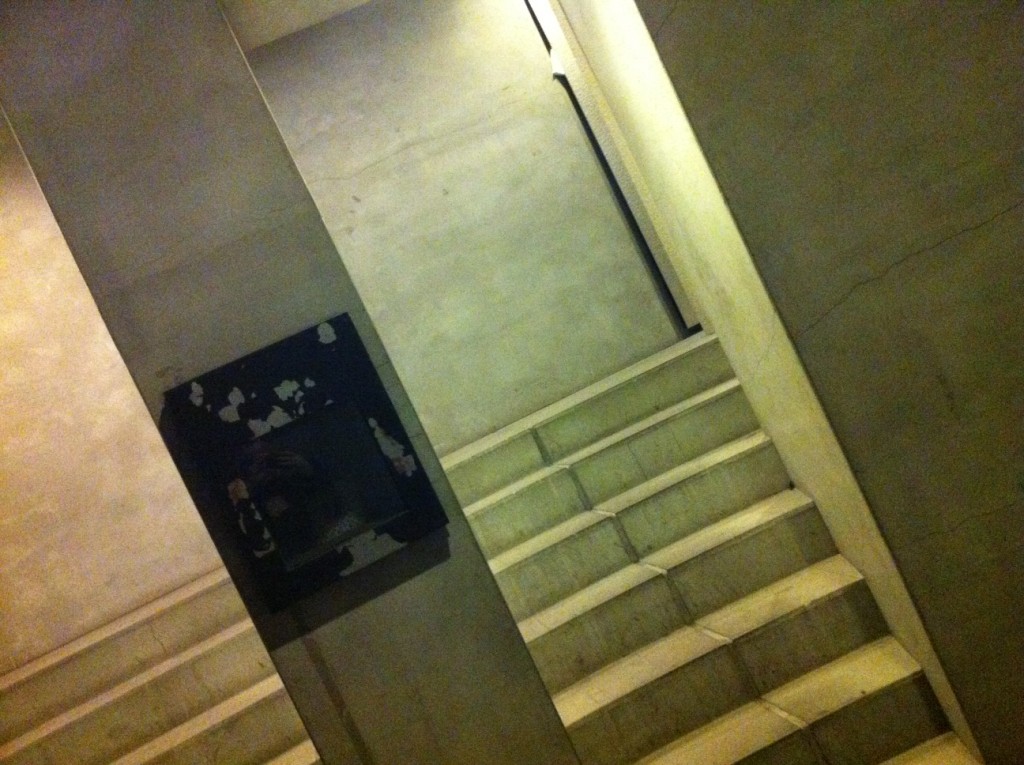 Address:
Yubinbango108-0071
Minato-ku, Tokyo Shirokanedai 4-9-23 Tsutsui
Shirokanedai Building 5F
For the official Planetarium Bar website: http://www.planetarium-bar.com/