Tokyo DisneySea Hotel MiraCosta: rooms, facilities and comparisons
Tokyo DisneySea Hotel MiraCosta is five-star hotel located within the DisneySea theme park (right next door to Tokyo Disneyland). The jewel on the crown of Tokyo Disney Resort's official hotels, staying at MiraCosta means enjoying both luxury accommodation and the convenience of staying inside the park.
The Italian style hotel makes up part of the scenery of Tokyo DisneySea which includes a   Mediterranean Harbor and a Venetian canal complete with gondolas. Some of the rooms offer gorgeous views over 'Venice' while others have magnificent views of the harbor where you can enjoy the water shows and fireworks from your own window. In this post we'll compare two of the room types and look at the hotel facilities.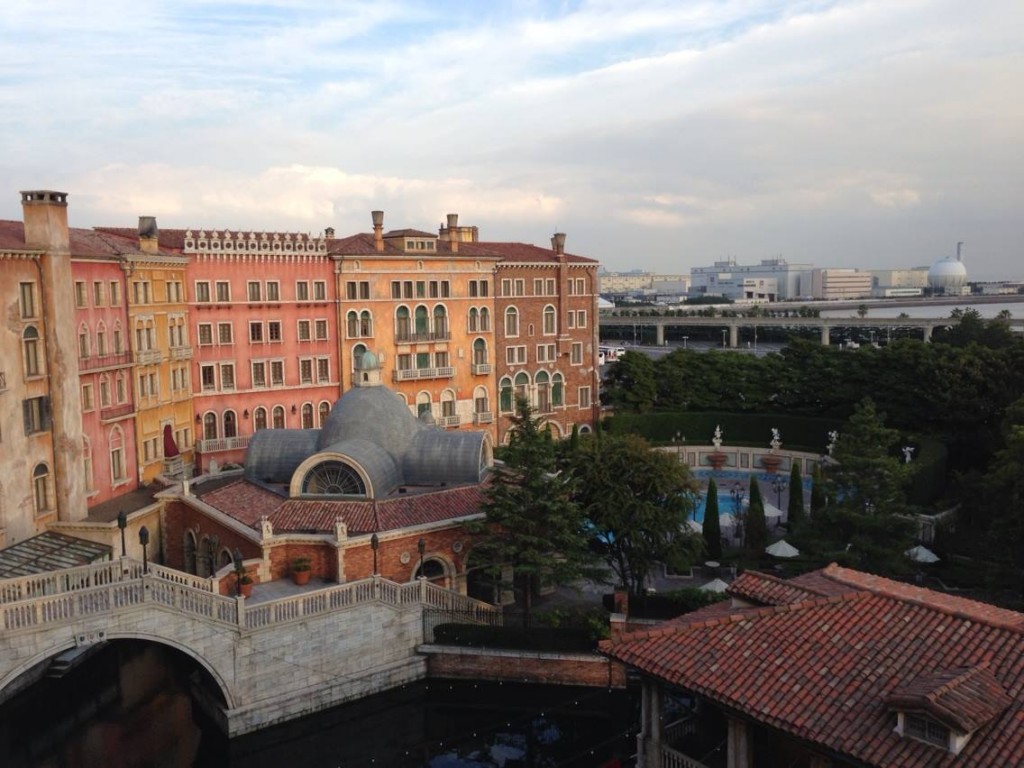 Our first trip to DisneySea was in 2012, and I recall looking up at the hotel as I exited the park that night, and noticing the little people moving in the windows of the hotel. That's when I realised that it wasn't just there for decoration but a real hotel that real people could stay in. The magic of Disney had captured my heart and remember thinking, "I wish we could be rich enough to stay there".
The following year, that's exactly what we did. Well no, we didn't suddenly find ourselves filthy rich, but we saved some extra money for our trip so that we could spend a night at MiraCosta. "We'll only ever be able to do it this one time," we said, and so we booked a 'Speciale' room (known as a Venice Side Terrace Room) with a huge balcony overlooking the Venetian canals. Only we didn't just stay there once. We stayed there again in 2014 for two nights in a Venice Side Superior Room, and we've just booked another stay there this year too!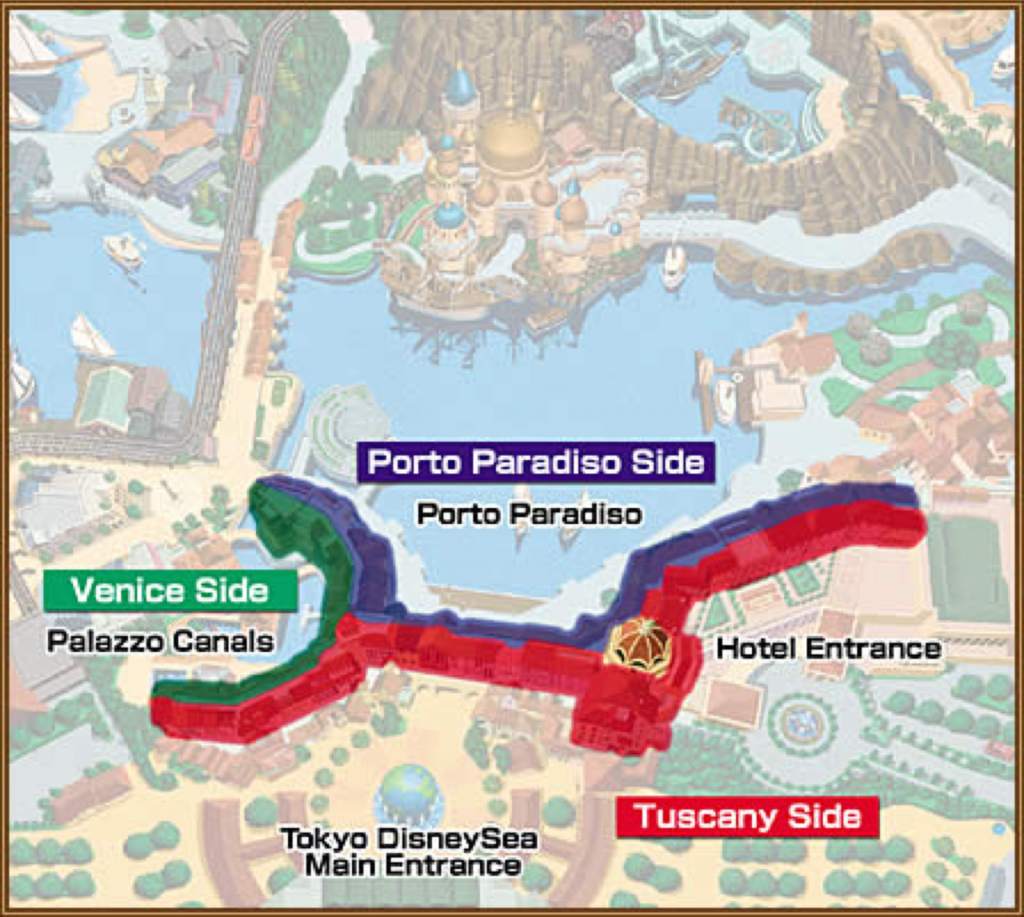 Above: The layout of Hotel MiraCosta showing the different sections of the hotel – taken from MiraCosta's website.
The red area is the Tuscany Side, which faces over the entrance to the hotel and the entrance to the park. Previously the rooms with the lowest prices, these are being renovated as Mickey themed rooms and although amongst the lower priced rooms, are no longer the cheapest.
The blue area is the Porto Paradiso Side, which is probably the most popular area. Why? Because it looks over the Mediterranean Harbor. It's inspired by the seaport town of Portofino and offers the best views if you want to be able to watch the water shows and fireworks from your room. Some of the most expensive rooms are located on this side, but the Partial View – the lowest price rooms – are also in this area. However, if you're looking to save money on a Partial View room, you'll probably find that you can only book these one night at a time.
The green area is the Venice Side. These rooms either have gorgeous views of the Palazzo Canals and parts of the park (depending on which floor you stay on), or the Terme Venezia Spa & Pool area.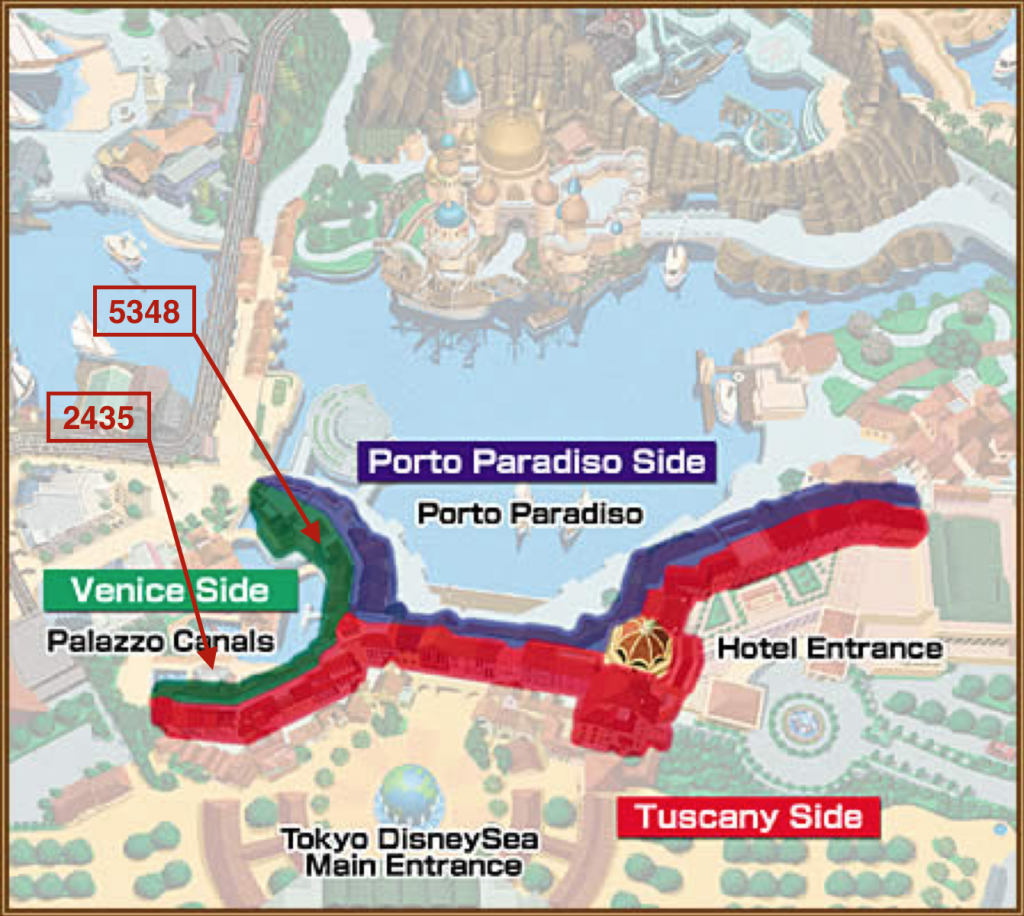 Both of our stays have been in the Venice Side. The first time, because this is where the lowest priced Speciale rooms are located, and the second time because we forgot to jump online and book our room until later in the day, by which time our room options were limited. We've stayed in Speciale Venice Side Terrace Room 5348 and Venice Side Superior Room 2435.
At the time of writing, Hotel MiraCosta is in the process of renovating a lot of its rooms. What this means is that later on in the year, the interior of the rooms will be a little different to the photos in this post. Right now if you're booking a room for later in the year you might notice that there are differently priced rooms depending on whether or not they will have been renovated by the time you stay – the renovated rooms are of course going to cost more.
I'll be writing a post with plenty of pictures of the newly renovated room after our stay later in the year.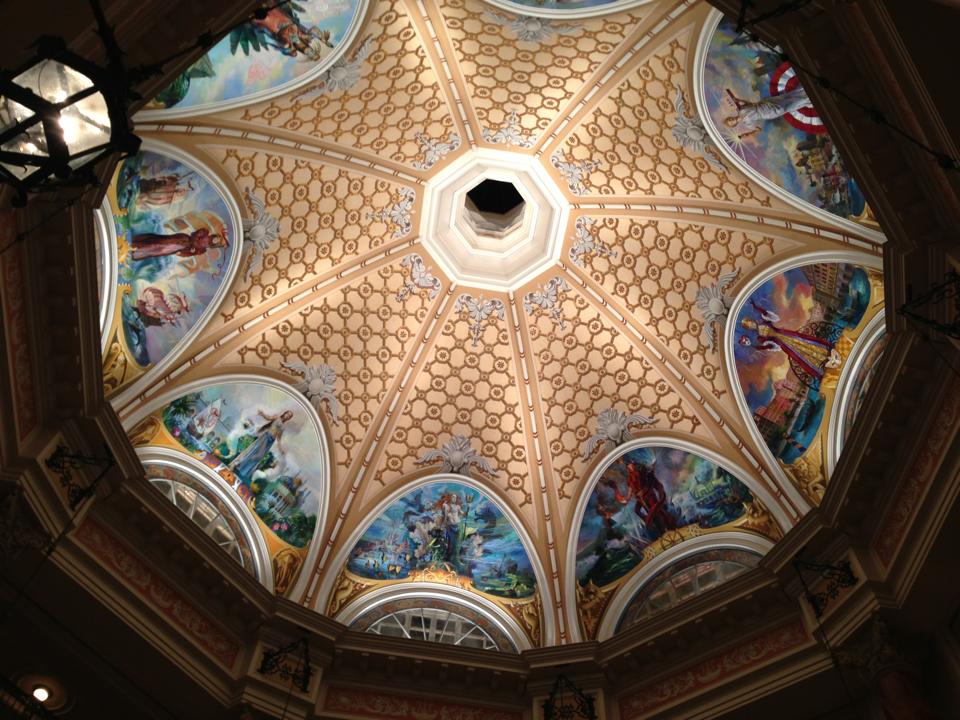 The Lobby
The first thing you'll notice when you enter the hotel is of course the lobby, and you'll know straight away that you've entered a five-star luxury hotel.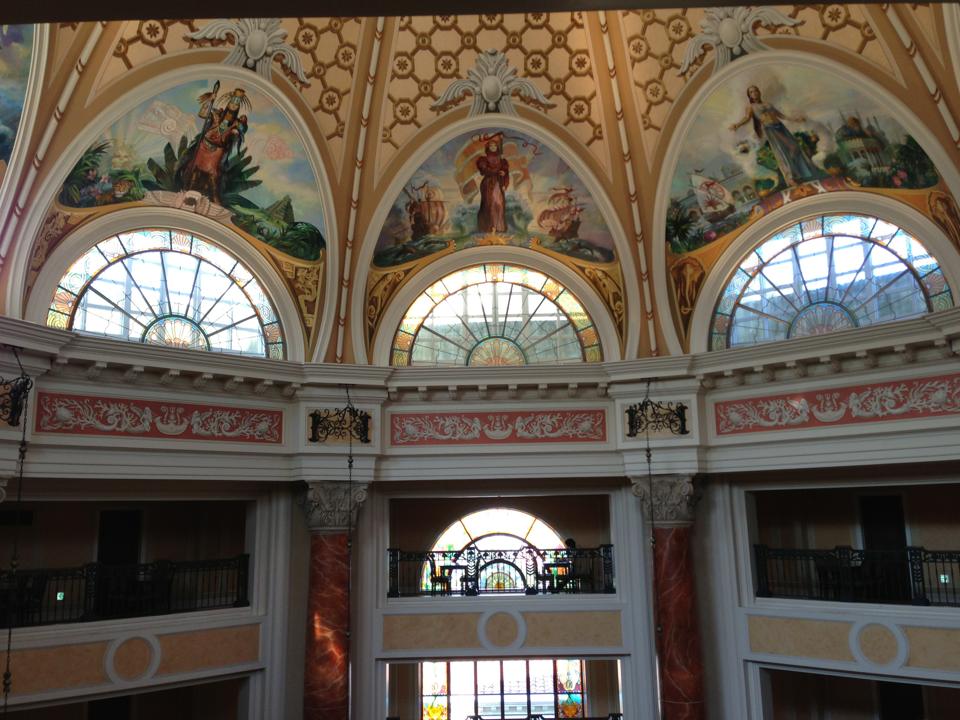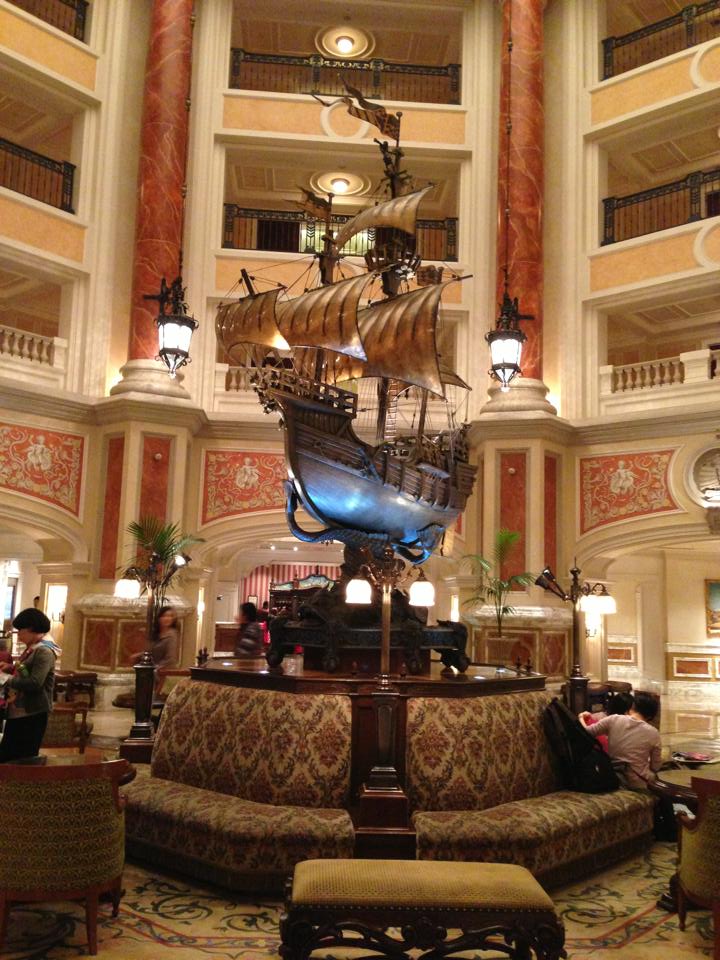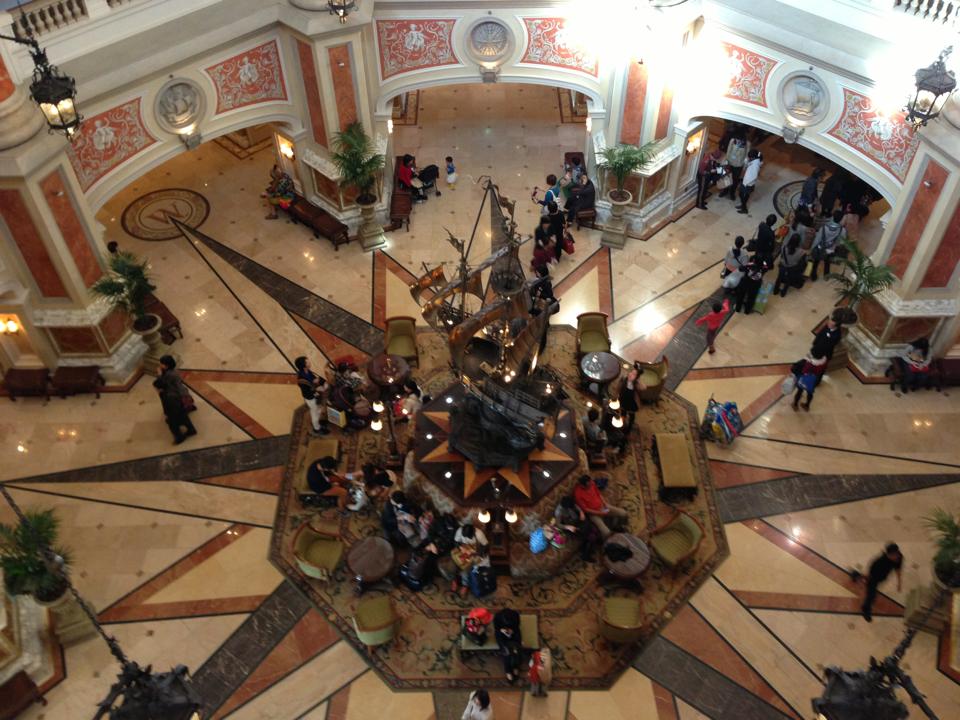 The lobby becomes quite busy during check-in and check-out, but there are plenty of seats where you can wait.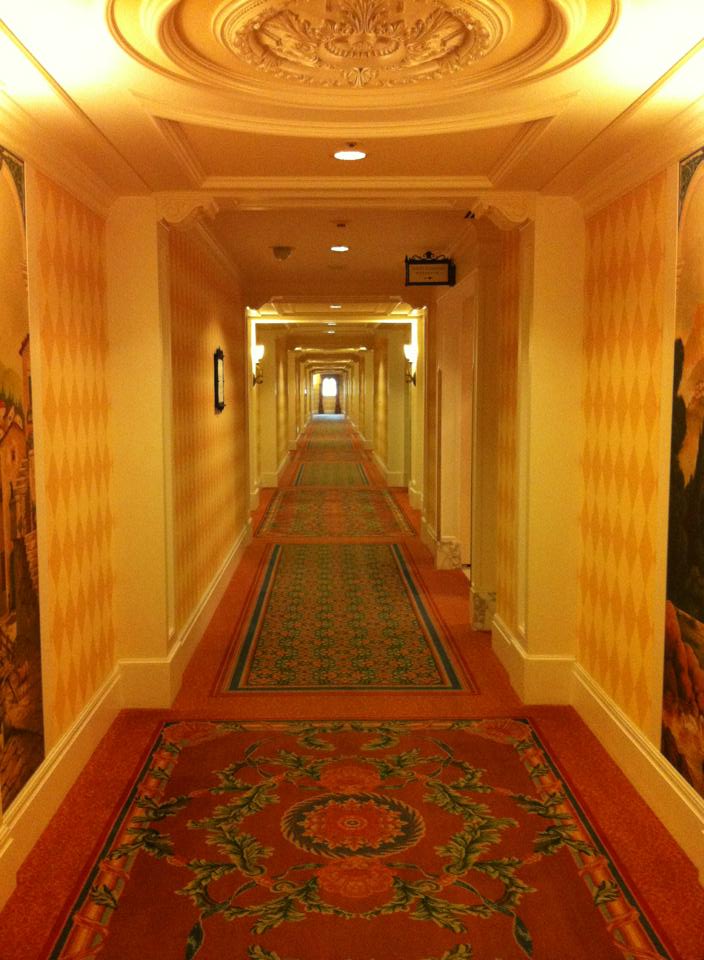 One of the long and winding corridors of Hotel MiraCosta. It's no wonder that cast members show you to your room when you check in!
There are some things that will be the same regardless of the room type: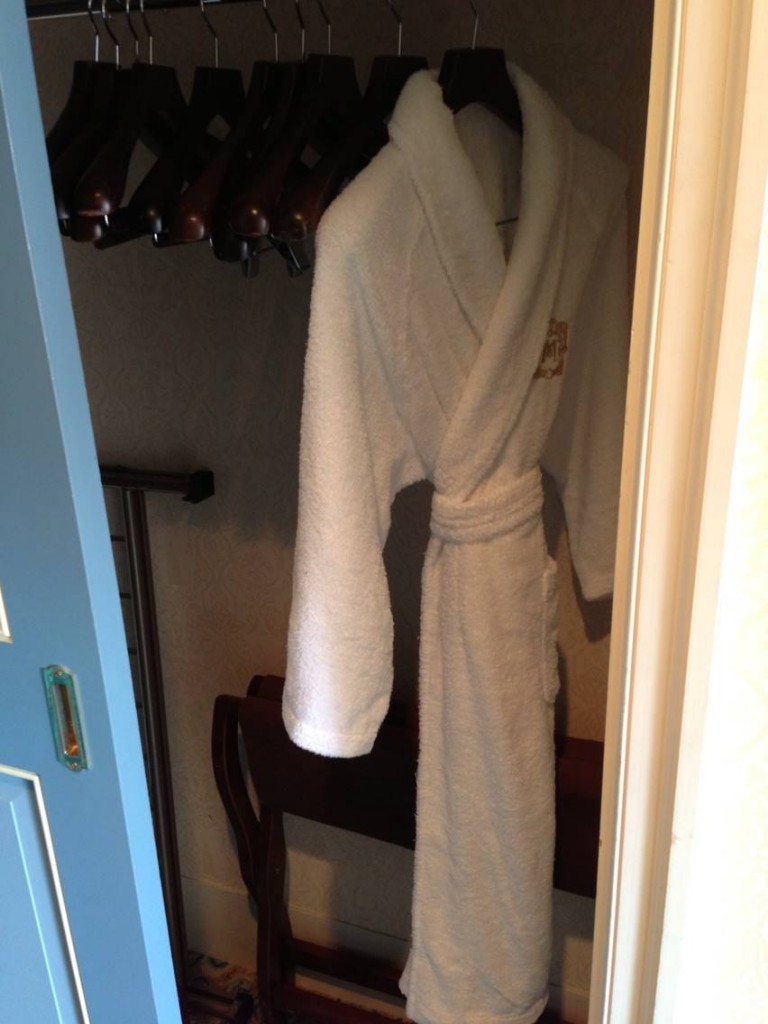 MiraCosta bathrobes. No, you can't take these home.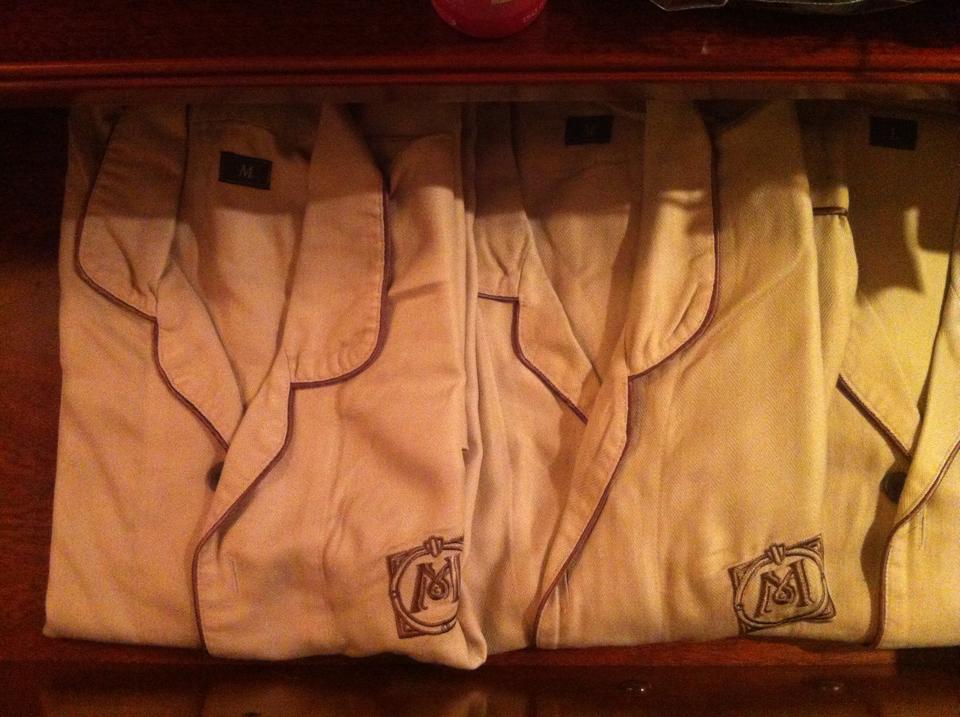 MiraCosta pyjamas. No, you can't take these home either.
You can keep the slippers, though.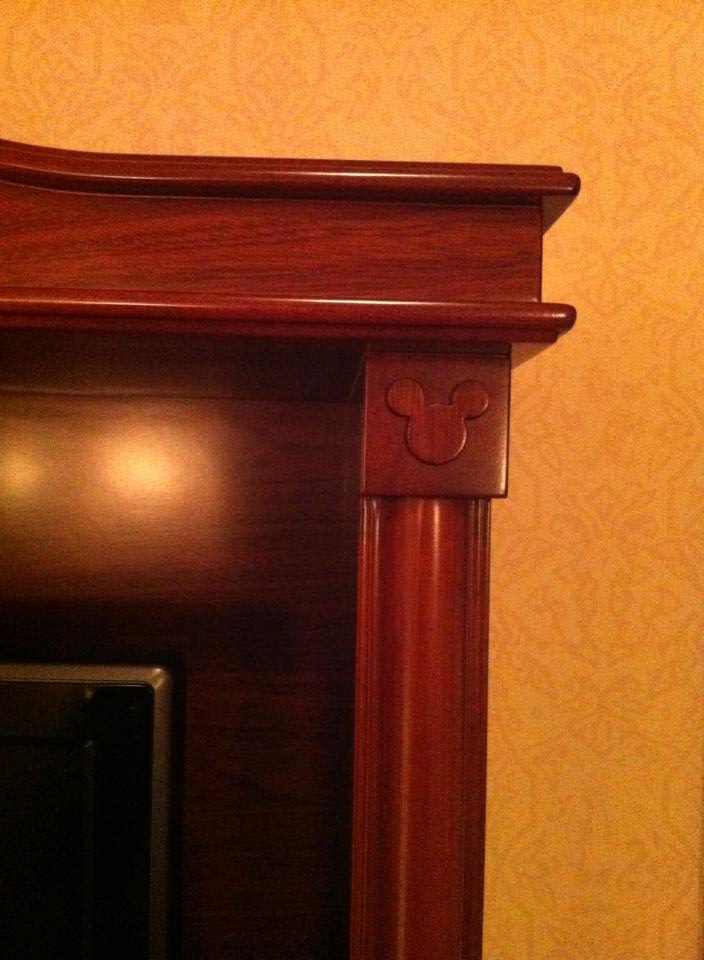 The furniture has hints of Disney in it. Here's Mickey Mouse in the TV cabinet.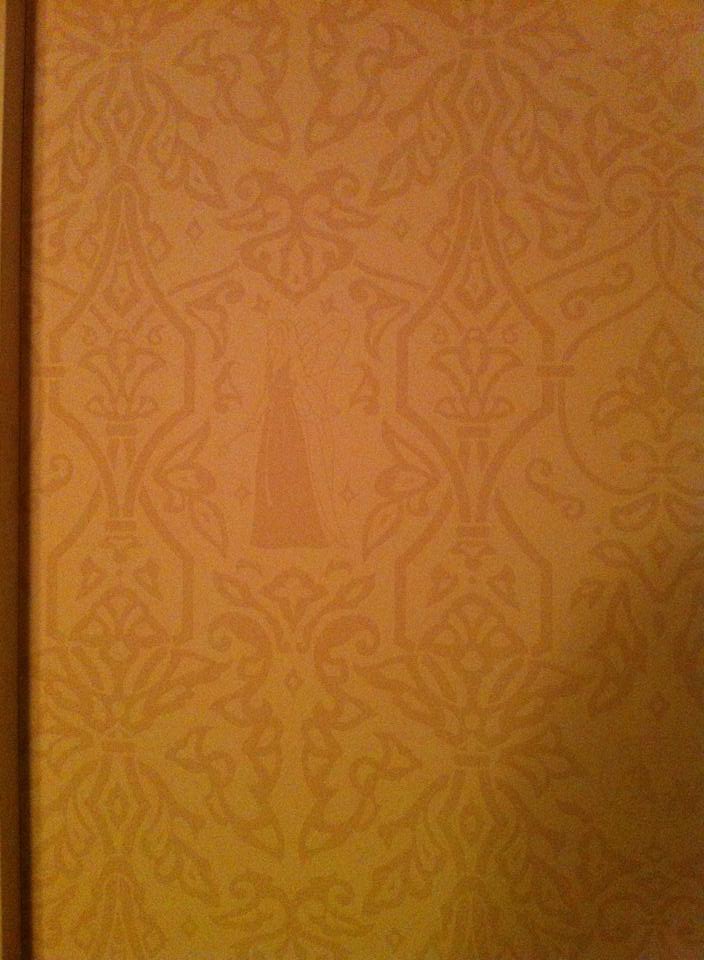 Various Disney characters can be found in the wallpaper if you look closely.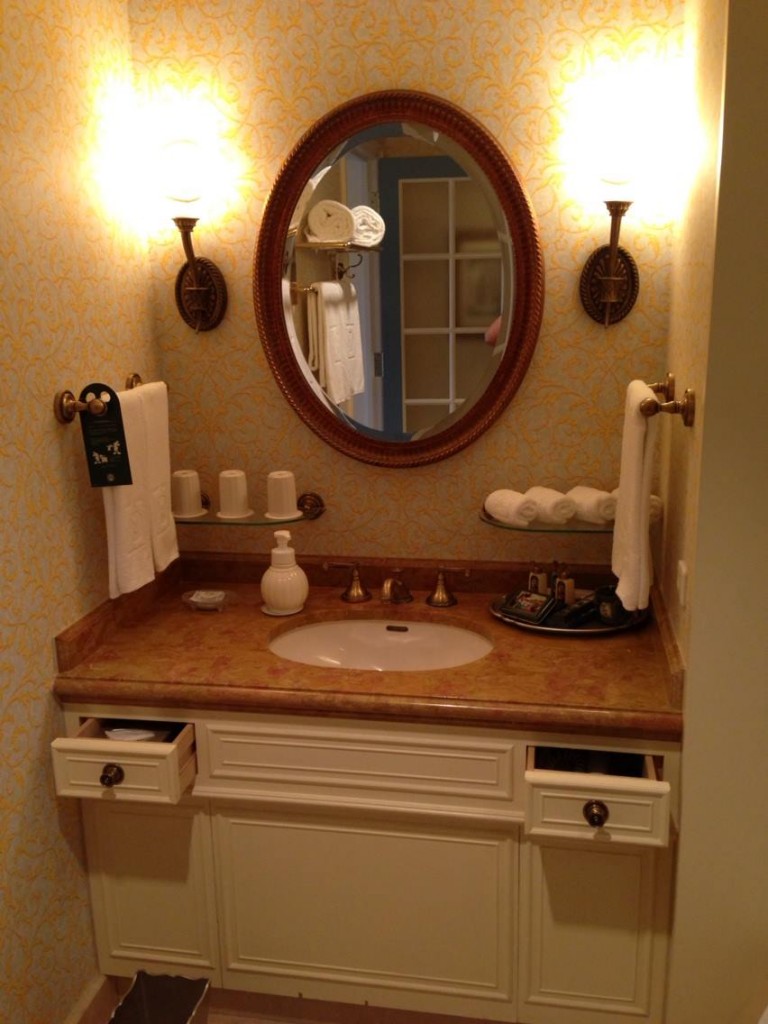 The vanity is well stocked with MiraCosta hand and face towels, as well as plenty of exclusive DisneySea MiraCosta shampoos, toothbrushes, etc, which of course you can keep.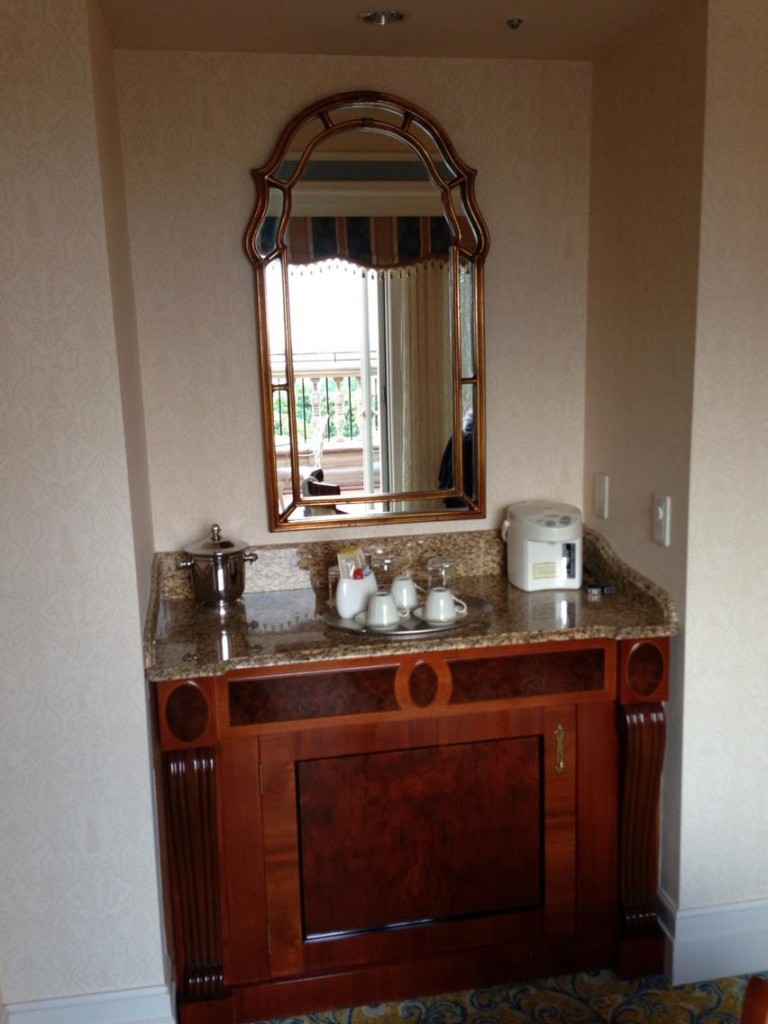 Tea and coffee facilities. The bar fridge is hidden behind the carved wooden cabinet.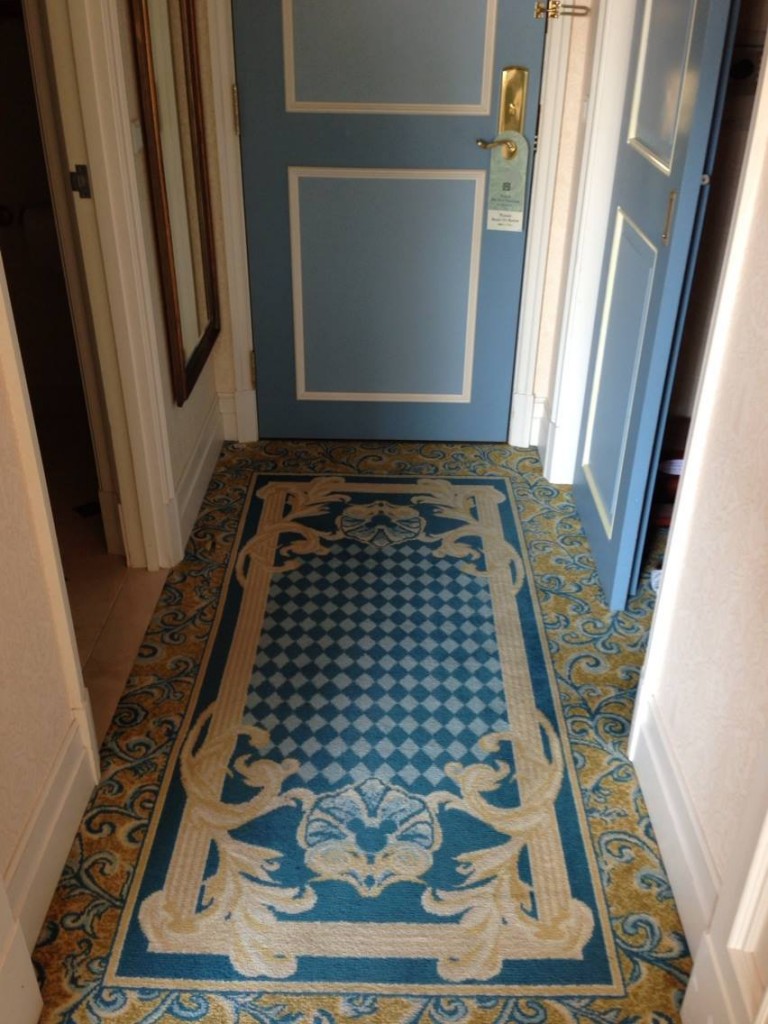 Spot Mickey in the carpet!
Other Facilities
MiraCosta also has a spa, indoor and outdoor pool, sauna and gym (Terme Venezia) open to guests at an additional cost. It is not open at all times and there are restrictions such as ensuring that visible tattoos are covered.
There is also a pool bar, Hippocampi, with drinks, snacks and desserts.
MickeyAngelo Gifts is a shop inside the hotel exclusively for MiraCosta guests. It's like a combination of a small convenience store and souvenir shop where you can buy snacks and other items as well as exclusive MiraCosta gifts merchandise. It's open 8am-11pm which is handy.
Another perk of staying at MiraCosta is that there's an entrance to the hotel from the park, especially for hotel guests. This means that you can quickly and easy get in and out of the hotel which is very convenient if you want to pop back to your room to grab a jacket or anything like that. We find that we use this multiple times a day.
Restaurants
DisneySea Hotel MiraCosta has three restaurants, each with their own theme. Oceano is has a Mediterranean flavour (excuse the pun), Silk Road Garden serves Chinese cuisine, and Bellavista Lounge is Italian.
Oceano has both a buffet and a rather fancy course menu option. Click here to read my review of Oceano's course menu.
Venice Side Superior Room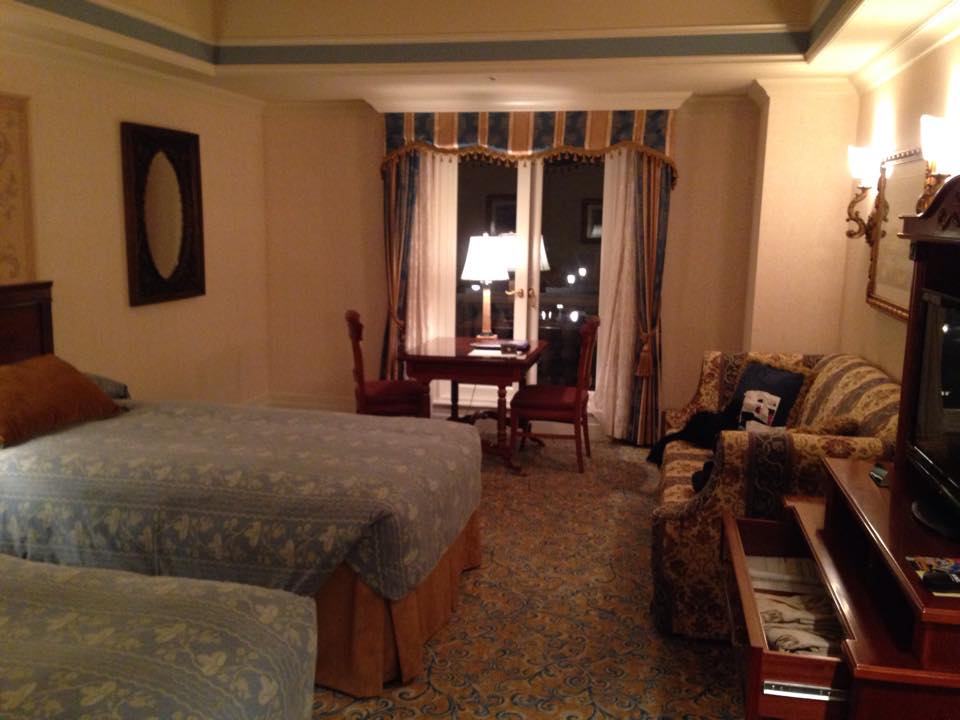 The windows/doors do open, but only by a crack. It's enough to let a hint of fresh air in and that's it. If you want to be able to fully open the doors and step out onto a balcony, you'll may need to consider one of the Speciale rooms instead.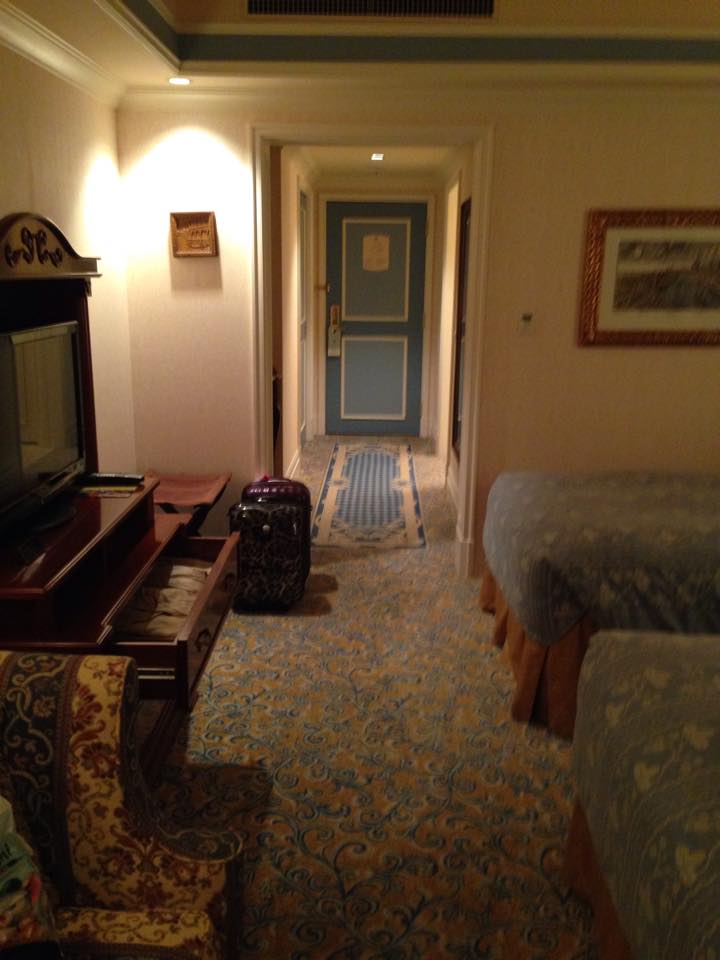 Separate beds. At first I thought this was because we didn't book our room soon enough, but I think all of the superior rooms (pre-renovation) are like this. After the renovations this will change, and you can find some pictures of what they should look like at the bottom of this page.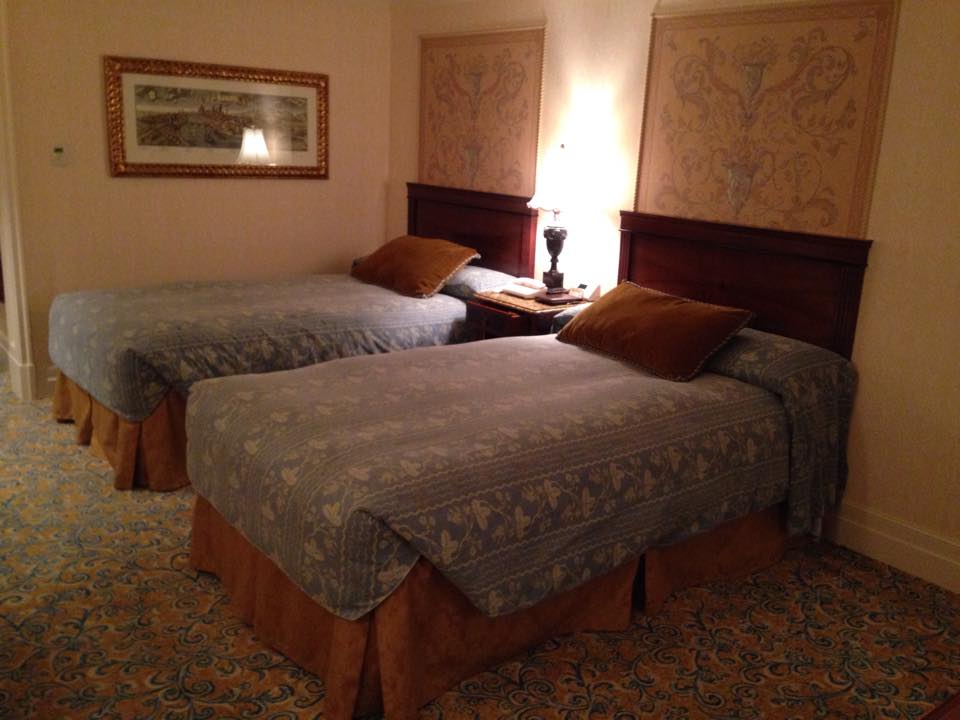 I didn't take any photos of the bathroom, but it's separate to the toilet, and is a large version of those typical bath/shower rooms that you'll find in most Japanese hotels.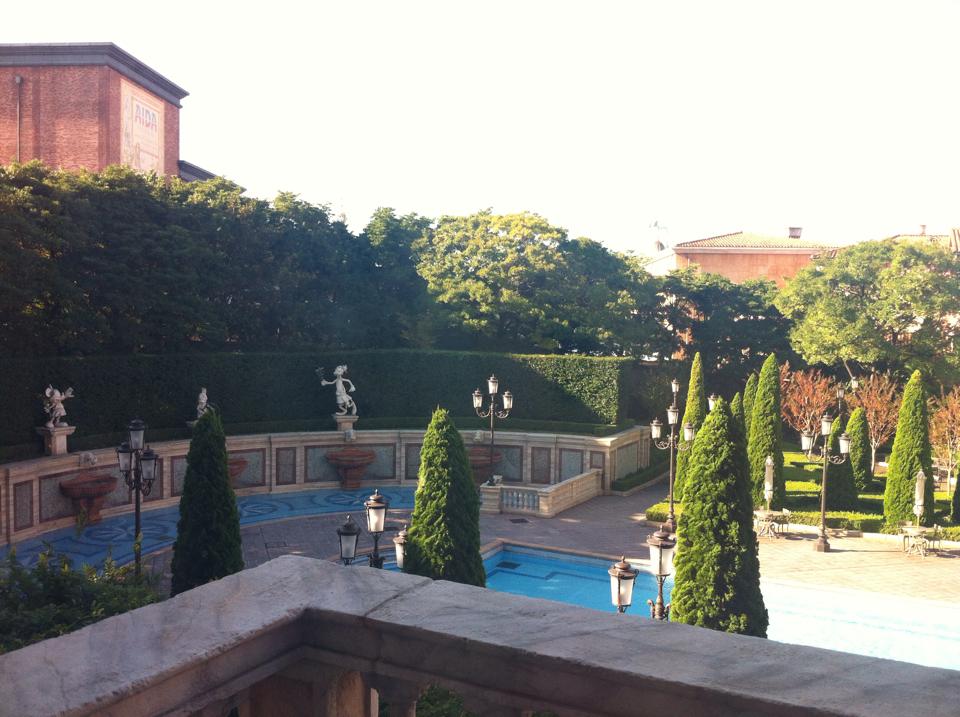 View of Terme Venezia Spa & Pool area from Venice Side Superior Room 2435. Admittedly we would have preferred a view of the canal, but realistically, during our waking hours we'd rather be enjoying Disneyland and DisneySea than gazing out of the hotel window.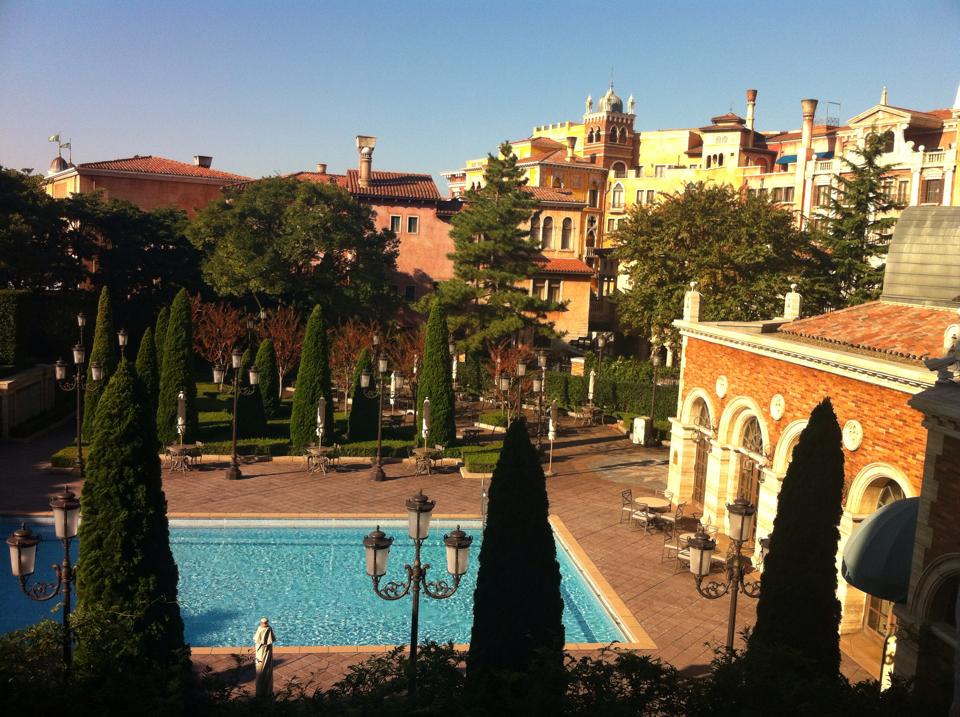 View of Terme Venezia Spa & Pool area from Venice Side Superior Room 2435. In the very top right corner you can see the terrace of the Speciale room we stayed in the previous year.
Speciale Room – Venice Side Terrace Room
We stayed in Speciale Venice Side Terrace Room 5348 in 2013. Here it is from the outside – you can see it from Ristorante di Canaletto and the Palazzo Canals.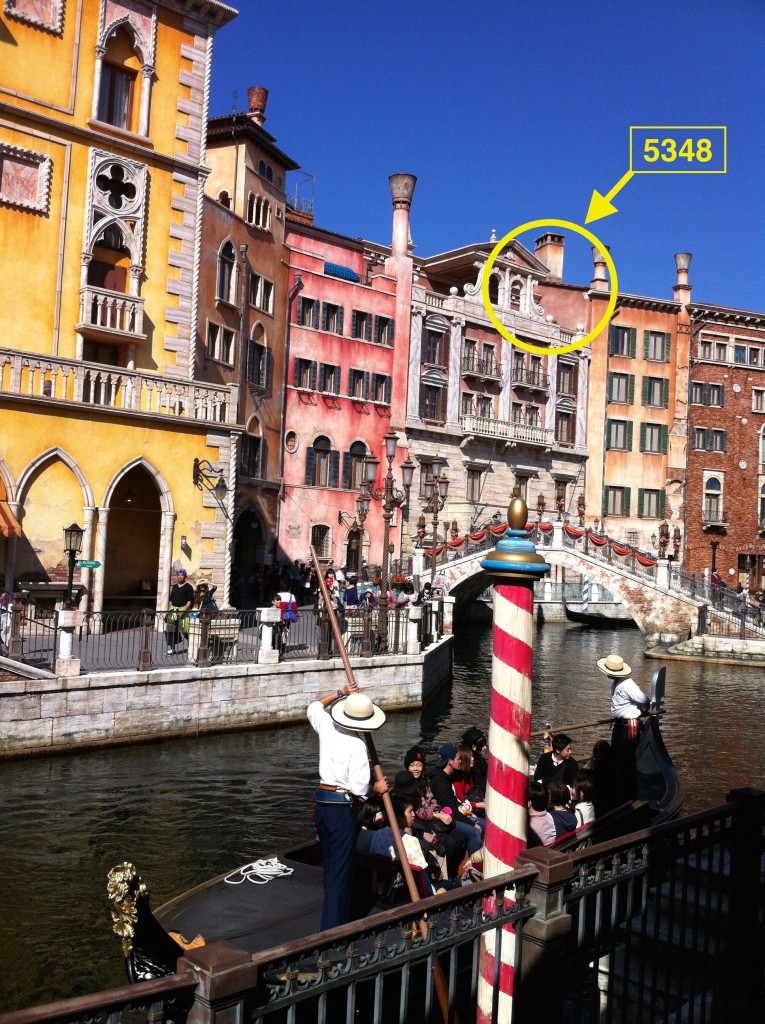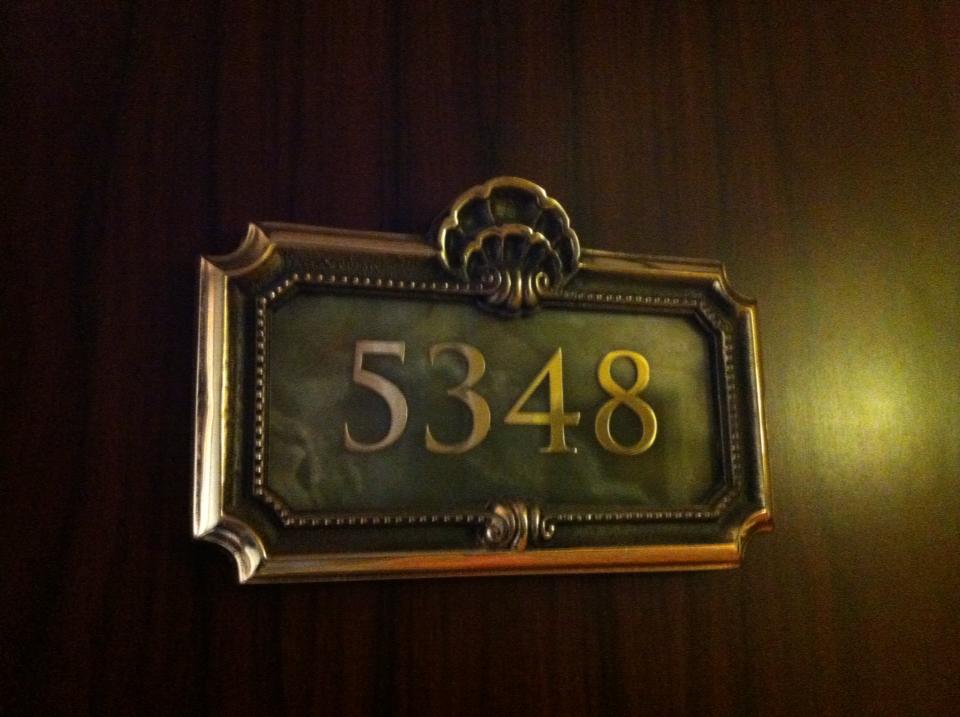 The bedroom is separate to the lounge area, so technically I would call this a suite. However, for Hotel MiraCosta's purposes, a 'suite' is even fancier and costs between 182,000 and 500,000 Yen per night, so apparently this still comes under the definition of a 'room'. Whatever you want to call it, it's pretty awesome.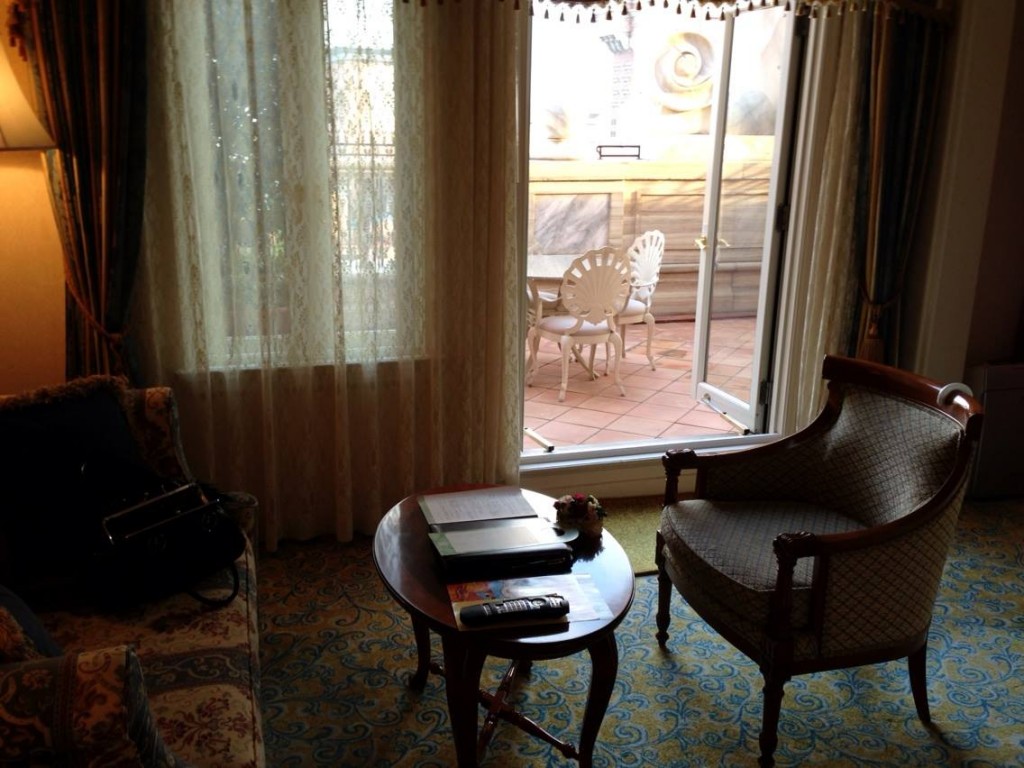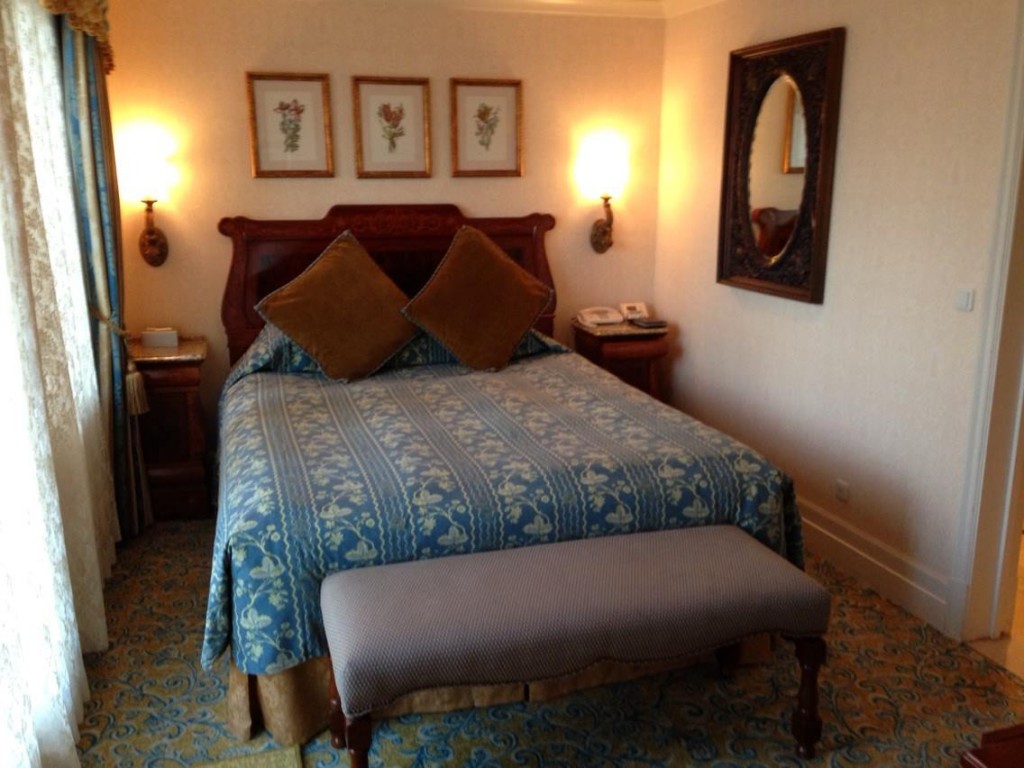 The bathroom large bathroom is off to the side of the bedroom.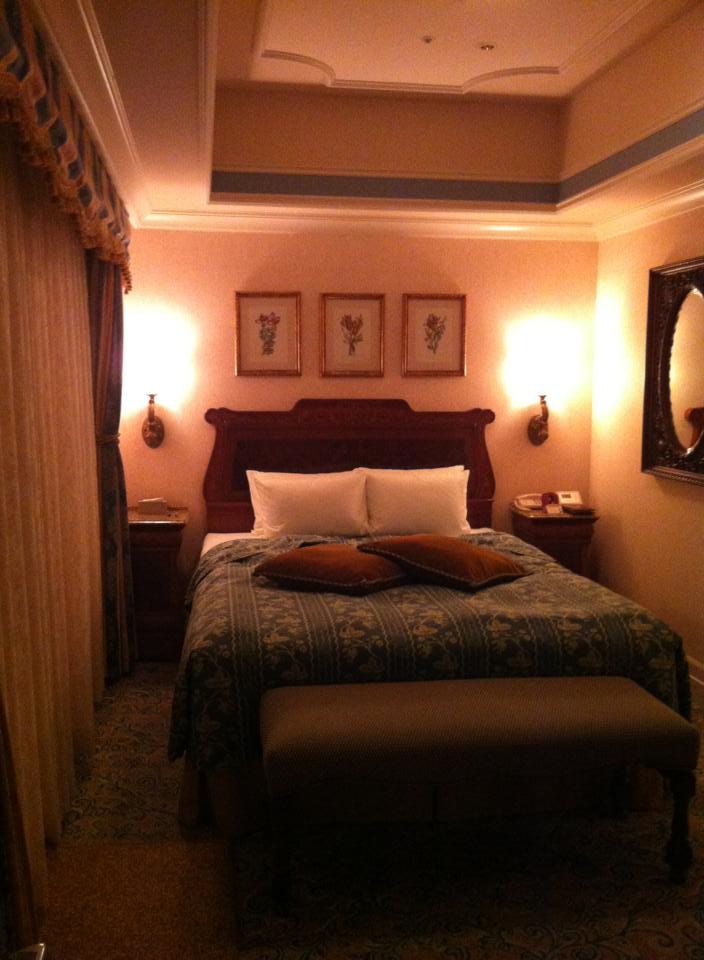 There are also large glass French doors off the bedroom.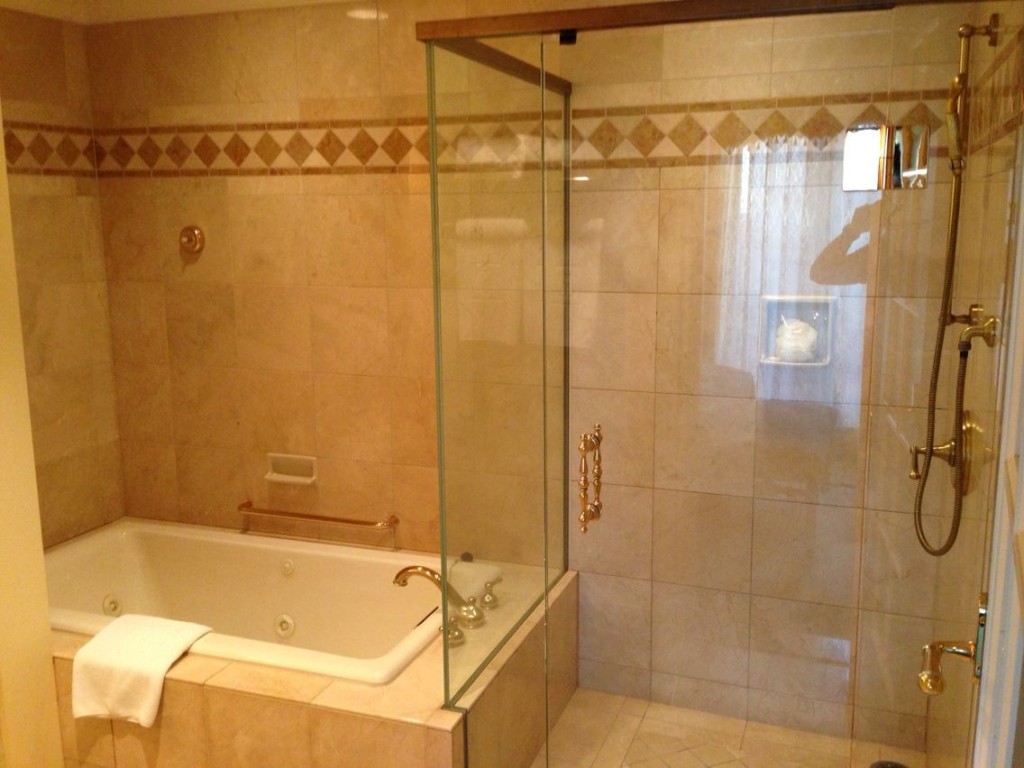 The large bathroom has a separate spa bath and a large glass shower.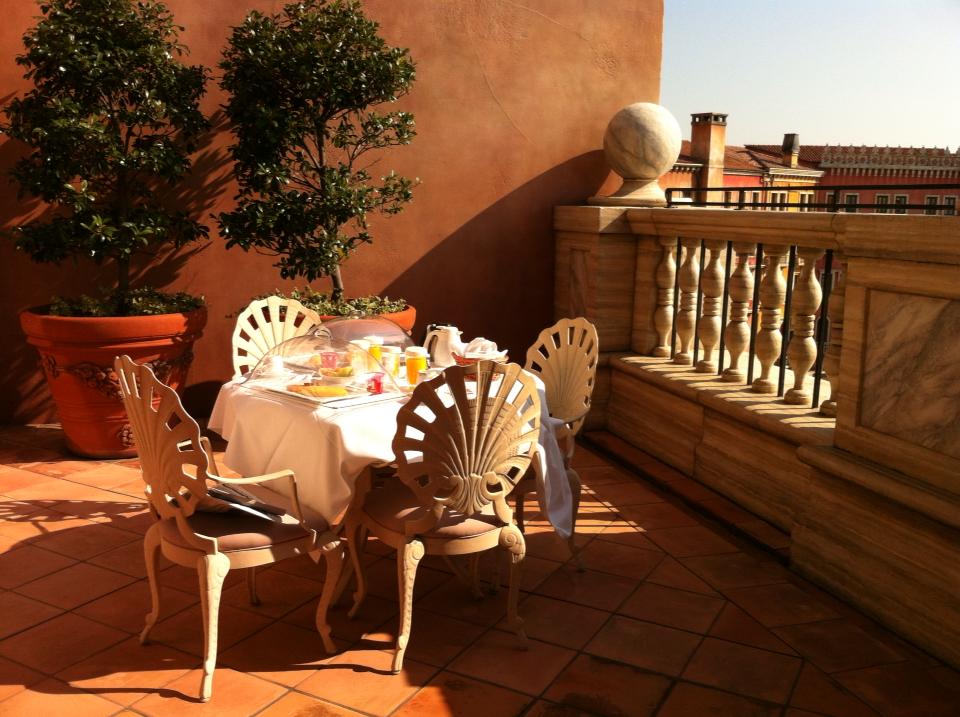 The balcony is enormous. So much so that I couldn't fit the whole thing into one photo. This is half the balcony where they set up our complimentary room-service breakfast on the table.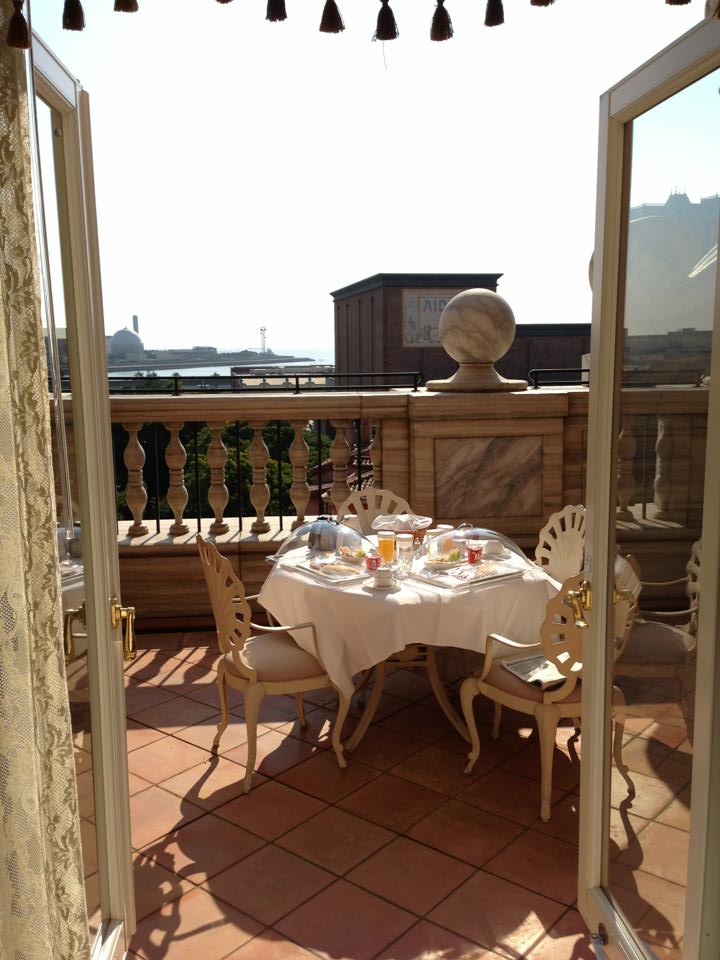 Looking out from the lounge onto the terrace.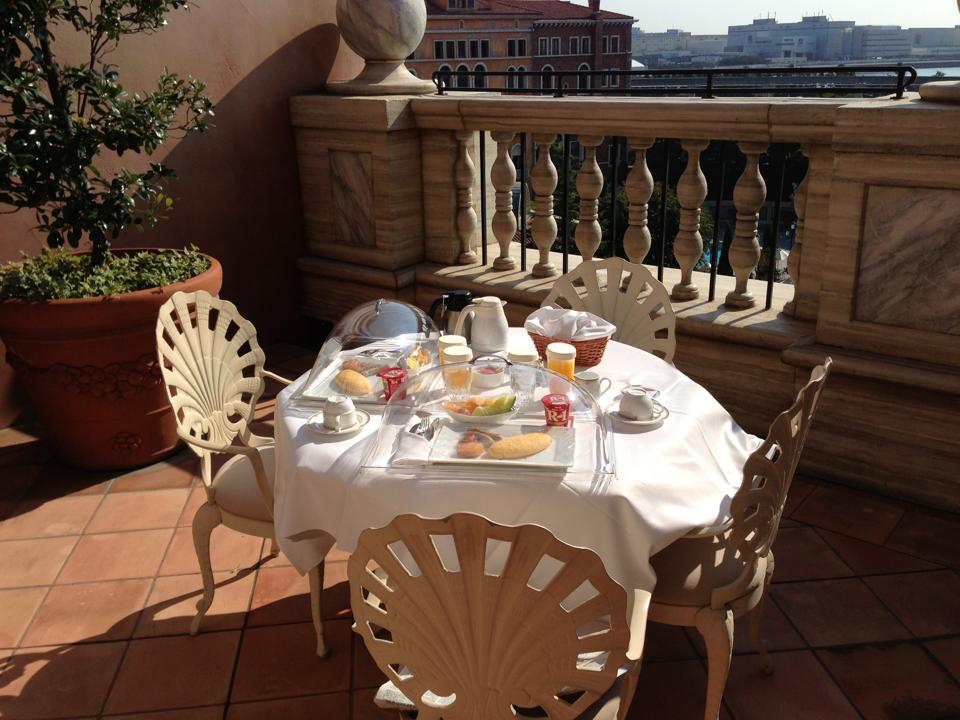 It was great having breakfast out on the balcony, but it was being able to sit out on the terrace, looking out over DisneySea that really made it special (rather than the food itself, which I'm fairly sure you can get at the breakfast buffets anyway).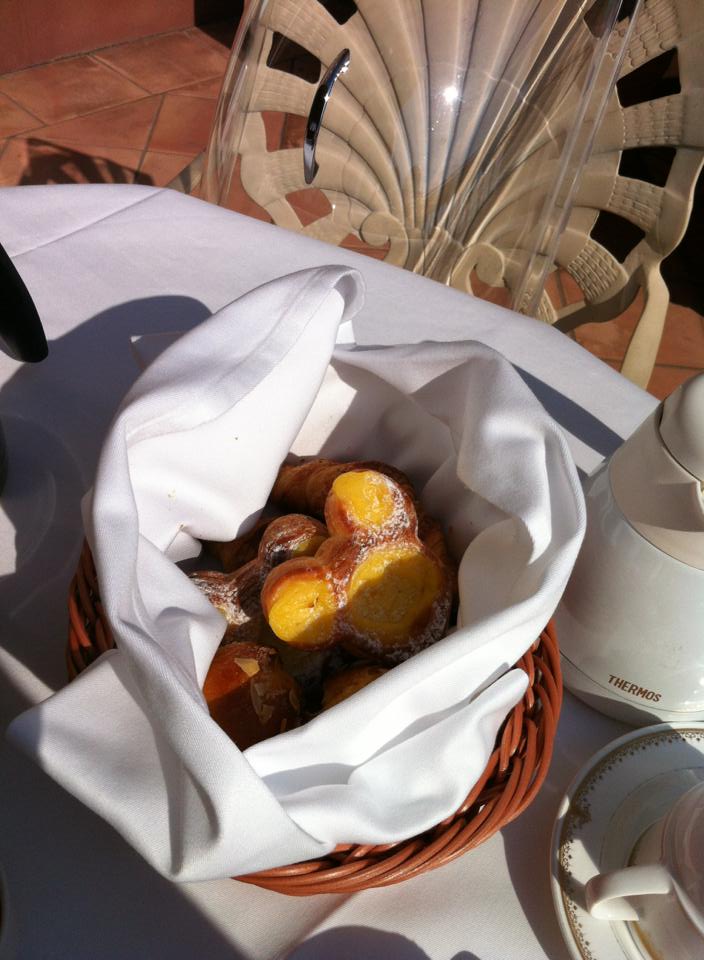 Pastries shaped like Mickey. I'm pretty sure you can buy these down in the park, too.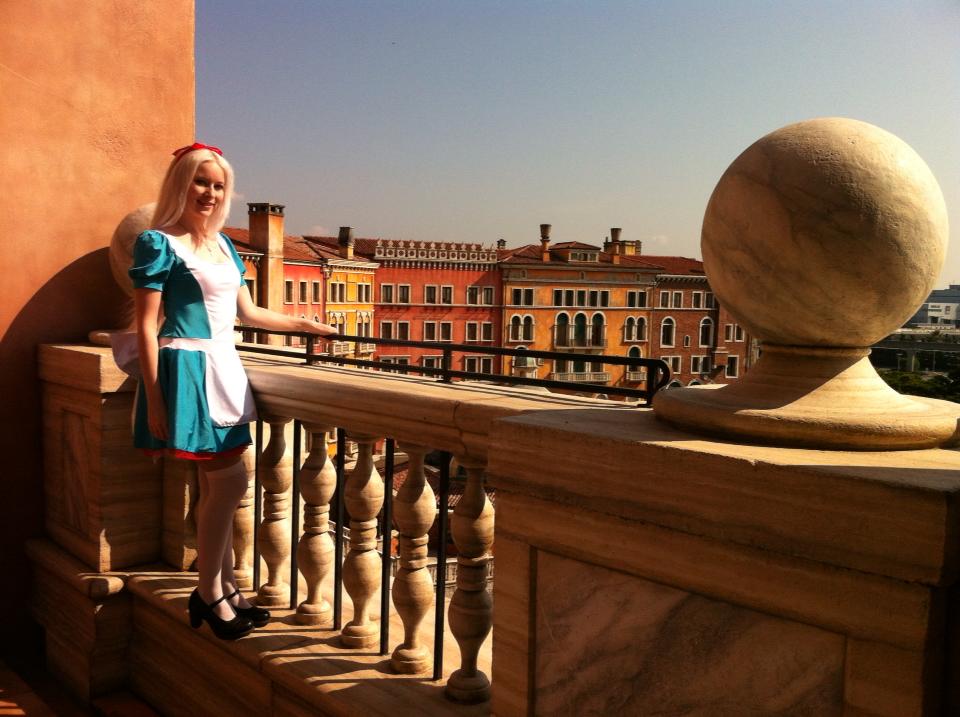 We timed our stay for Halloween, so after breakfast I put on my Alice in Wonderland costume and we headed to Disneyland.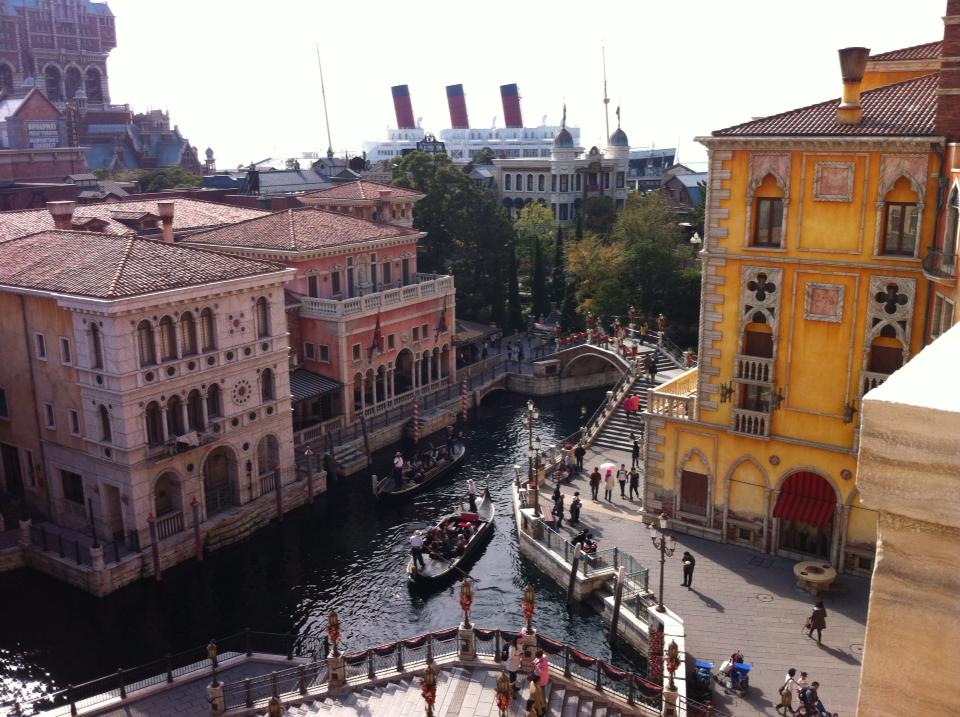 View from the right of the terrace over the Palazzo Canals. You can see Ristorante di Canaletto (the salmon pink building near the gondolas), the Tower of Terror on the left, and the SS Columbia in the distance.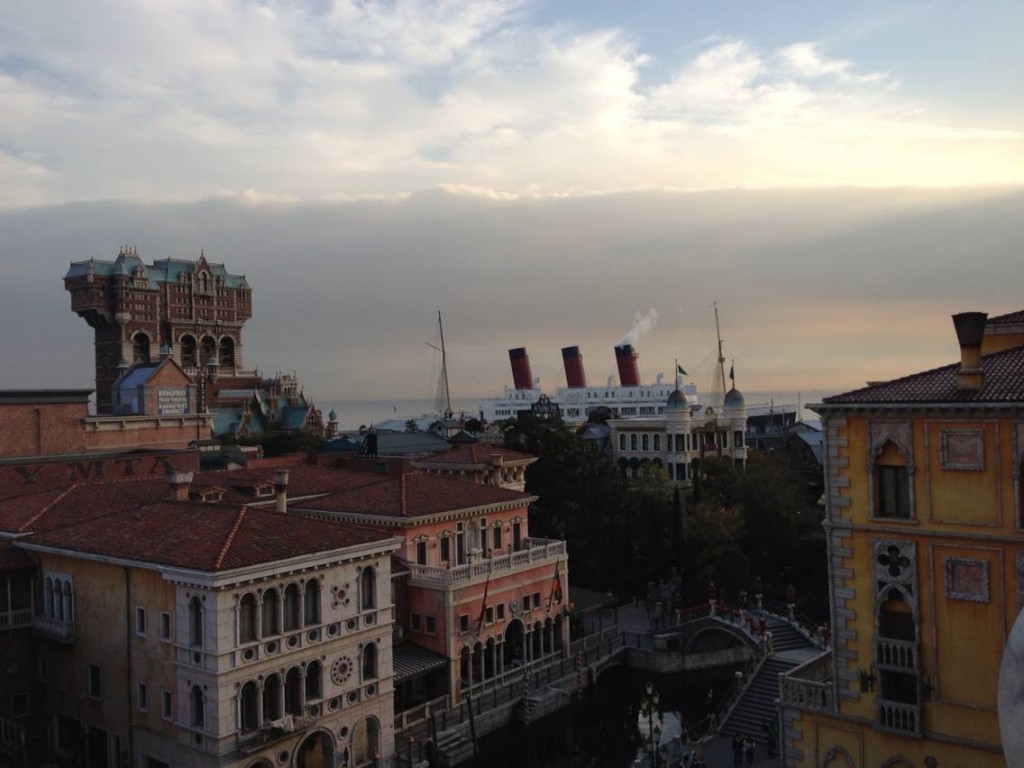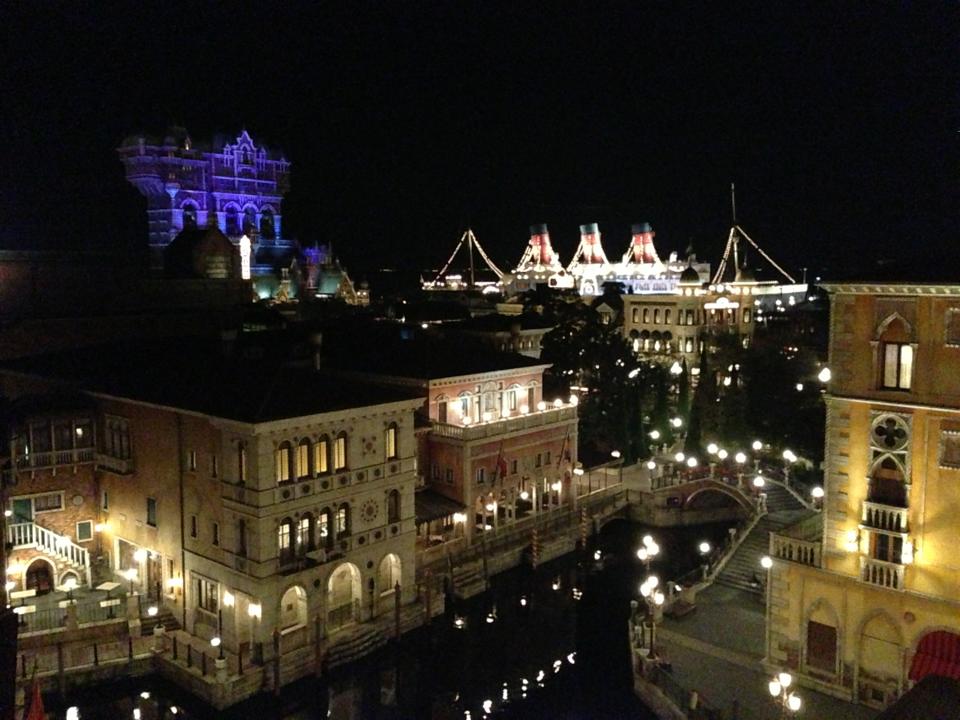 The same view from the terrace at night.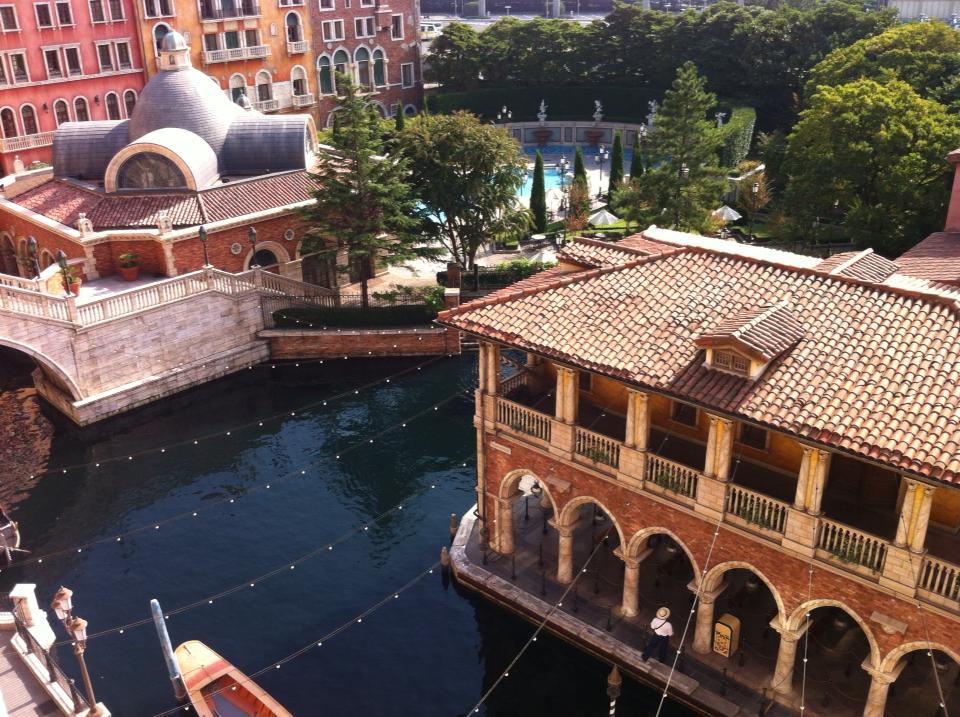 Off to the left of the terrace you can see more of the Palazzo Canals as well as a glimpse of the Terme Venezia Spa & Pool area. I'm pretty sure that one of the windows just above the pool and spa is the Superior Room that we stayed in last year.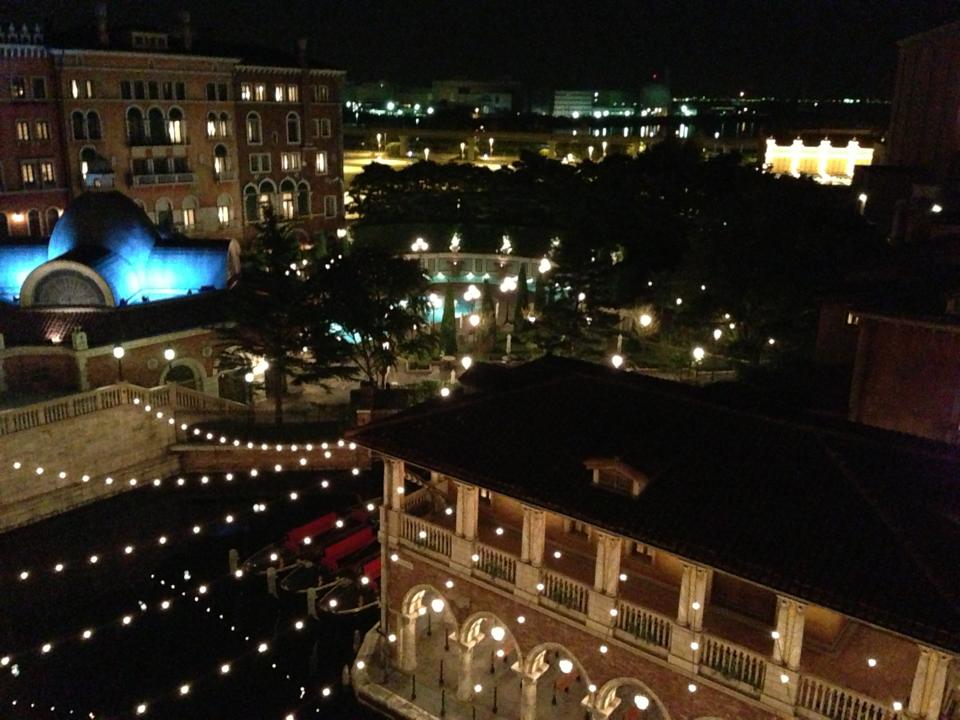 Salone dell'Amico
Those staying in Speciale rooms or suites have exclusive access to Salone dell'Amico. Such guests are able to check in and out at Salone dell'Amico, where instead of lining up at a counter, you'll sit at a table and a cast member will join you at the table to complete the formalities. Complimentary drinks are also available.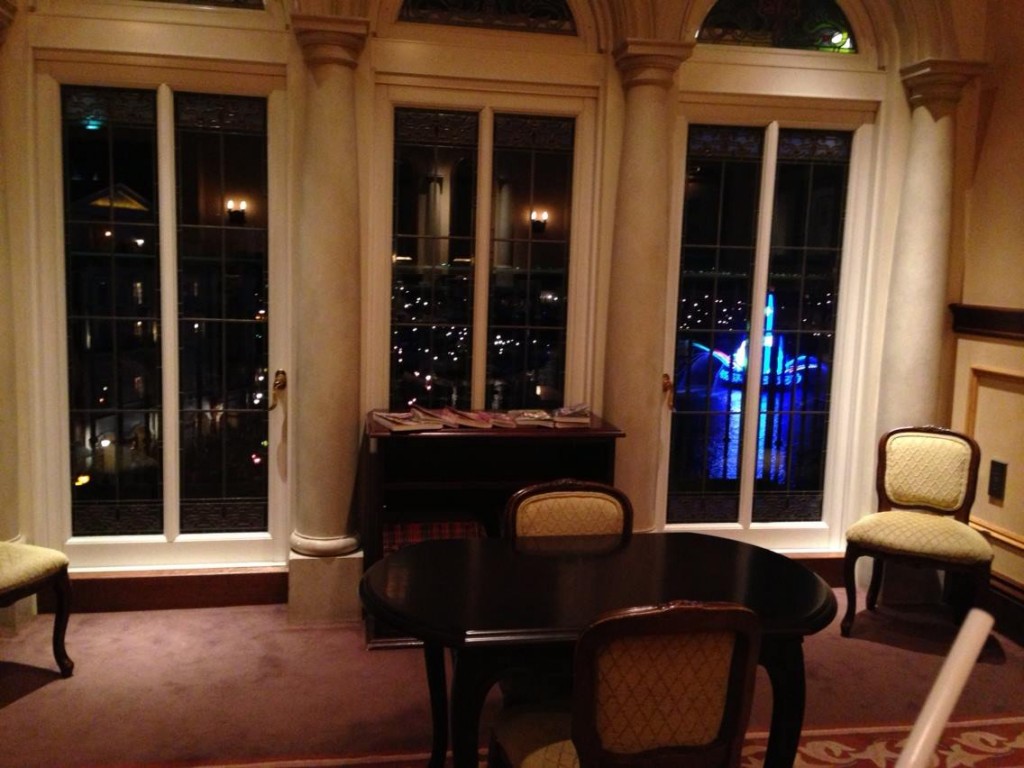 At night, guests staying in Speciale rooms and suites can choose to view the fireworks from Salone dell'Amico, where cast members will serve complimentary cocktails, along with some nibbles.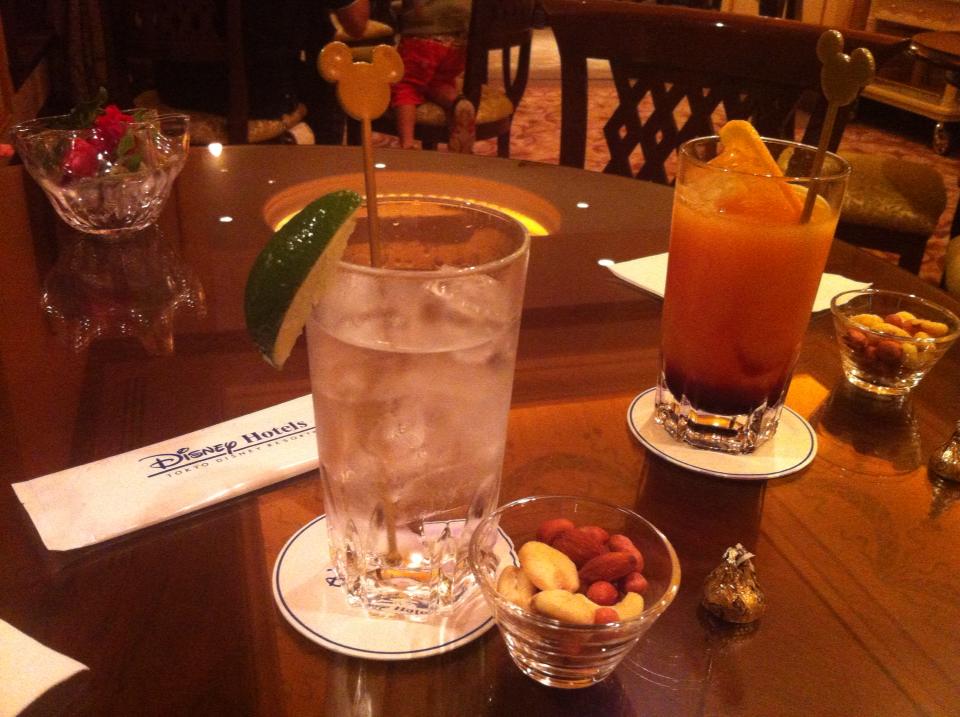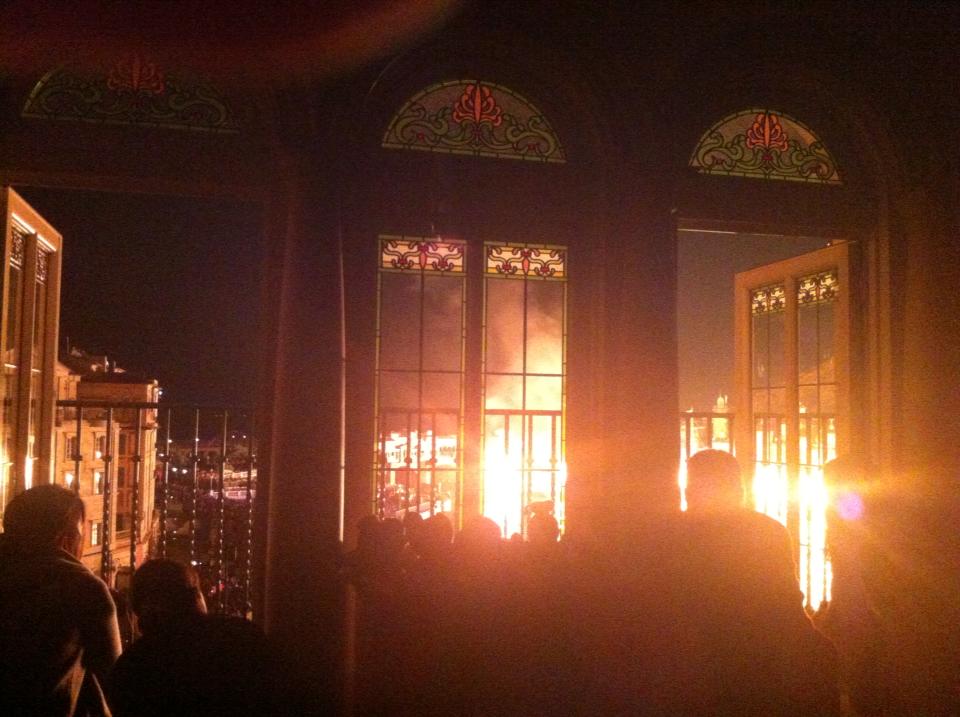 Salone dell'Amico has great views over the Mediterranean Harbor, as well as couches and a TV that you can watch while you wait to check in/out.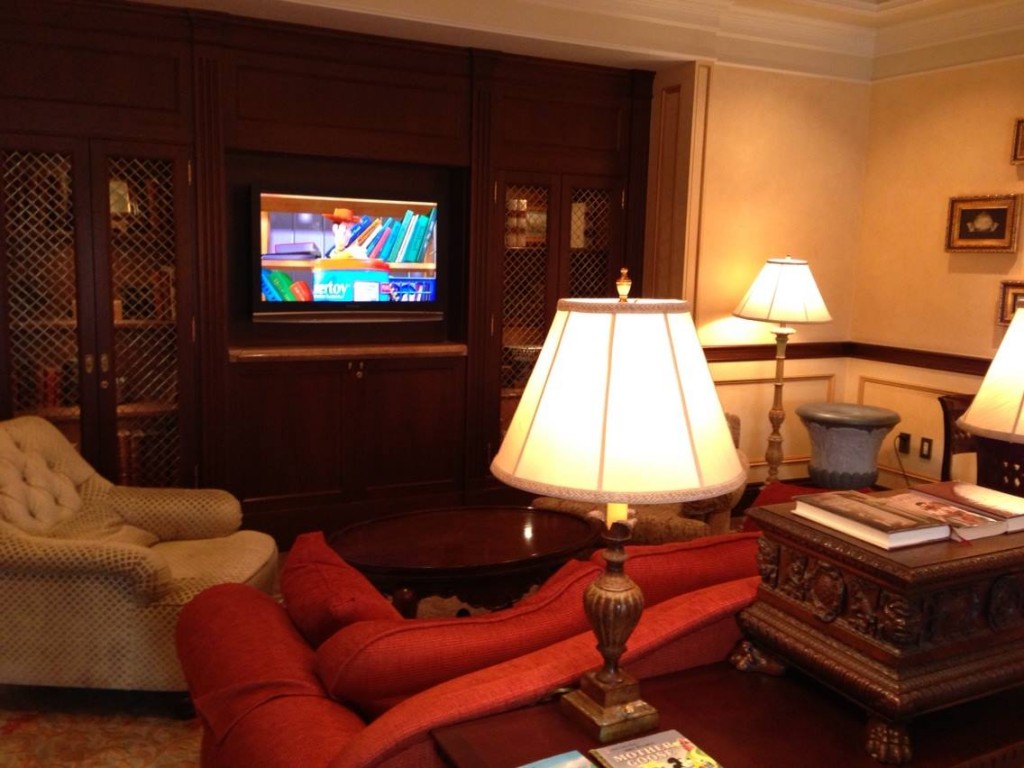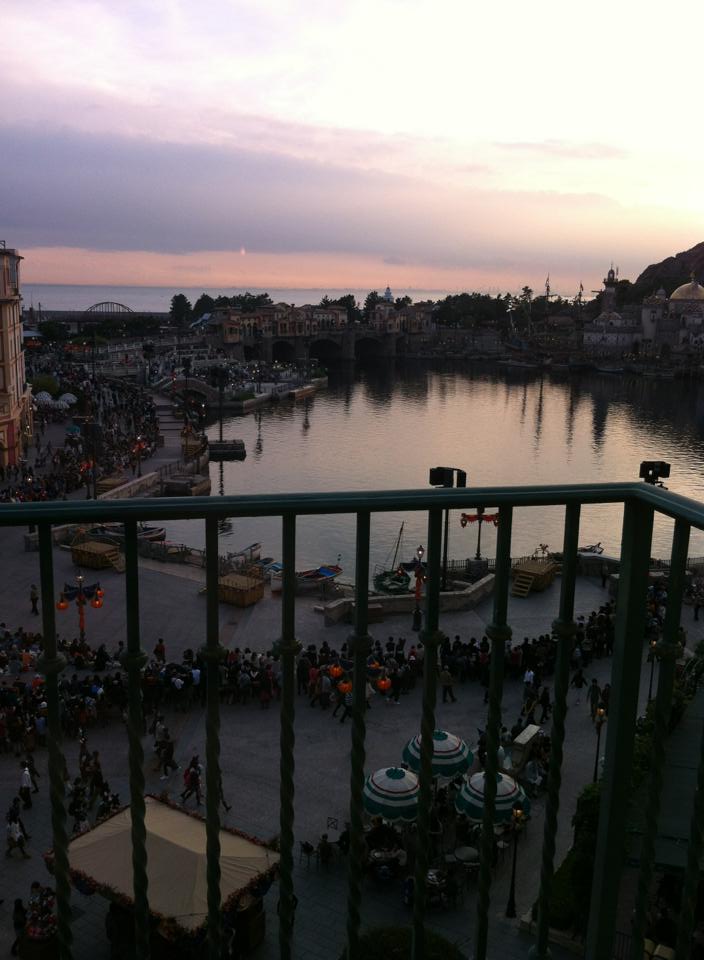 Another benefit of staying in the Speciale rooms and suites is that if you're staying in a suite, Harbor Room or Terrace Room, complimentary room service breakfast may also be offered. When you have a huge balcony off your room, it's well worth having breakfast out there in fine weather.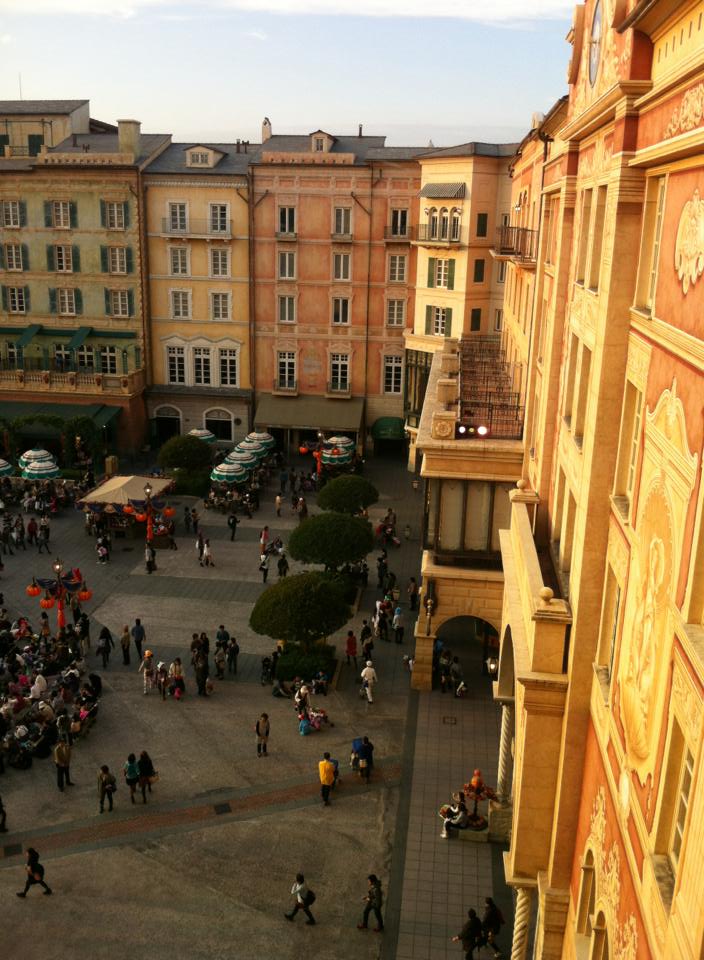 Above: Salone dell'Amico is in the corner on the top floor with the arched windows.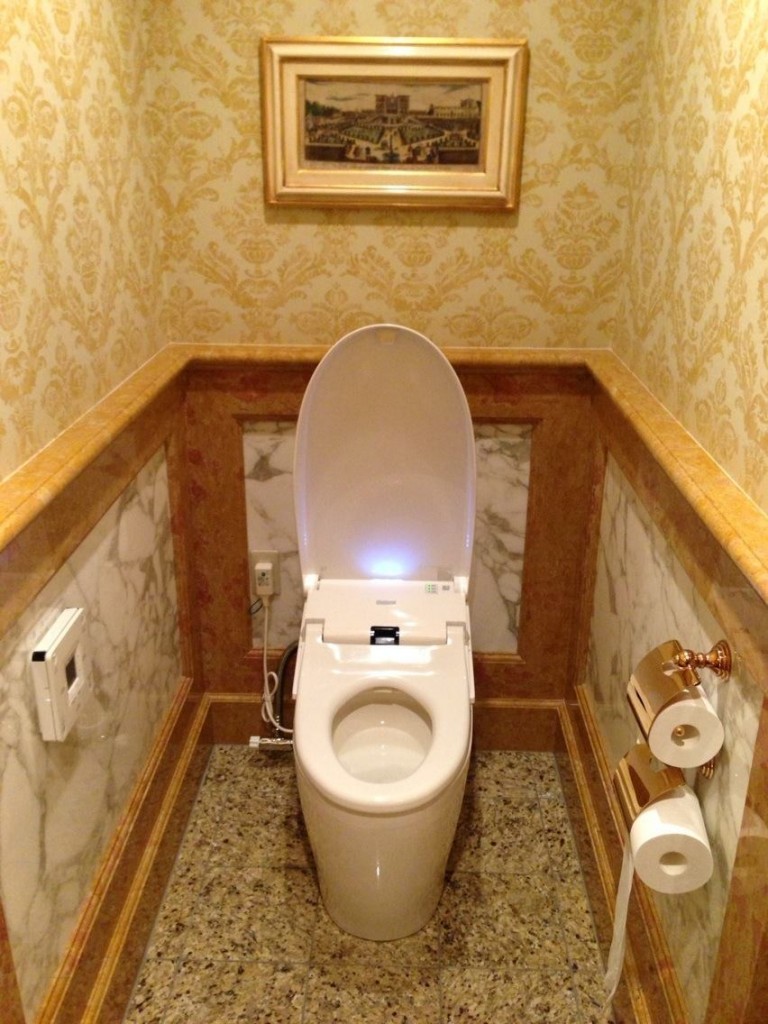 A fairly fancy toilet at Salone dell'Amico.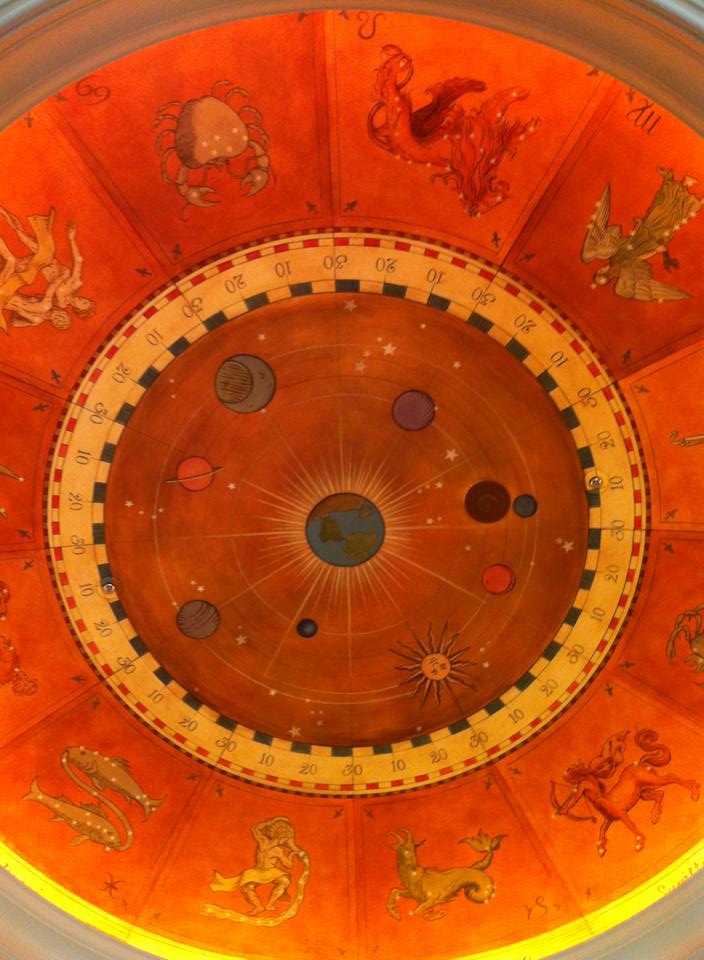 Mural on the ceiling of Salone dell'Amico.
Is WiFi internet available at DisneySea Hotel MiraCosta?
At this point there is no WiFi internet at Hotel Miracosta. The rooms do have cables which you can use to access cable internet from a laptop, but in this day and age this won't suit most people. For my partner and I with iPhones and iPads, this means no internet for the duration of our Disney stay. Given the cost of staying at MiraCosta, it would certainly be nice if WiFi was available for hotel guests.
Some of the other partner hotels offer WiFi (either included in the package, or for an additional fee), and for those who absolutely cannot be without internet during their time at TDR, there are options such as hiring pocket WiFi devices. Tom Bricker talks about these over at Disney Tourist Blog.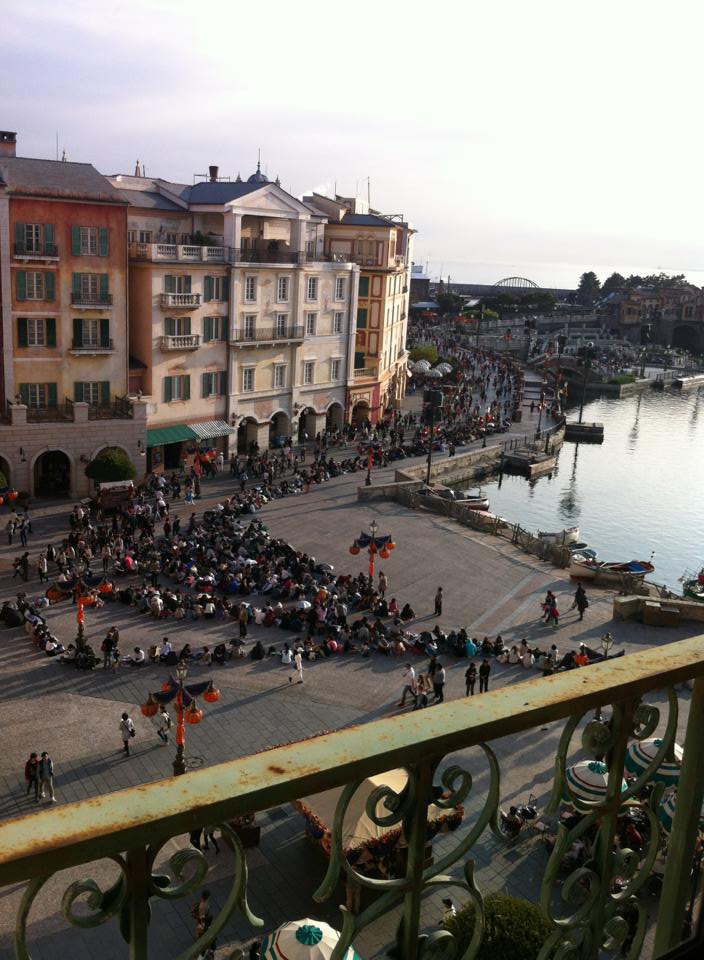 How much does it cost to stay at DisneySea Hotel MiraCosta?
Right now the rates range between 36,000 and 500,000 Yen per night (approx AU $381 – $5298 at the time or writing), but this will change to 38,000 to 500,000 Yen per night after the renovations are complete. The prices really vary based on the room type, the area of the hotel that you're booking, and the time of the year that you're planning to stay.
You can find the list of room rates prior to the renovations here, and after the renovations here.
How do you book DisneySea Hotel MiraCosta?
Reserving a room at MiraCosta is a little like buying concert tickets. Reservations become available six months in advance, so you really need to plan ahead. For example, if you want to stay on the 1st December, you'll want to book this on 1st June. They take reservations from 9am Tokyo time, so depending on where you are, you might either need to get up early or stay up late. You can either call them or book online.
If your stay will be for more than one day, you can book some rooms for several days in a row six months prior to the first day (for example, if you're staying from 1st to 3rd December, you can still do this online from 1st June). However, some rooms will not allow you this option, so be prepared to work around this.
Are there smoking/non-smoking rooms at Hotel MiraCosta?
All rooms at MiraCosta are non-smoking. However, there is a smoking area within the hotel, but this is not too close to the rooms themselves.
How do I get to Hotel MiraCosta?
Getting to MiraCosta is much the same as getting to DisneySea. If you're travelling by train then you'll go to Maihama. From there, exit Maihama station and follow the crowds toward the Disney Resort Line (where the monorail is). Just to the left of this you'll see the Tokyo Disney Resort Welcome Center where you can drop off your luggage (they'll send it to MiraCosta so that you can easily enjoy DisneySea or Disneyland before you check in), organise park tickets and even book some of the restaurants. They'll also set you up with your ticket(s) for the monorail.
Once on the Disney Resort Line monorail, exit at Tokyo DisneySea Station and follow the sign to the Hotel MiraCosta exit. Yes, MiraCosta has its own entrance and exit to the Disney Resort Line. This will take you directly to the lobby.
Would we recommend DisneySea Hotel MiraCosta?
I'm not going to pretend that it's not expensive, and of course there are much lower priced options around Tokyo Disney Resort. However, we love MiraCosta and are set to stay there for the third time this year – and we do have to save a little extra money to make this happen – so I guess what I'm saying is that if you can afford to do it and you're a hardcore TDR fan who wants luxury, convenience and the full DisneySea experience, then yes!
We'll be checking out the newly renovated rooms later in the year, so stay tuned.