Q-Pot Cafe: the sweetest kawaii cafe in Tokyo
Q-Pot is a popular Japanese brand, which is famous for making jewellery and accessories that look like sweets. Taking the concept full circle, Q-Pot Cafe is the official restaurant where you can enjoy sweets made to look just like the Q-Pot jewellery!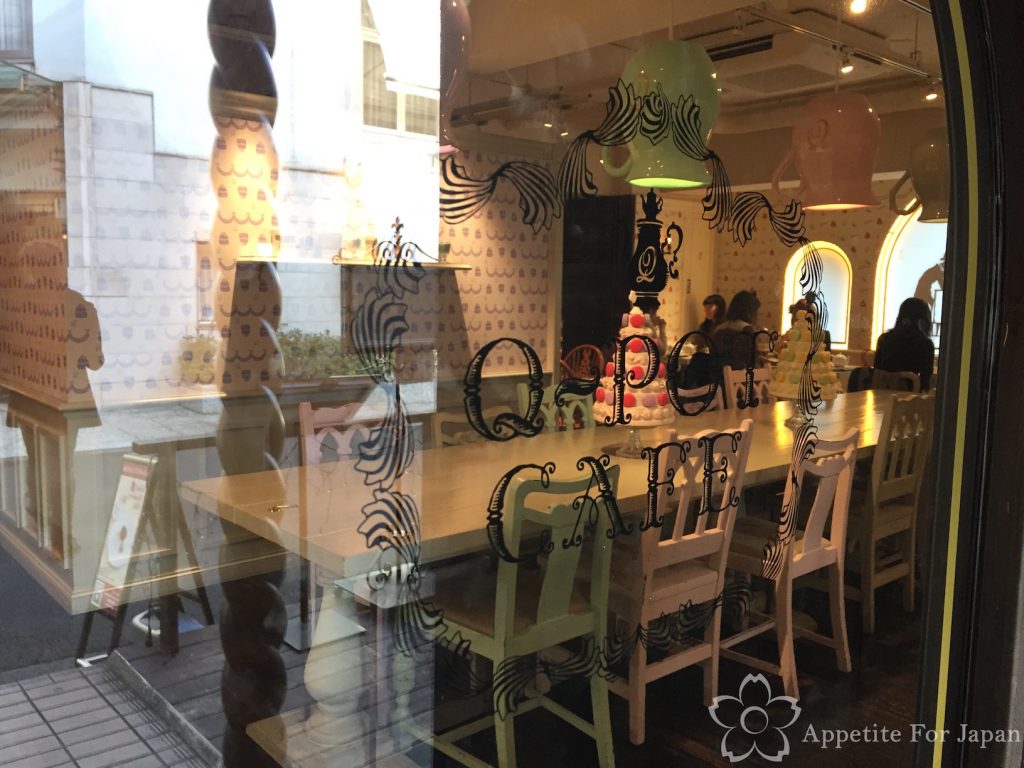 If you're familiar with Japanese popular culture, you'll know that Japan has a bit of an obsession with kawaii (cute) and that Japan is the home of lolita fashion (ロリータ・ファッション). Put very simply, lolita fashion looks a lot like doll's clothing from a couple of hundred years ago, with frills and petticoats, and sometimes visual nods to stories like Alice in Wonderland. It almost goes without saying that Q-Pot Cafe is lolita heaven!
Fittingly, Q-Pot Cafe is located in the suburb of Aoyama near Omotesando, right by the home of lolita and the heart of Japanese youth culture, Harajuku!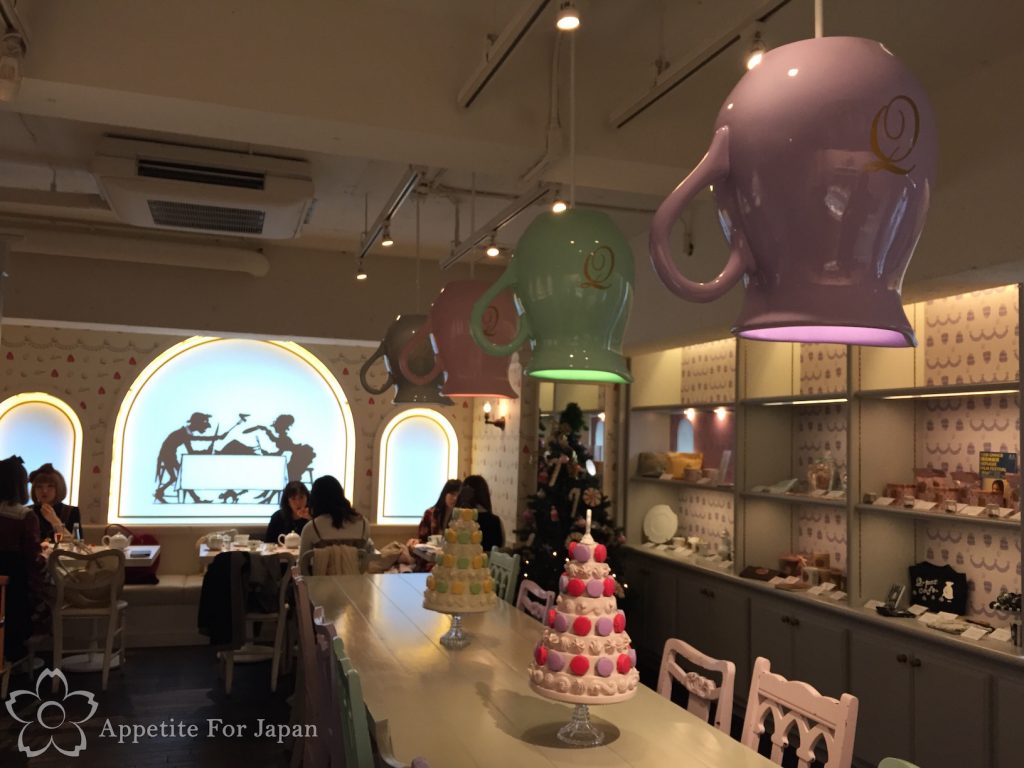 Above: Q-Pot Cafe has really cute decor. Check out the lamps designed to look like upside-down oversized pastel milk jugs!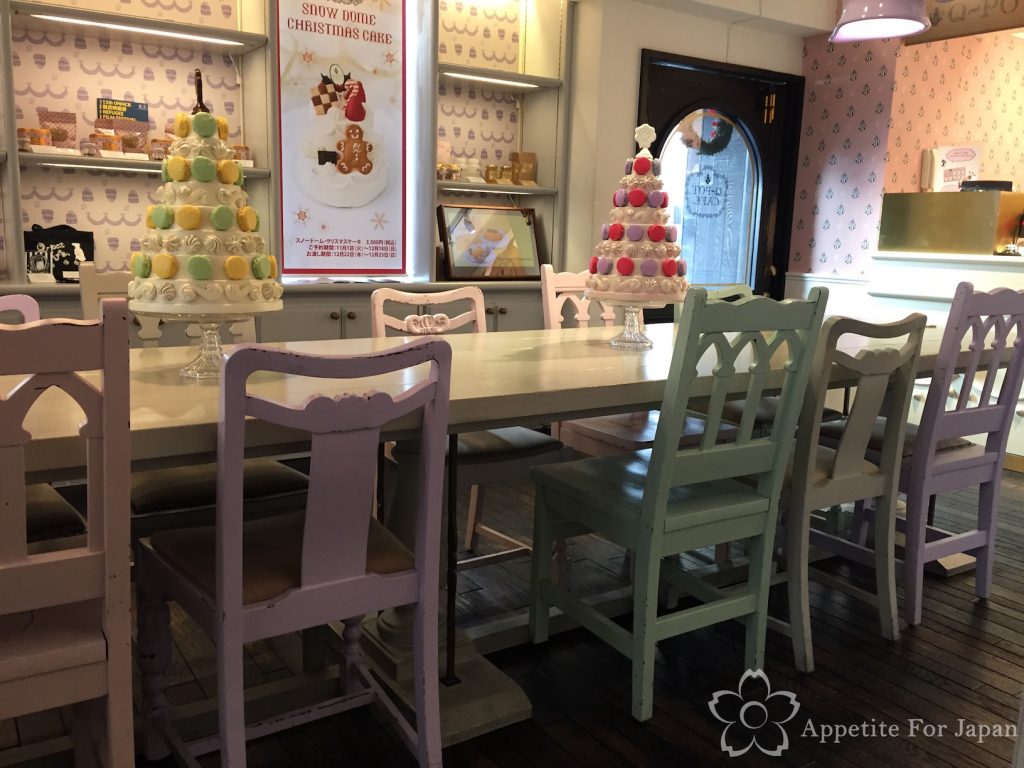 The cafe is divided into nine "rooms", each with a different theme (although really, most of them are not separate rooms but just different corners of the cafe). These include:
The Religieuse Room (pictured above)
The BisQuit Room below (even the tables are made to look like giant biscuits!)
The Melt Room where drinks are prepared
The Chocolate Room booth table
The Whip Strawberry Room (that's the corner by the window in my second photo)
The Whipped Room (Take Out Corner), which is the counter where you pay
Mouse's Room, which is a teeny tiny "room" for a mouse (make sure you explore the cafe to find it!)
The Tooth Room (Powder Room) which is the super cute restroom
And last but not least, the SE"Q"RET Room (secret room) where they serve special course menus – you can read more about the SEQRET Room here.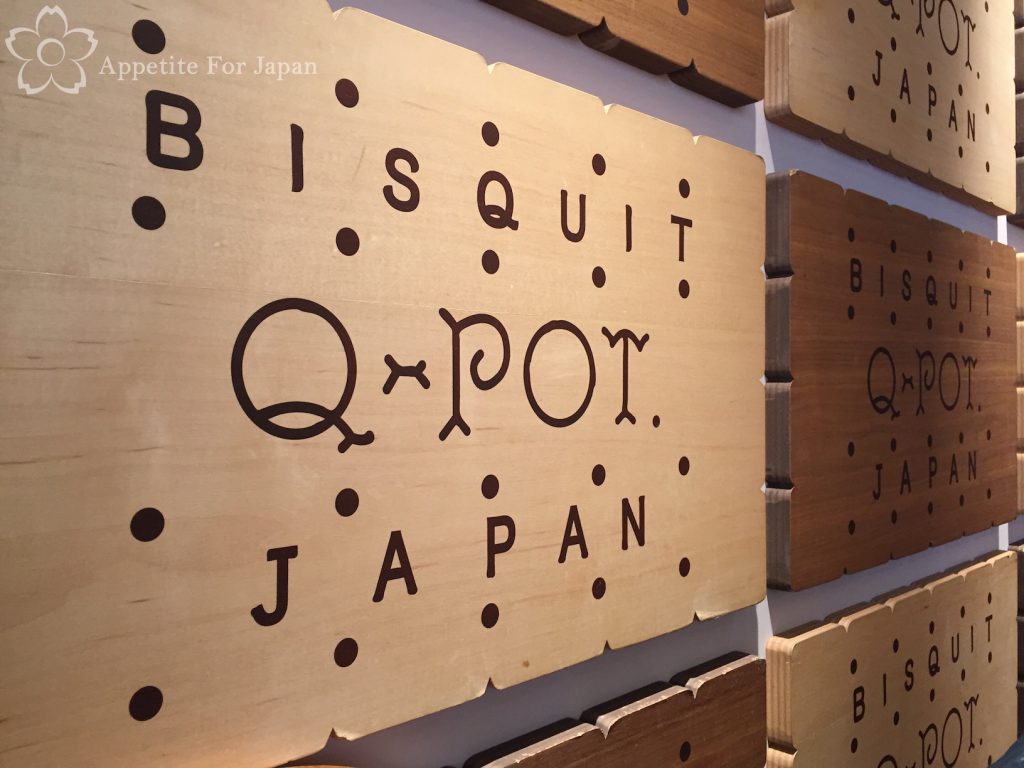 We were seated at a table (actually, two little tables side-by-side which gave us more room for our plates, tea-pots and cups and saucers) in the BisQuit Room.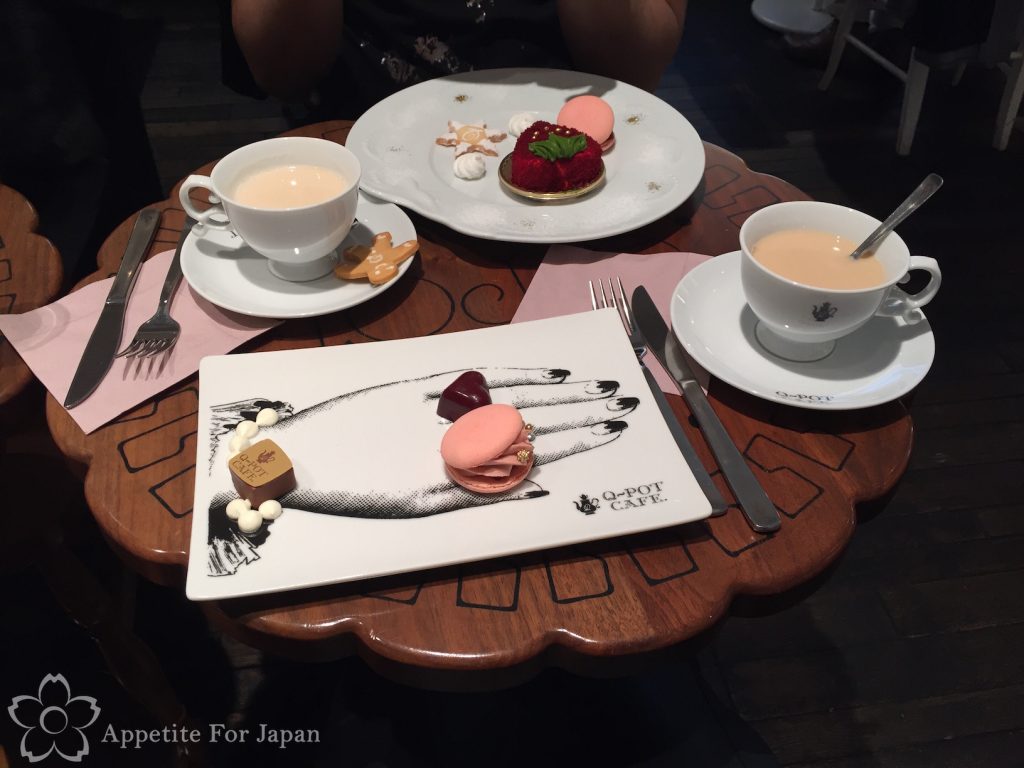 For those who are not fluent in Japanese, they have English menus, and they even have free WiFi (so you can upload your kawaii food photos to Instagram real-time, should you be that way inclined)!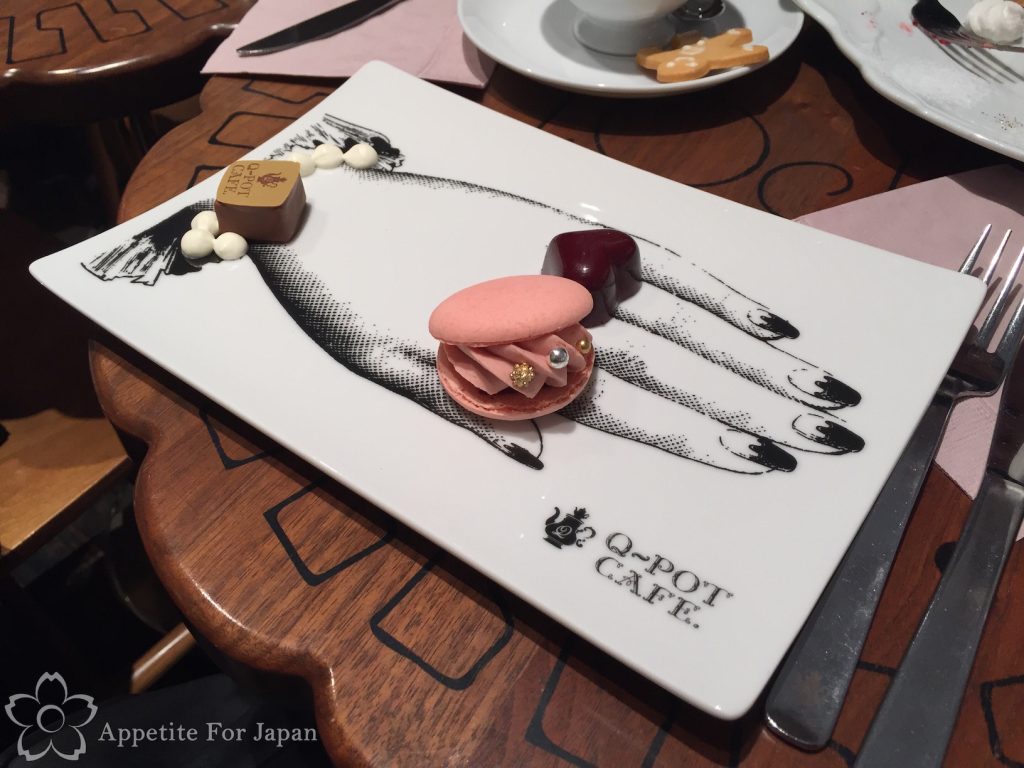 Above: I had the Ring Plate drink set (1,650 Yen including tax). I got to choose the my drink and the 'Petit Creamy Macaron'. I picked the strawberry macaron, and the two chocolates are 'Thé' (milk chocolate with Earl Grey tea ganache) and Amour (the heart-shaped one, which was dark chocolate with coffee ganache).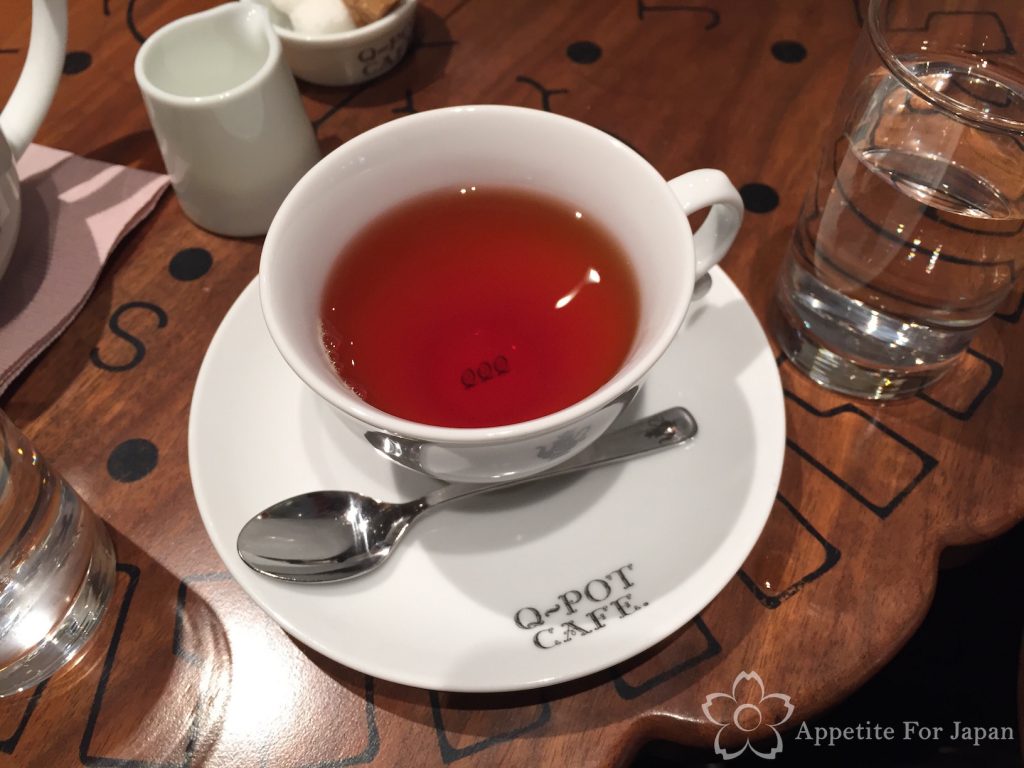 I chose the Flower Garden tea blend, which was very nice. You can order different drinks such as coffee, juice and even a few alcoholic beverages, although some of these attract a small additional fee (and really, what goes better with sweets than tea?).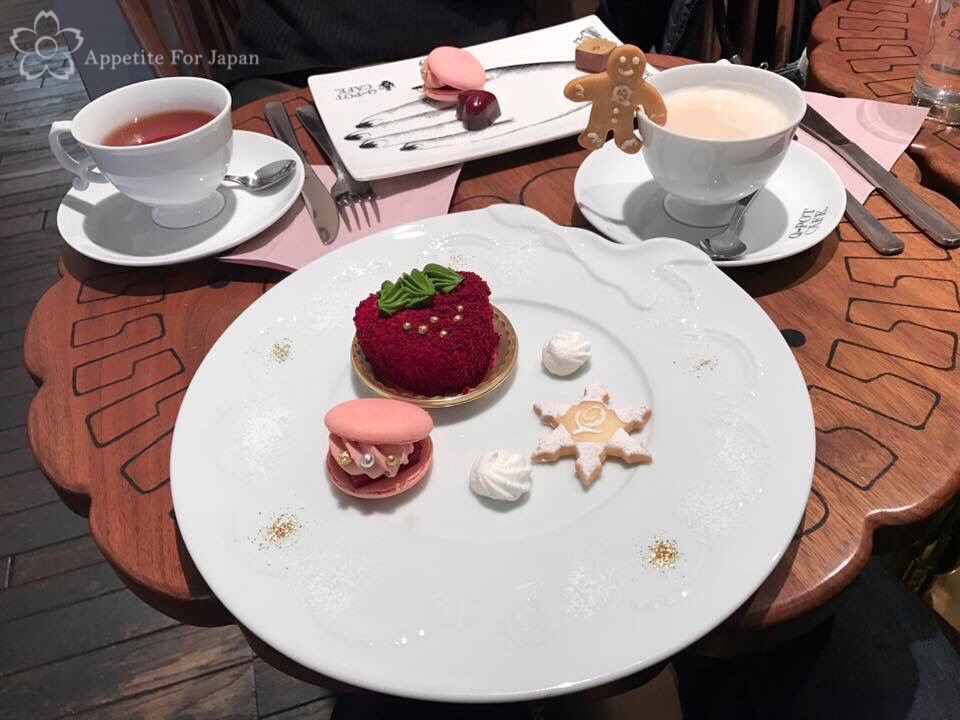 My partner chose a limited edition seasonal set, the 'Velvet Strawberry Plate'. I can't recall the exact price, but seasonal special sets, including a drink, tend to cost around 2,060 Yen (including tax). The Velvet Strawberry Plate included a red velvet cupcake decorated to look like a big strawberry, a macaron (my partner also chose strawberry flavour), a shortbread biscuit in the shape of a snowflake, and a gingerbread man carefully balanced on the side of the tea-cup.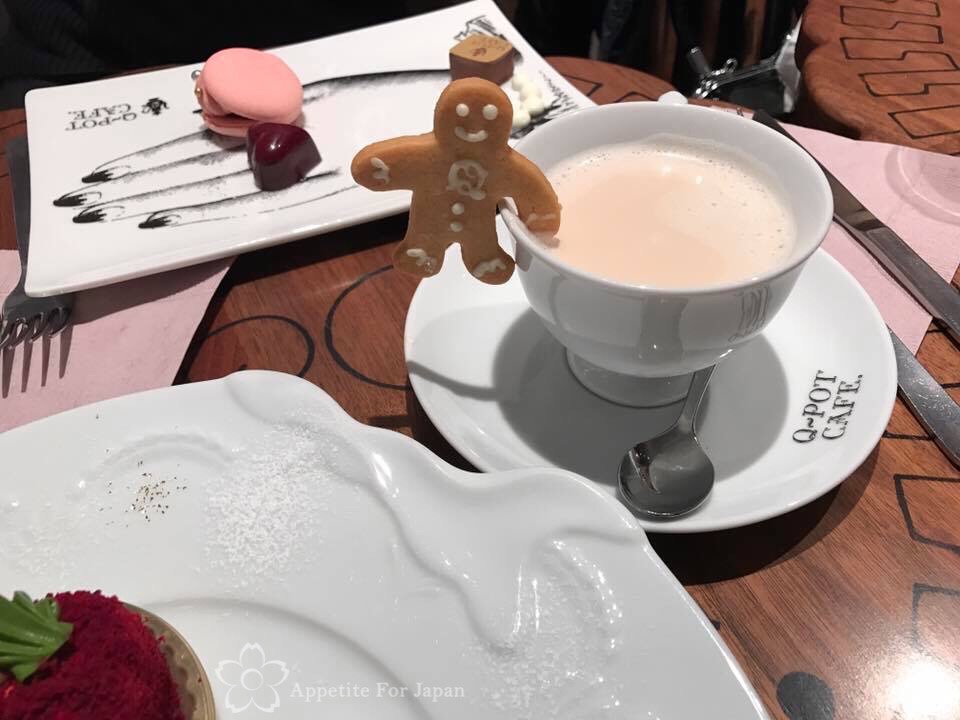 Above: The gingerbread man hanging off the side of the tea-cup even has the Q-Pot logo on his front!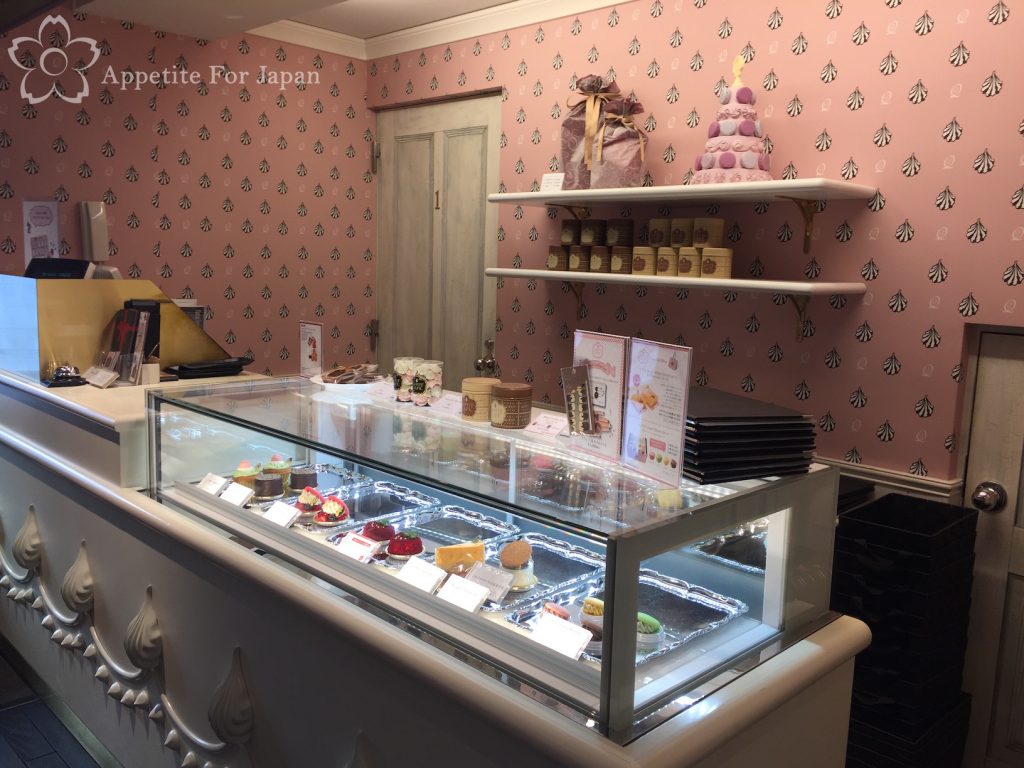 If you don't want to eat in, there is always the option of take-away (take-out, for my American readers). Macarons are 360 Yen (including tax) and cakes are generally 620-690 Yen (including tax). You can purchase these at the 'Whipped Room (Take Out Corner)' counter (pictured above).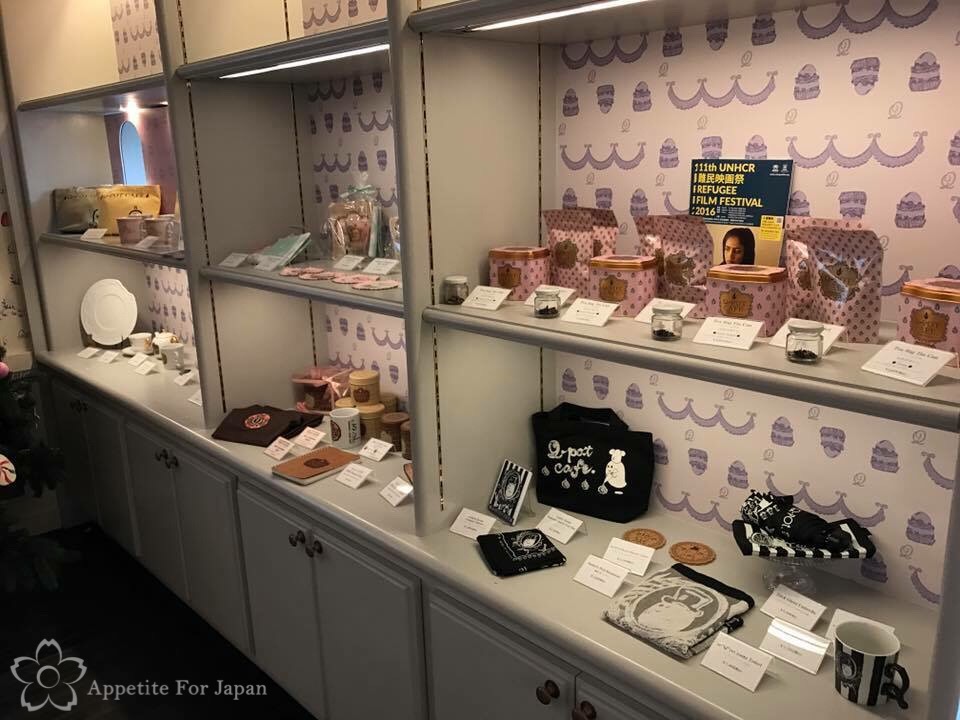 They also sell a range of Q-Pot Cafe merchandise, some of which is seasonal, and sometimes they have collaborations (for example, there has previously been a Q-Pot. x Sailor Moon collaboration, which meant that fans could eat Sailor Moon themed Q-Pot sweets in the cafe, as well as purchasing Q-Pot x Sailor Moon merchandise). The Q-Pot Cafe merchandise is really cute, but a lot of it is quite expensive.
To see some of the merchandise and the prices, click here and scroll down to the bottom of the page.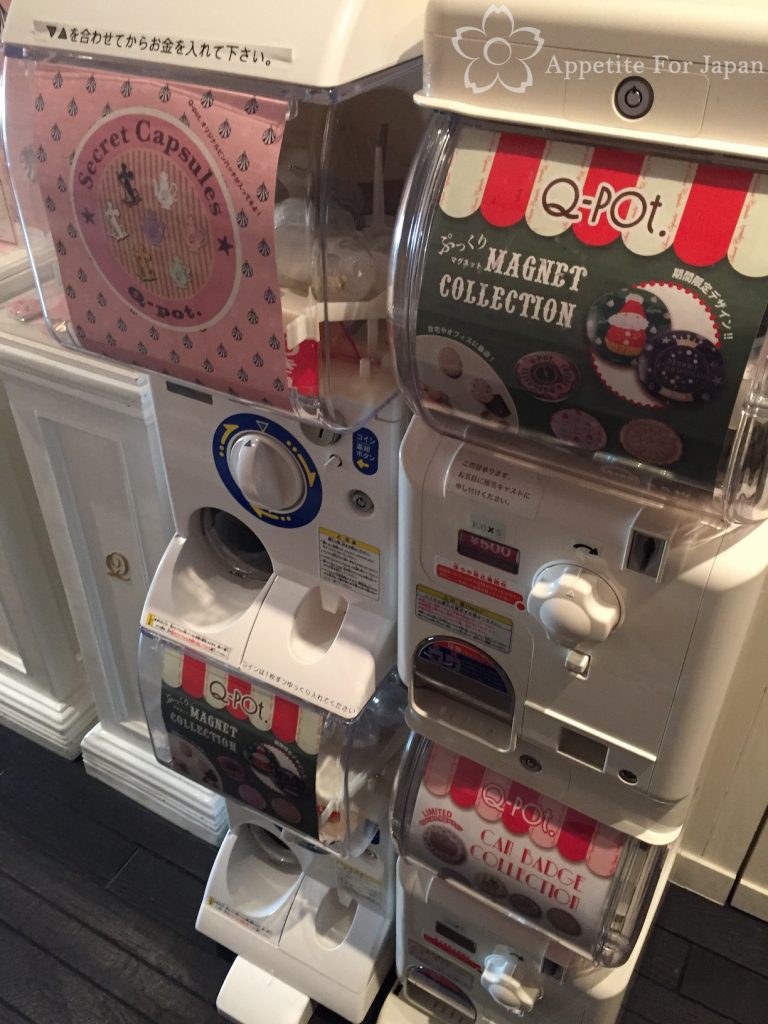 Above: Oh, and they even have Q-Pot gachapon (capsule machines)! At 500 yen, these are not cheap, but they do make for rather cute little souvenirs.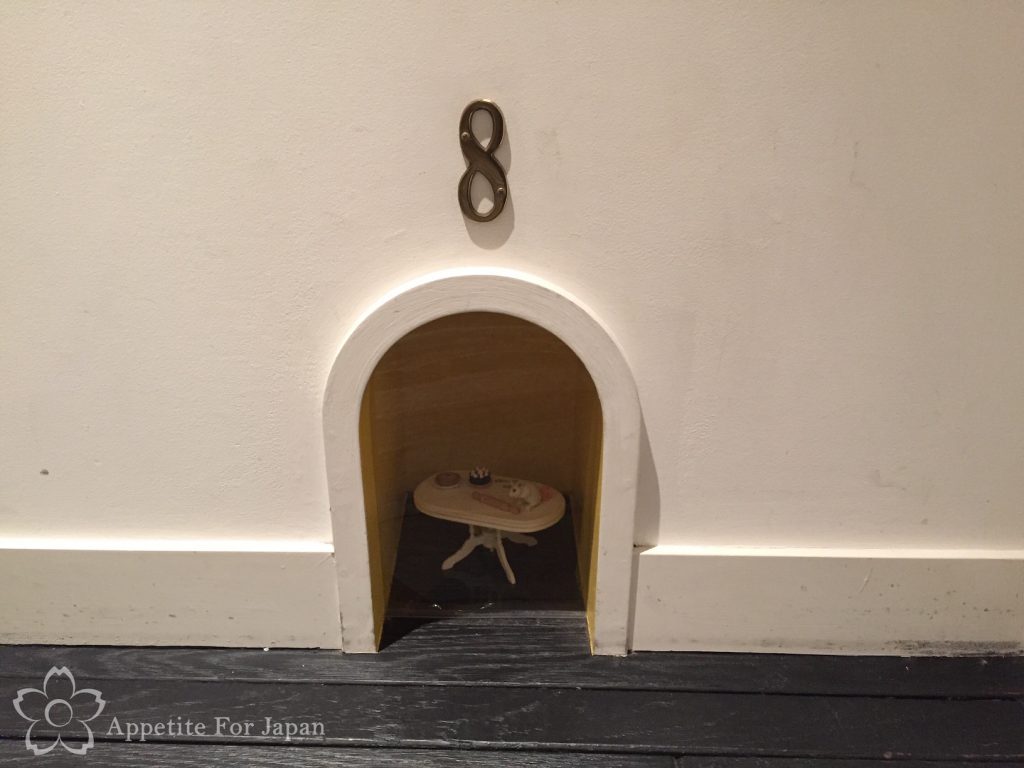 Above: Mouse's Room. I think they actually changed the decor of Mouse's Room from time to time!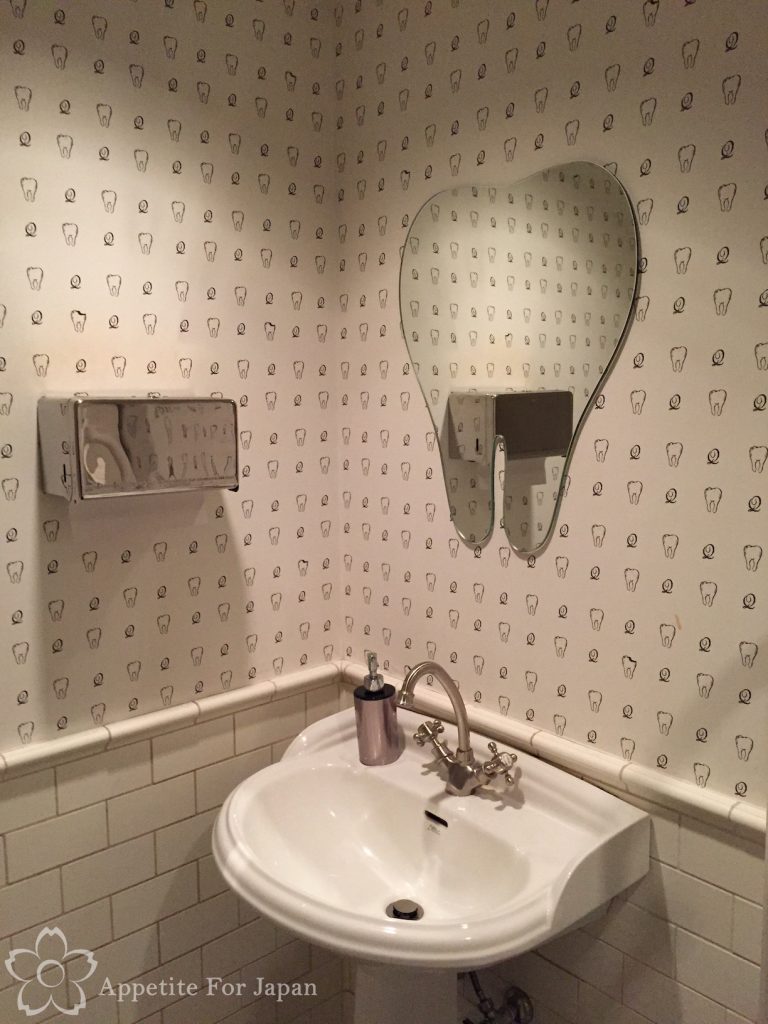 Even the restroom is cute! The bathroom mirror is shaped like a big tooth (to remind those of us with a sweet tooth that we might want to visit the dentist after all these sugary treats!), the wallpaper has alternating teeth and Q-Pot logos, and the artwork on the wall is tooth and dentistry themed!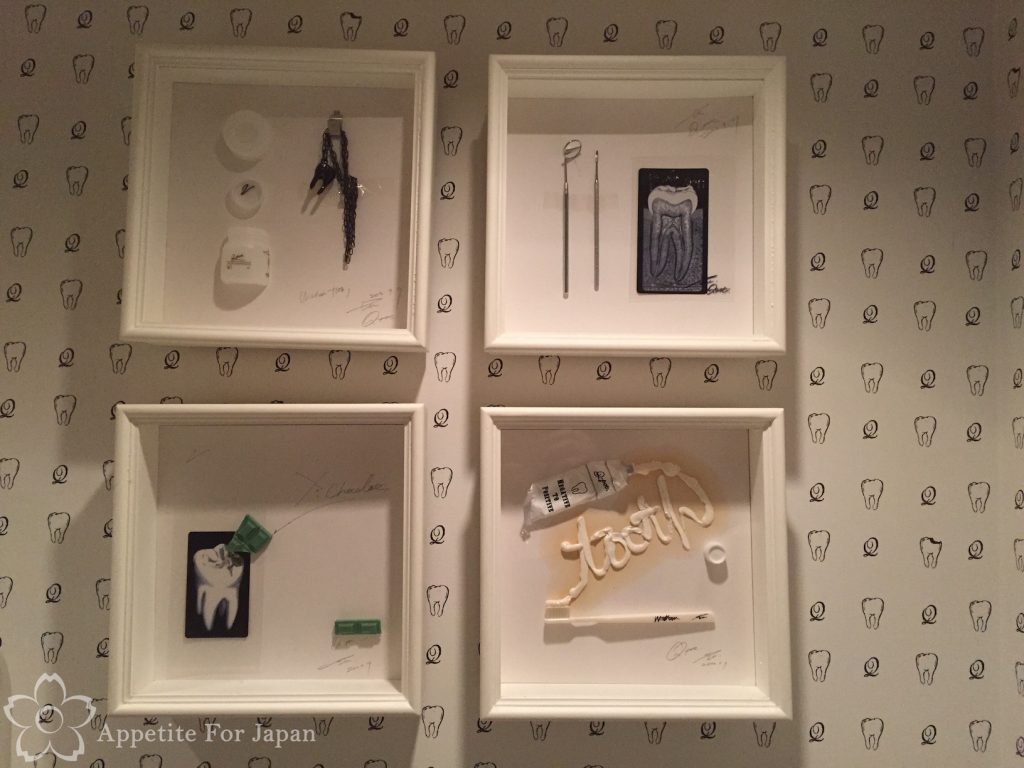 Note that there is only one toilet at the Q-Pot Cafe, so even when there just a few people at the cafe, there can be a line for the restrooms (probably because people have to take photos of the kawaii bathroom, not to mention the lolitas who seem to take a lot of time to ensure that their outfits are looking just right!).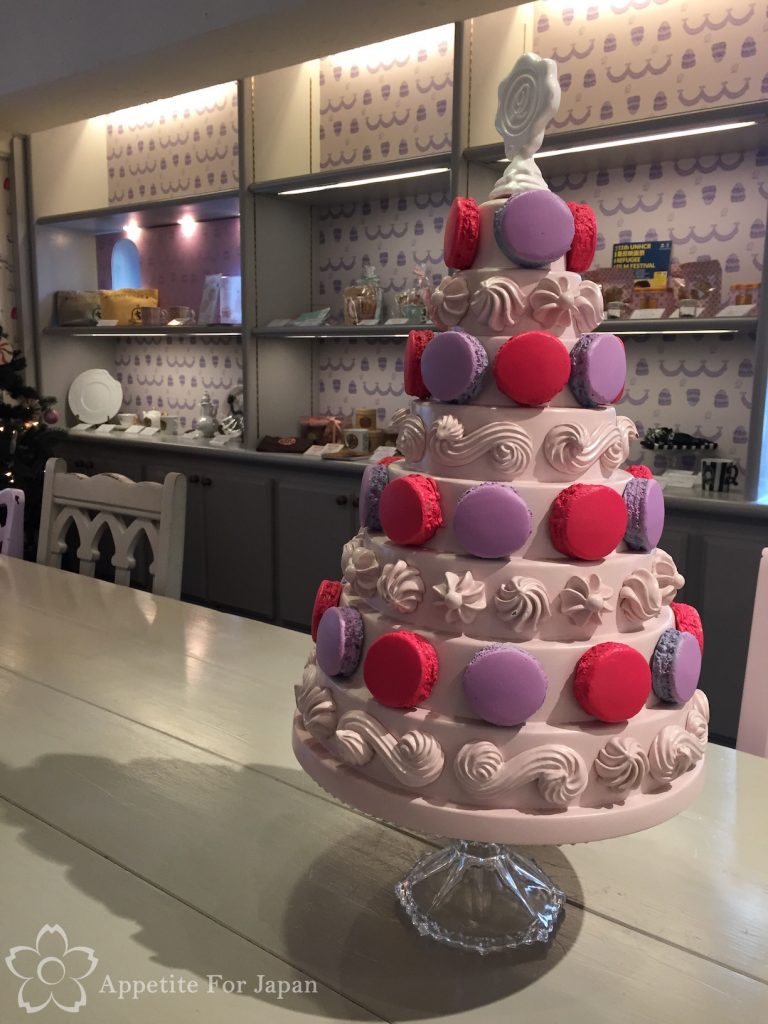 Would I recommend Q-Pot Cafe?
Are you in (or planning to visit) Tokyo? Do you like sweets? Do you like kawaii food? Are you looking for a cute cafe? Do you want to coordinate your food with your jewellery and accessories? If you've answered yes to any of these questions, then I would definitely recommend Q-Pot Cafe! It's easy to get to, it's great if you just want a snack and a cuppa tea, the staff are friendly, the food and decor is great, you're allowed to take photos, and it won't break the bank. All in all, I think Q-Pot Cafe is one of the nicest themed cafes in Japan, so I would recommend it to anyone with a sweet tooth who is looking for a cute themed cafe.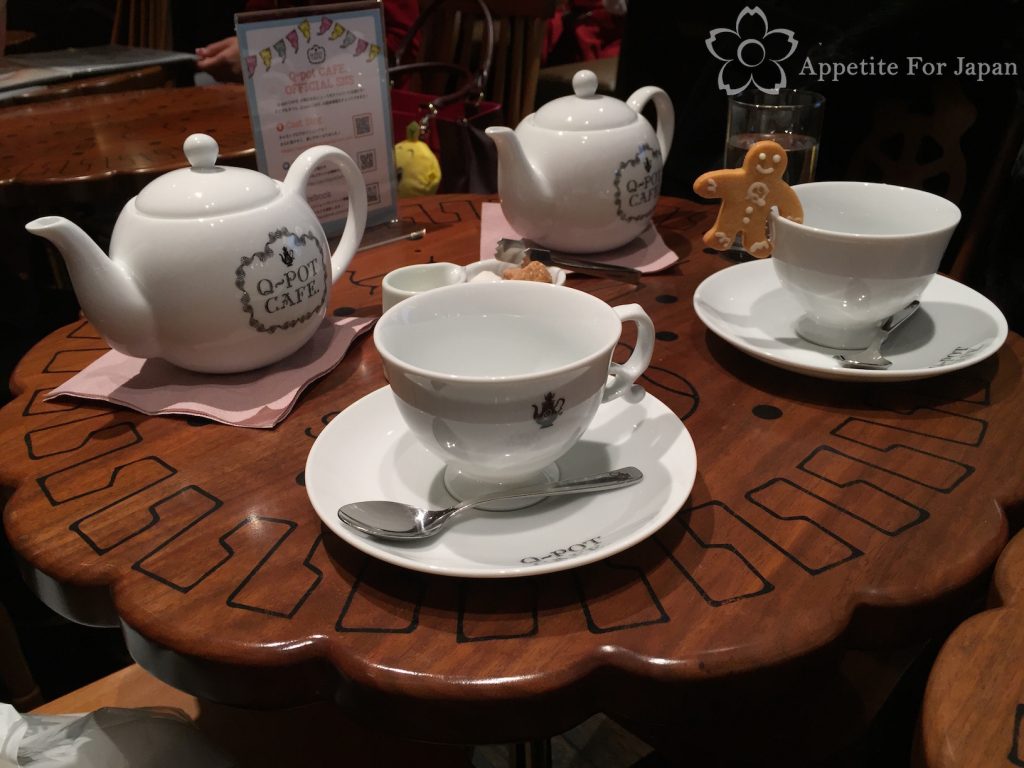 How to get to Q-Pot Cafe:
The closest train station to Q-Pot Cafe is Omotesando Station. Take the B2 exit and it's just down the road.
I've put together the below map which shows where the Q-Pot Cafe is in relation to Omotesando Station and also Harajuku Station (you can walk from there too, but obviously this takes longer), as well as the gorgeous Aoyama Flower Market Tea House (in case you want to visit both!):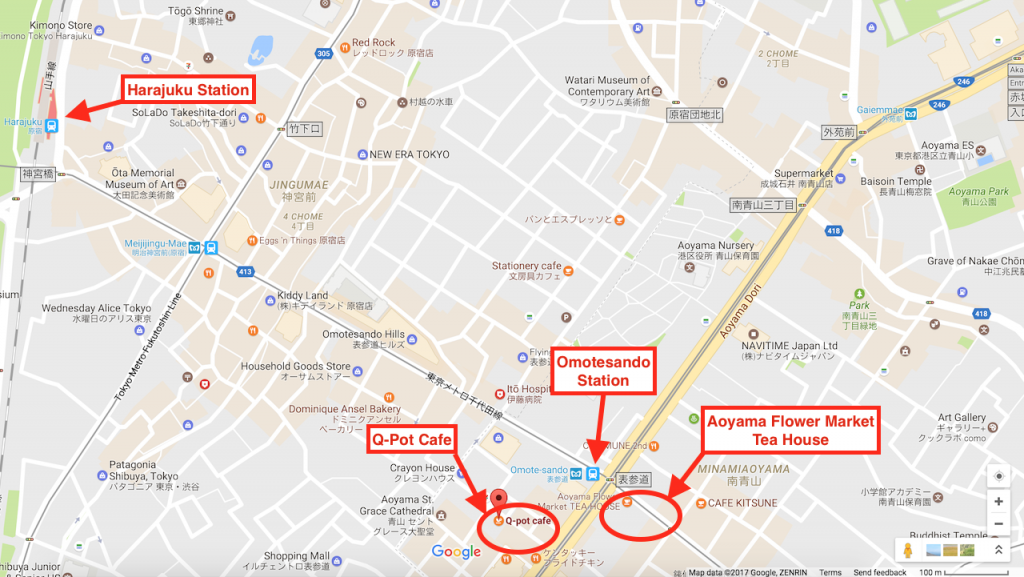 And here is a close-up map to indicate how to get to the Q-Pot Cafe and Q-Pot store from Omotesando Station (exit B2):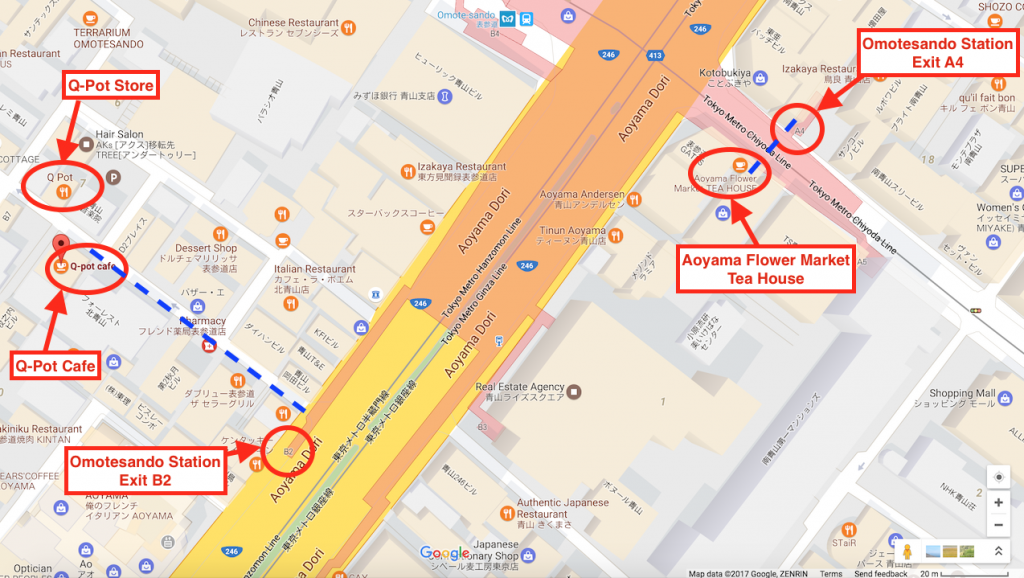 It's a very straightforward route. Keep an eye out for the wooden house painted black at the bottom of a cream tiled building – that's the Q-Pot Cafe!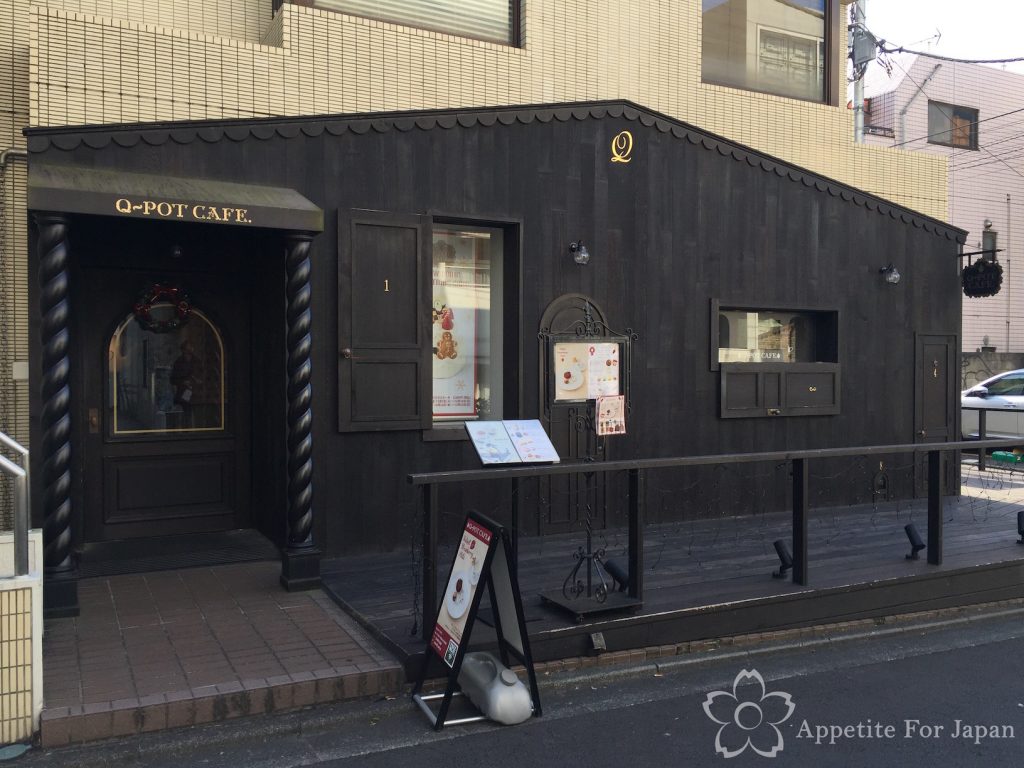 Website:
https://www.q-pot.jp/shop/cafe/?eng=1

Address:
3-10-2 Kita-Aoyama Minato-ku Tokyo 107-0061
Phone:
03 6427 2626
Opening hours:
11:30 – 19:30 (last order 19:00)
Closed Year-end and New Year
Reservations: You can reserve a table at Q-Pot Cafe, or you can simply walk in. We visited around midday on a week day and it was very quiet when we arrived. By the time we left, there were quite a few people, but it wasn't completely full. Weekends may be busier, so you might want to make a reservation if you're thinking of visiting during a busier time.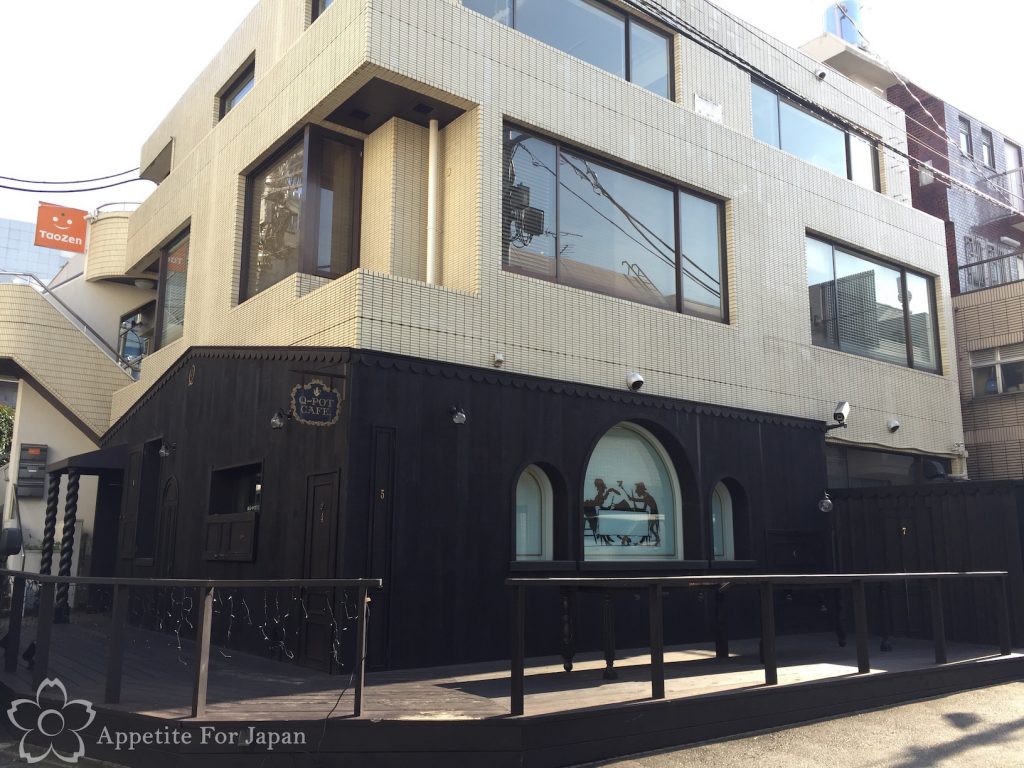 If you're interested in checking out the Q-Pot store at the same time, you're in luck! The Q-Pot store is just across the road from the Q-Pot Cafe, making it ridiculously easy to coordinate your jewellery and accessories with your sweets!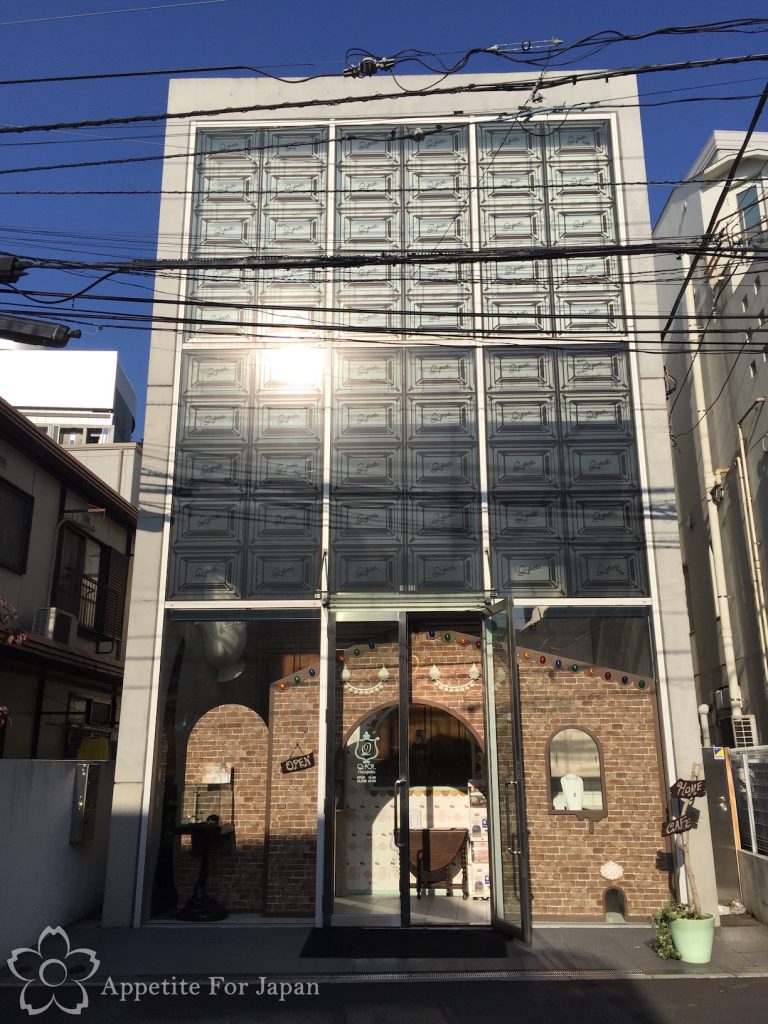 Above: From the outside it's a tall building designed to look like a big white block of chocolate.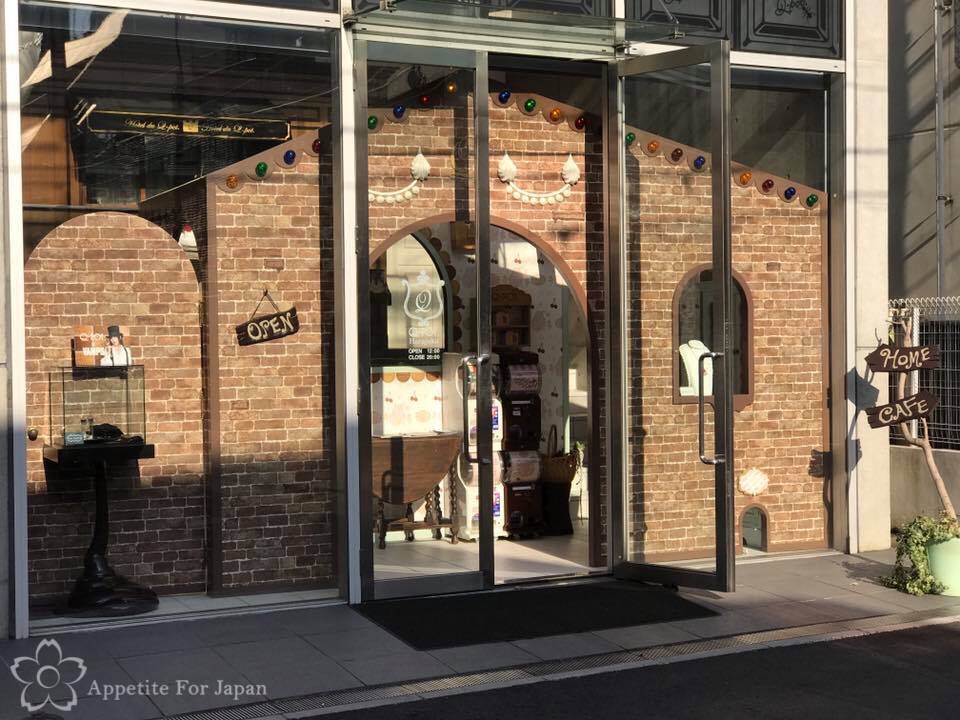 Above: As you get closer, you'll find a building within a building.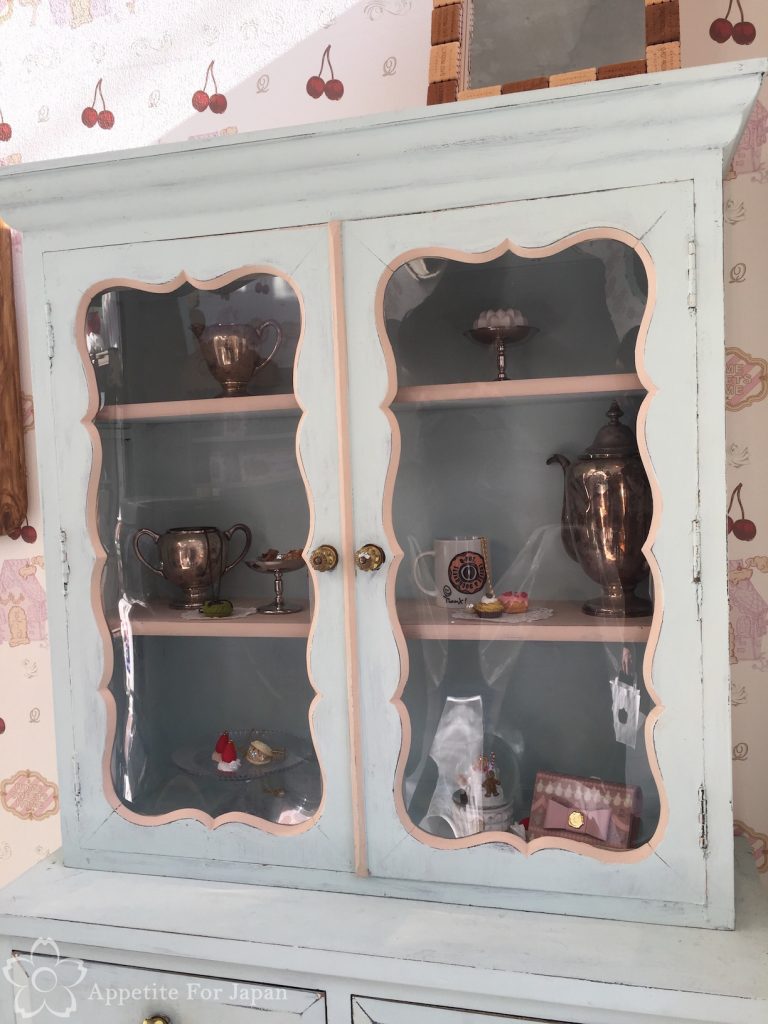 Q-Pot jewellery and accessories are quite expensive, but it's worth having a look at the store if you're visiting the restaurant. See if you can spot the jewellery that matches the sweets in the cafe!