Anime cafe in Tokyo: Characro feat. Macross Frontier
Up until this point all of my blog posts have been about Tokyo Disneyland and Disneysea. I just realised that the themed cafe, 'Characro feat. Macross Frontier', is only open for a few more weeks so I thought I'd squeeze in a post about it before it's gone!
One of the interesting things about the Characro cafe in Ikebukuro, Tokyo, is that it changes themes approximately every six months. Having been to the cafe, this is quite impressive as it certainly doesn't come across as a temporary installation. The Macross Frontier theme started on 27 July  2013 and will finish at the end of this month.
Themed cafes can be overpriced and the food can seem a little random. Sometimes the decor is a bit token, too. Of the themed cafes that I've visited, Macross Frontier is one of the better ones. The themed food is pretty cute, the drinks are delicious, the is decor done well. I liked it  and can only imagine how cool it would be for someone who is a big fan of the series!
Apparently the idea with this one is that a cafe in the Macross Frontier series (Nyan Nyan Hanten) is meant to have opened the cafe in Characro. I'm not familiar with Macross Frontier, but I'll go along with that! (If you're wondering what I'm doing at themed cafes relating to things that I'm not too familiar with, it's because my partner is a big fan – and of course I enjoy tagging along and learning about it all as we go.)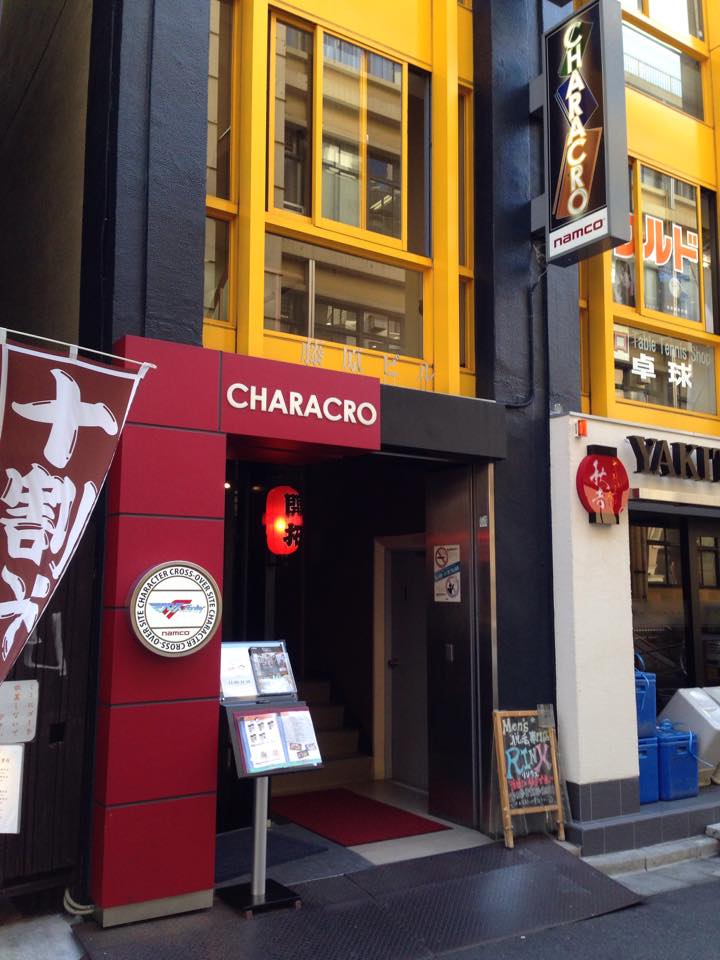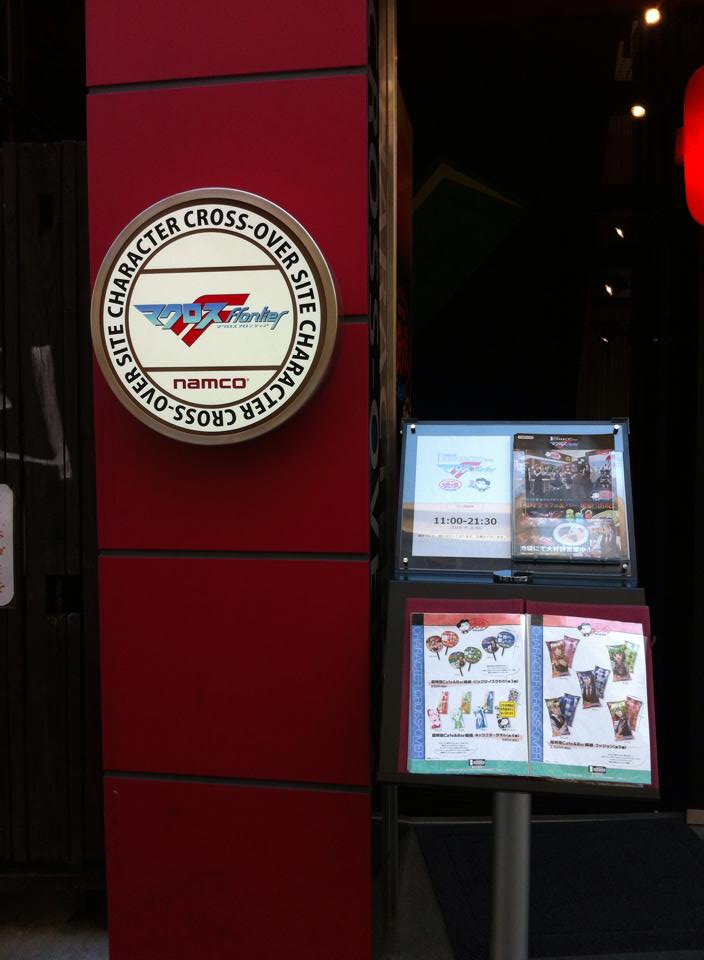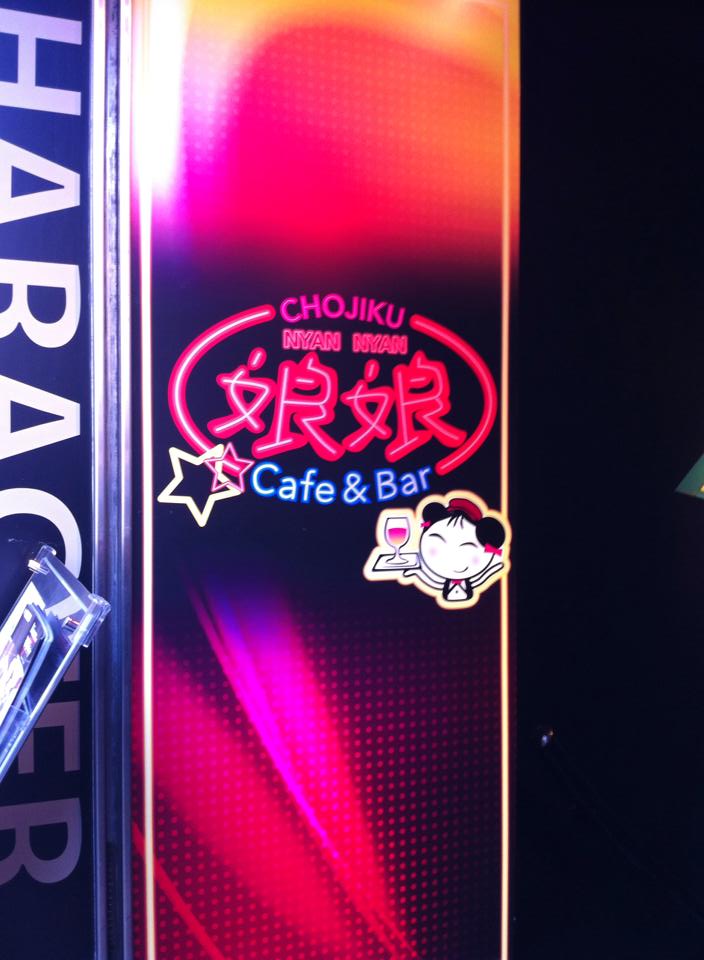 When you arrive they set you up with a pass and a lanyard to wear before you're seated. You're free to get up and look around, take photos, etc, as much as you like.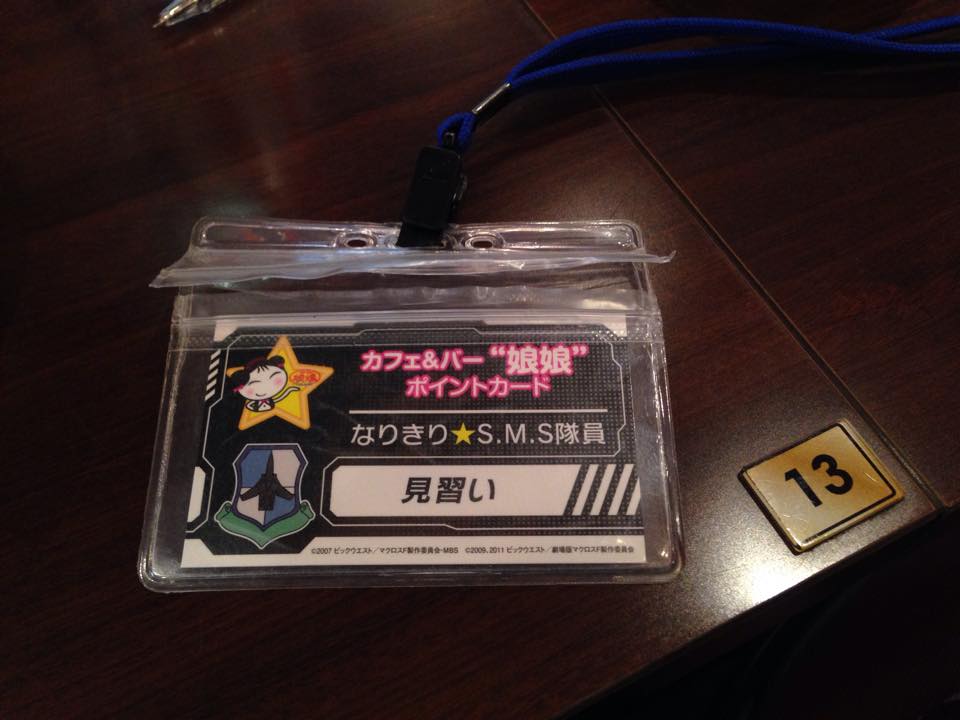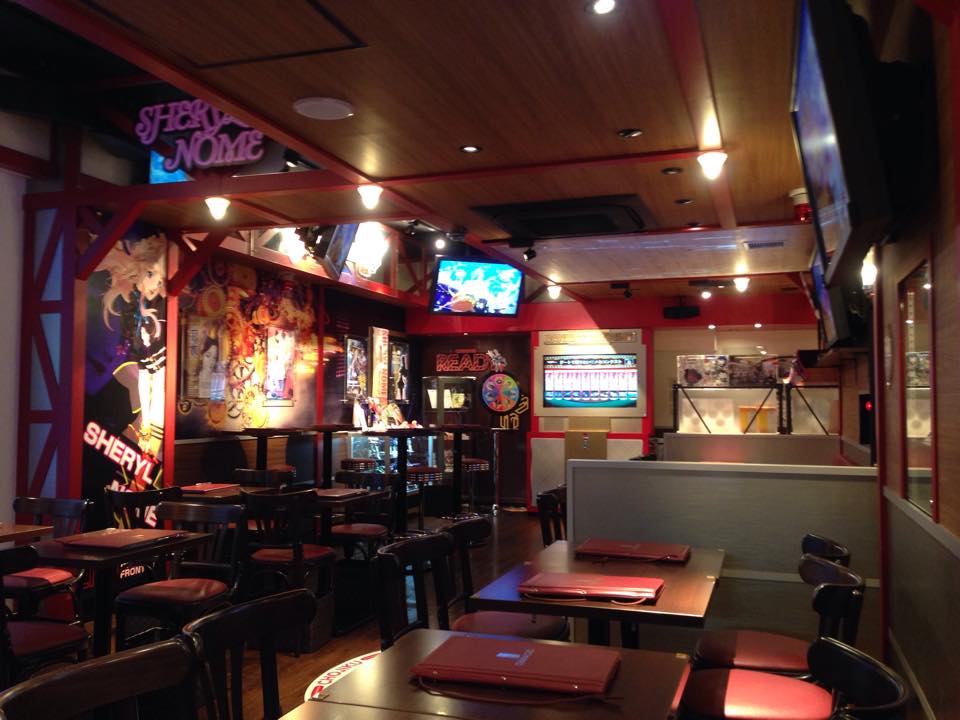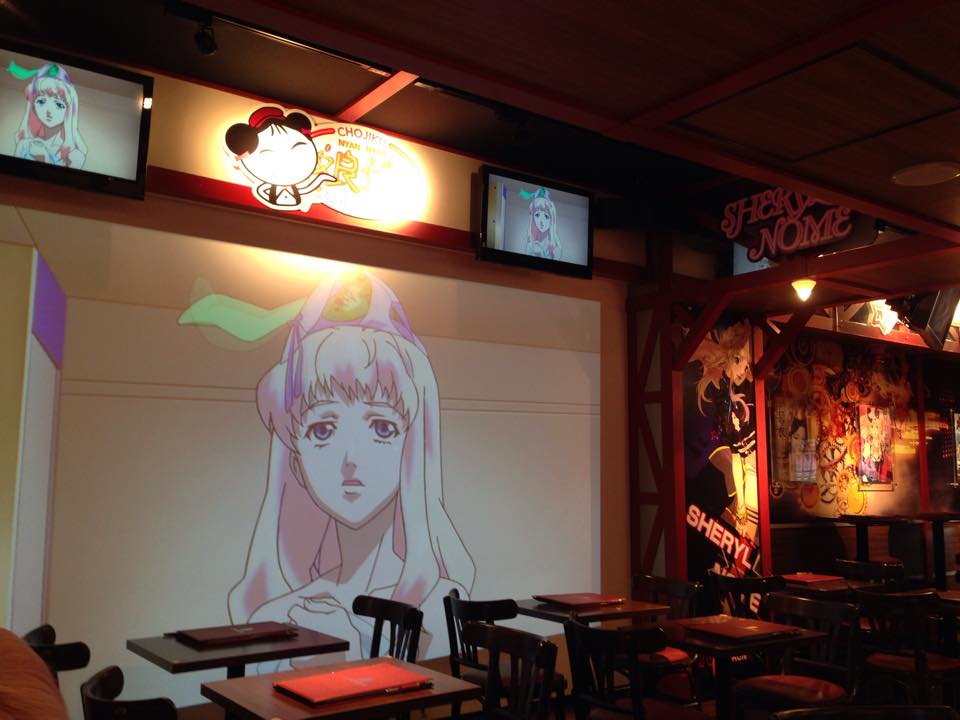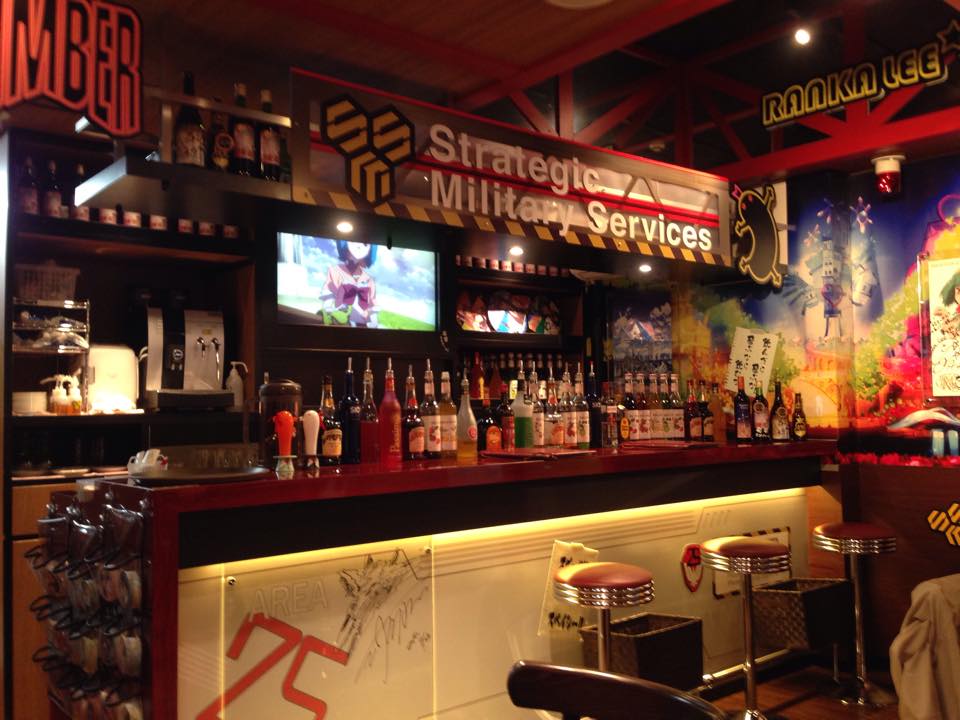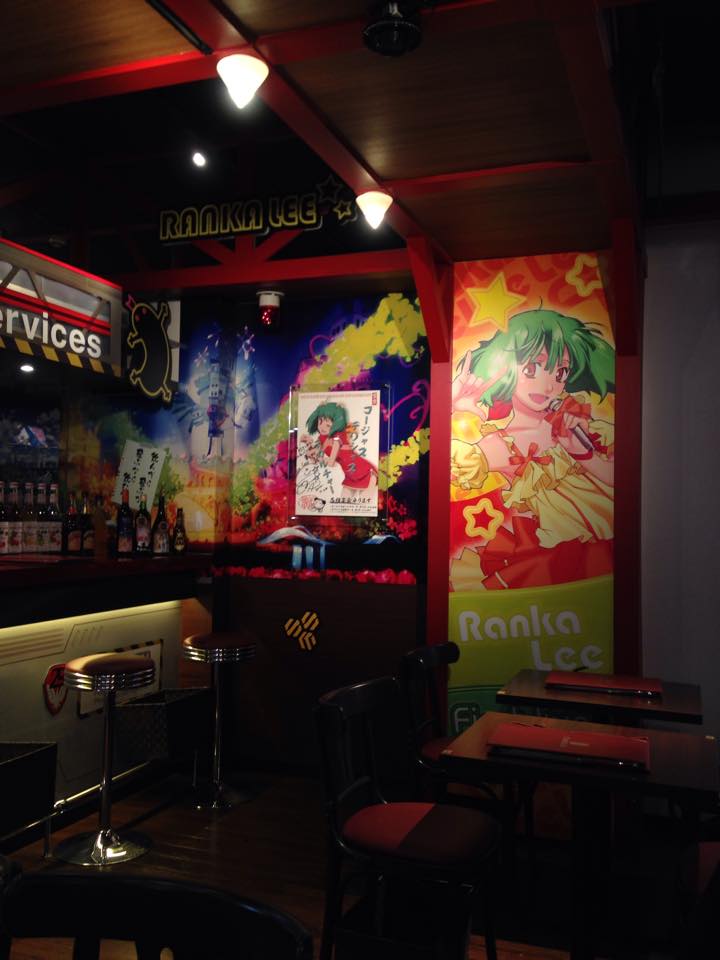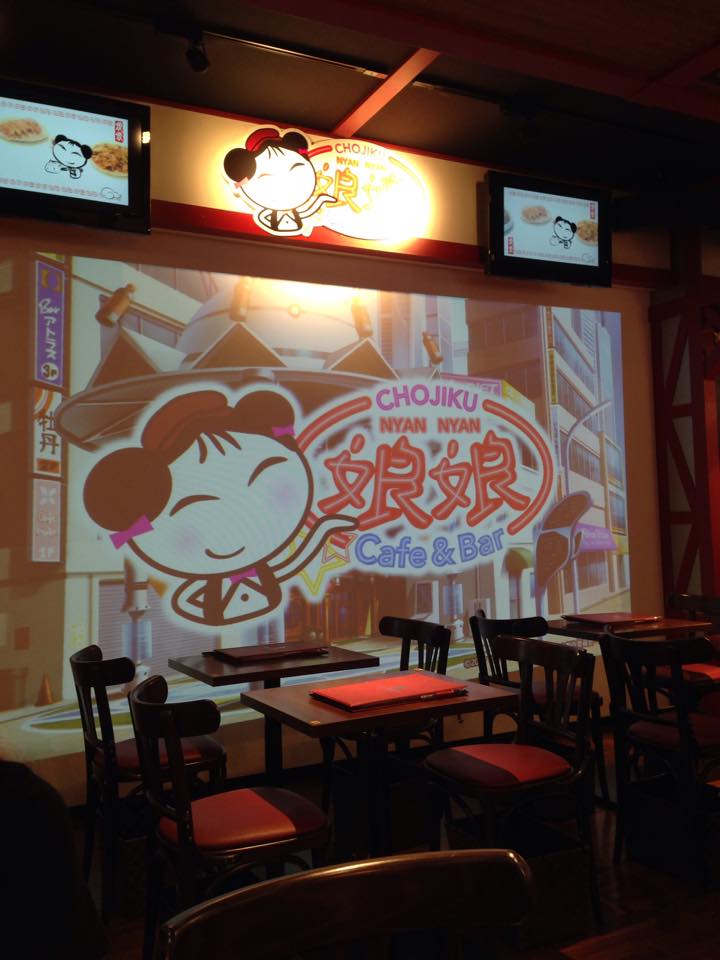 Here's what I mean about the cute themed food!
Below is the Valkyrie curry, rice and scrambled eggs (1250 Yen) that my partner ordered. I read on another website that it's omelette rice, but it's definitely curry, scrambled eggs and rice. It was pretty good, too.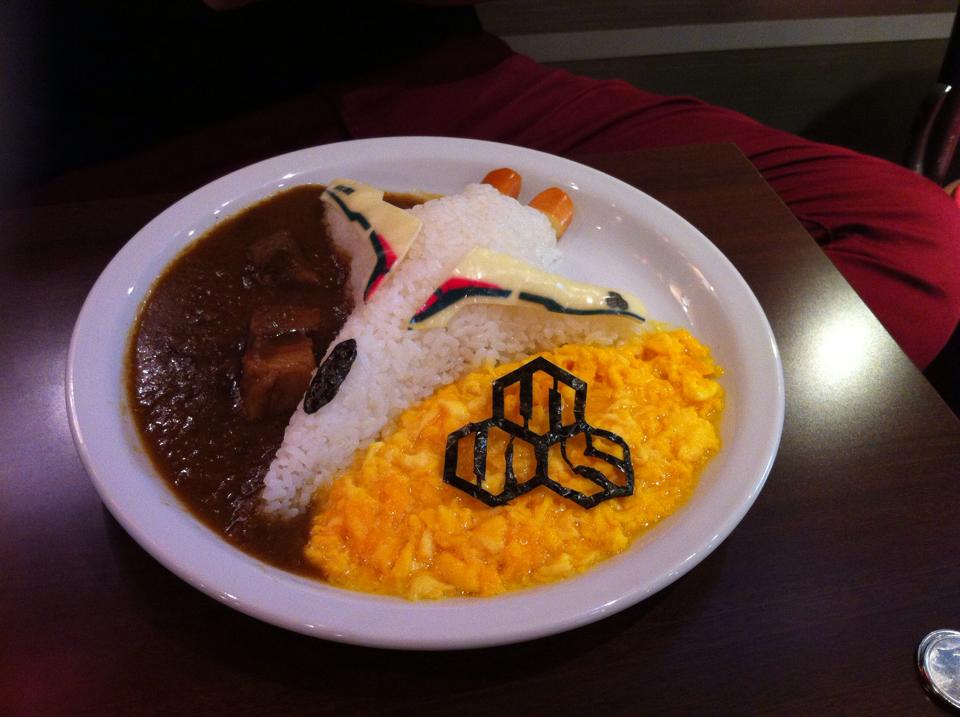 I'll admit it: I'm the one who ordered the fried rice shaped like pair of boobs (1100 Yen). It was too hilarious not to order! The nipples were made of raw tuna. It was not bad fried rice, either, and I got a laugh out of it.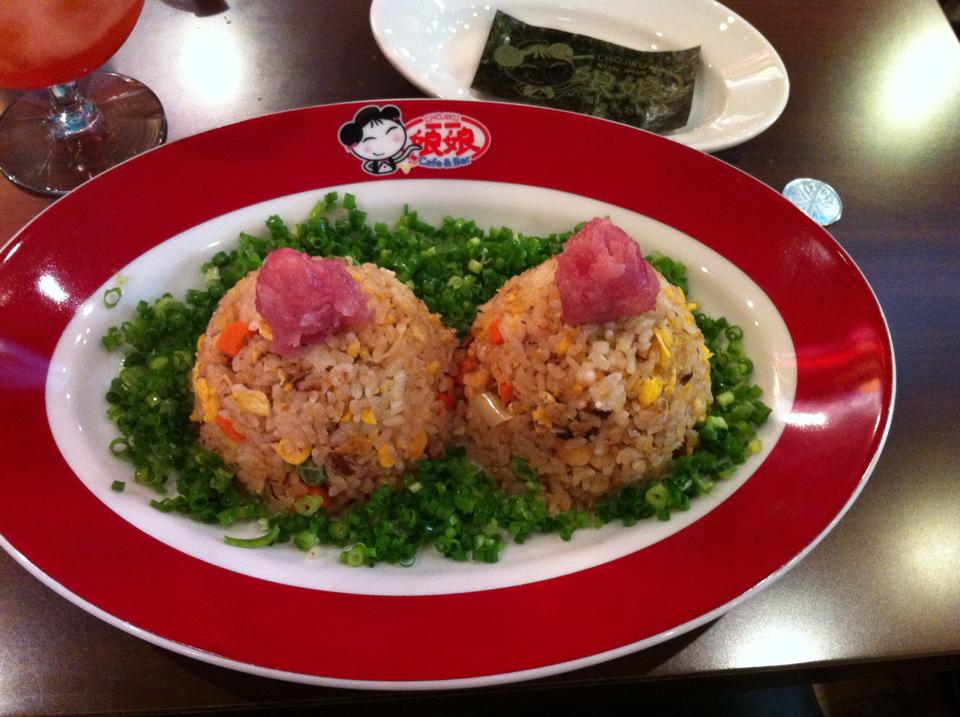 Even the seaweed is made to fit with the theme of the cafe! I was impressed by the effort and detail at this cafe.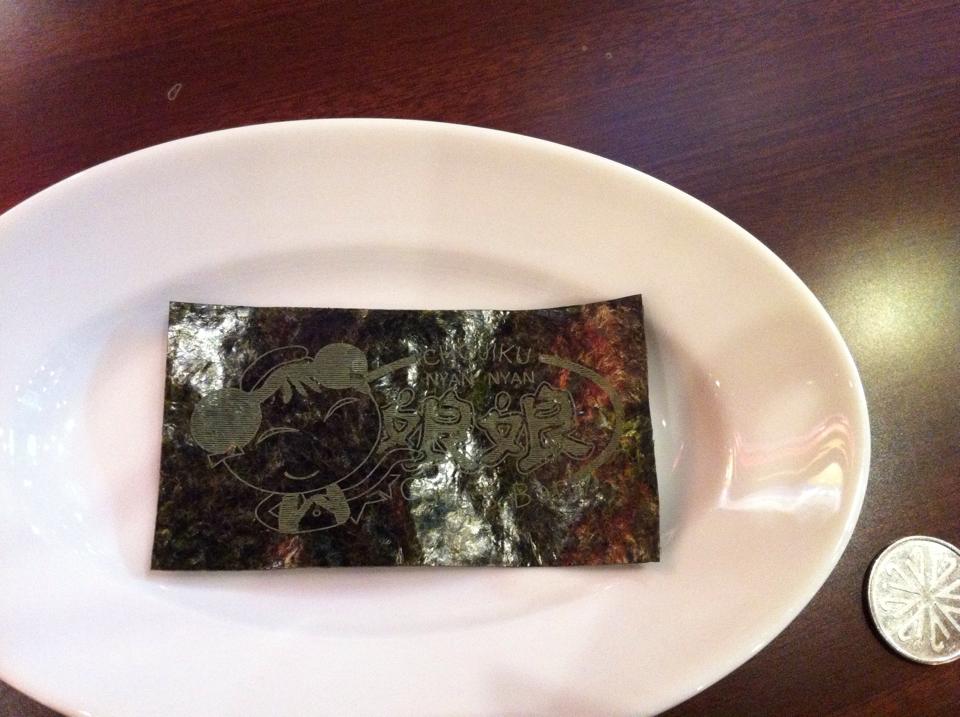 Cocktails! These come with coasters, and you can see on the menu which coaster comes with each drink. Like many themed cafes, they present the coaster separately to the drink so that you can keep it (rather than putting the drink on it). Naturally, you can buy an official coaster book to keep all of your coasters in!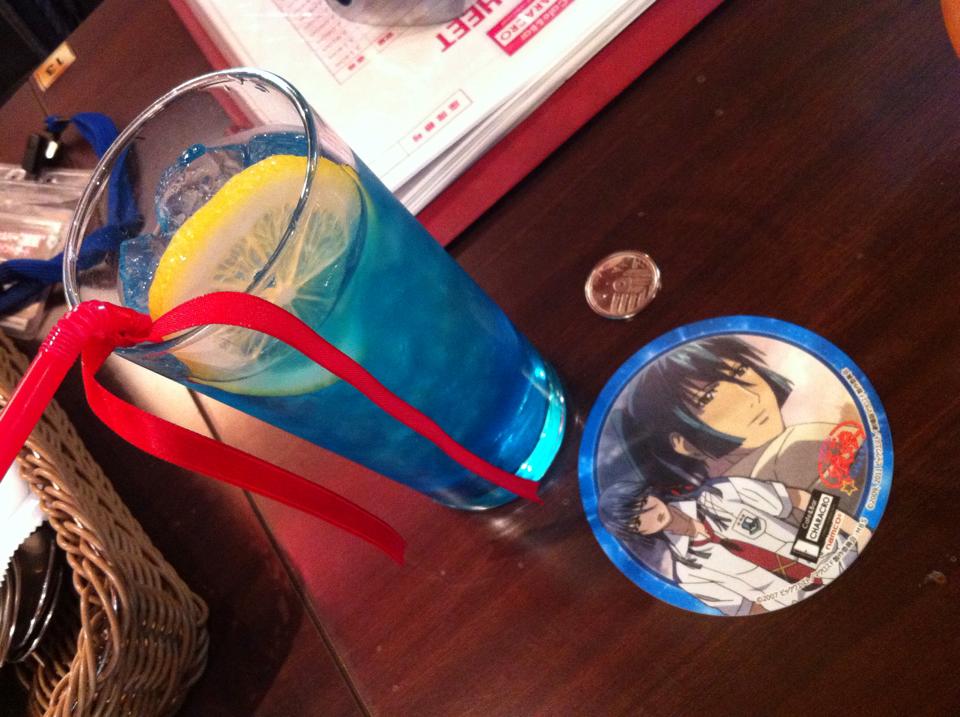 I ordered my cocktail without alcohol whereas my partner ordered the above one with alcohol. Both drinks were 680 Yen (not too bad considering that alcohol was optional in both for no extra cost). Like the food, the drinks – and therefore the coasters – are themed to match each character. My drink (below) was absolutely delicious.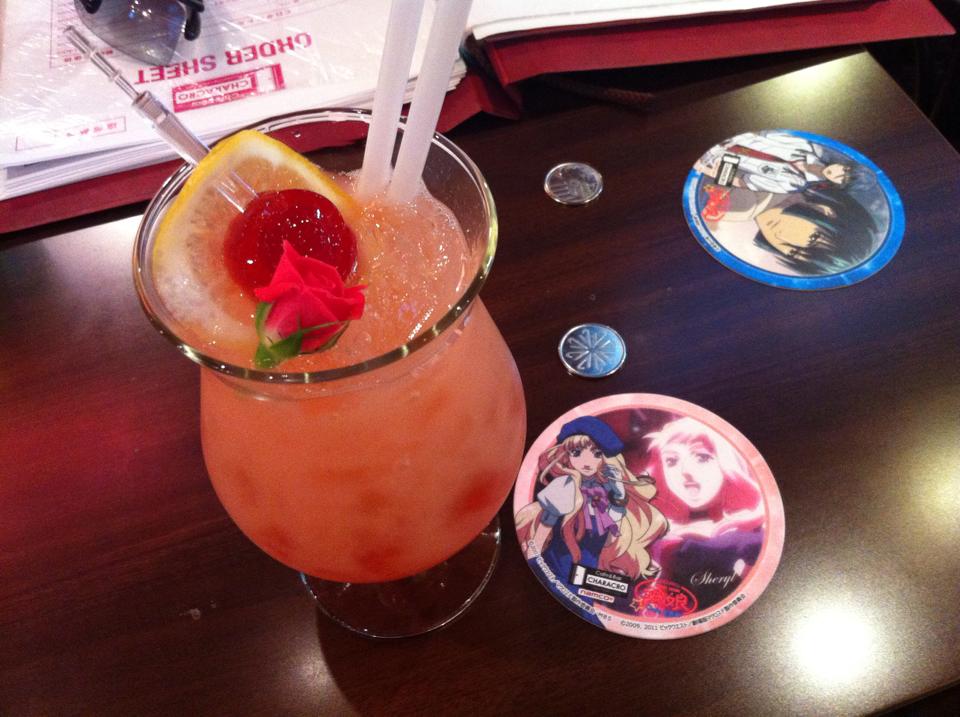 We would have stayed for dessert too (there were a couple of boob shaped desserts that I had my eye on!) but we'd already planned to have dessert at a fancy parfait place nearby.
They also give you tokens to put into a machine to rate your favourite unit… I'm wasn't sure what it was (fans of the series should understand what this is all about) but again, I was happy to go along with it! The tokens are those things that look like coins in the above picture.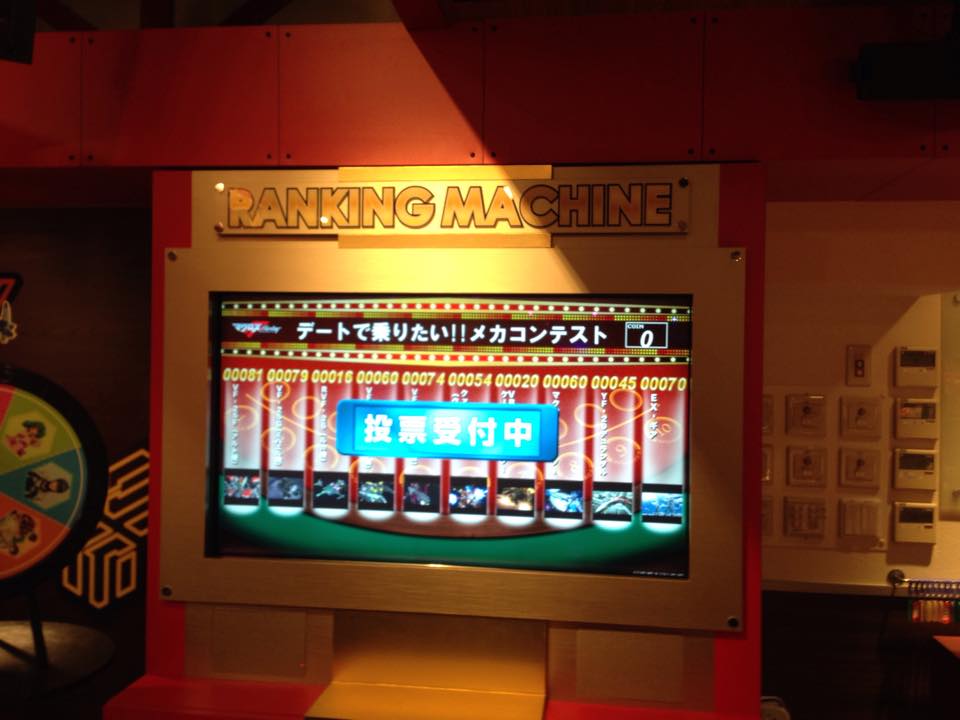 You can, of course, buy plenty of merchandise too.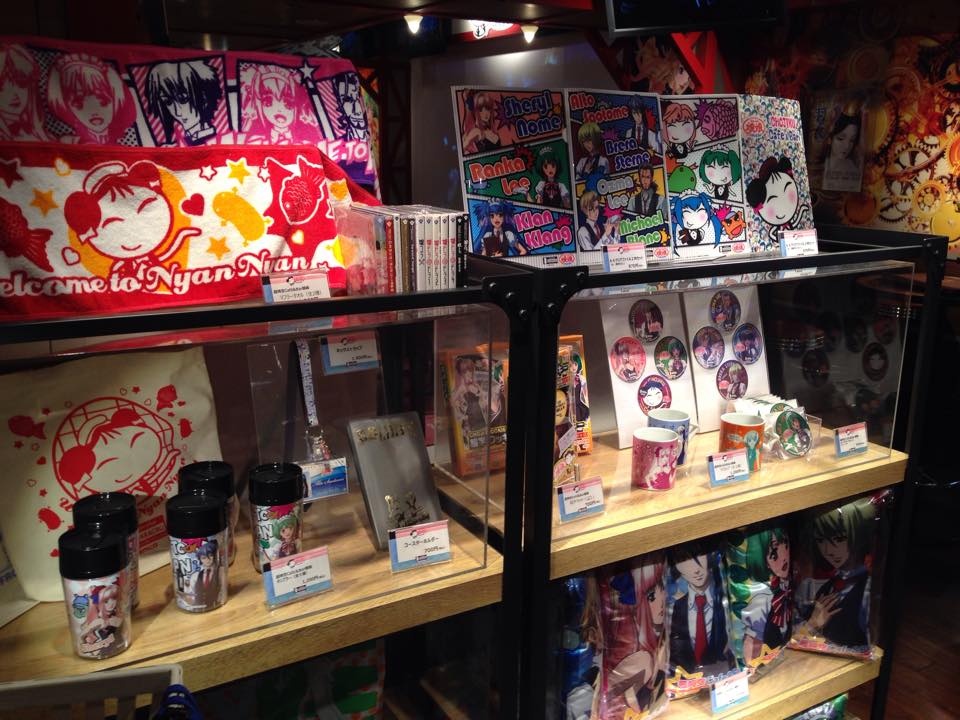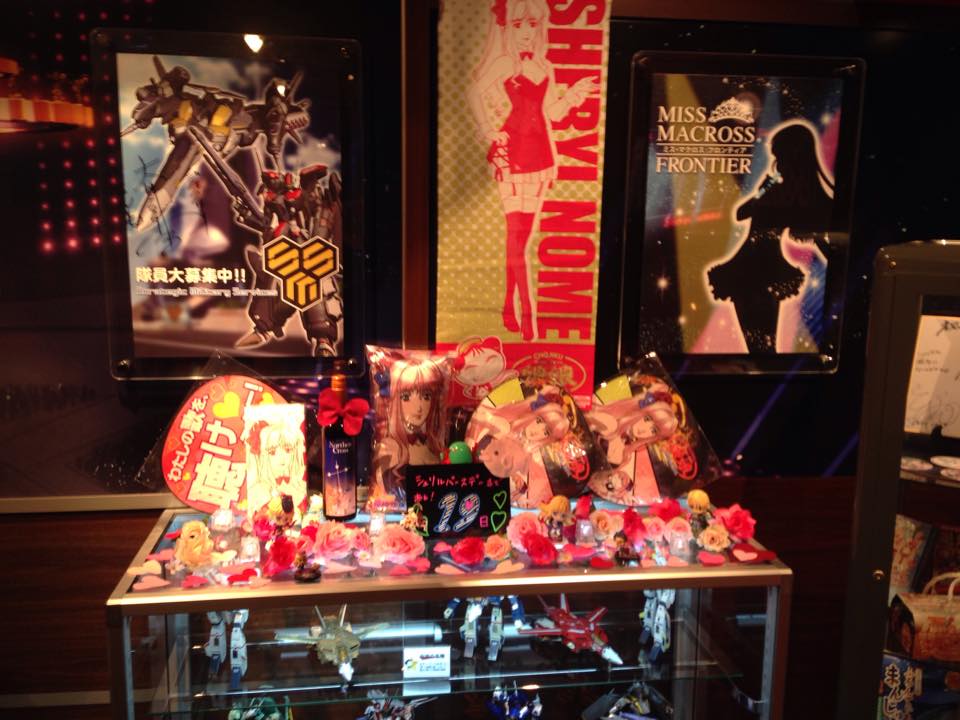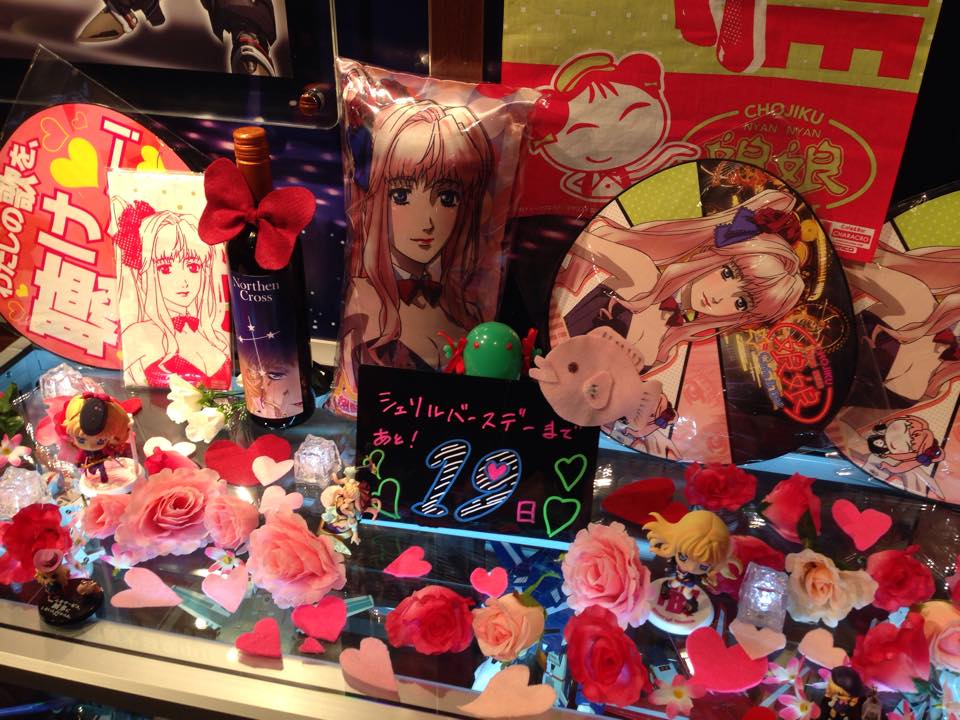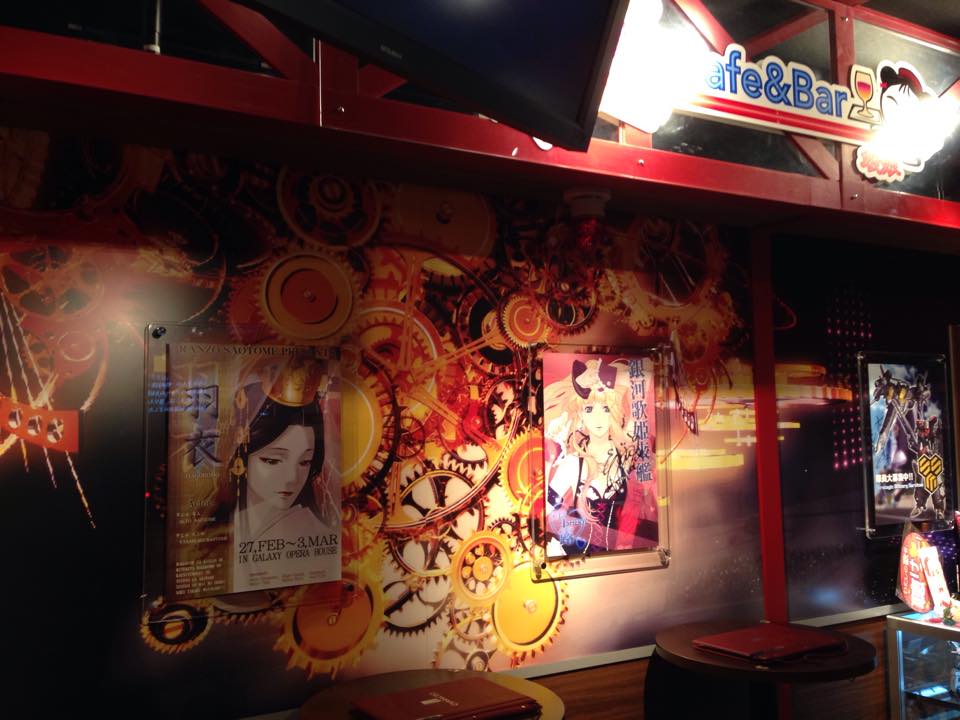 Apparently if you go on the weekend you need to make a reservation first. We went on a weekday and walked straight in. There was only one other table of people when we arrived, and another table of people entering as we left. You can see from the photos in this post just how empty it was the day we went.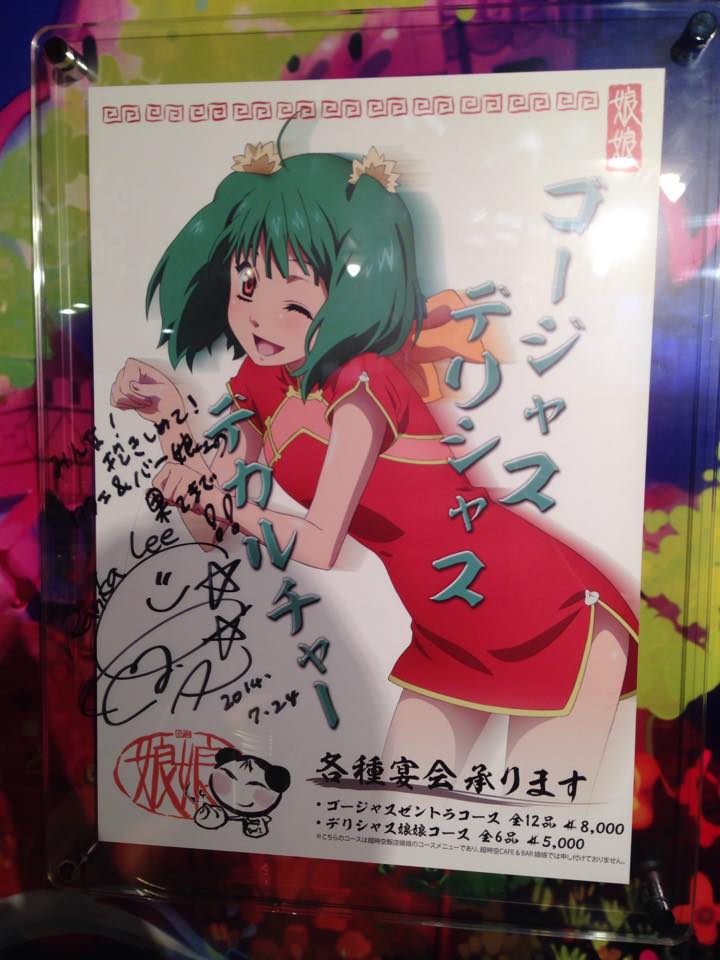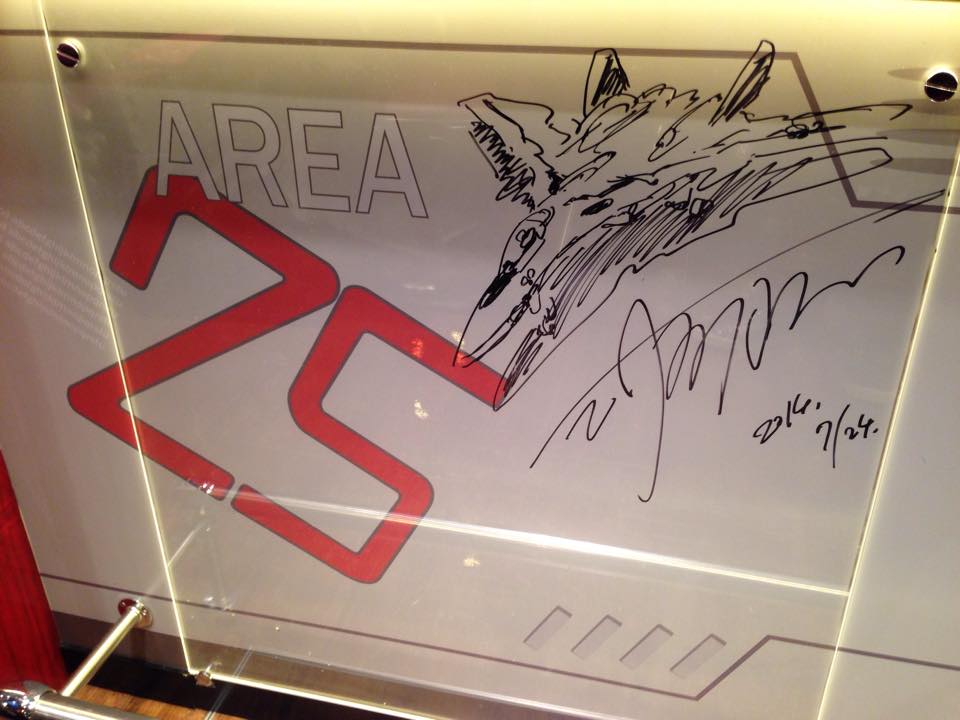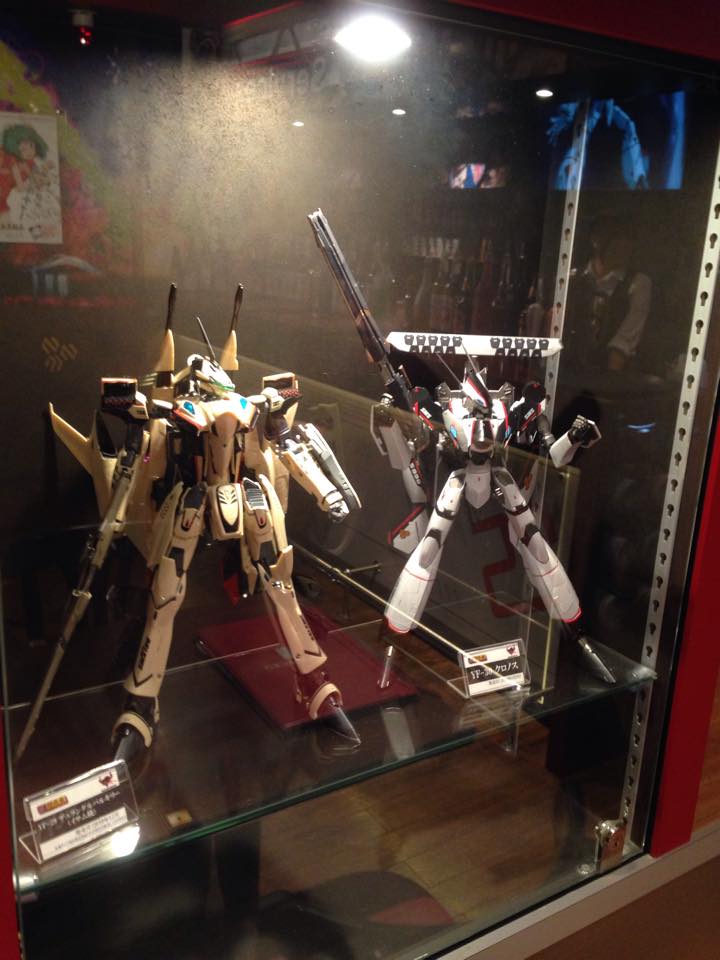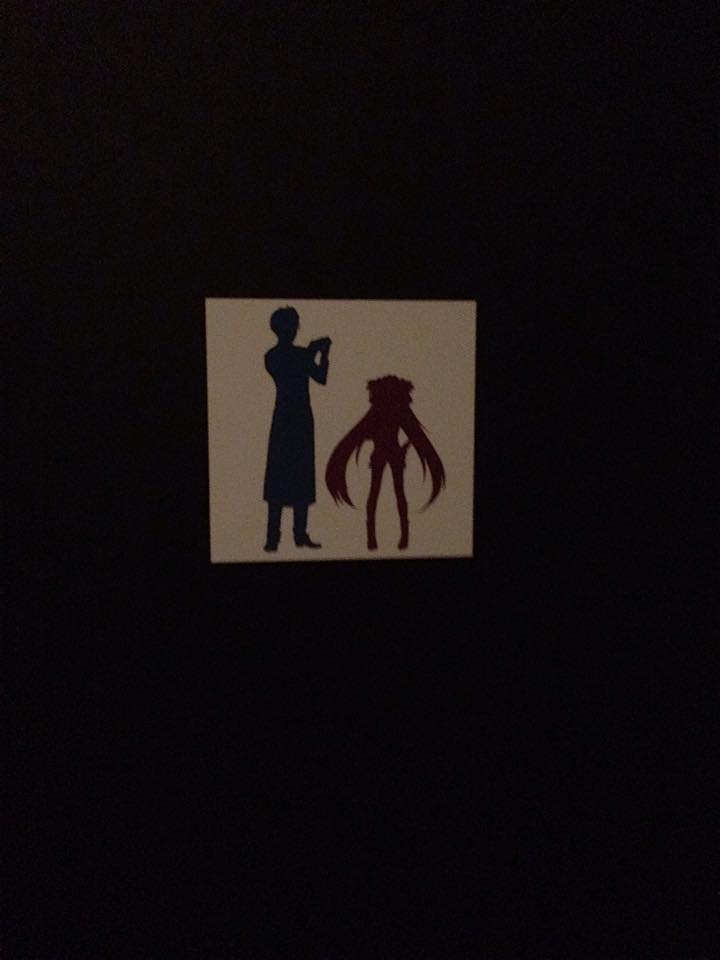 How to get there: The instructions on the website are simple and spot on. The website is in Japanese, so we ran the 'information' page through Google Translate and voila:
After getting off the lines "Ikebukuro" station, about a 7-minute walk from the east exit (north).
I go to the northeast in front of Bic Camera Ikebukuro along Meiji street. When the yellow building (Toshima Ward) is visible to the right front, I cross the crosswalk to the ward office side. Continue on to the northeast, and then turn right at the first intersection with Mos Burger. As two hotels of Mos Burger is Kyarakuro.
Here are three pictures that might help. If you can see this scenery, then you're going the right way…
Keep walking straight ahead when you get to this spot. See the green bus in the distance? Above that you can just make out a yellow building and the Mos Burger sign: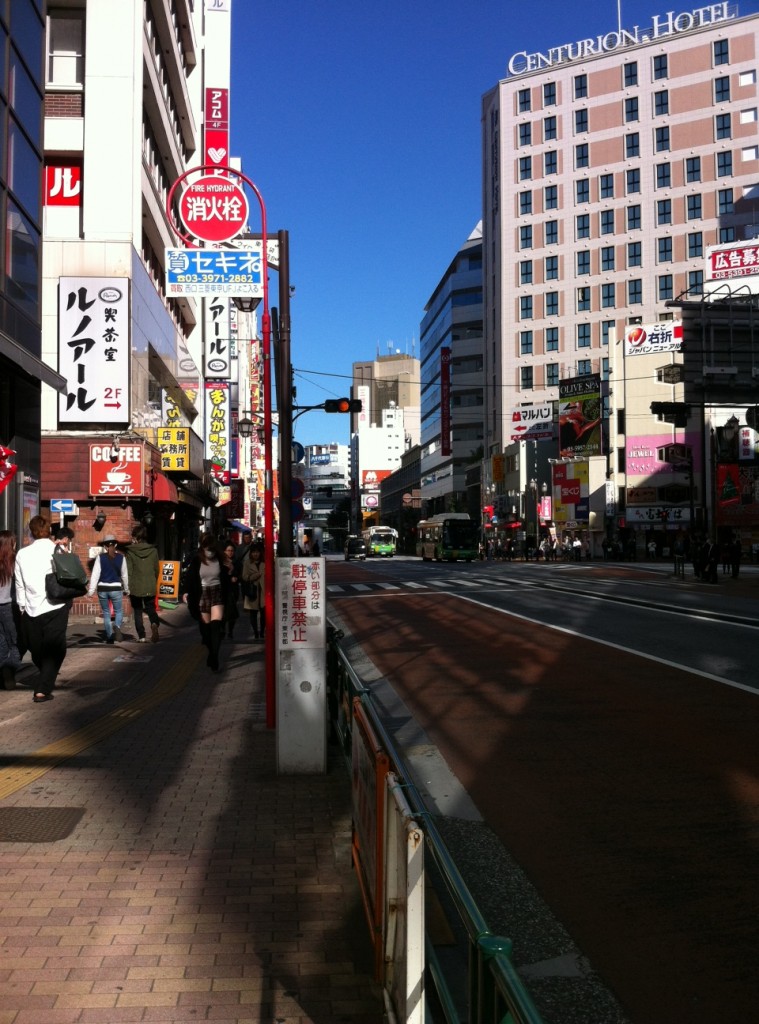 That big building on the right is the ward office. You can keep walking straight ahead, and you may as well cross the road so that you walk right past the ward office. You'll see that you're getting a lot closer to the yellow building and the Mos Burger sign.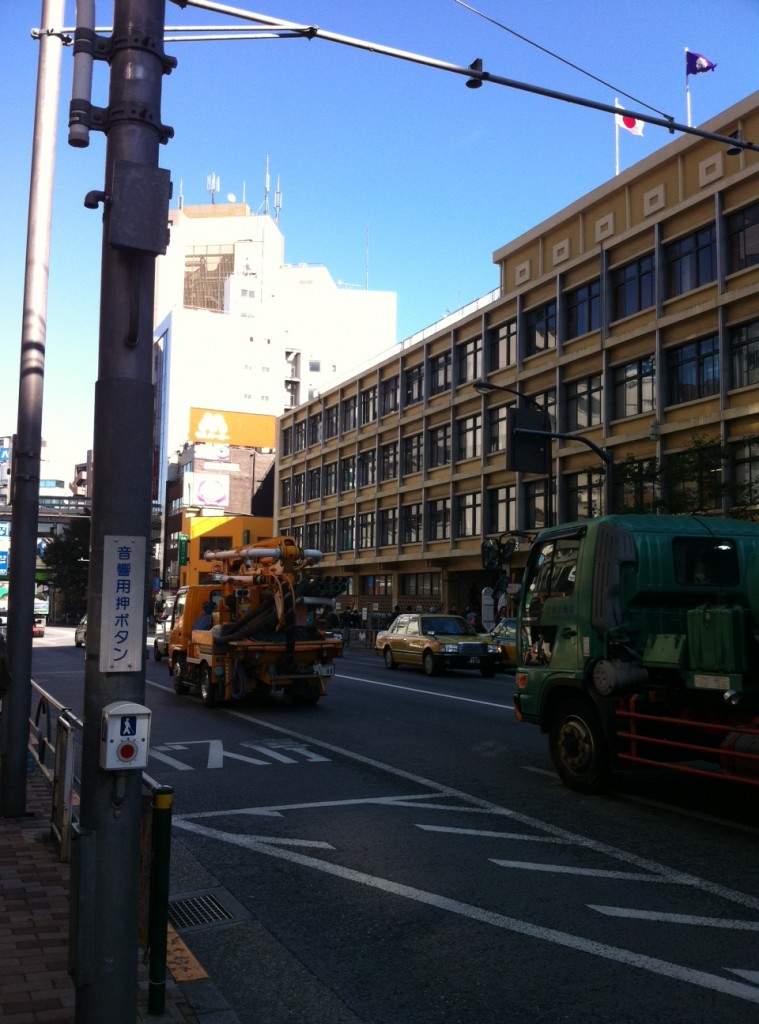 Cross the road at the intersection and turn right. The Characro cafe is just under the this bright yellow building: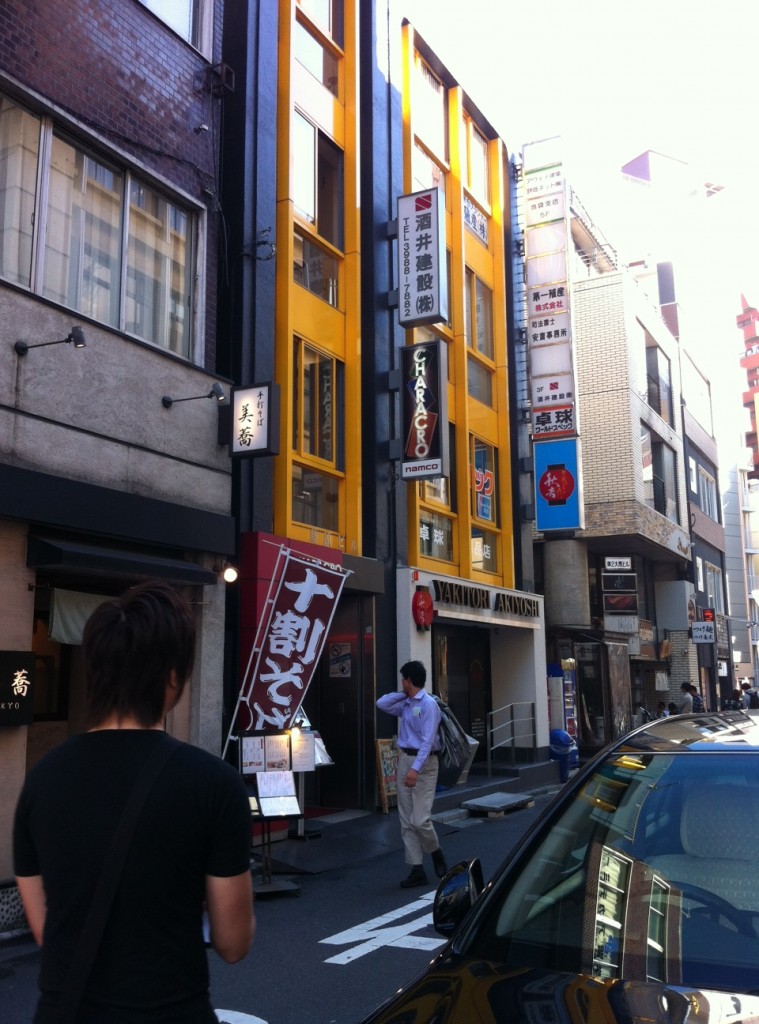 Here's the website: http://www.namco.co.jp/characro/macrossf/