Eorzea Cafe: the Final Fantazy XIV themed cafe in Akihabara
Eorzea is a Final Fantasy XIV themed cafe in Akihabara. Japan takes themed bars, cafes and restaurants pretty seriously, and game company Square Enix is not new to the themed venue playing field. Boasting several themed eateries including the popular cafe and store, Artnia, Square Enix's most recent cafe, Eorzea opened in July 2014.
Eorzea is a collaboration between Square Enix and entertainment company Pasela which runs karaoke and restaurant chains. The cafe is modelled on the Carline Canopy, a building within the Final Fantasy XIV game, and has become a place of pilgrimage for serious Final Fantasy fans visiting Tokyo.
Please note: Eorzea Cafe has released a new menu since this post was written. For an overall write-up of Eorzea Cafe, stay on this page. To read about the new menu, click here.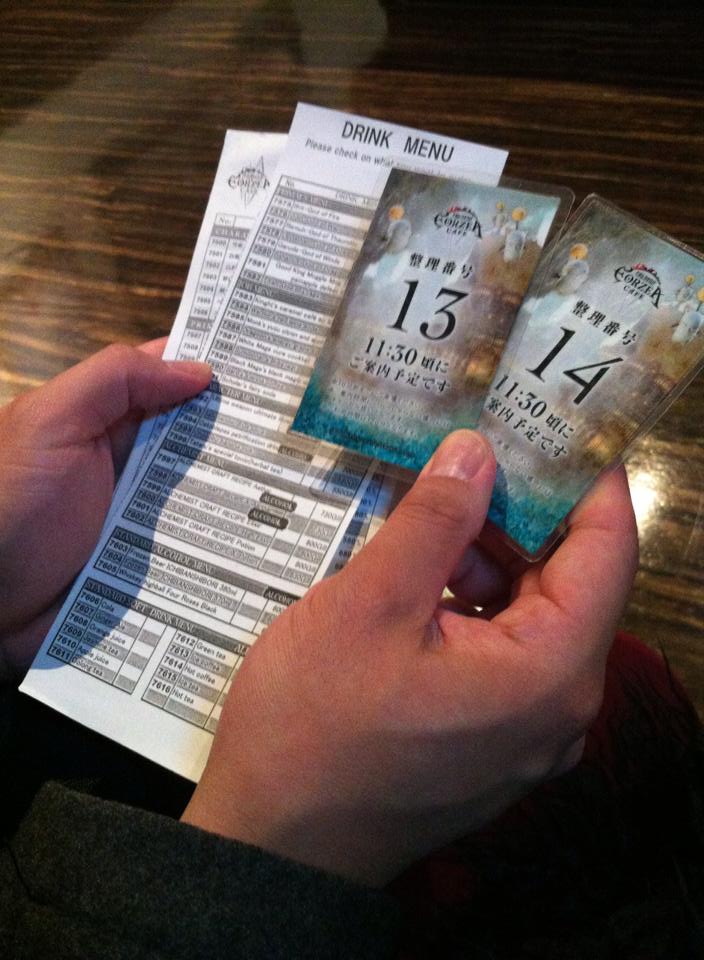 We had read that Eorzea is so popular that you need to queue up first thing in the morning to go into a lottery to win the opportunity to eat at the cafe. They have several sittings per day, and in the lottery you could end up at any sitting. As such, we turned up fairly early – only to find that there was just one other guy waiting! He said that he had turned up when the cafe  opened and, due to there being nobody else there, was told to come back in an hour. Perhaps this was because it was a week day.
We were handed photocopied menu charts to fill in once at the table, as well as an English menu to read, and laminated cards specifying the seats we'd be sitting at. We got seats 13 and 14 at a table for two, but we were actually the second and third people to arrive – I guess they try to avoid seating people too close unless the cafe is full. In our sitting there were only 11 customers in the cafe.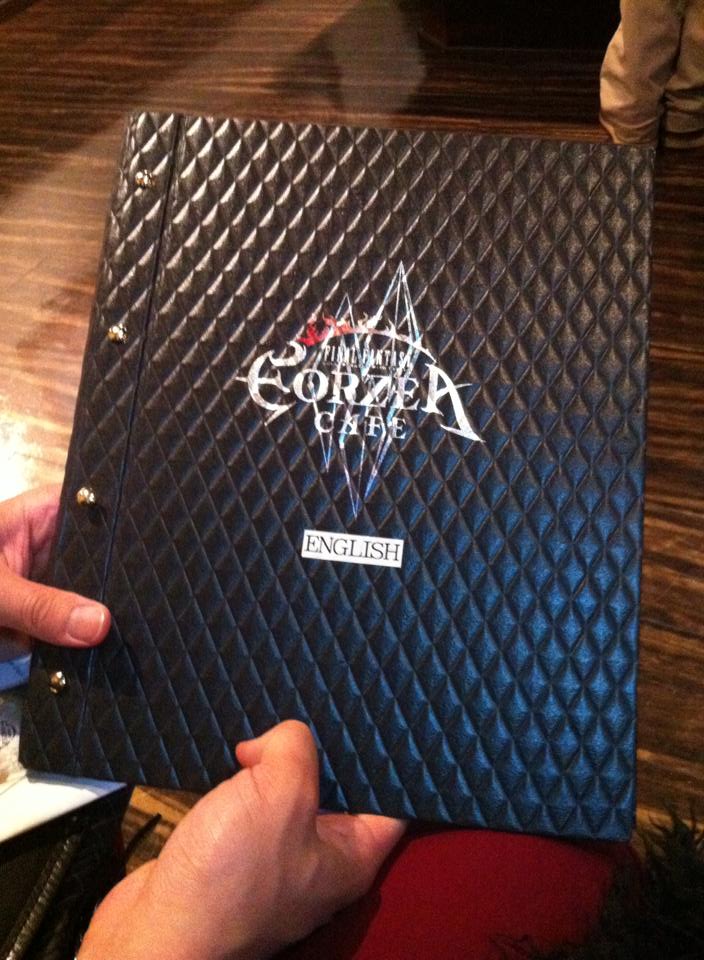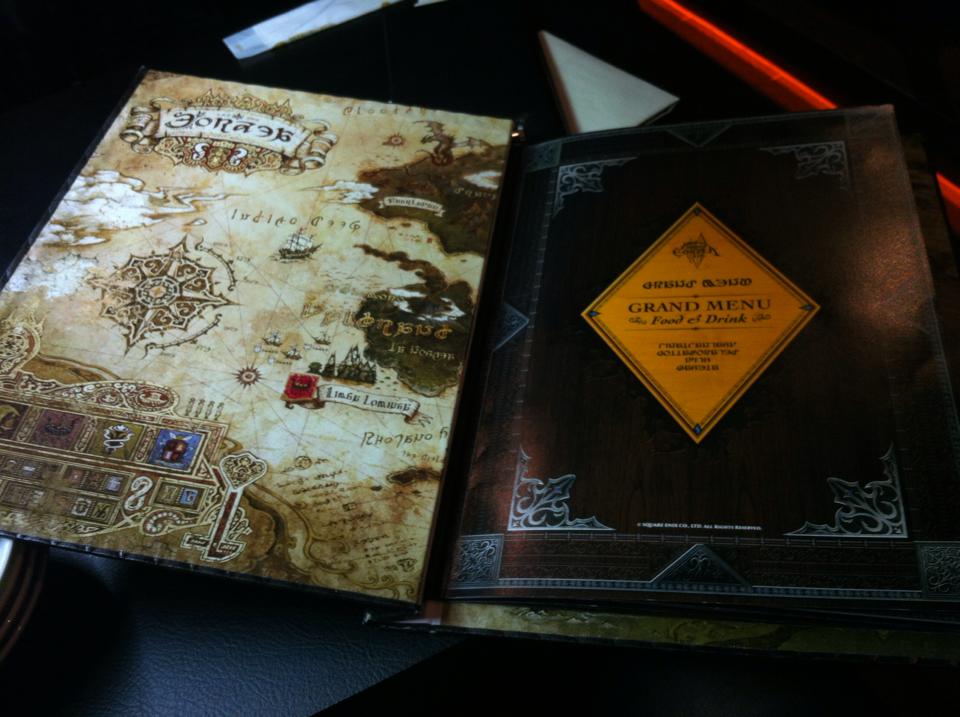 We were seated in a waiting area in front of a counter, between the lifts and the entrance to the toilets. At 11:30 sharp, a waitress came and got us, and showed everyone to their seats.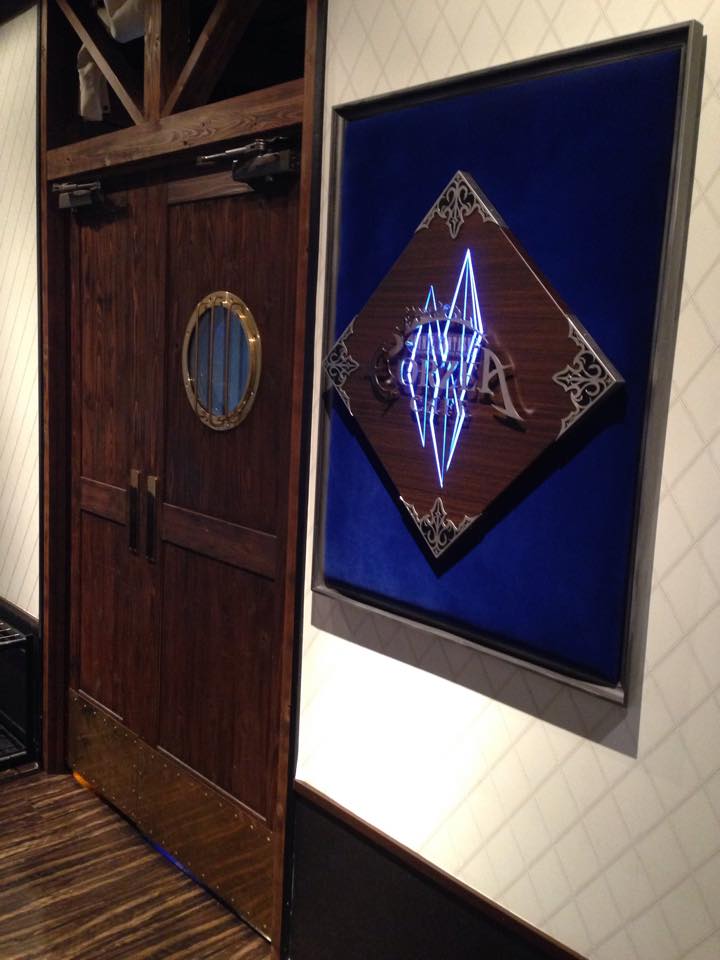 The entrance to Eorzea.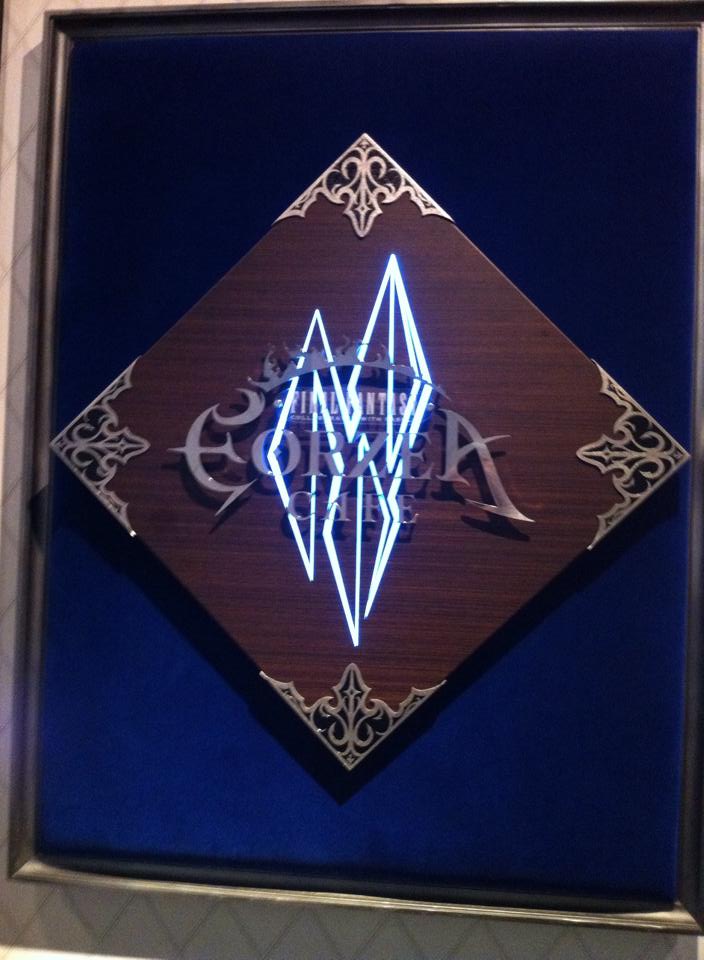 Close-up of the sign.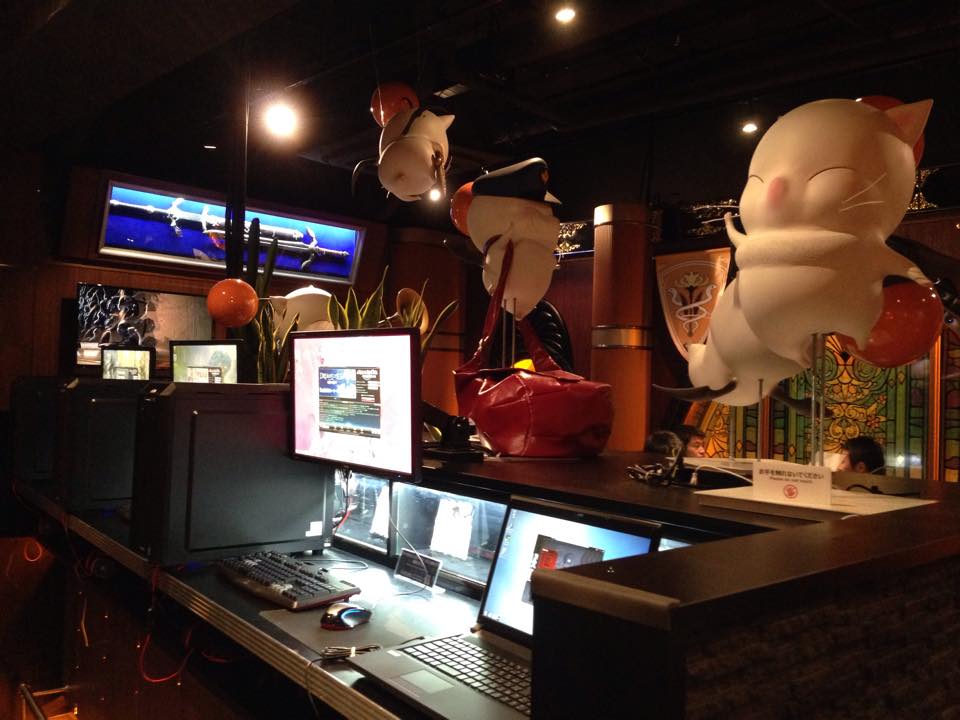 Computers set up so that customers can play the game.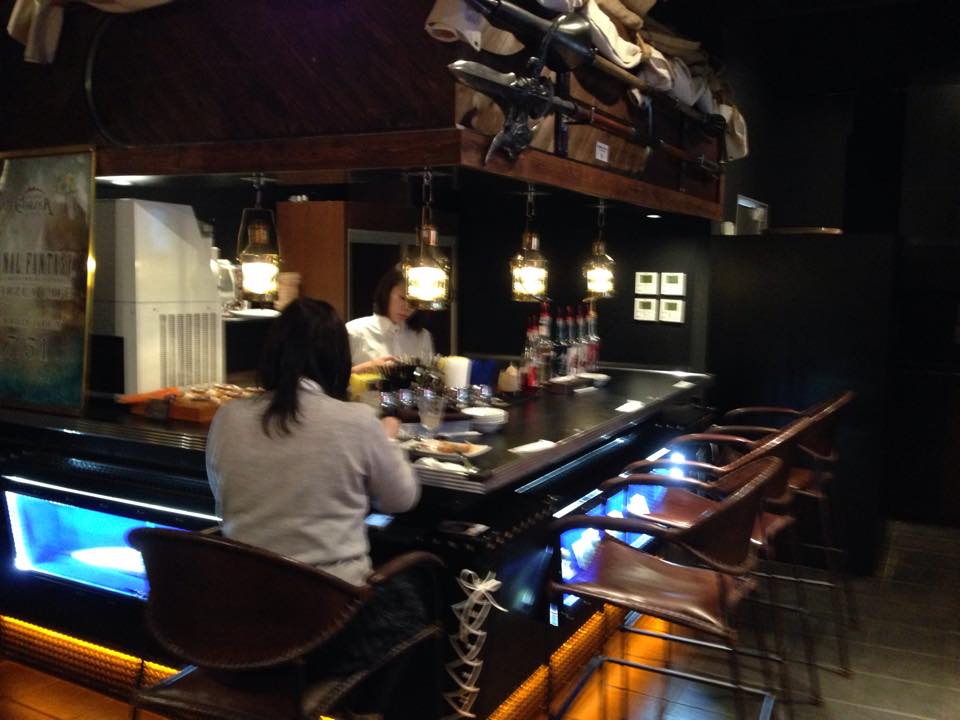 In addition to the tables, there is also a bar. Unfortunately we only got one photo of the bar and it was blurry!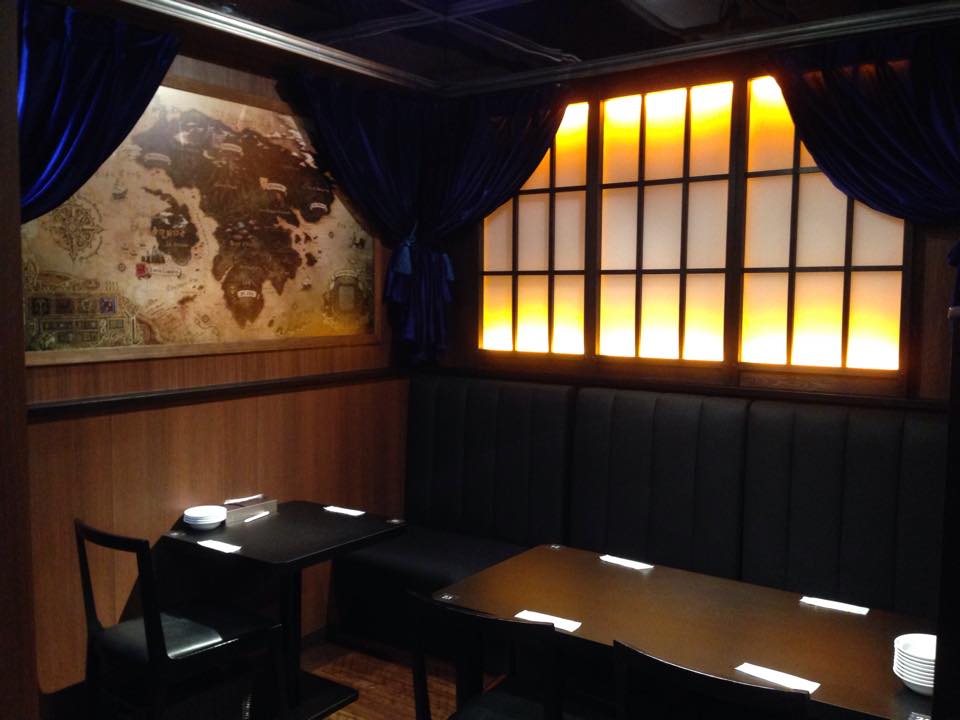 Each seat at each table has a number which you're allocated before entering the restaurant.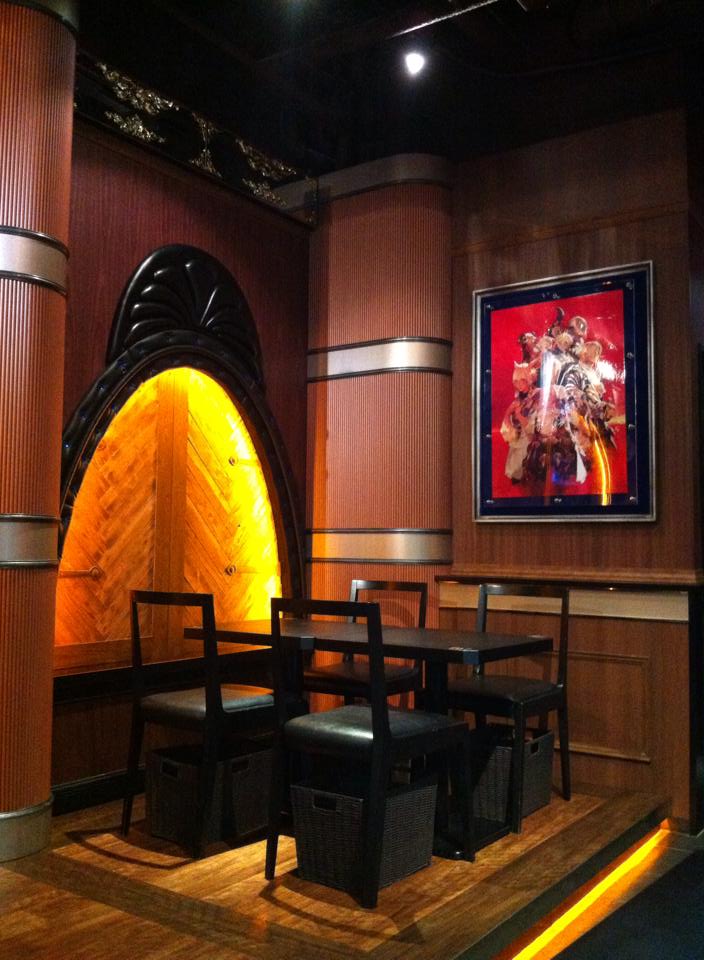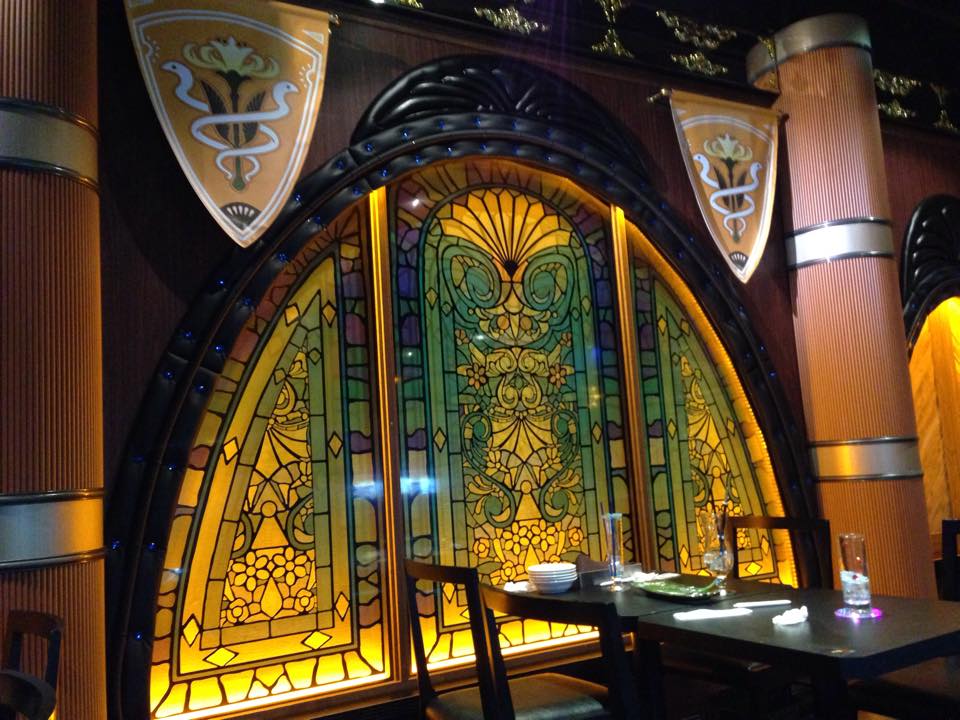 This window is probably the most iconic spot in the cafe, and is for a table of four.
One of the great things about Eorzea is that you're allowed to wander around and take plenty of photos. Some venues in Japan don't allow this, but since part of the appeal of Eorzea is the decor, it's great that they're open to plenty of photos.
Here are some of the replica weapons you can see at Eorzea: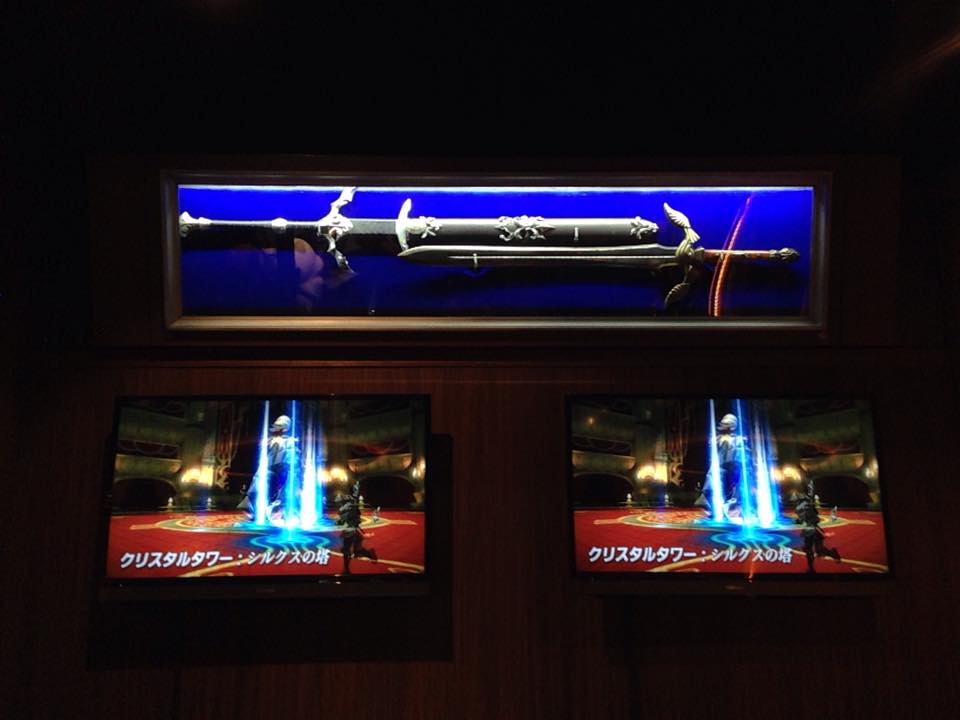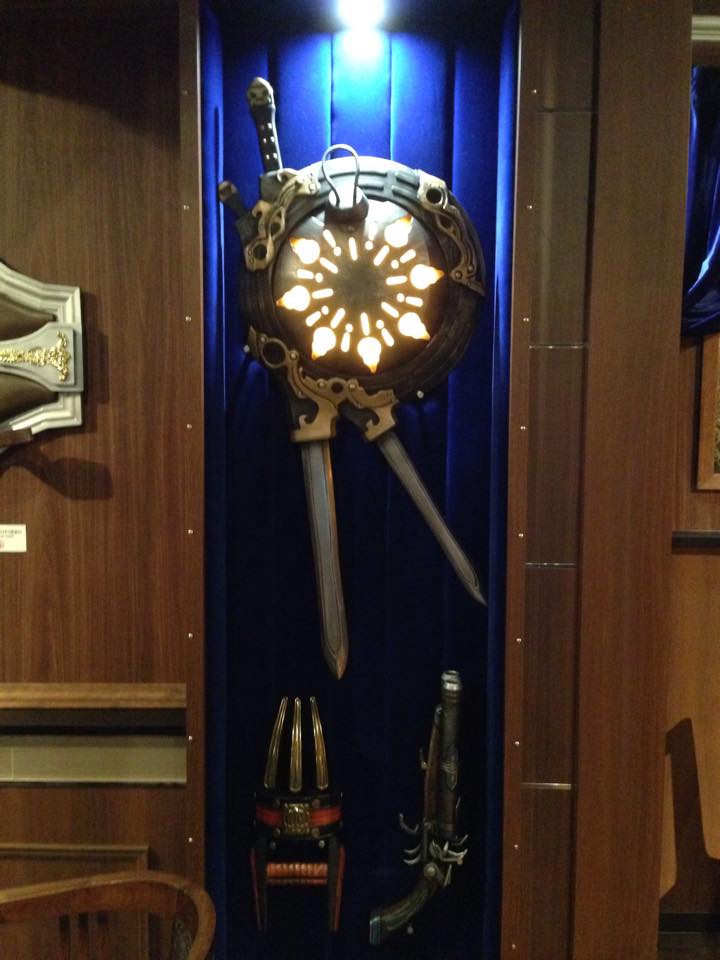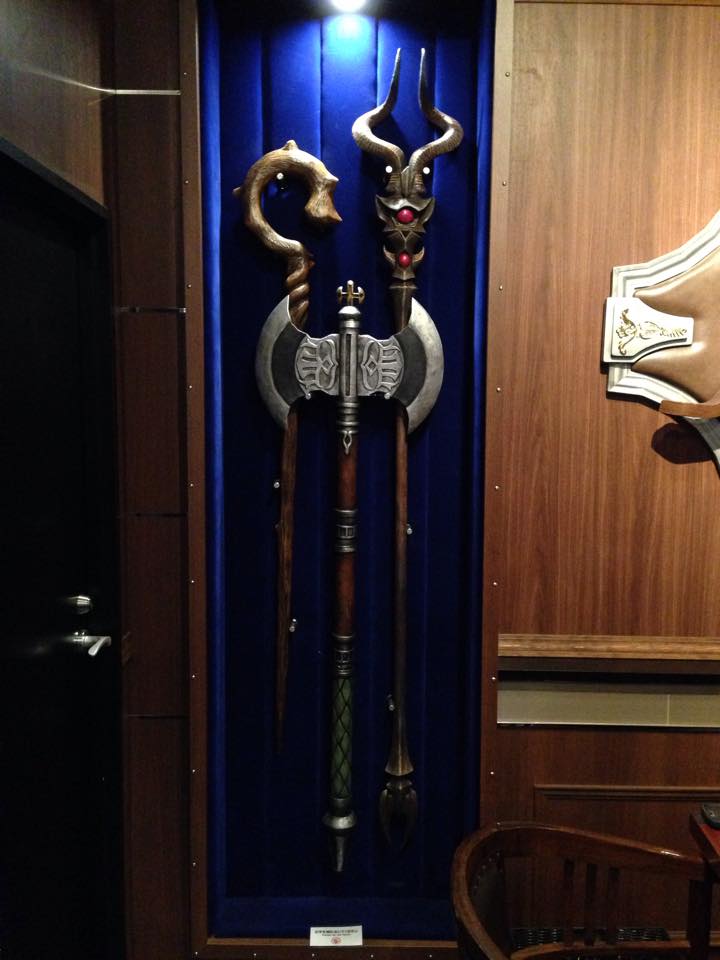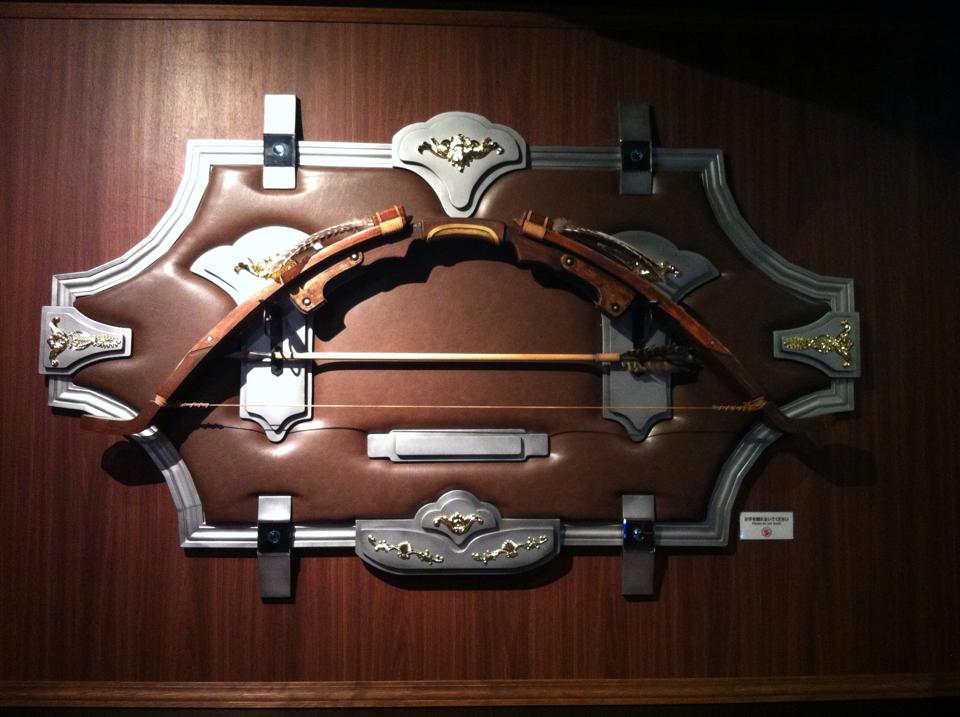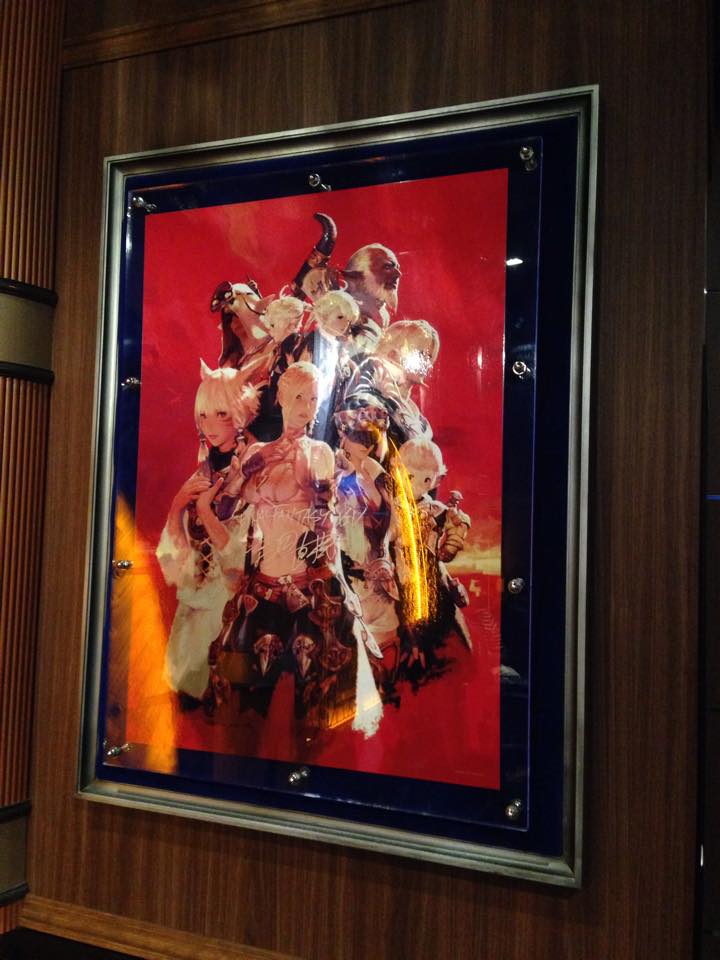 Signed artwork.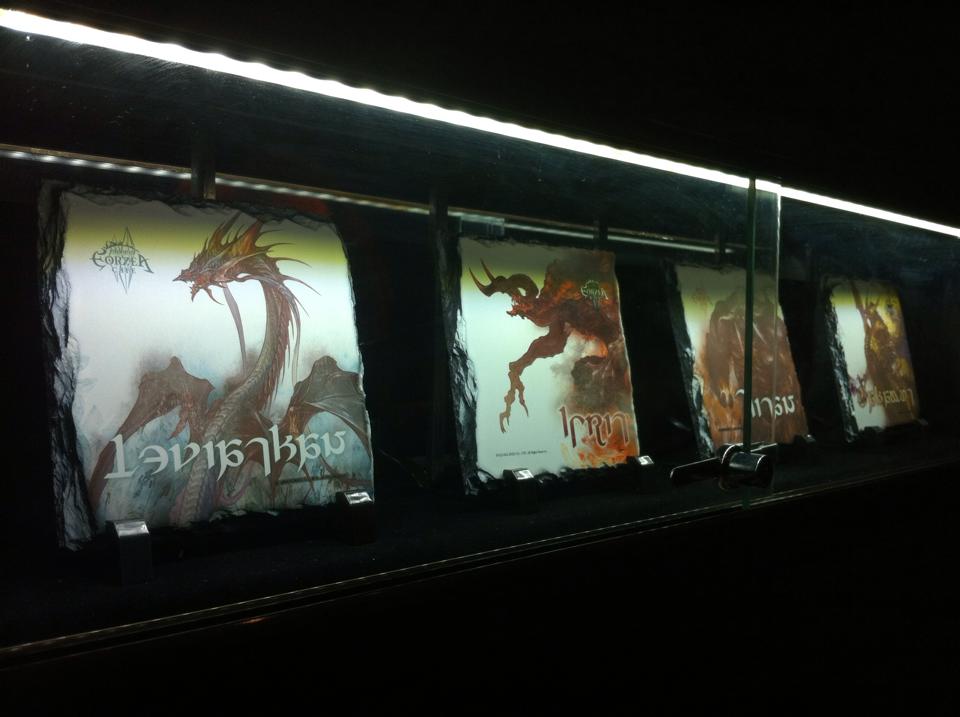 Coasters are given with food and drinks, and look a lot like these. Coasters are handed out at random so don't expect to get a complete set – most people end up with doubles, but you'll probably find that other customers are happy to trade if you have one that they're after.
Now for the drinks, mains and desserts:
The menu is divided into different categories. For food, it's divided into the character menu, primals menu, monster menu and culinarian menu. For drinks, it's divided into the primals menu, job menu, character menu, alchemist menu, standard alcohol menu and standard soft drink menu. In terms of ordering, you just choose whatever you like – there are no rules regarding the different categories. The prices are in Gill (which is probably meant to be Gil) – the currency in the game. Of course, this translates exactly into Japanese Yen.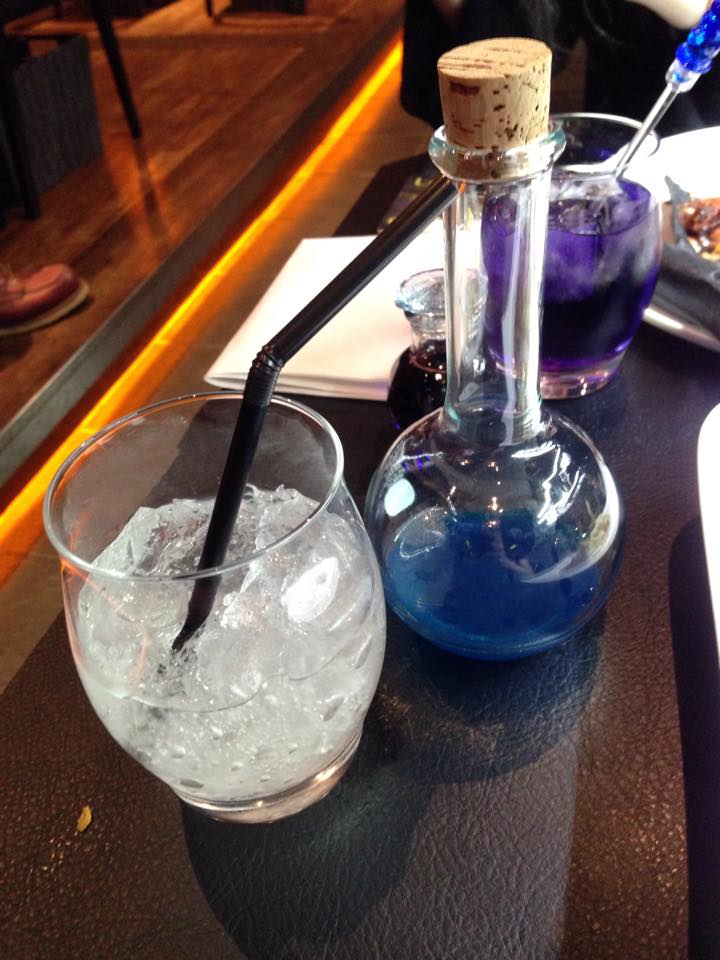 Alchemist Menu – Potion: 600 Yen. Very sweet and tasted a little like sherbet. Basically it's mostly ice, a bit of lemonade and some blue syrup.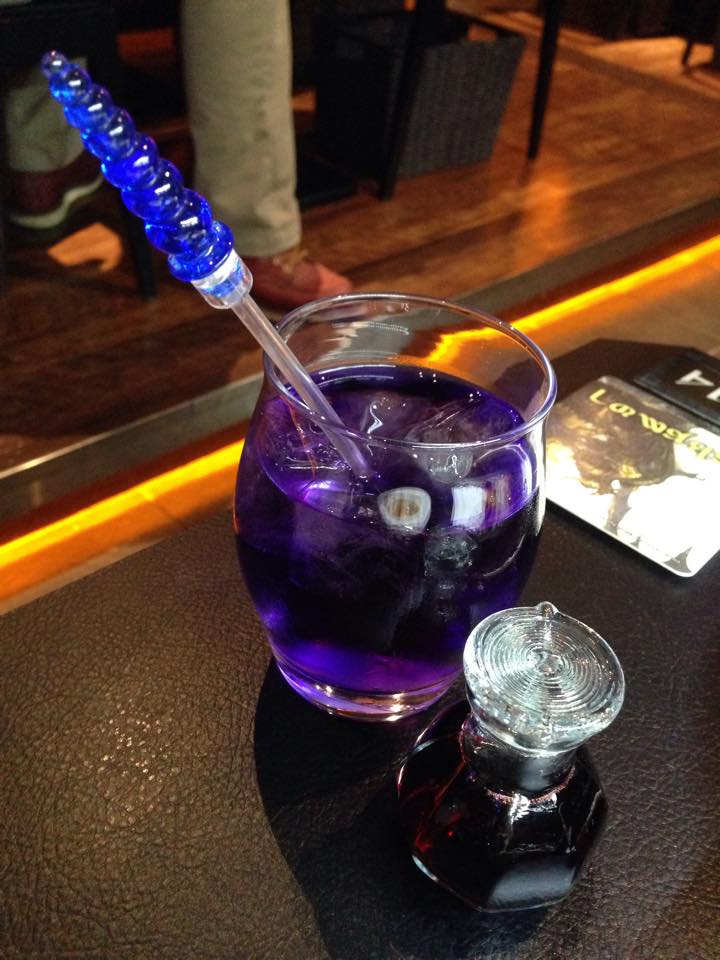 Job Menu – Black Mage's Black Magic Cassis Tea: 550 Yen. Tasted like watered-down black currant cordial. The whole idea of a blue drink and a little bottle of red liquid that you pour into it and mix together seems cute, but it was vastly overpriced for what it was.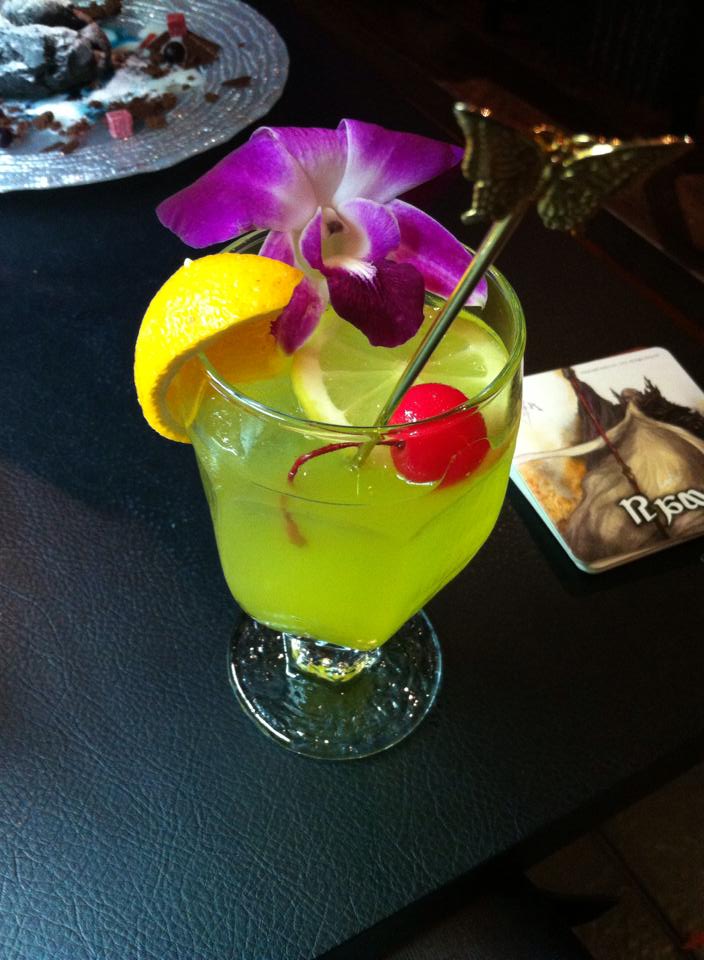 Job Menu – Scholar's Fairy Soda: 580 Yen. Nicely presented tangy, sour soft drink.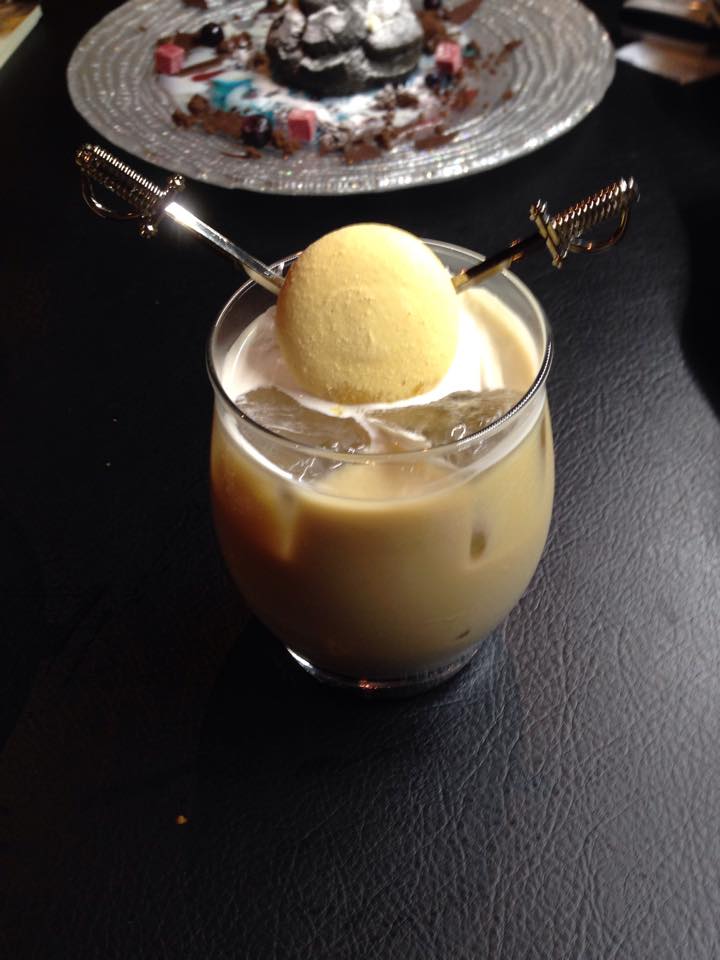 Job Menu – Knight's Caramel Cafe Au Lait: 580 Yen. You need to mix the caramel syrup at the bottom of the glass to enjoy this one. A slight language barrier meant that we didn't realise this until it was too late!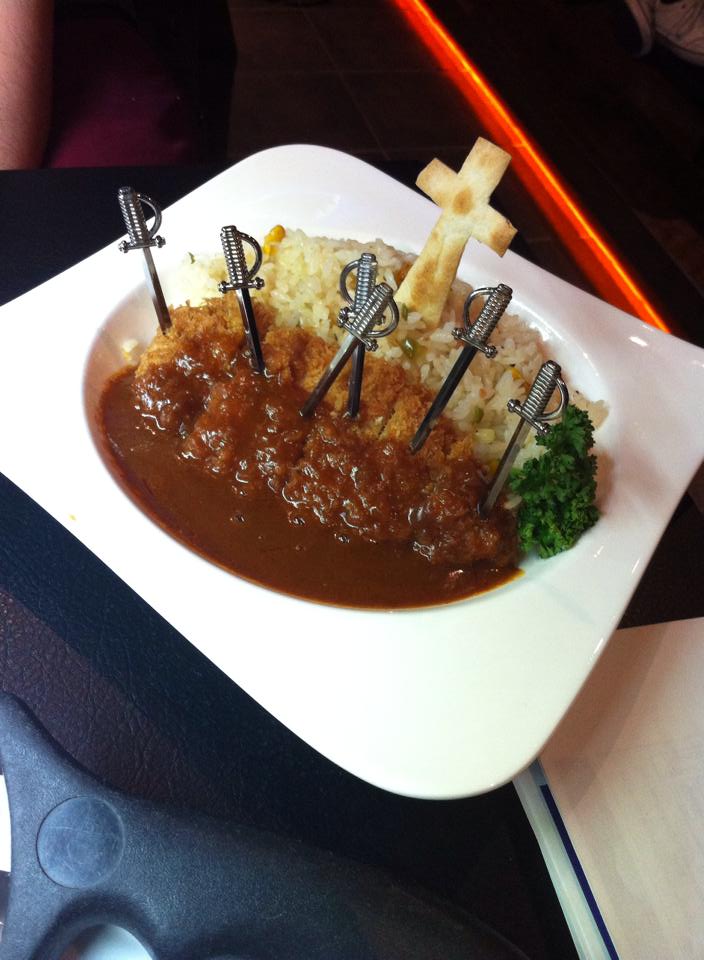 Monster Menu – Gilgamesh Escalope: 880 Yen. Tonkatsu with fried rice and a whole bunch of swords (no, I don't think you can keep those – and no, you definitely can't eat them!). My partner ordered this one, and he was happy with it.
Certainly looks true to the photo in the menu: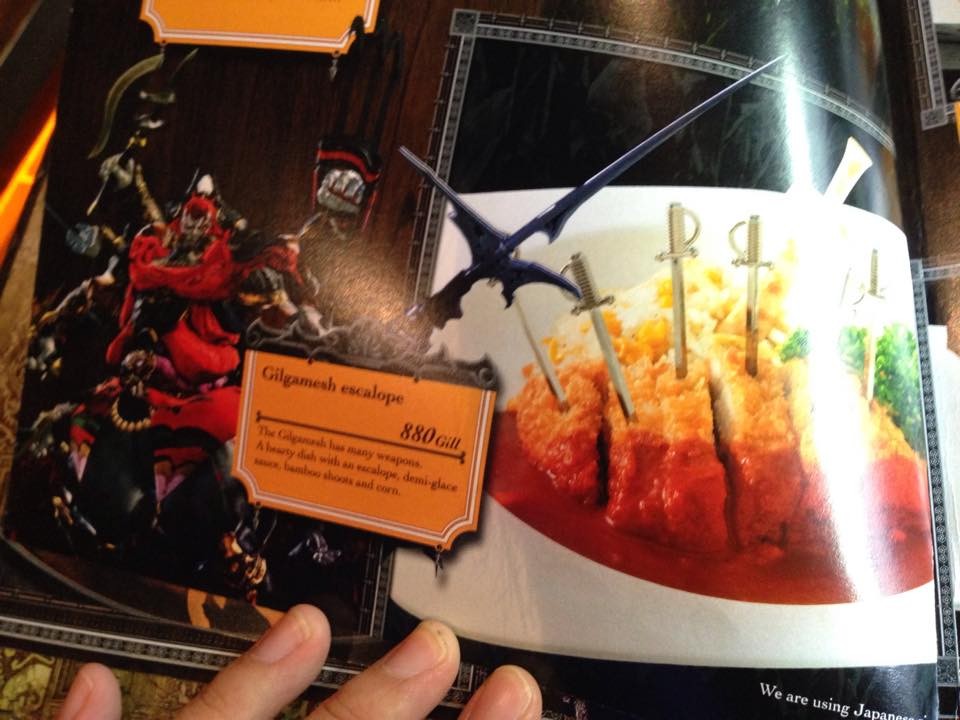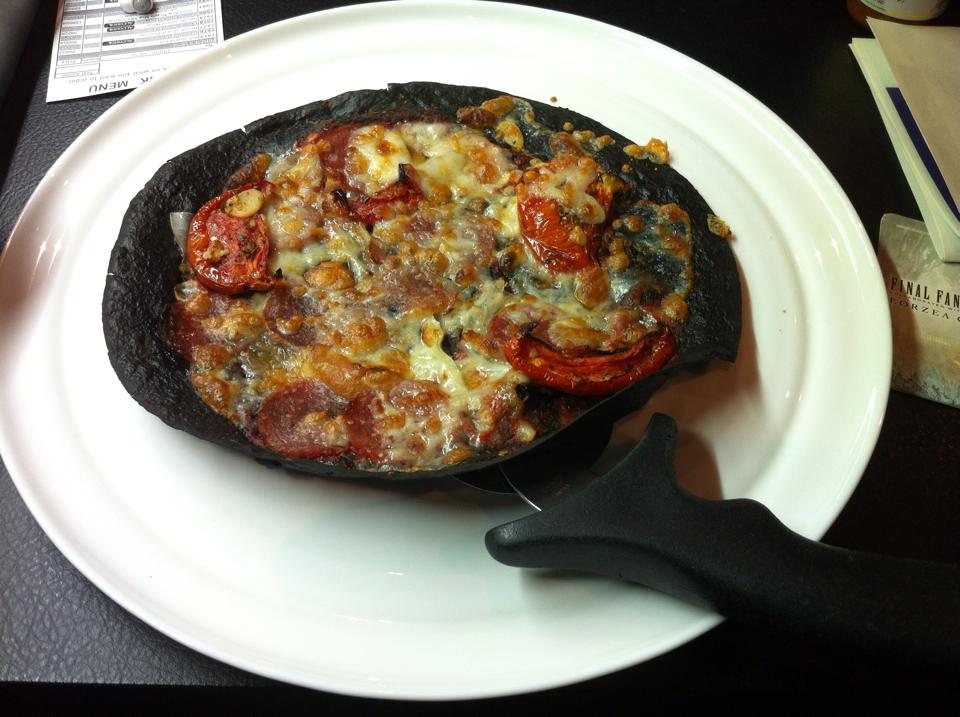 Primals Menu – Extreme Ifrit Radiant Plume Pizza: 1,000 Yen. Just a basic cheese and tomato pizza with a thin, black crust. Nothing wrong with it.
Again, it looks pretty similar to the picture in the menu: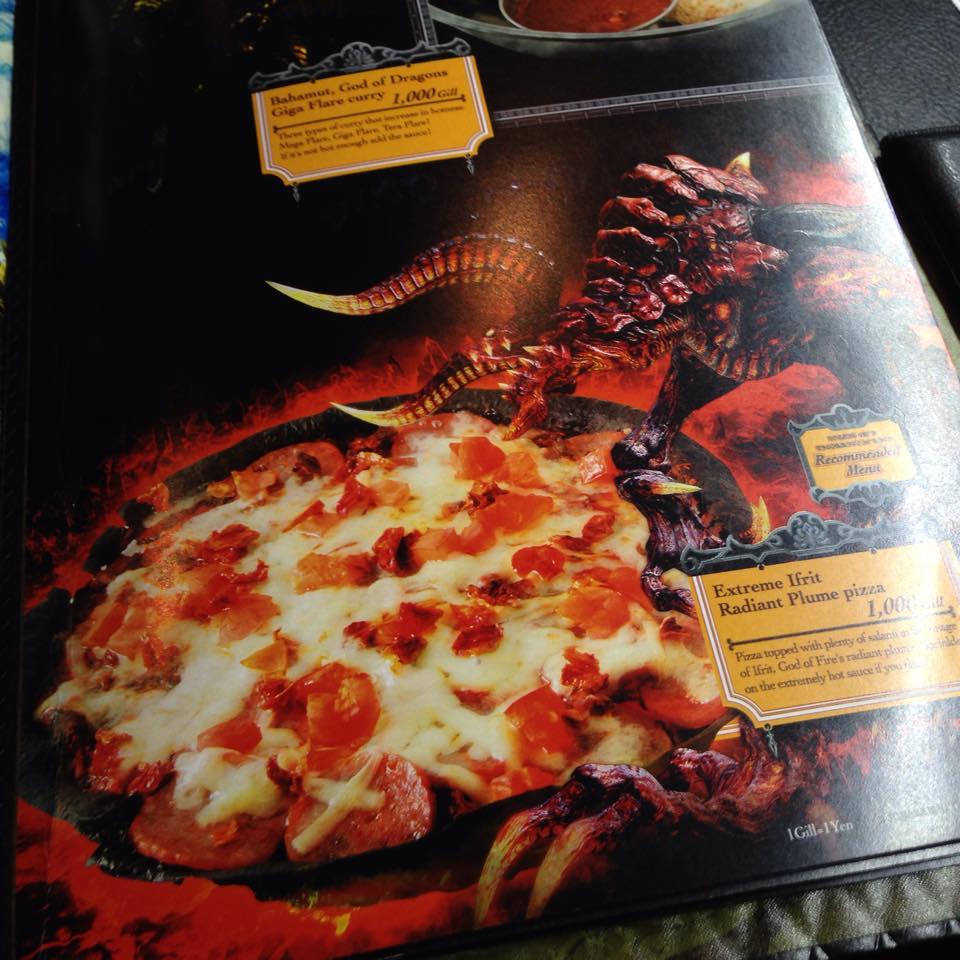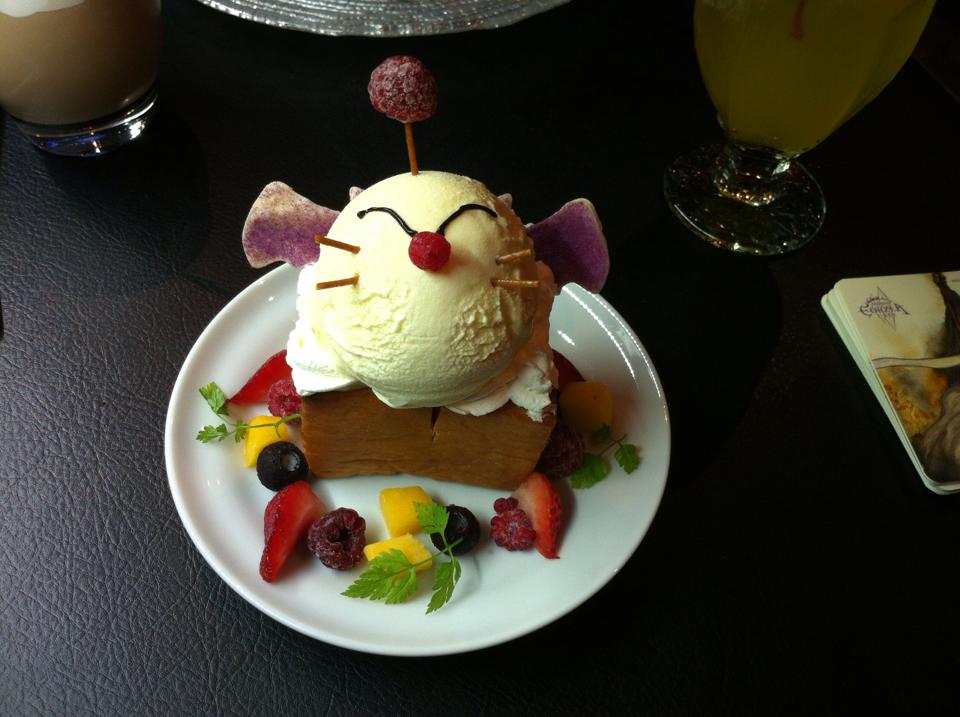 Character Menu – Moogle Mini-Honey Toast: 580 Yen. This was by far the cutest looking dessert on the menu. Visuals aside, it tasted like stale bread with a slight honey flavour. Ah well.
This one looks exactly like it does in the photo on the menu! (The menu says Moggle, but I'm sure they meant Moogle.)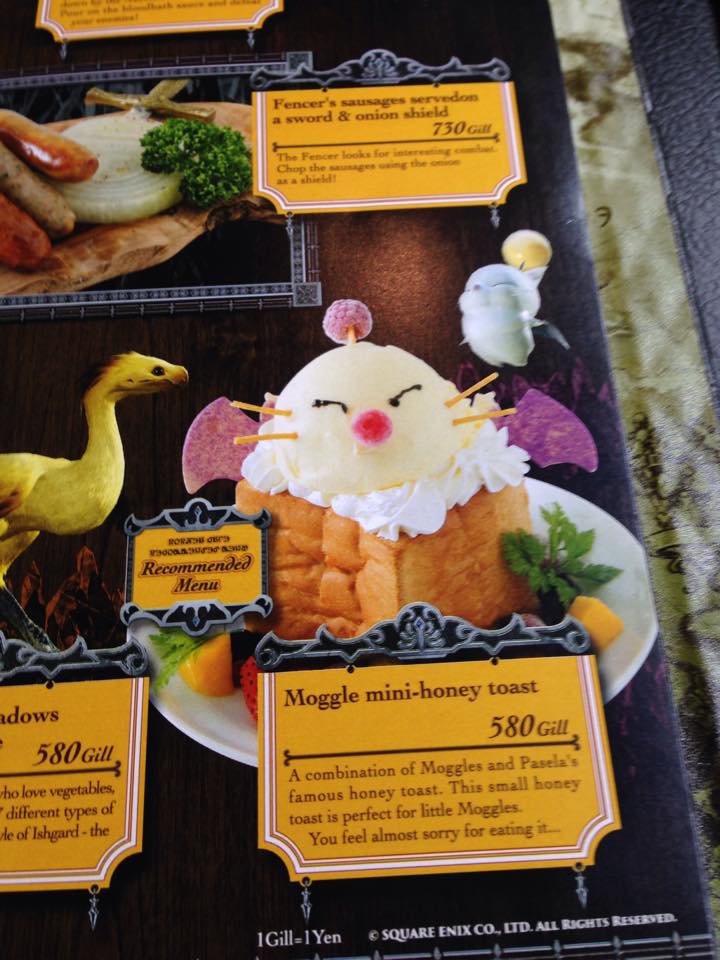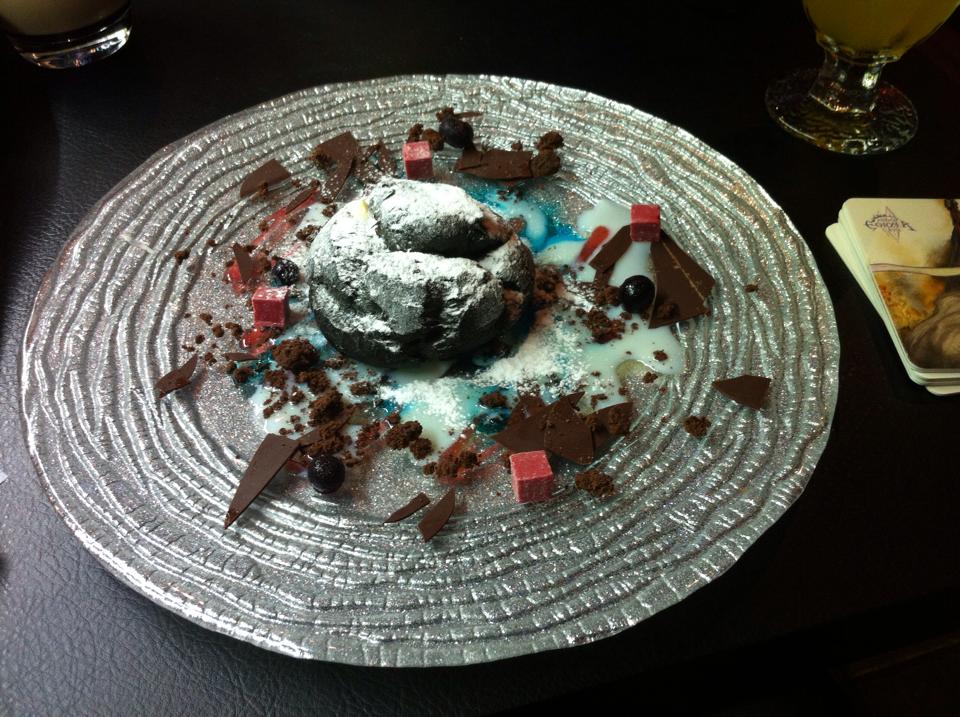 Monster Menu – Limit Break Meteo Choux A La Creme: 580 Yen. A nice chocolate profiterole with cream in it, with some kind of sweet icing-like sauce under it, and bits of smashed up chocolate and other sweets around the edge. I like most desserts involving profiteroles so this was a winner for me.
All in all, I think Eorzea is a place for the hardcore Final Fantasy fan. It's decorated well, and the themed food is visually appealing, but the food itself (in terms of quality, taste and value for money) is very much secondary to the theme. The food was okay, but just overpriced. I guess you're paying for the privilege of being at a Final Fantasy venue. My partner enjoyed it a lot more than I did, which makes sense as he is the Final Fantasy fan.
We found the service a little slow, but it seemed that this was only happening to us. Other customers had food and drinks coming out before we were even served – and there were only 11 customers there. Our food arrived well before our drinks, too.
Would I go back? Since my partner is a Final Fantasy fan and is therefore able to appreciate Eorzea more than I was, we will be going back there. (Edit: They updated their menu for the release of the Final Fantasy XIV: Heavensward expansion pack which came out in June 2015 and we have since returned and tried the new menu. You can read about it here.)
The real novelty for me was the toilets. Located out near the lifts (elevators, for my US readers), this is one of the fanciest restrooms I've seen. It had new age music playing, toilets with lids that opened and closed on their own (not uncommon in Japan, but you don't find these in Australia!), vases of flowers each cubical, hair and skin products and hair driers between each basin, and a table with a whole assortment of skin products to use. There was even chamomile scented toilet paper!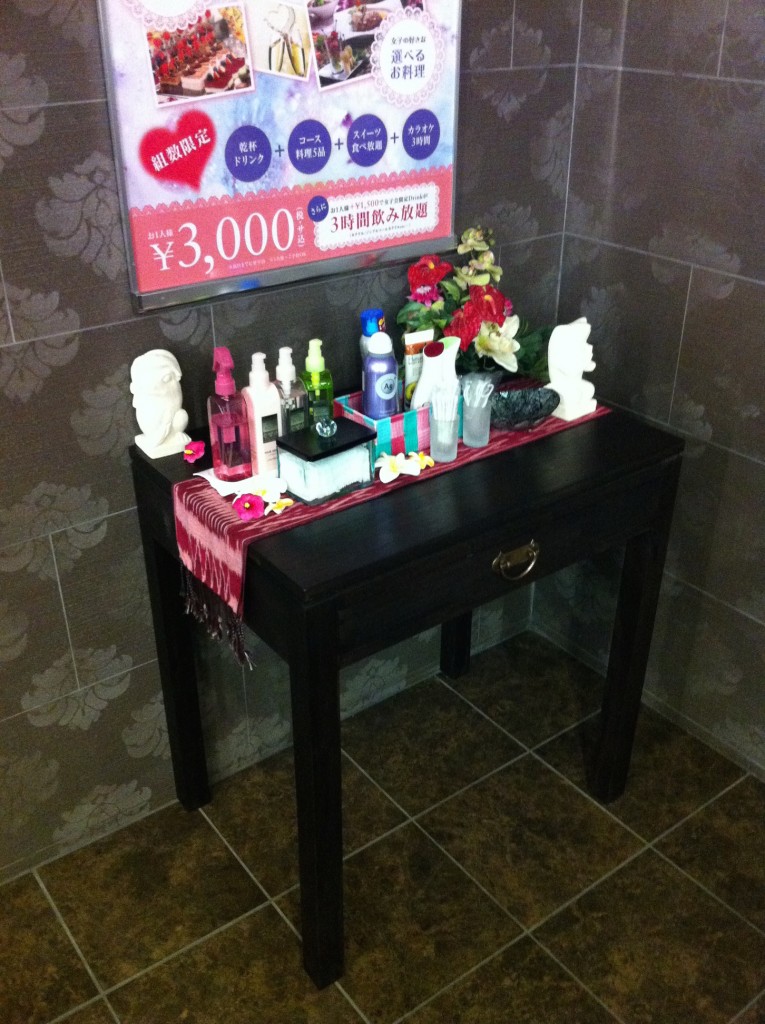 Opening Hours:
Eorzea is open for four sittings per day.
11:30-13:30
14:00-16:00
16:30-18:30
19:00-22:00
Address:
Pasela Resorts Akiba multi entertainment
Chiyoda-ku, Tokyo Sotokanda 1-1-10 2F
Phone:
0120 192 759
Website:
http://www.pasela.co.jp/paselabo_shop/ff_eorzea/
Online Reservations:
http://l-tike.com/d1/AA02G03F1.do?DBNID=3&ALCD=1&PGCD=221316
Directions:
Look for the two big red Sega buildings on the main street in Akihabara. You should be standing, facing them.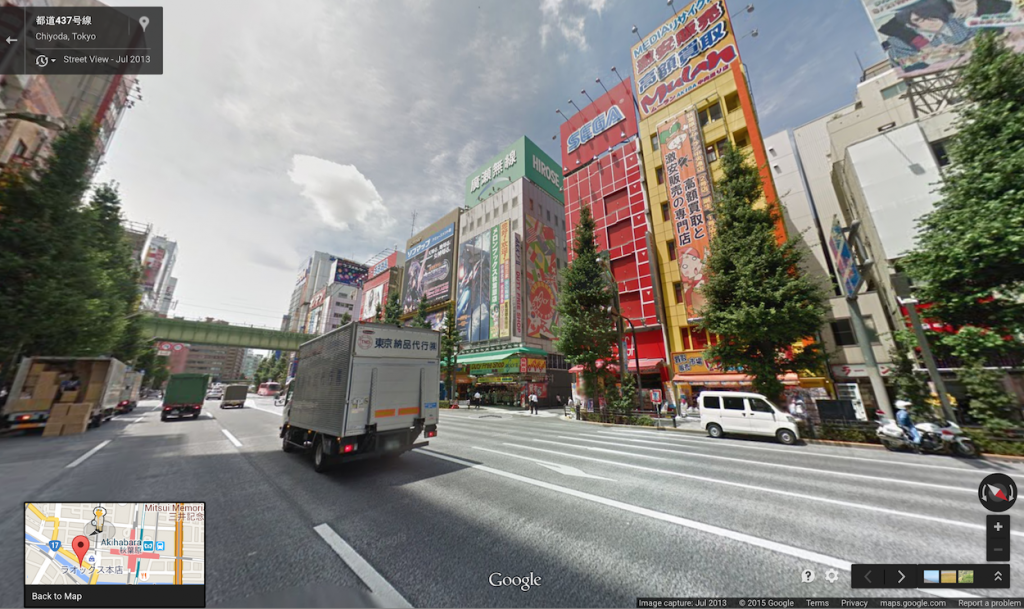 To your left, you should be able to see a greenish rail bridge that goes over the road.
Walk to the left, passing under the green bridge.
Keep going until you see a tall, blue building with EDION (in white and yellow writing) on it.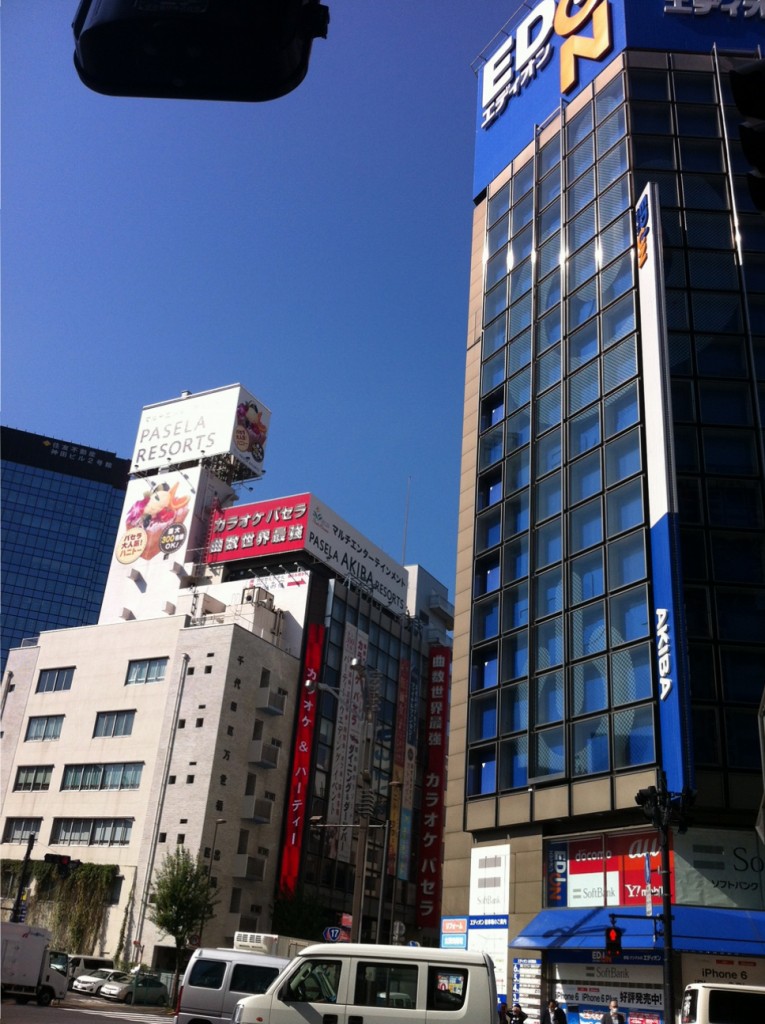 Turn and face this building. The Pasela Resorts building is diagonally across the intersection on the left.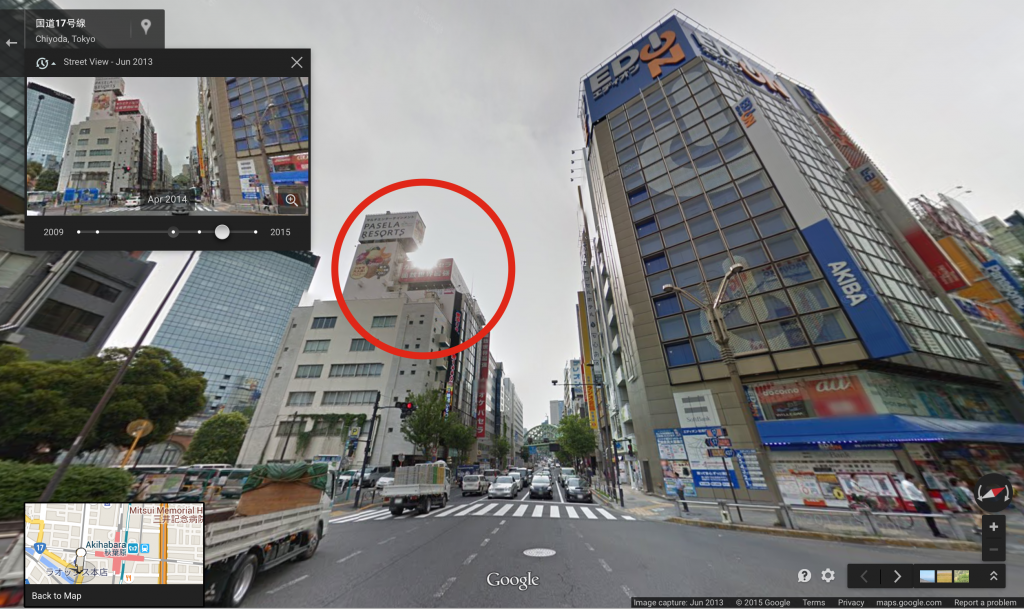 (Thanks to Google Street View for for two of the above photos!)
Here's a Google map with the directions: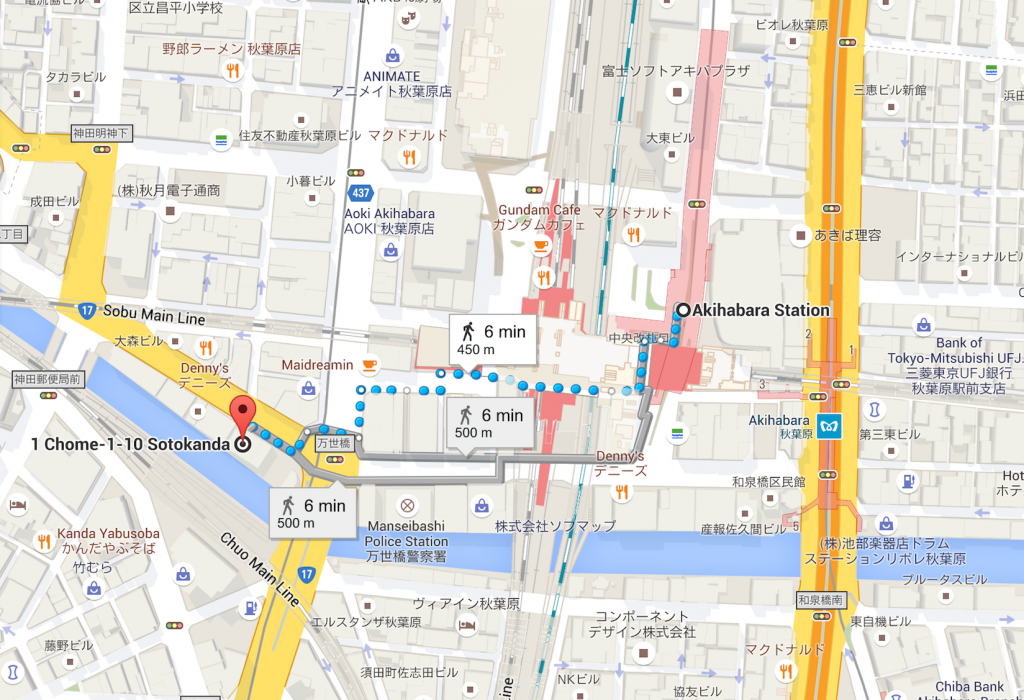 Click here to read about the new menu.