Alice in Wonderland: themed restaurant in Shibuya
Themed cafes are a big thing in Japan, and so is Alice in Wonderland. This makes a lot of sense when you consider that Japan is the home of kawaii and of course Lolita fashion. And what better way to combine all of this than an Alice in Wonderland theme cafe? In fact, there are several Alice in Wonderland themed cafes in Tokyo alone.
Visiting an Alice in Wonderland cafe was always on my list of things to do in Tokyo. Diamond Dining, the chain responsible for Christon Cafe and the Vampire Cafe, has seven Alice in Wonderland themed restaurants, five of which are in Tokyo, with the others in Osaka and Nagoya. We had planned to visit the one in Ginza, (Alice in a Labyrinth) but ended up at the Shibuya restaurant after stumbling upon it by accident (what I really want to say here is that we fell down a rabbit hole, but hey). On the website, this one is called Alice in a Dancing Land (舞踏の国のアリス), whereas inside the restaurant it says Alice in the Dancing World – both names refer to the one restaurant. I'm going to go with Alice in a Dancing Land.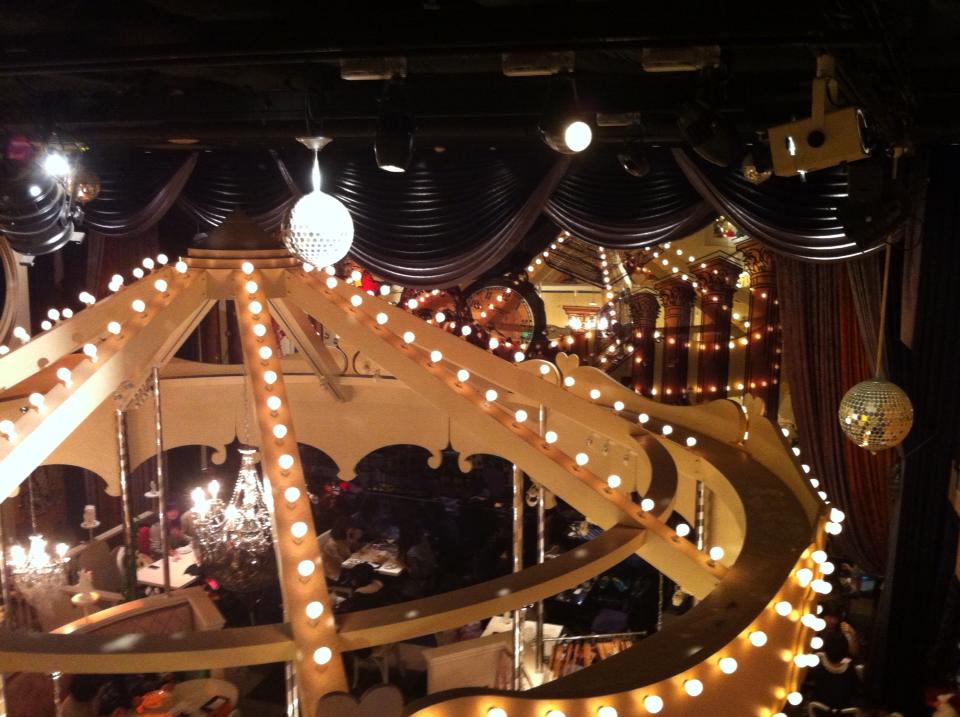 Each Alice in Wonderland restaurant has a different theme (a theme within a theme?) when it comes to the decor. Alice in a Dancing Land is famous for having an adorable carousel right in the middle of the restaurant. Better yet, there are tables set up in the carousel. It's not a real, functioning carousel (or merry-go-round, as I would call it – I'm Australian); it doesn't move. It is covered in lights, with chandeliers hanging inside it, and large cut-out winged horses.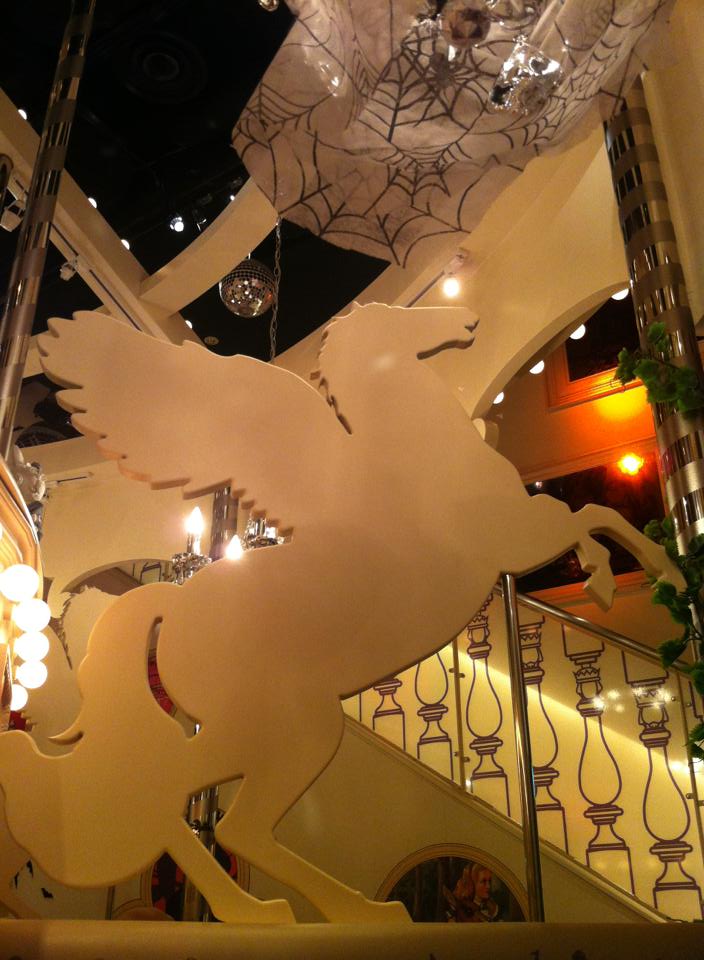 It was a few days before Halloween when we visited, so there were Halloween decorations all around the restaurant. I tried to avoid getting the Halloween decorations in the photos as I felt that they detracted from the Alice in Wonderland theme, but you can see some random spiderweb decoration in the above photo.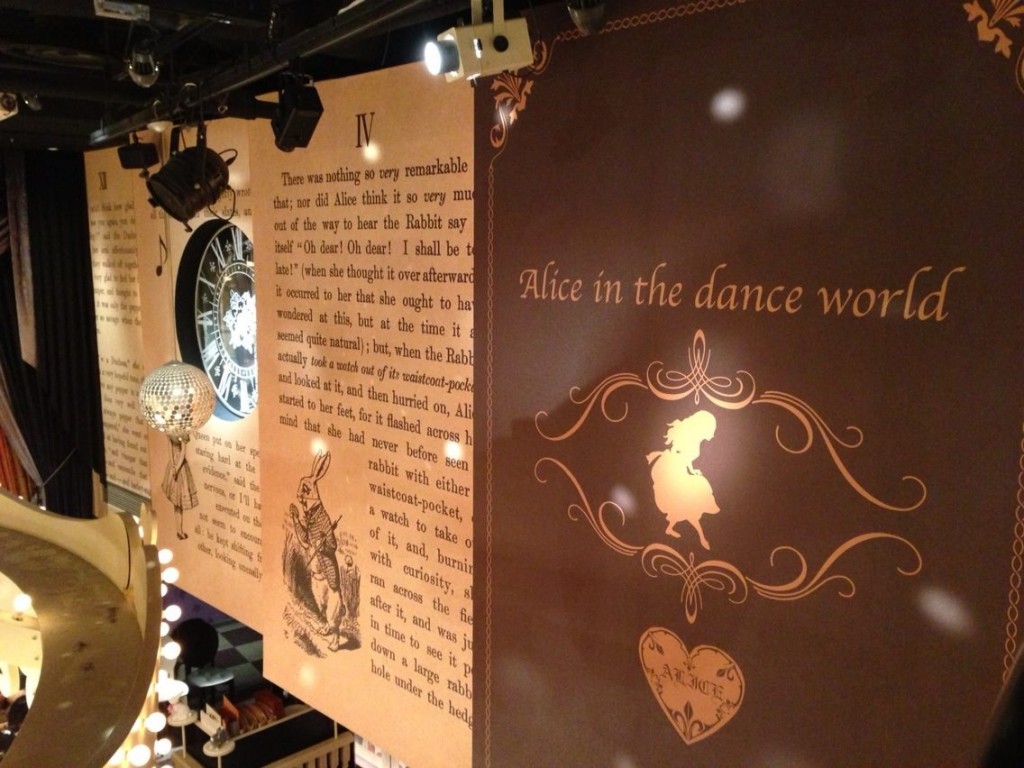 Huge banners hang from the ceiling on one side of the restaurant. They're giant pages from the book.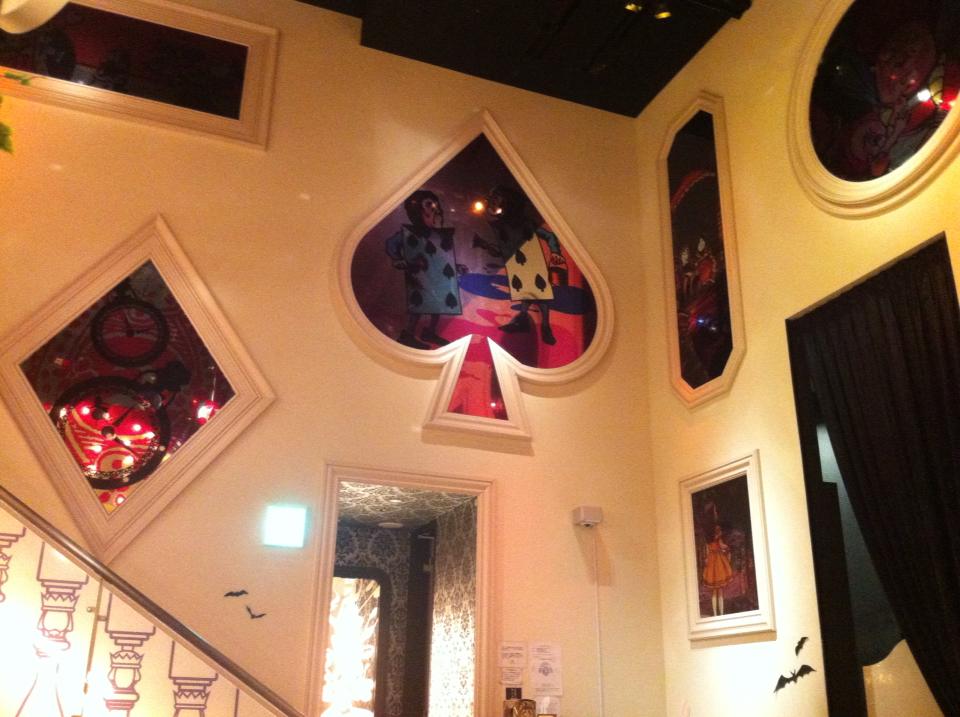 Another wall has frames in the shape of suit symbols from playing cards – and in these are pictures which relate to the book.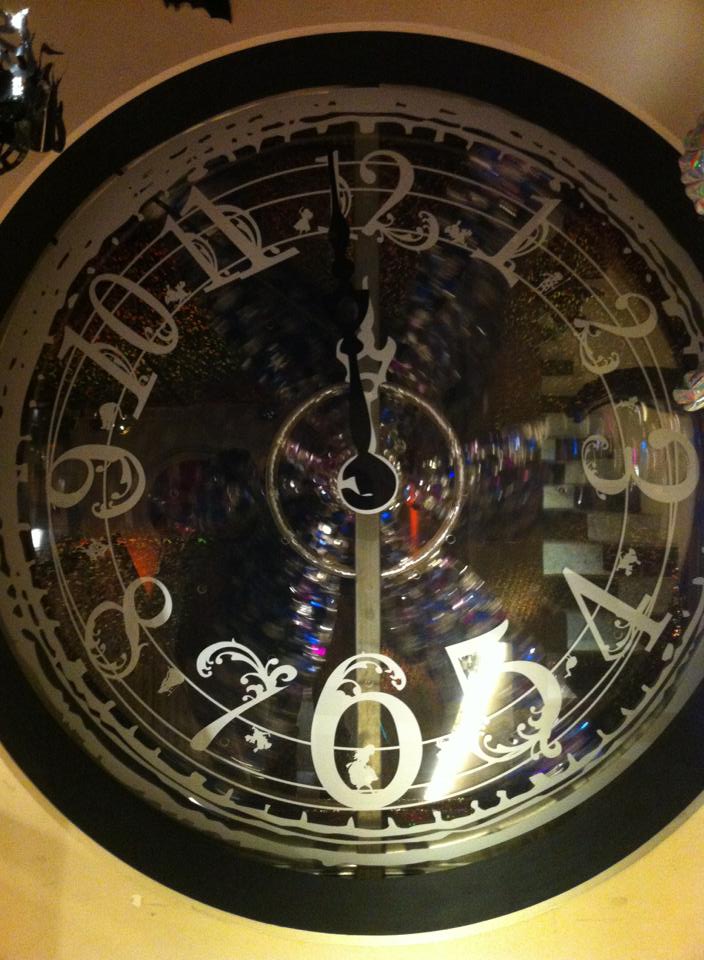 Another wall has a giant, rather trippy looking clock.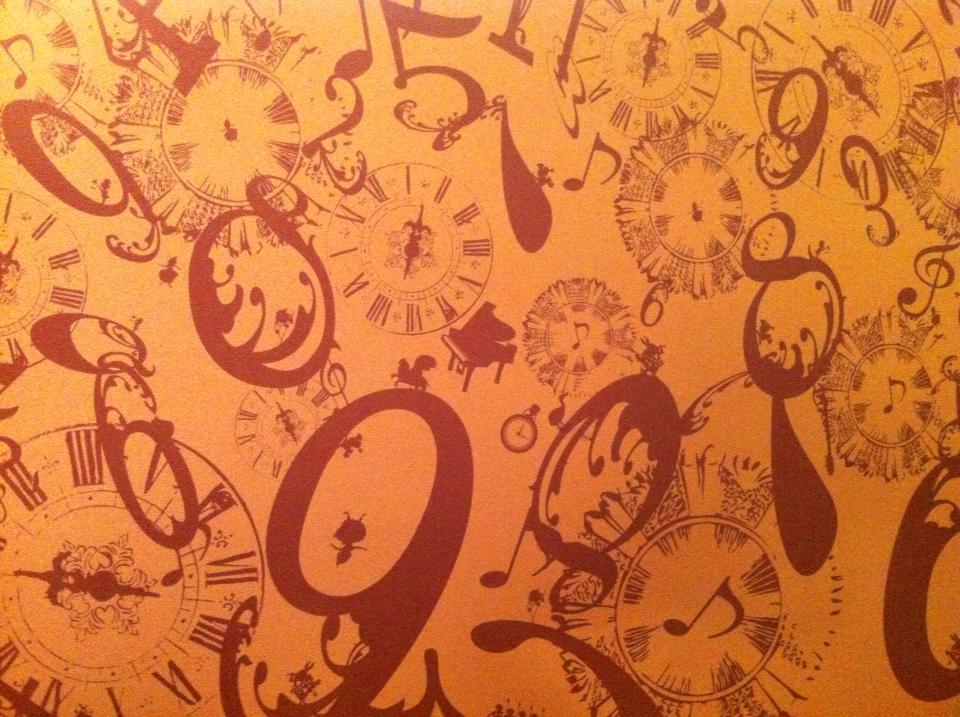 If you're lucky as we were to get a seat in one of the carousel booths, you'll notice that even the fabric on the seats is Alice in Wonderland themed.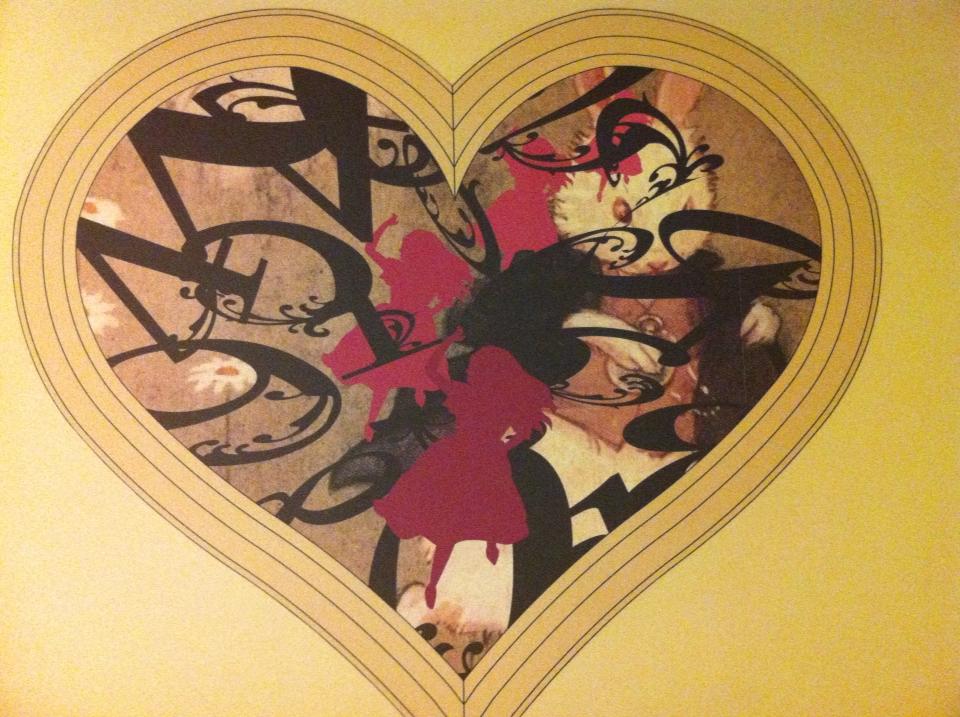 Everywhere you look, there are reminders of Alice in Wonderland.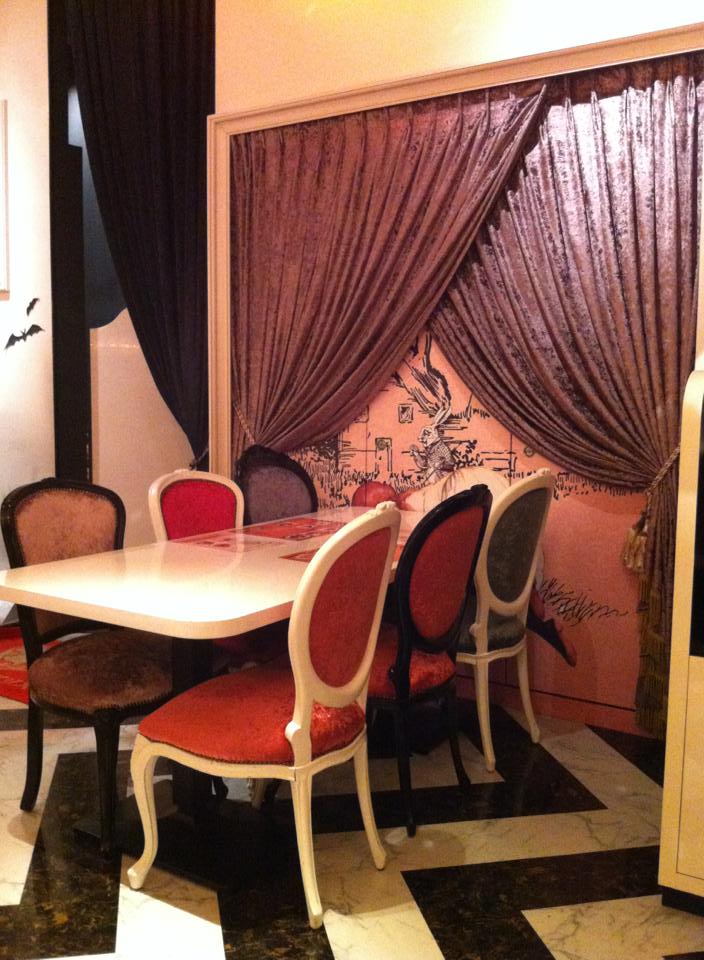 Some of the food is themed, and other dishes are not. We chose non-themed mains but were pleased to have rather cute desserts.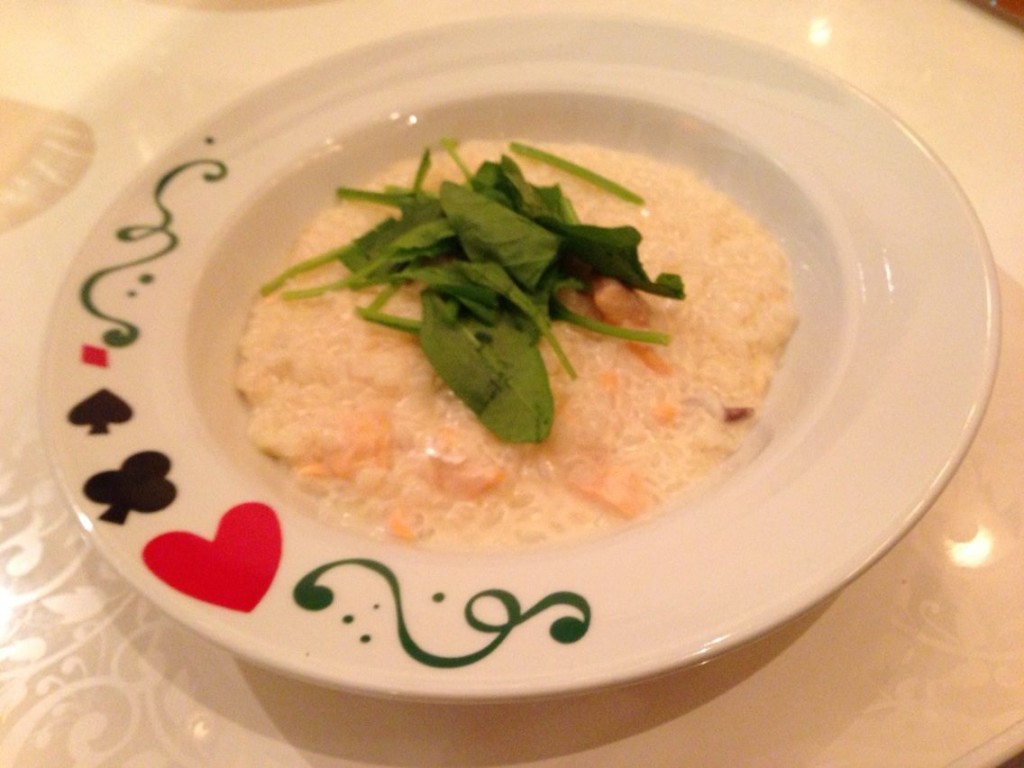 Salmon and spinach creamy risotto (900 Yen). This was really nice.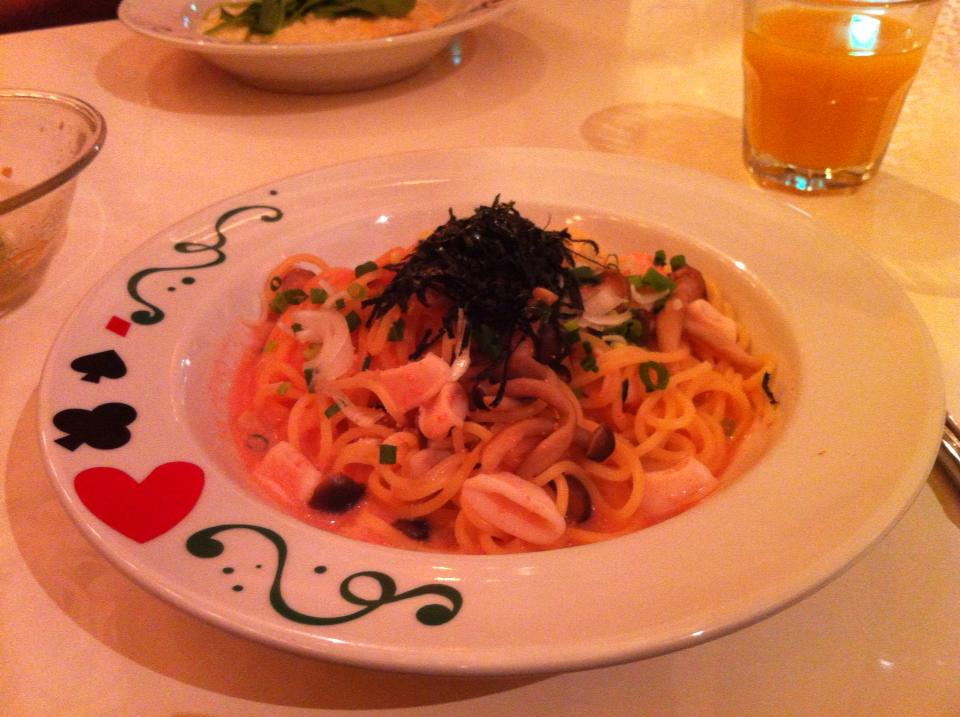 Spaghetti with squid and mushrooms, in a soy-butter sauce (850 Yen). This was also very nice.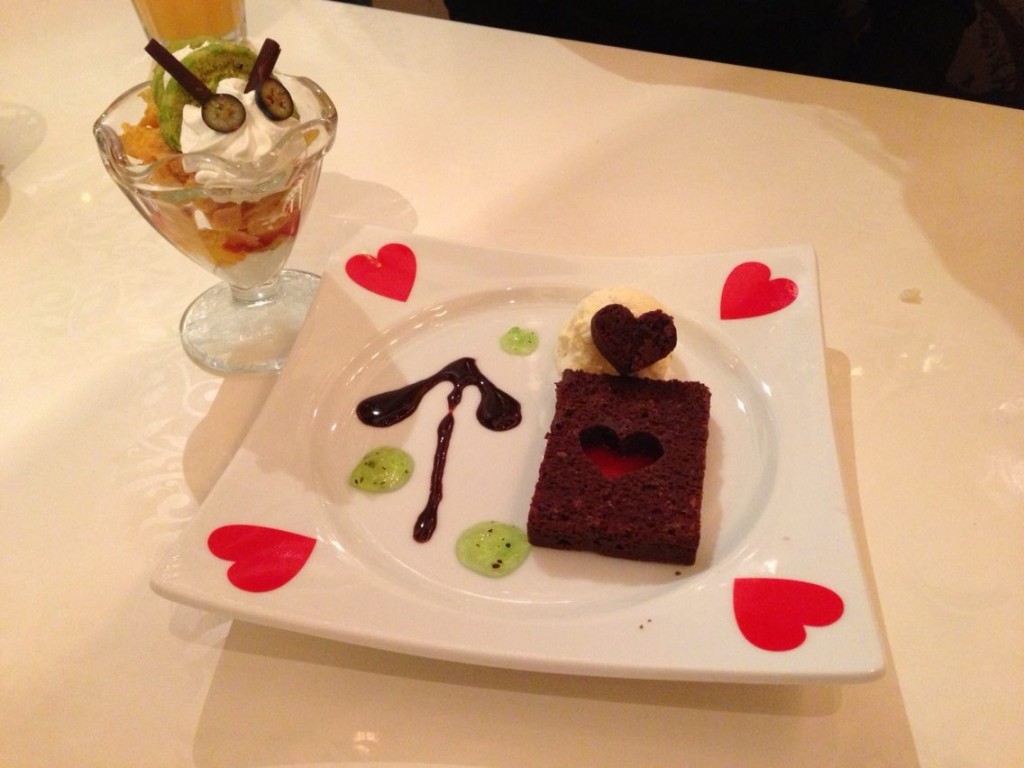 Our desserts consisted of a green tea caterpillar parfait (350 Yen) and a Queen of Hearts inspired chocolate brownie (400 Yen) for dessert.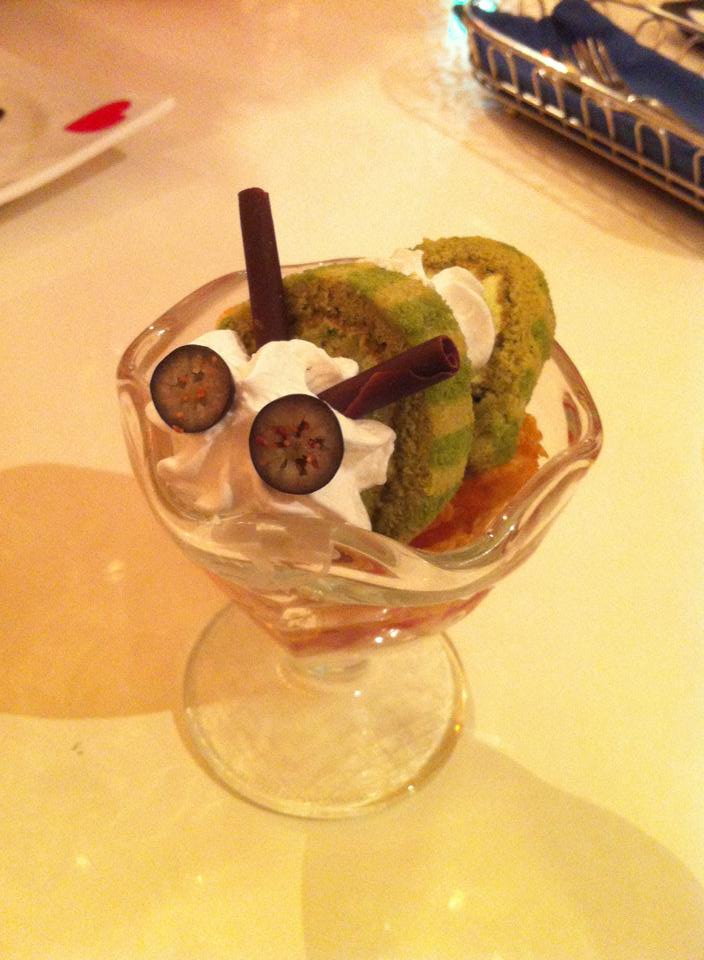 And a close-up of the caterpillar parfait, just for good measure. How cute is it!?!
There is also an are where you can help yourself to tea, coffee and juice. They had a whole selection of nice tea flavours, such as apple and maple (maple seems to be pretty popular in Japan). I'm not sure whether anyone can use this, or whether it's for particular meals. Although I've quoted the individual prices of our mains and desserts, our meals actually included a drink and a salad. For the drink, they just handed us each a glass and showed us where to go and get our drinks.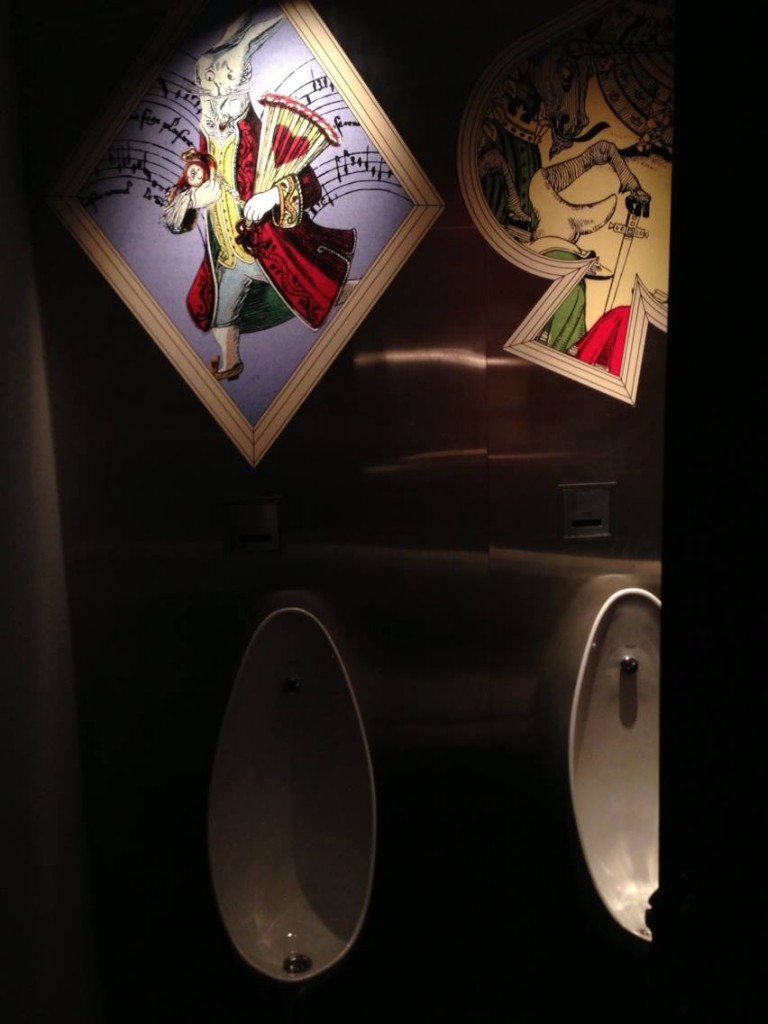 Even the restrooms are decorated. My partner took the above photos. Why not enjoy Alice in Wonderland as you go about your business?
Would I recommend Alice in a Dancing Land? I thought the food was decent, but from the photos that I've seen of some of the other Alice in Wonderland restaurants, I'd recommend having a good look at the options. If a really cool looking themed restaurant is important to you, you may prefer one of the other ones as I think some of them may have better decor. The food was nice, so if you're not fussy about going to the best looking Alice in Wonderland restaurant and you happen to be in the area, then this one may suit you just fine. I'm interested in going to another one at some stage, just to see whether the other ones look at cool in reality as they do in the photos. While the lunch menu isn't expensive, the dinner menu costs more, so you may want to take this into consideration too. We went at lunch time, and it was less than 4,000 Yen between us (but we could have had a cheaper lunch elsewhere). Dinner costs closer to 3,500 Yen per person (so about 7,000 Yen for two). They also charge a service fee of 500 Yen on top of your dining costs. When I first wrote this post, I said that I thought the Vampire Cafe was the best. Since then, the Kawaii Monster Cafe has opened in Harajuku, which is also run by Diamond Dining, and which I now rate as one of the coolest theme restaurants.
The full list of Alice in Wonderland restaurants run by Diamond Dining:
Alice in a Labyrinth (Ginza)
Alice in Fantasy Book (Shinjuku)
Alice in Fantasy Land (Osaka)
Alice in Magical Land (Shinjuku)
Alice in Old Castle (Ikebukuro)
Alice in a Dancing Land (Shibuya)
Alice in the Silver Screen (Nagoya)
You can find more information here: http://www.alice-restaurant.com/#shop
Website: http://www.alice-restaurant.com, or more specifically, http://www.alice-restaurant.com/buto/ for Alice in a Dancing Land.
Address: Zero gate B1, 16-9, Udagawacho, Shibuya-ku, Tokyo, 150-0042
Phone: 03-3770-2750
Opening hours:
Lunch 11:00 – 16:00 (last order 15:30)
Dinner 17:00 – 23:30 (last order 23:00)
How to find Alice in a Dancing Land:
Alice in a Dancing Land might seem a bit hard to find at first, because the entrance to the building that it's located in is tucked away in an alleyway. I've included some photos from Google Maps to help you find it.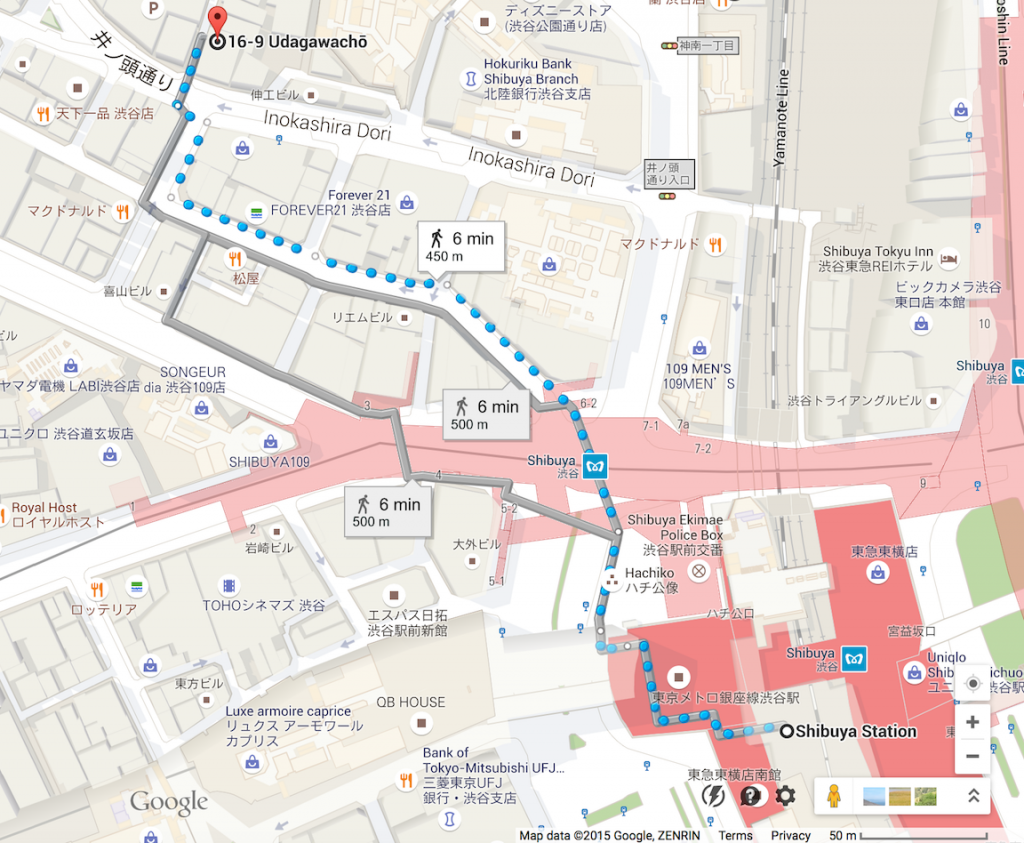 If walking from Shibuya Station, take the Hachiko exit and follow the blue dotted line as above.
Keep an eye out for the big green glass Bershka building. Ideally, you should stand in front of it so that your view matches the picture below: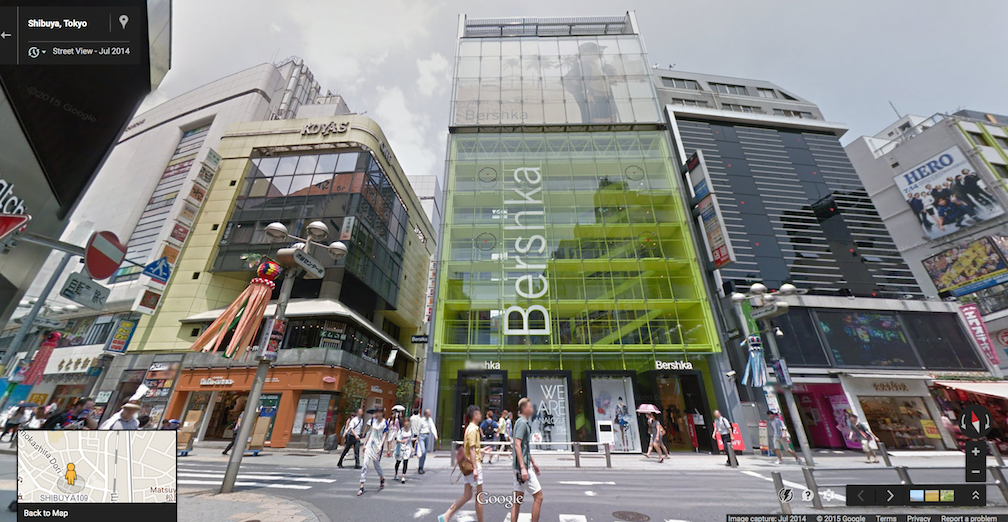 Next to the big green Bershka building is a shop that sells tights and underwear called Tutu Anna. There's an alleyway between the two buildings: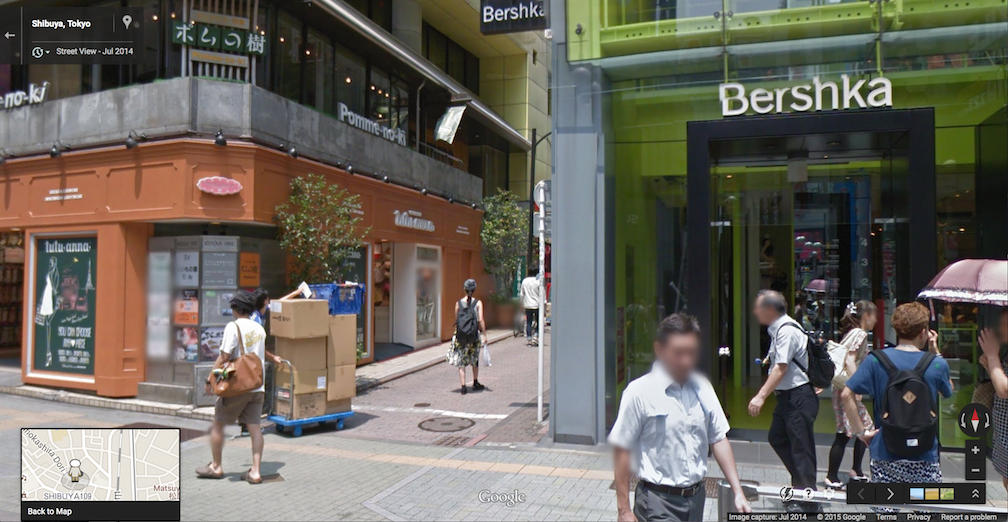 Walk down the alleyway: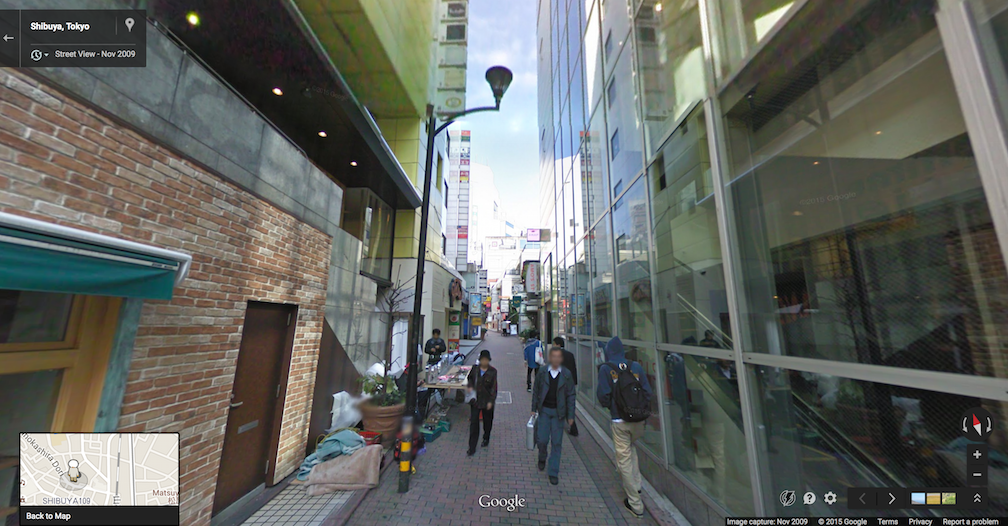 Keep going until you see the 'Zero Gate' entrance to your right: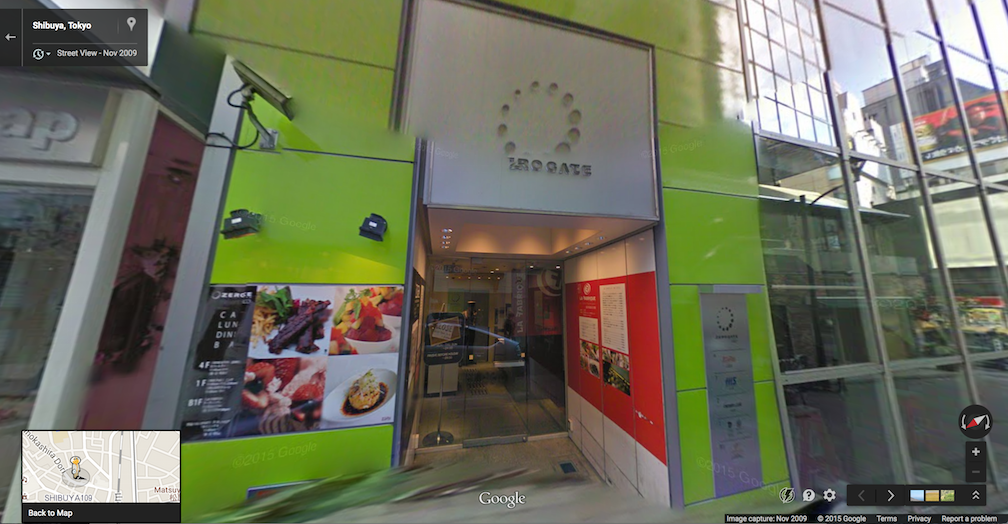 Alice in a Dancing Land is on floor B1 (basement 1), so follow the signs on the building to find it from here. Once you've got this far, it's easy to figure out.