Shinjuku Robot Restaurant: Japan's craziest venue
Shinjuku Robot Restaurant. Where do I even begin?
It is easily the most over-the-top, outrageous show I have ever been to. And it was a lot of fun.
Shinjuku Robot Restaurant (ロボットレストラン) is located in Shinjuku (新宿区), Tokyo. More specifically, it's in Kabukicho (歌舞伎町), the famous red-light district. It's a vibrant area, full of lights, loud music, host and hostess clubs, love hotels, night clubs, restaurants and shops. It is sometimes referred to as 'Sleepless Town' (眠らない街). Kabukicho also has a reputation for being a dangerous area due to the presence of yakuza (ヤクザ) – members of organised crime syndicates. However, it certainly doesn't have the same dangerous feel that red light districts in other cities (such as Sydney) can have, and it is incredibly crowded and full of tourists.
Although people will say that it is the most dangerous neighbourhood in Japan, don't let this stop you from paying the area a visit – and definitely don't let it stop you from visiting the Robot Restaurant! It's considered Tokyo's largest entertainment district, so of course this means that it'll be a great place to visit, but will also attract some crime. If you're concerned about your safety, avoid areas and venues that feel sketchy, avoid being led into a venue by someone you don't know, and just use common sense. I would say that 'dangerous' by Japanese standards is a lot safer than any Saturday night in Sydney! 
What's the significance of danger when it comes to the Robot Restaurant? Well, they have some strict rules to discourage trouble from yakuza and other organised crime gangs from entering the venue, meaning that you will be totally safe there.
Rules include:
No sunglasses
No tattoos (you must ensure that you cover them if you have any)
No costumes or large wigs
No crime organisation members
No drunk customers
No masks (many people wear masks if they are sick or trying to avoid getting sick – it's not listed on the rules on their site, but the Robot Restaurant will not allow customers to wear masks, as for security reasons they don't want people covering parts of their face)
TIckets cost at present 6,000 yen and an additional 1,000 yen if you want to include a meal (a small bento box). However, from January 19 tickets will be 7,000 yen. You can also get discounts for it, such as through your hotel, so ask your hotel or keep an eye out for a brochure in your hotel lobby.
Tickets can be booked on their website, and you must arrive 30 minutes prior to the show. The shows run most days at 17:55, 19:50 and 21:45. On Weekends, there is also a show at 16:00. You need to book your tickets ahead of time – whether you're paying online or when you get there – so make sure that you go to their website when planning a visit. You can read the website in English, and it has a map of where to find the venue, too.
Whilst there are plenty of rules (rules are a big thing in Japan, which is something I'll be writing about in another post), the Robot Restaurant allows you to take photos all through the venue and throughout the show. They don't allow you to take videos, but this doesn't matter because a) they post plenty of videos online and b) you'll want to focus on the show, not on your camera. My partner and I took what we thought was "just a few" photos during the show – just a quick snap here and there – but this still turned out to be plenty as there was so much going on. Don't let your camera distract you from the show itself!
This post is quite image-heavy, but even photos don't do justice to this show. You really do need to experience it.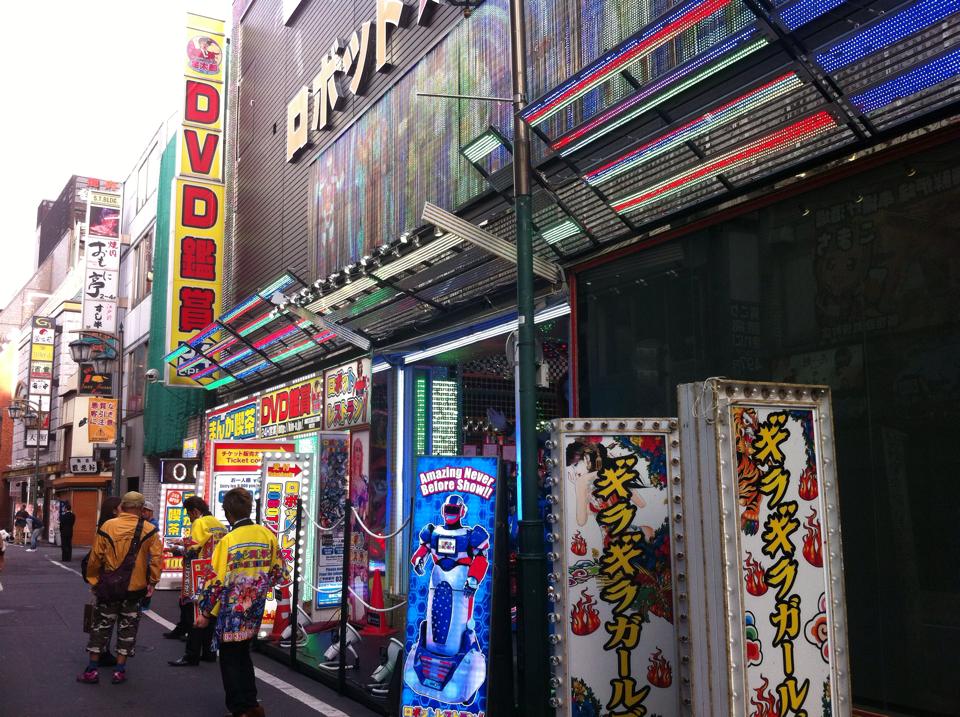 This is what the venue looks like in daylight. We went to one of the 4pm shows, so it was still light outside. At night the venue is so lit up! The easiest way to identify it (as let's face it, this whole area glitters with lights!) is by that big red and yellow DVD sign. Look for the staff out the front with those yellow shirts.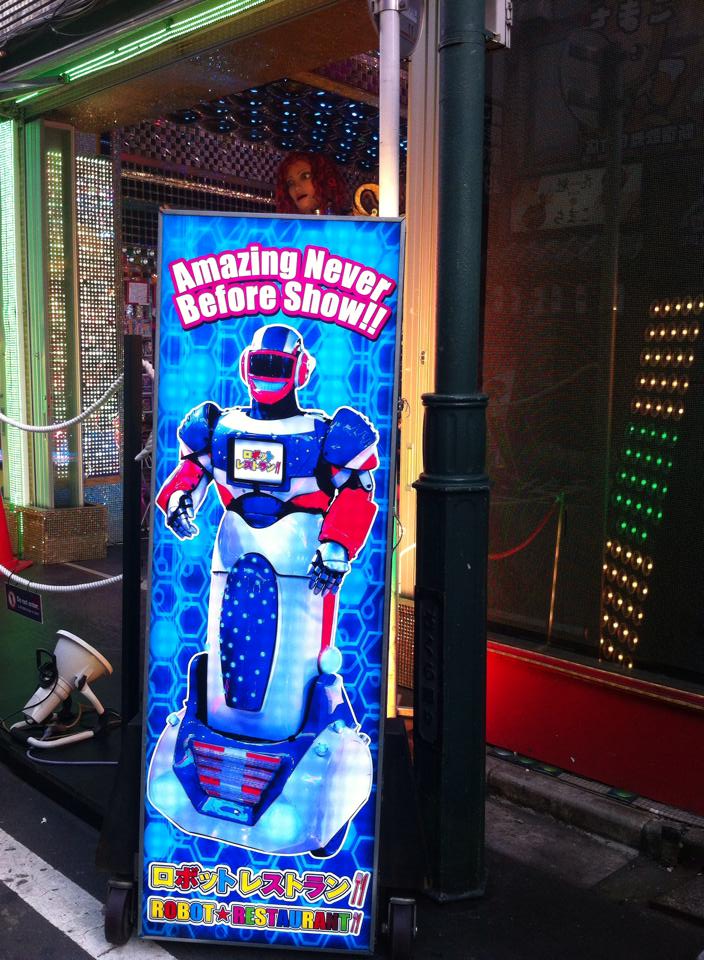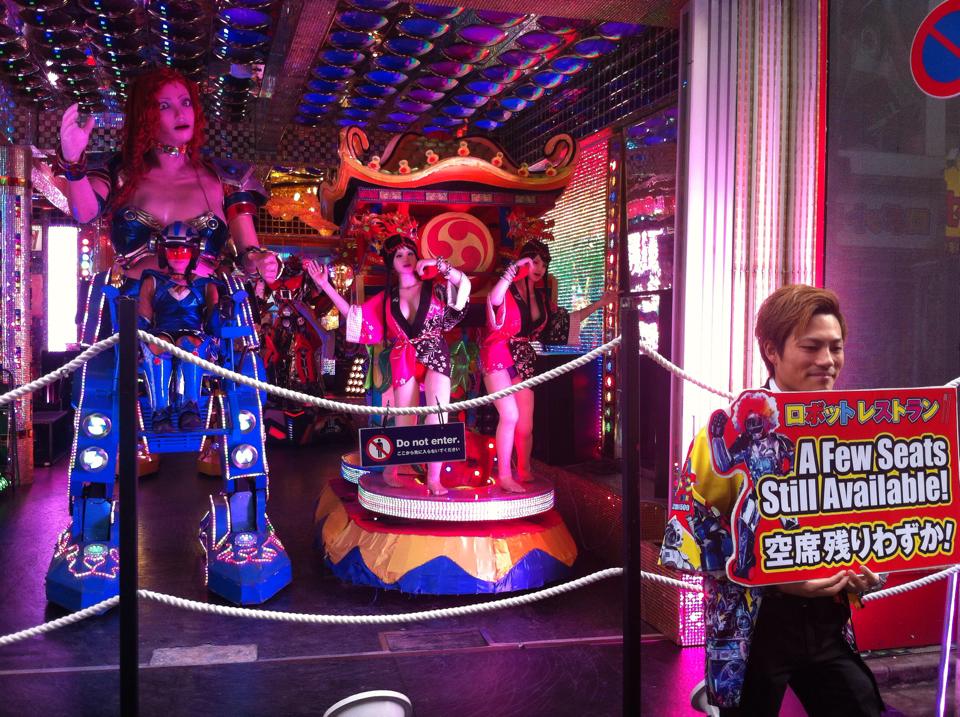 See the giant robot lady on the left in the above photo? Look closely. There is a (real) girl sitting in it, controlling it.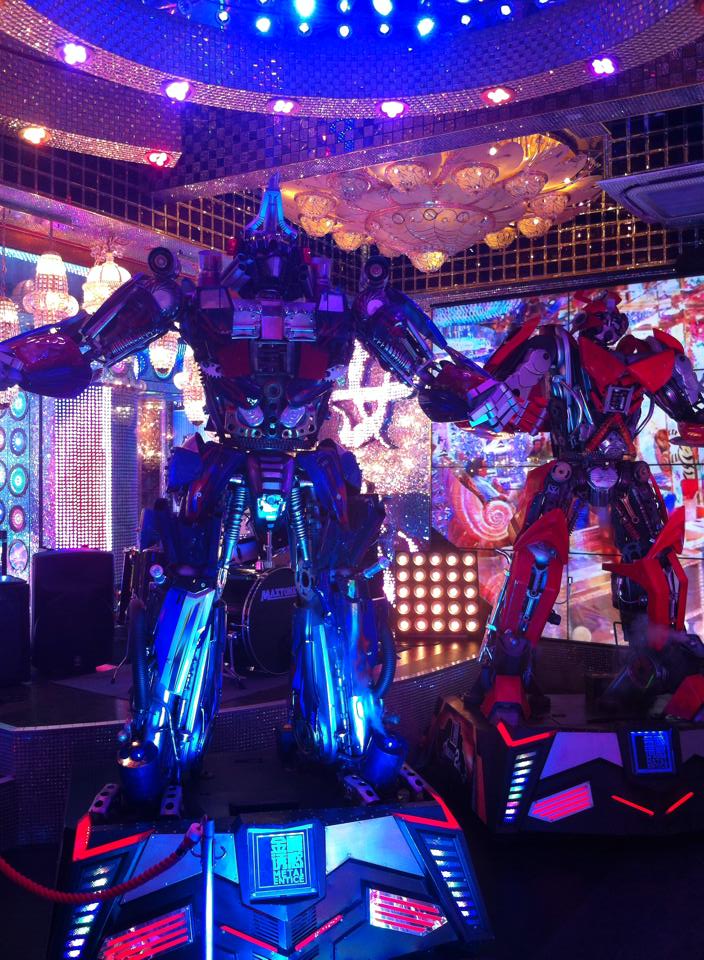 More giant robots in the entrance. At this point, a Western guy with an American accent let us in and ushered us to the lift. One of the staff members outside was also Western. The only reason I'm pointing this out is that this is the only place that we have visited in Japan where there are plenty of Western staff, and that would be because Westerners make up a large proportion of the audience.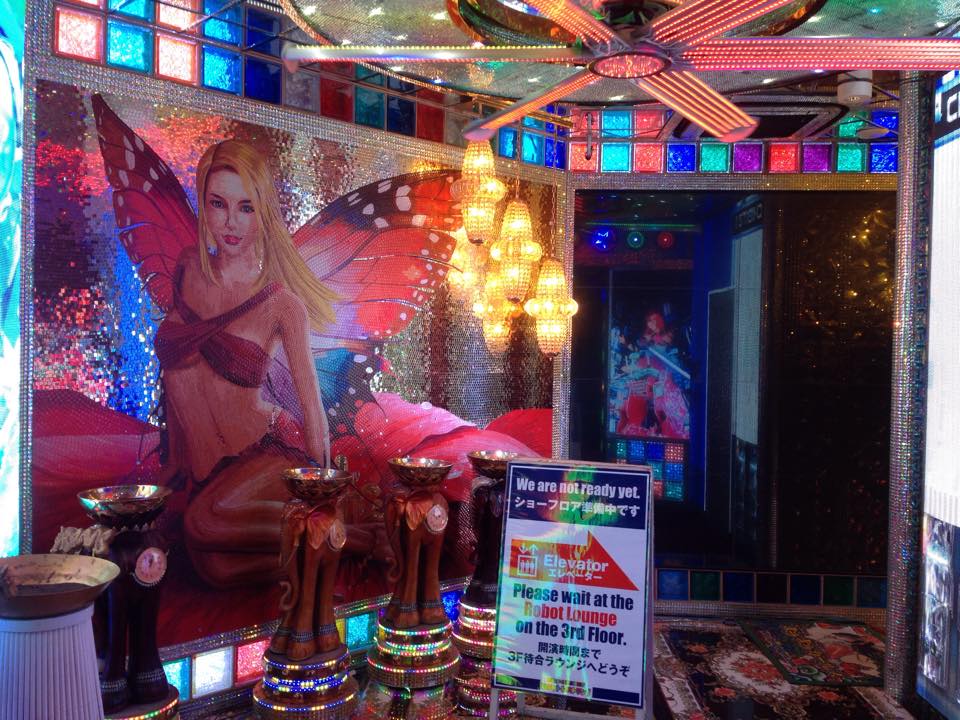 On our way to the lift. At this point I couldn't believe how glitzy the place was. In real life, everything is sparkling. I've never seen anything like it before.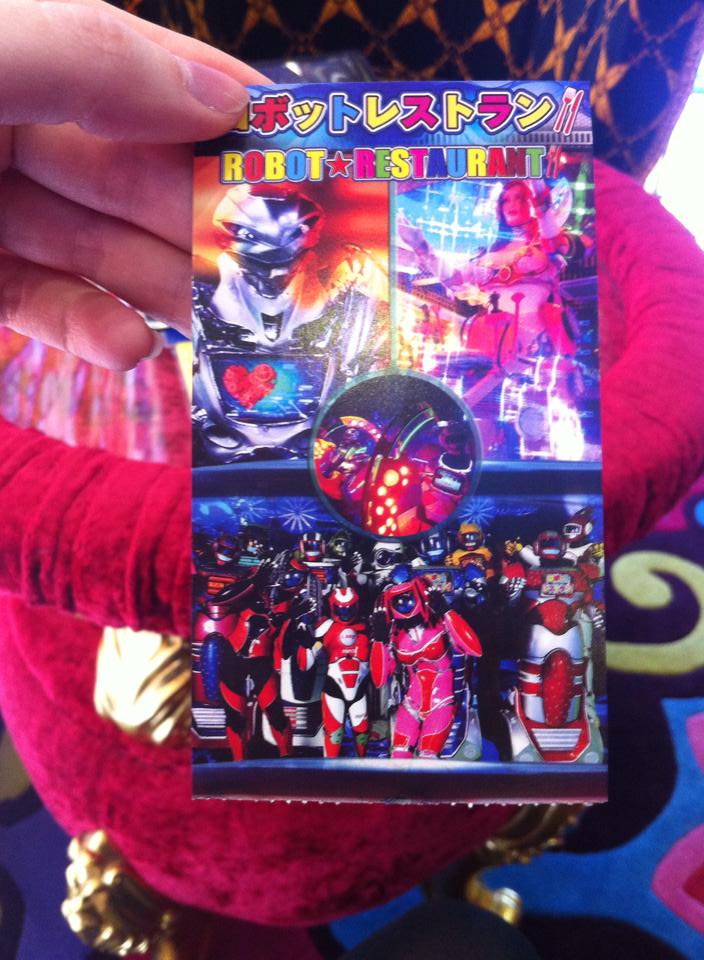 This is what the tickets look like.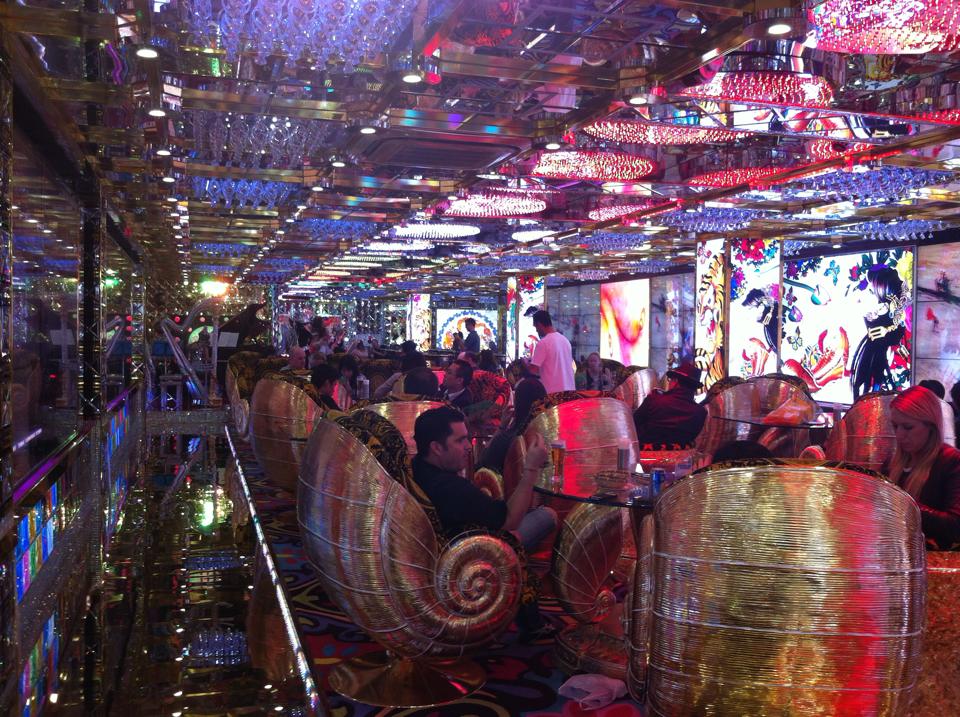 Once we got out of the lift (which was, again, one of the glitziest things I have ever seen), we entered the big room where you wait before the show and staff showed us to a table. As if I wasn't already stunned by what I'd seen, this room was by far THE shiniest, glitziest thing I have ever seen. Now, I haven't been to Vegas, so I have nothing to compare this to… but look at it! Look at those seats – they're big gold shells. And the floor – even the floor is gold!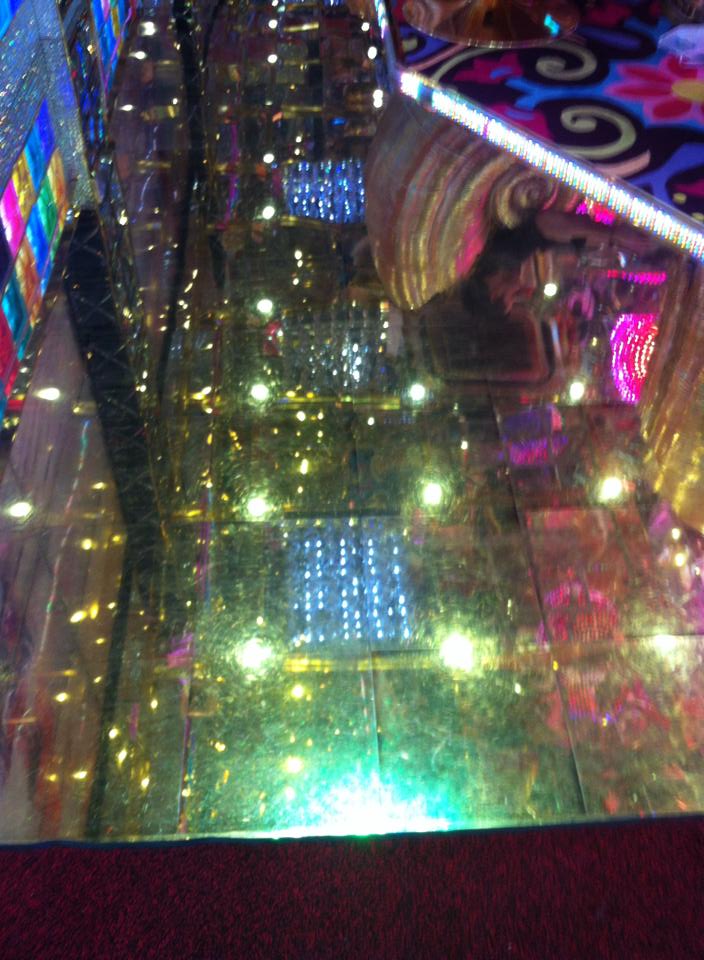 The shiny, gold floor!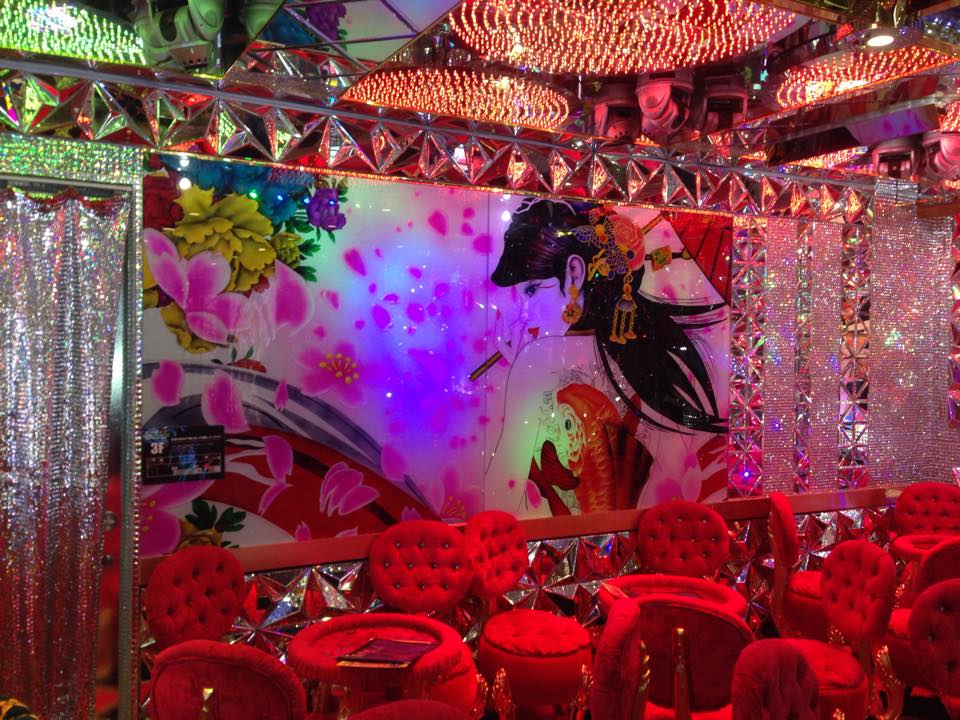 This is the area where we were seated. Crystals, rhinestones, sequins, mirrors, lights, velvet chairs… I wasn't the only tourist staring at everything, not knowing what to think. There was also a band playing, dressed in robot angel costumes. I couldn't help but be reminded of the movie, Blade Runner.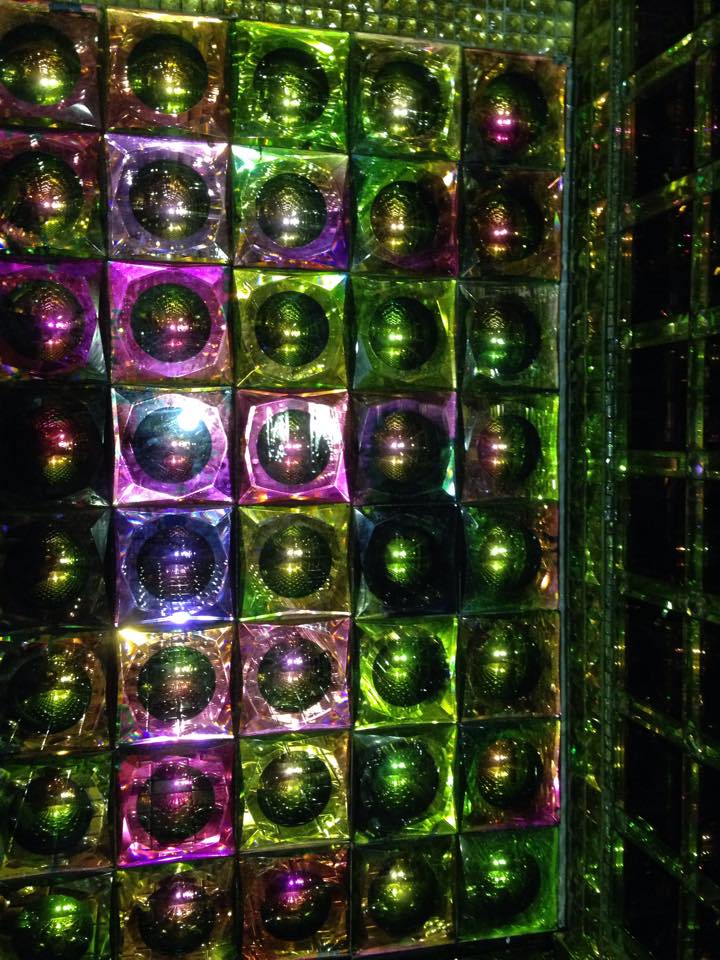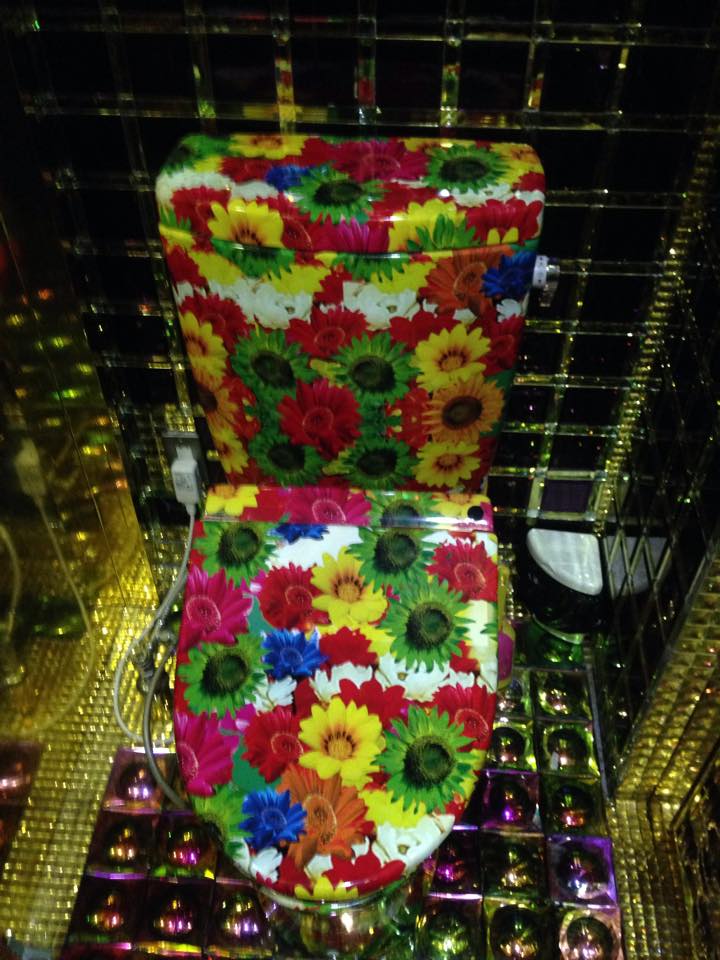 The toilet in that waiting area. It's lucky that drunk customers are not allowed, because… can you imagine wandering in there after a few drinks?!?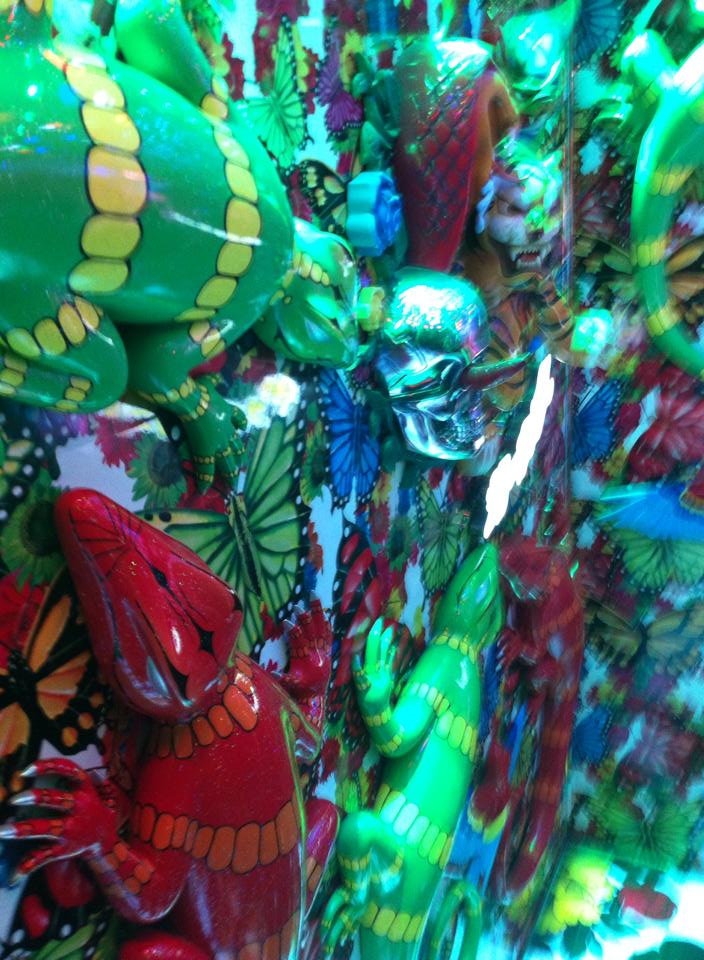 Everyone was then ushered down several flights of stairs (I lost count of how many levels we walked down, but it was a lot). Even walking down the stairs, it was all lights, bright colours, 3D lizards and butterflies sticking out of the walls. I wanted to take more photos but when you're quickly moving down many flights of stairs in amongst a crowd, it's hard to find an opportunity.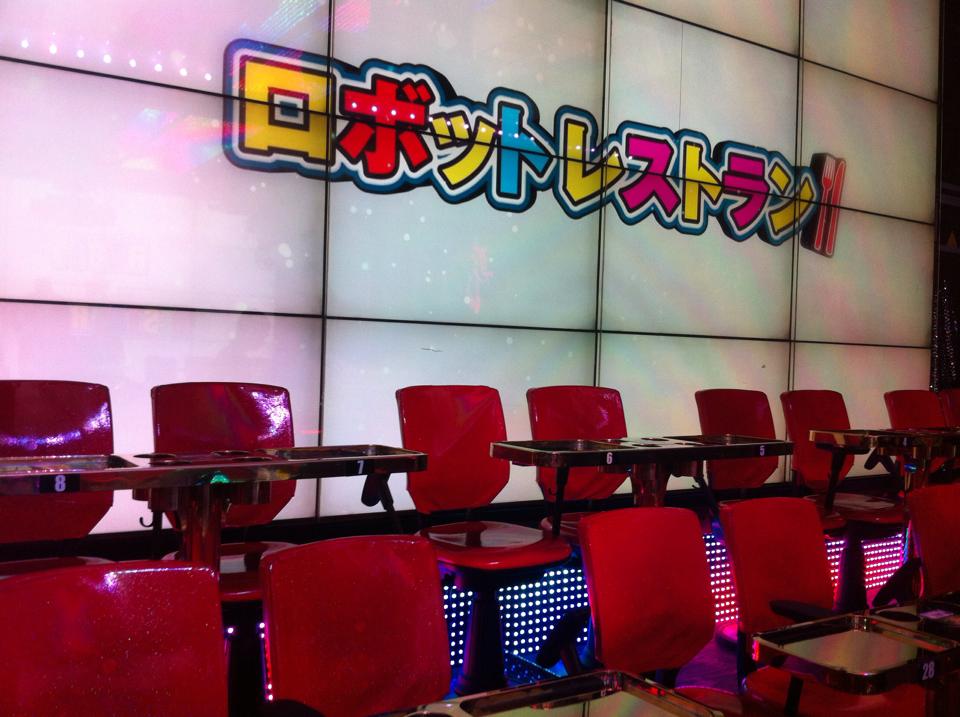 Once we'd made our way down all of the stairs, we reached the theatre. I wouldn't call it a restaurant at all. It's more like a miniature stadium. Rather than a stage, everything takes place in the middle of the floor, with tiered seating on either side.
The seats are very small, and very, very close. I've never felt so squashed in amongst other seated audience members before. Honestly, I didn't like this aspect of it – I certainly didn't appreciate being almost pressed up against the sick tourist who was sneezing on me, or being sneezed on by the girl behind me throughout the show (and again, no, you're not allowed to wear a mask). Of course, it's not the restaurant's fault that people kept sneezing on me, but I wouldn't have minded being a few inches further away from my fellow audience members!
Note the little trays in front of the seats where you can put your food and drinks. Whilst you can have drinks prior to the show in that upstairs waiting area, you can also buy drinks to have while you watch the show once you reach this area. They also sell popcorn before the show and during all of the breaks.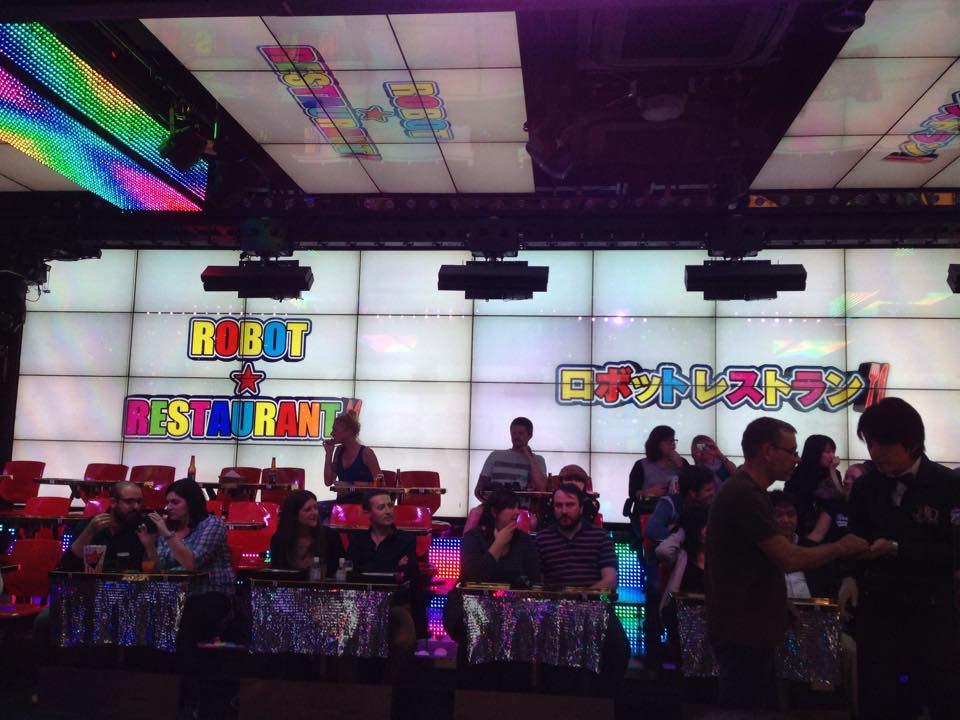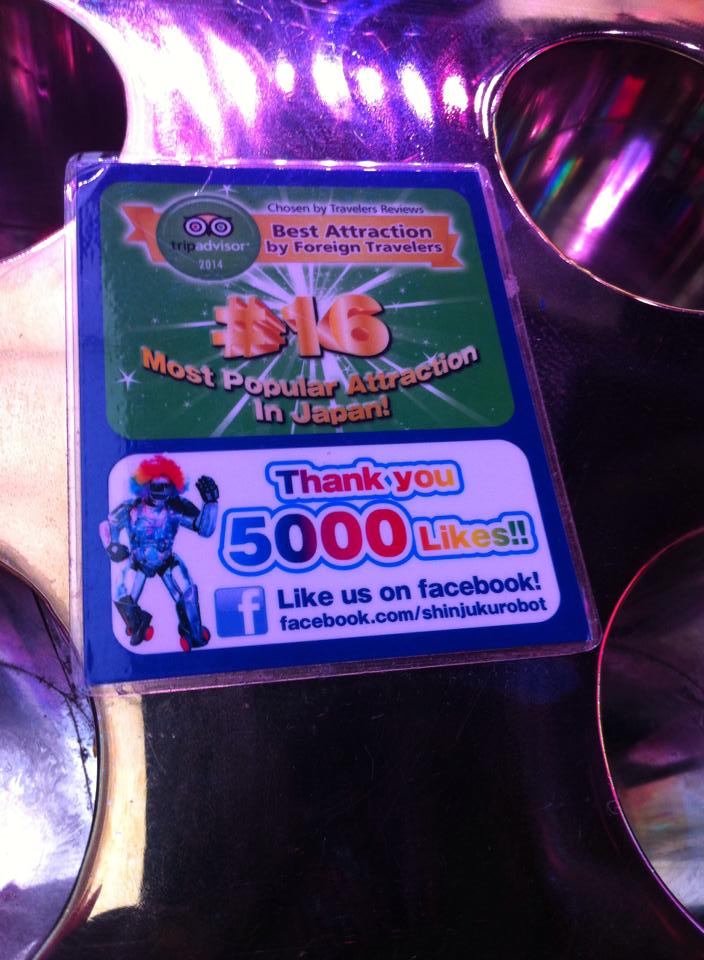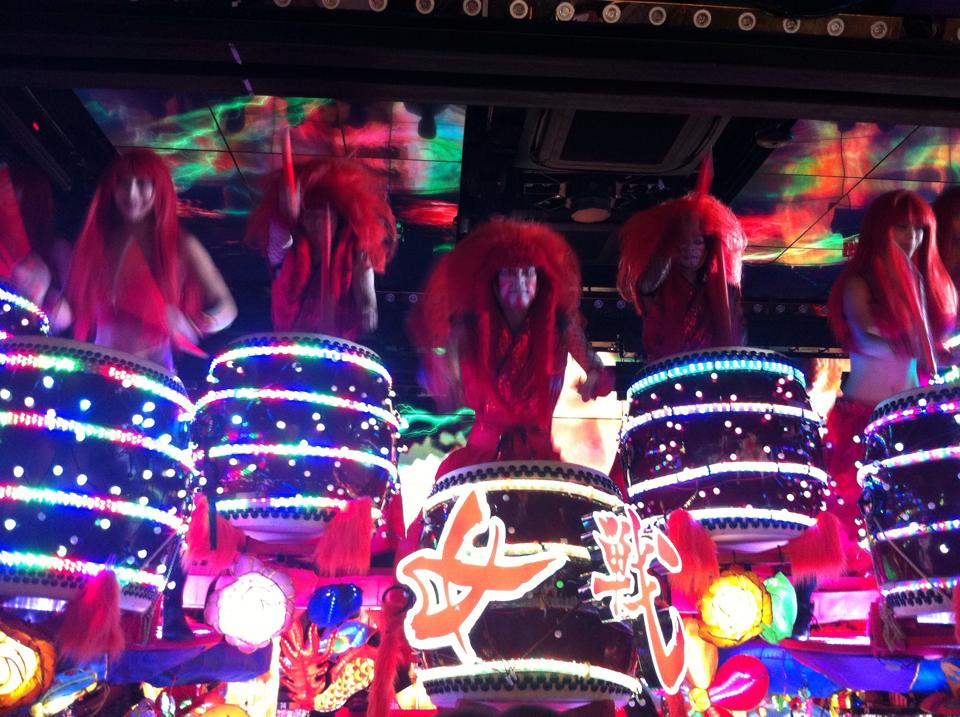 The show commenced with drummers dressed in tribal-inspired costumes with face-paint and big colourful wigs.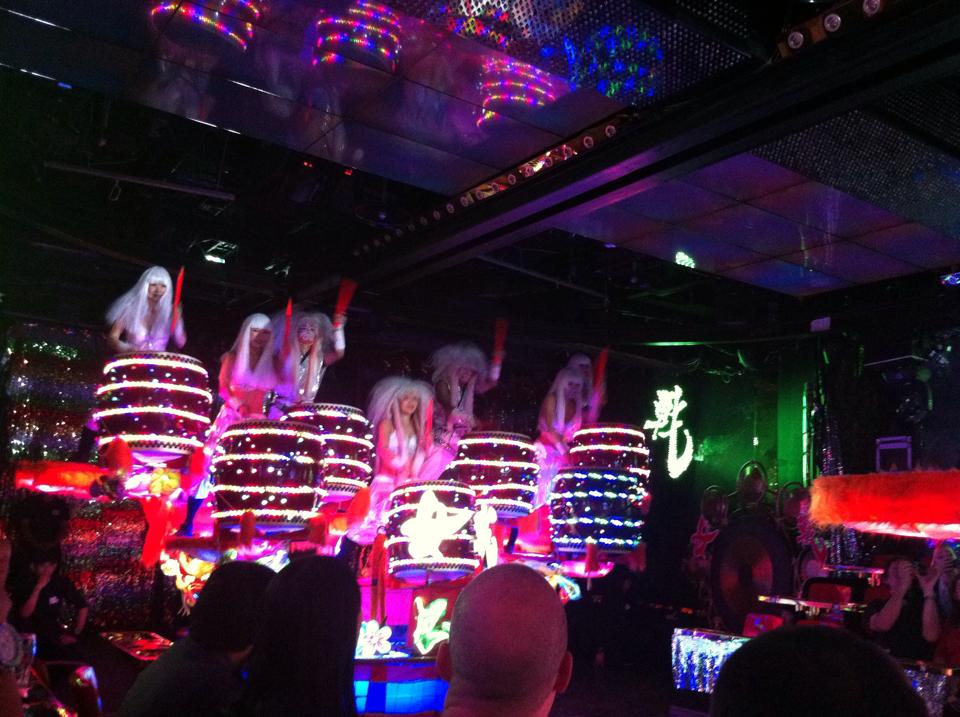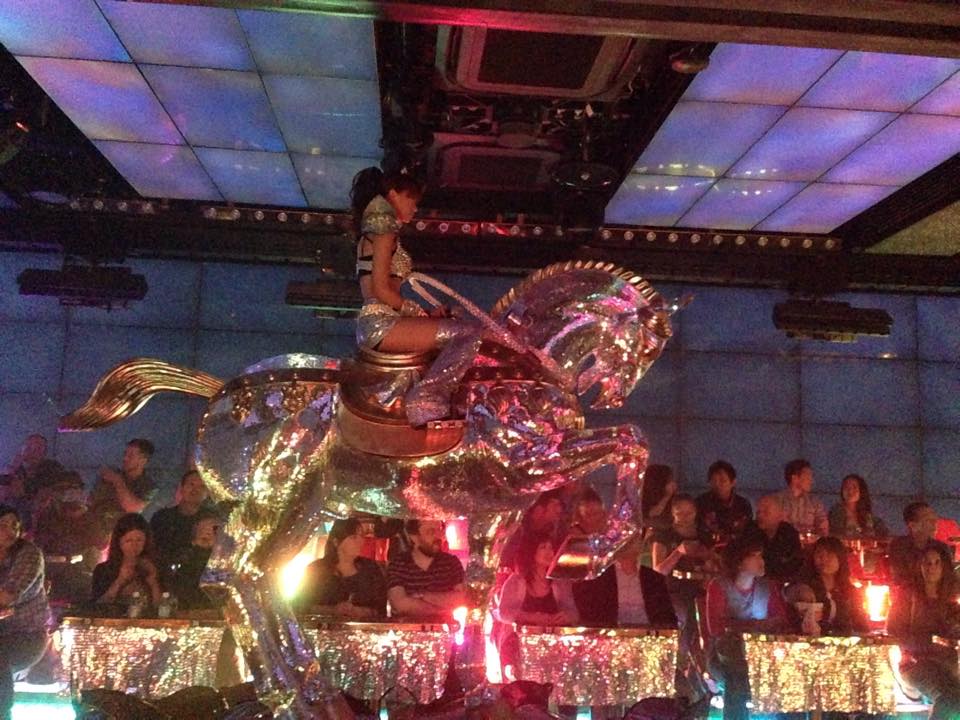 Next up it was girls wearing silver sequins and rhinestones, riding silver horses made of rhinestones and mirrors, and dancers in silver robot costumes.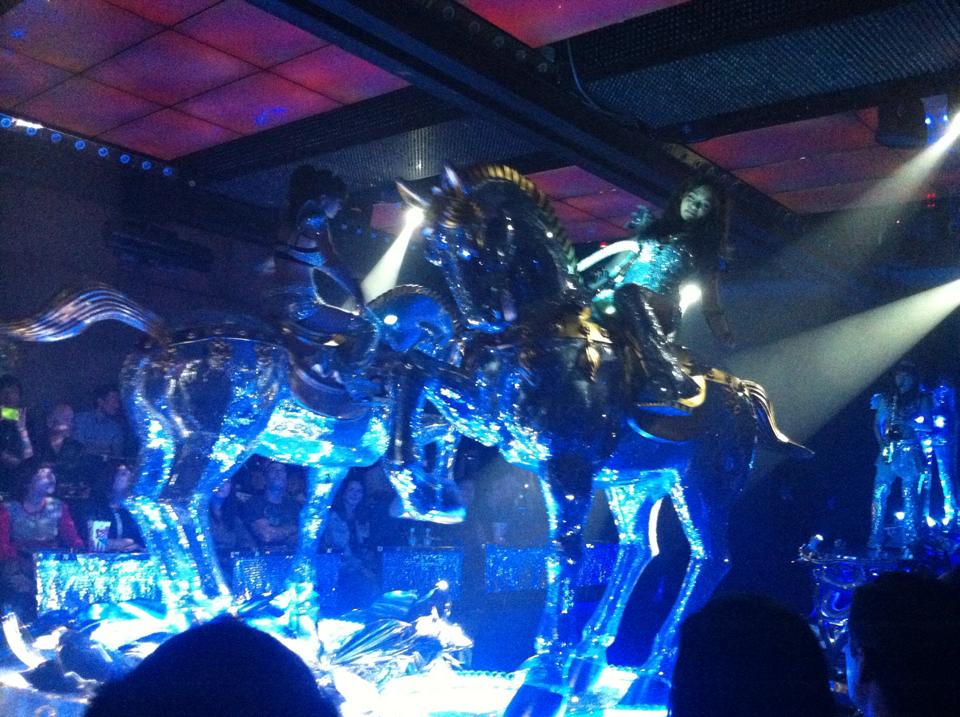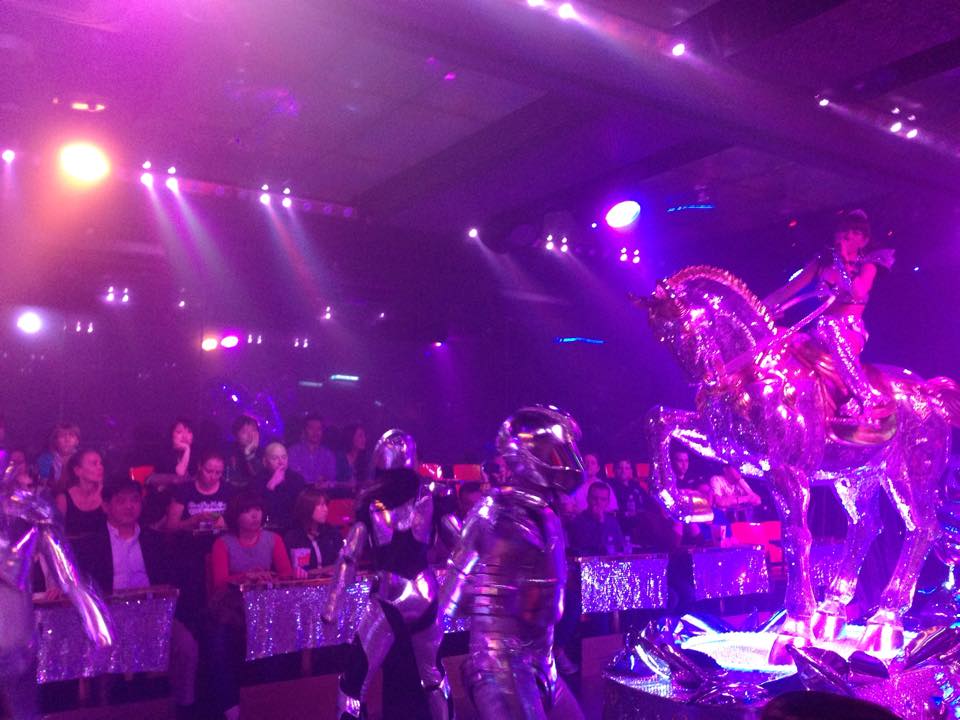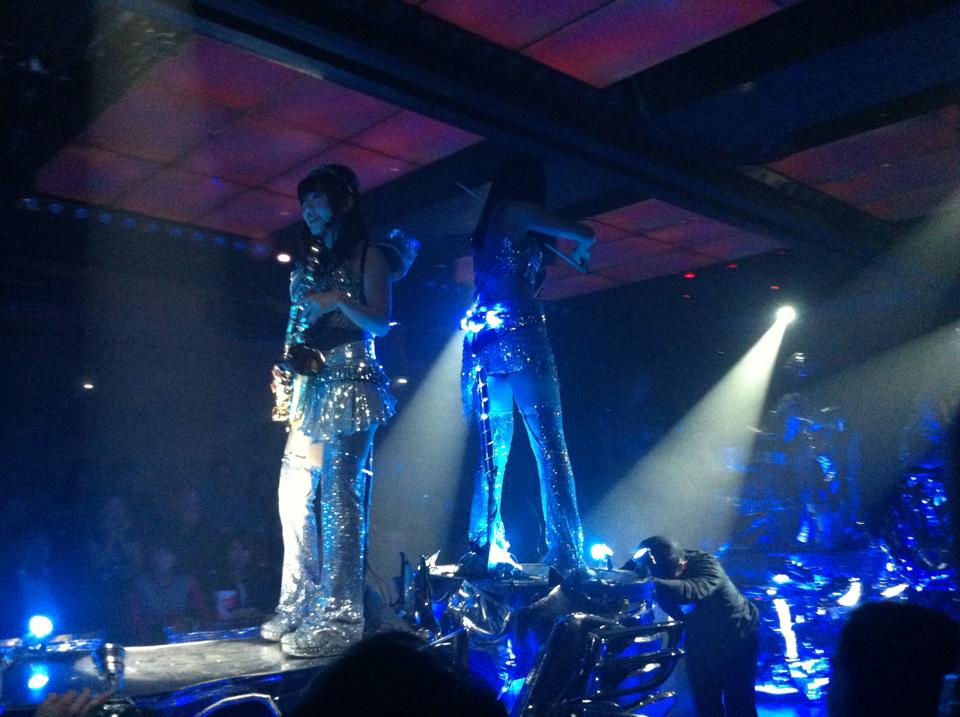 A saxophonist and a violinist.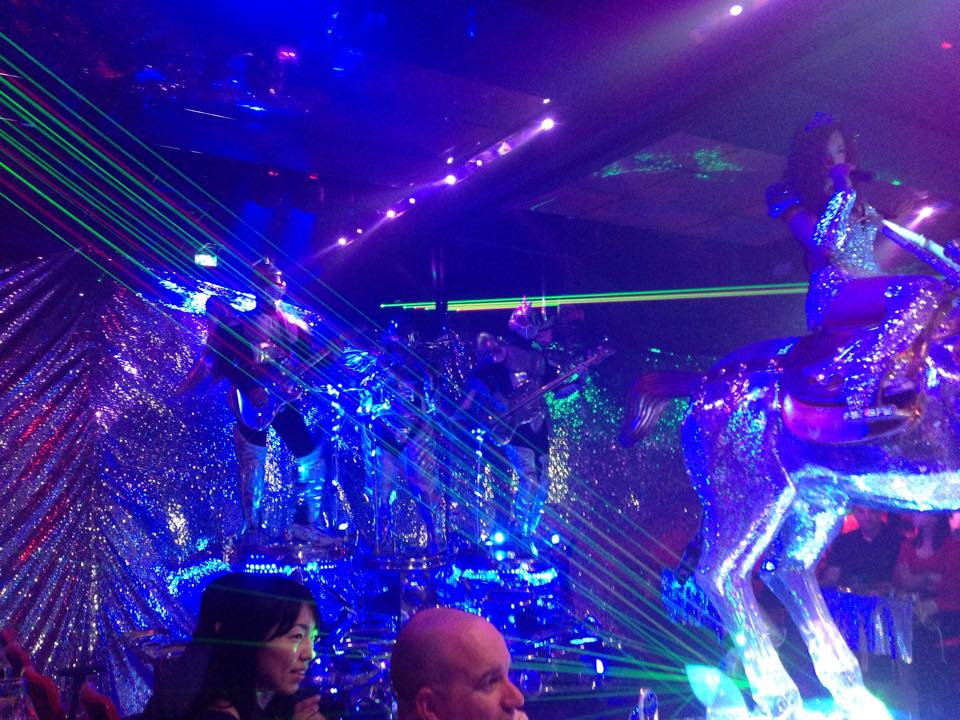 Next thing, the band that was playing up in the waiting area appeared. Glitter, mirrors, rhinestones, sequins, lights, silver horses, a band a dancers dressed as robots, and laser beams… What more could you want? What more could they come up with?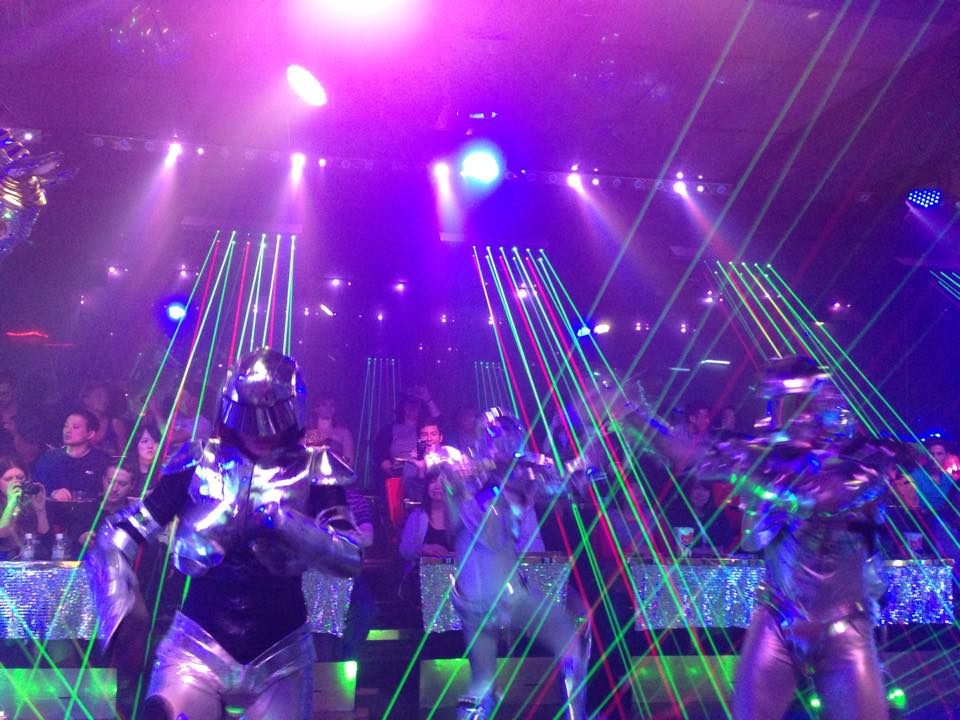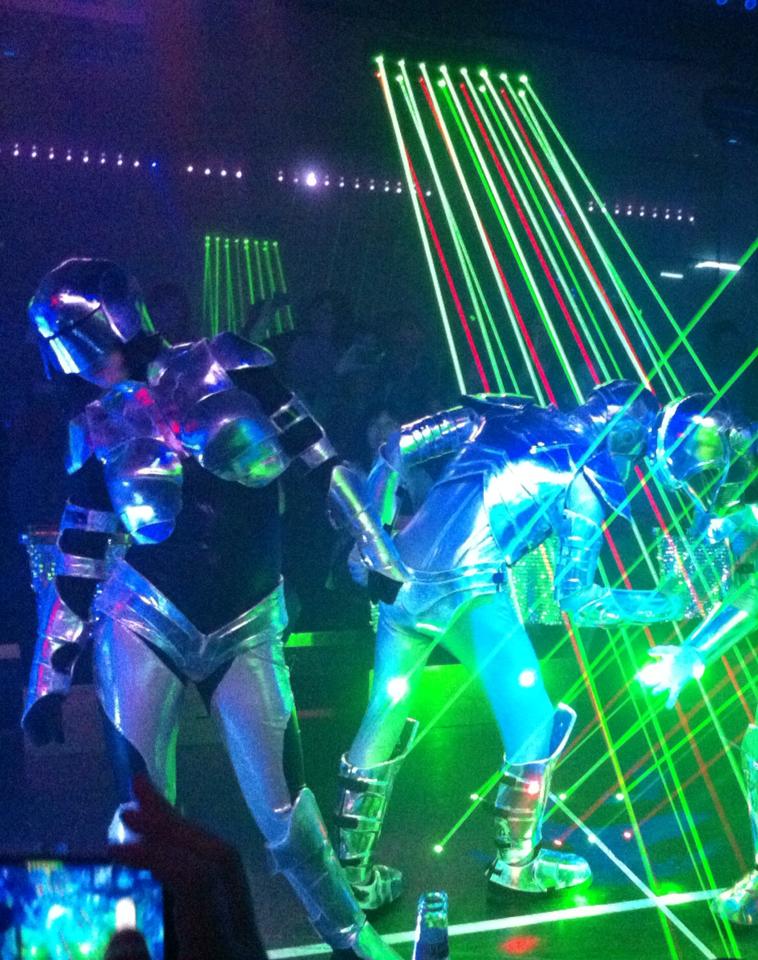 Just when I thought the audio-visual overload couldn't get any crazier, there were battles involving girls dressed as fairies riding on giant spiders, kung-fu pandas riding cows, dragons and sharks fighting. There were robots wrestling, and they even picked out a member of the audience to fight with a robot (and she won!).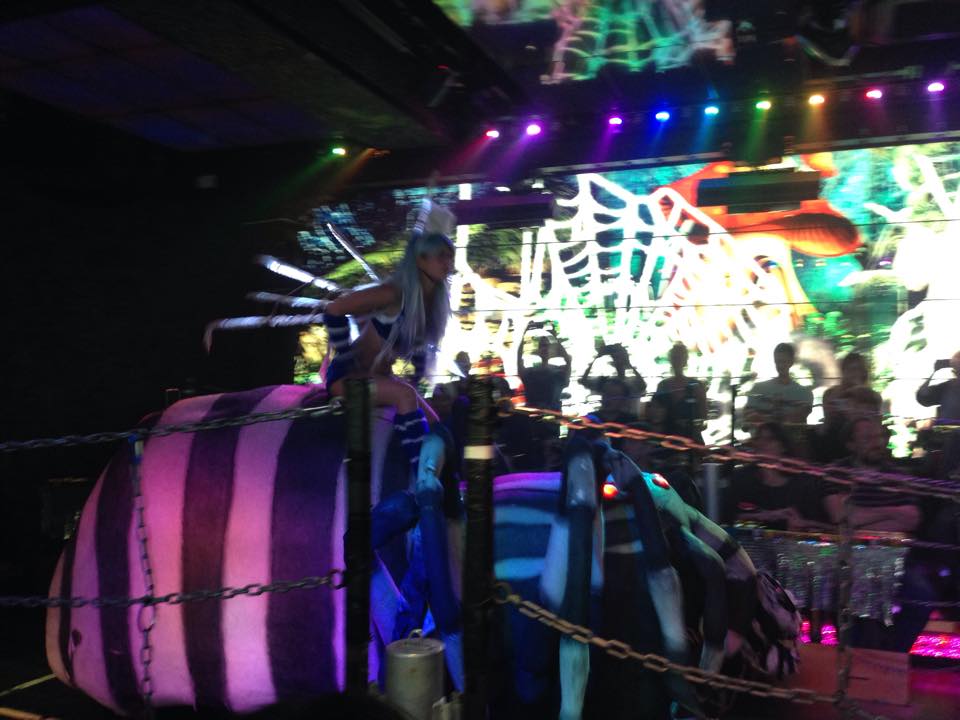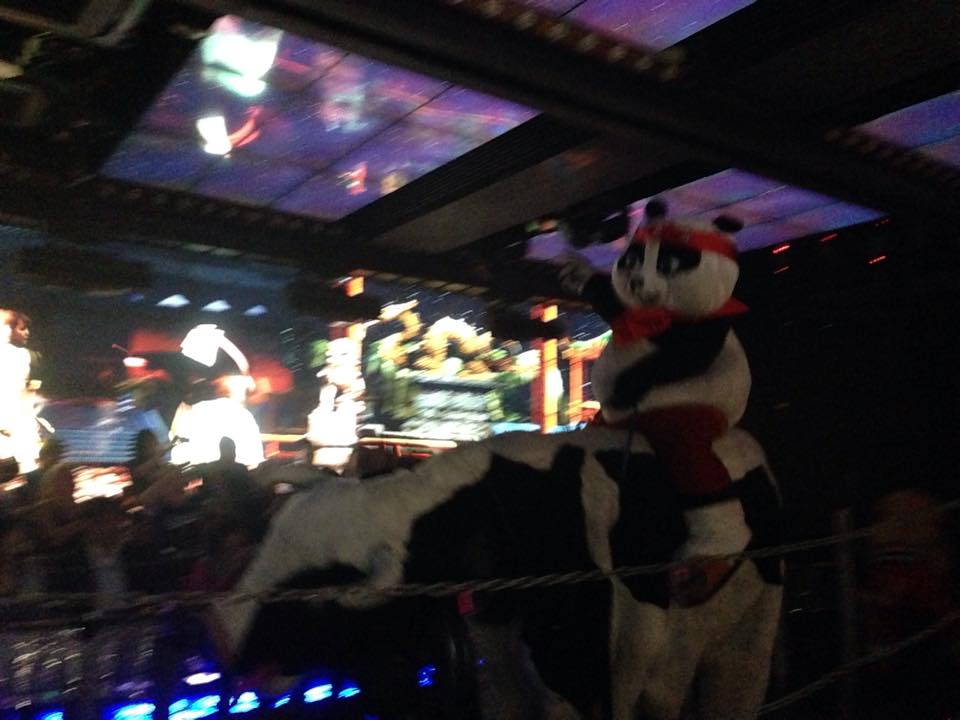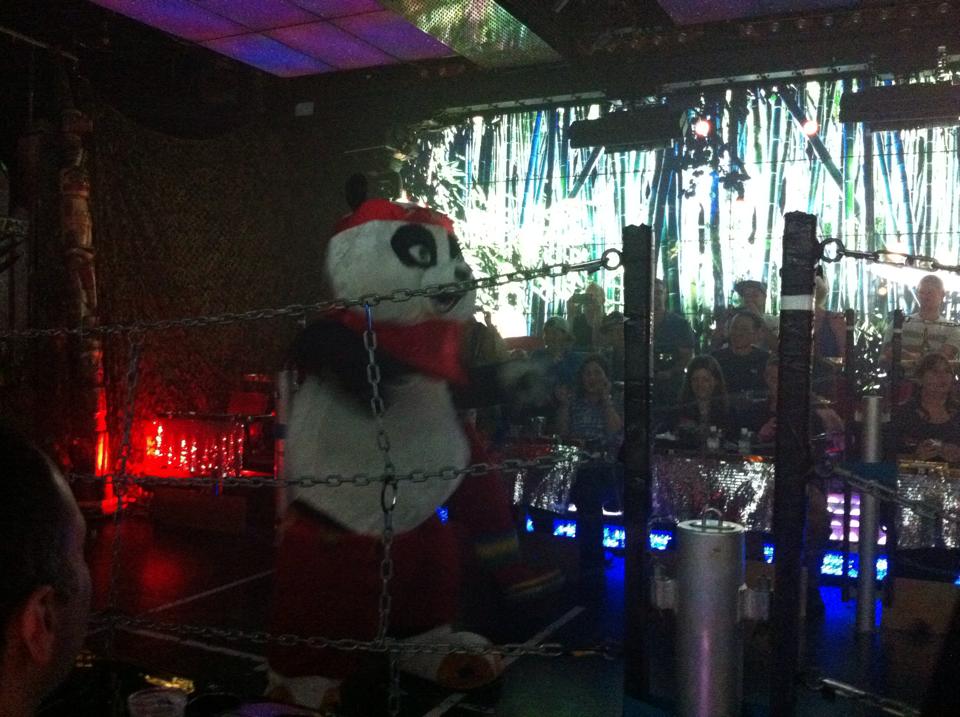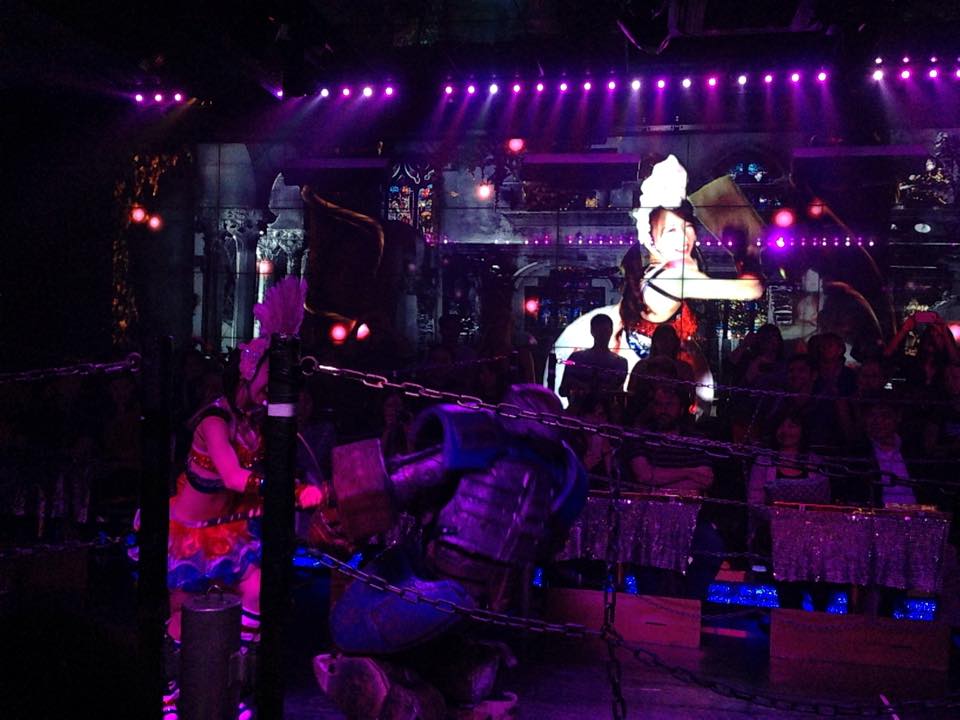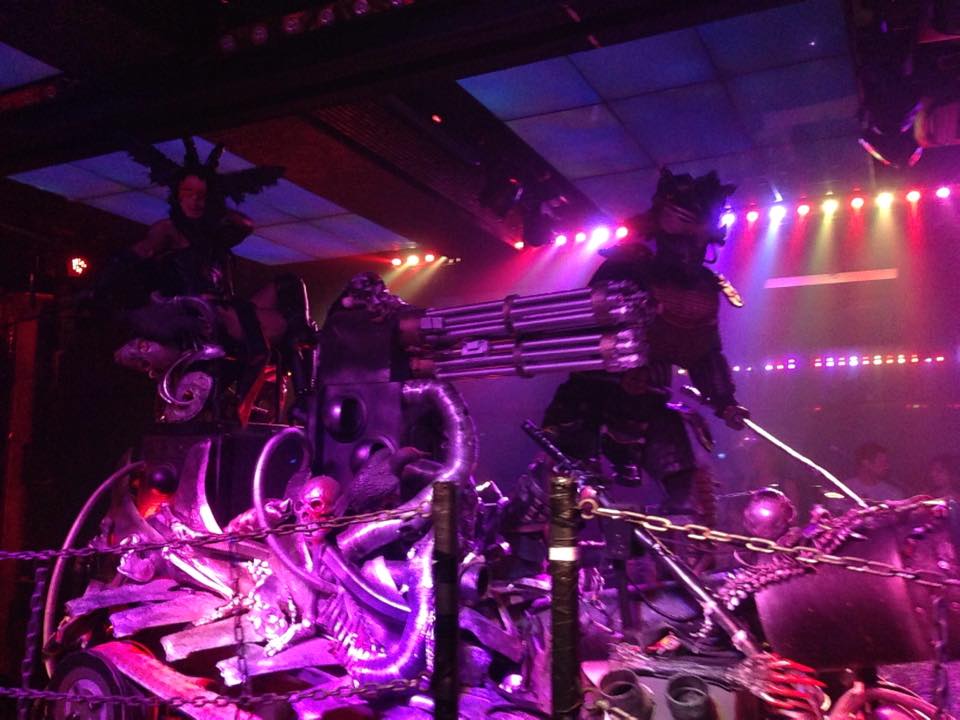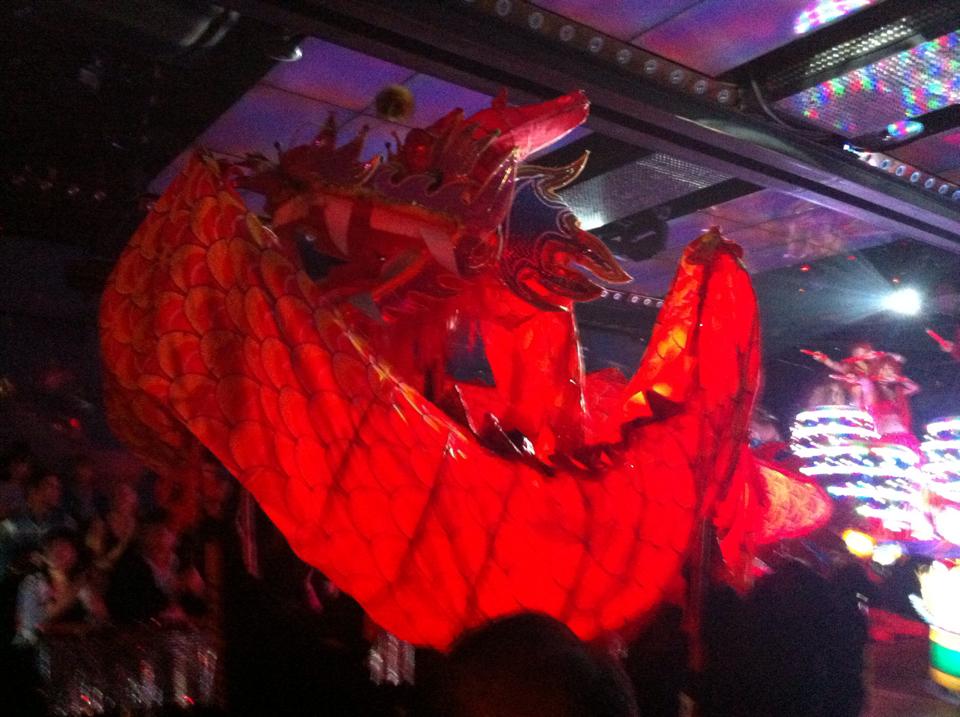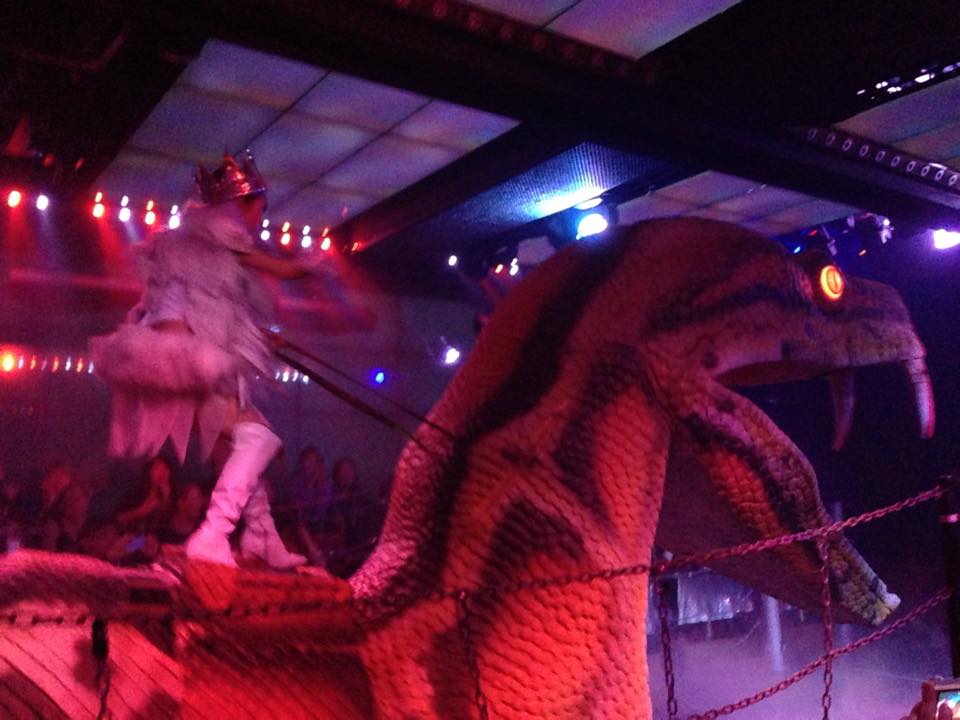 We saw girls riding giant anacondas, and watched a villain get eaten by the snake!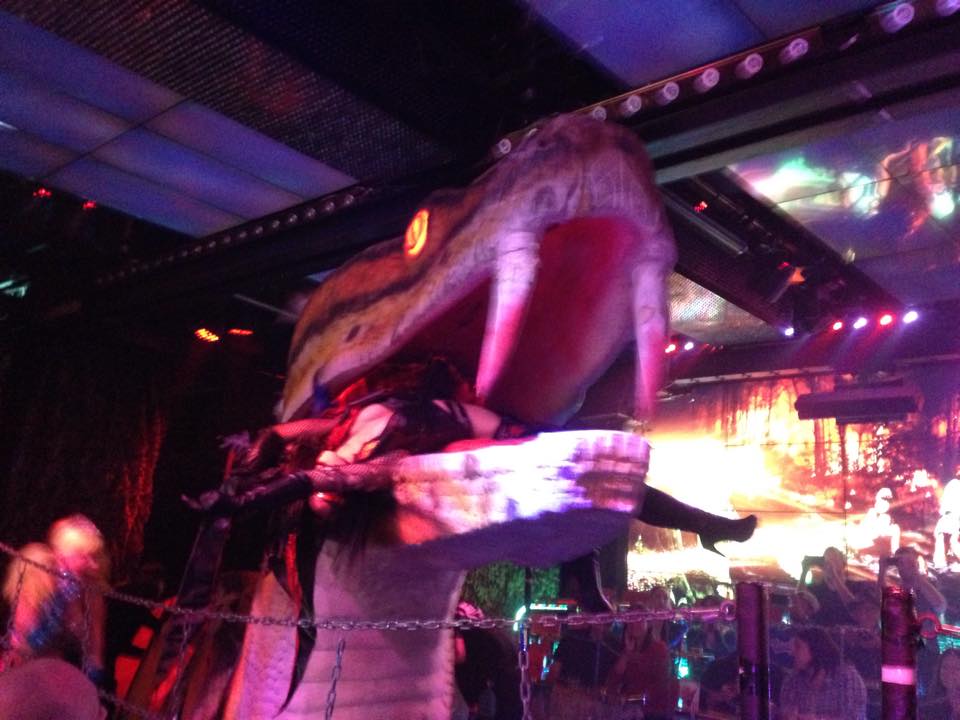 It just got crazier and crazier, and audience members couldn't help but laugh along with it. Believe it or not, there was actually a storyline, and it actually made sense. It was completely off the wall, but I had to hand it to them – they put on a great show. It didn't end here, though. Dancers came out in show-girl costumes and the audience was introduced to them one at a time. Then the giant robots came out.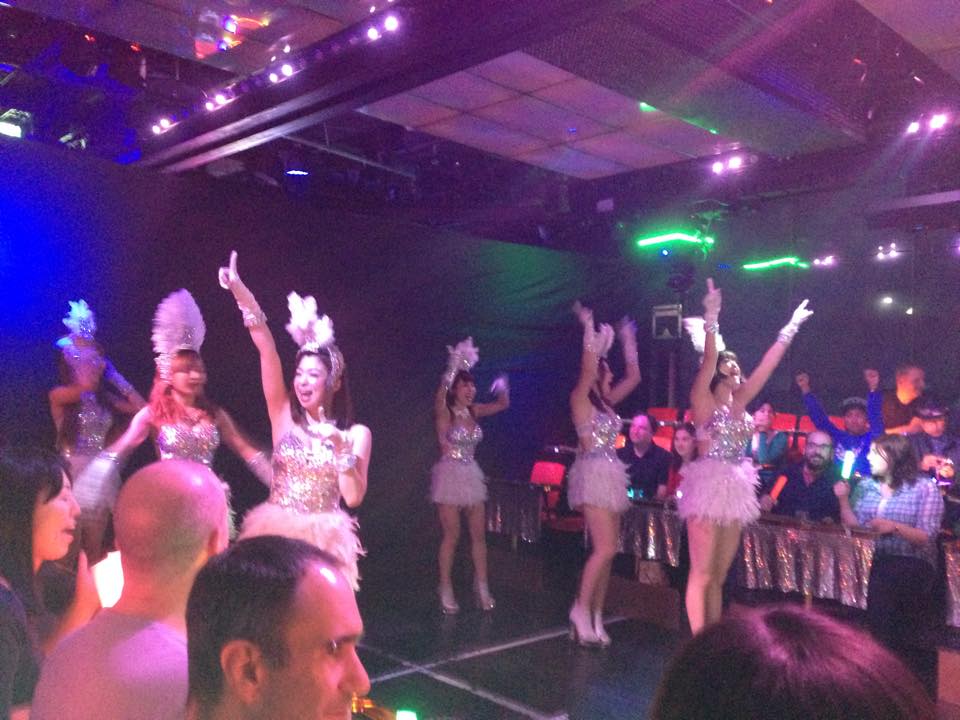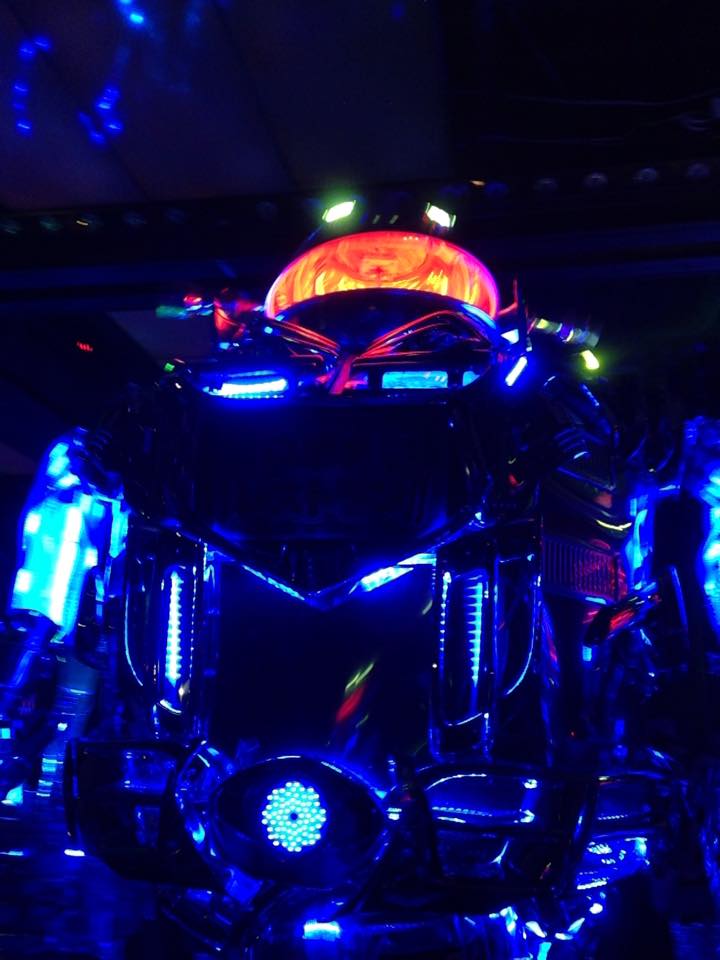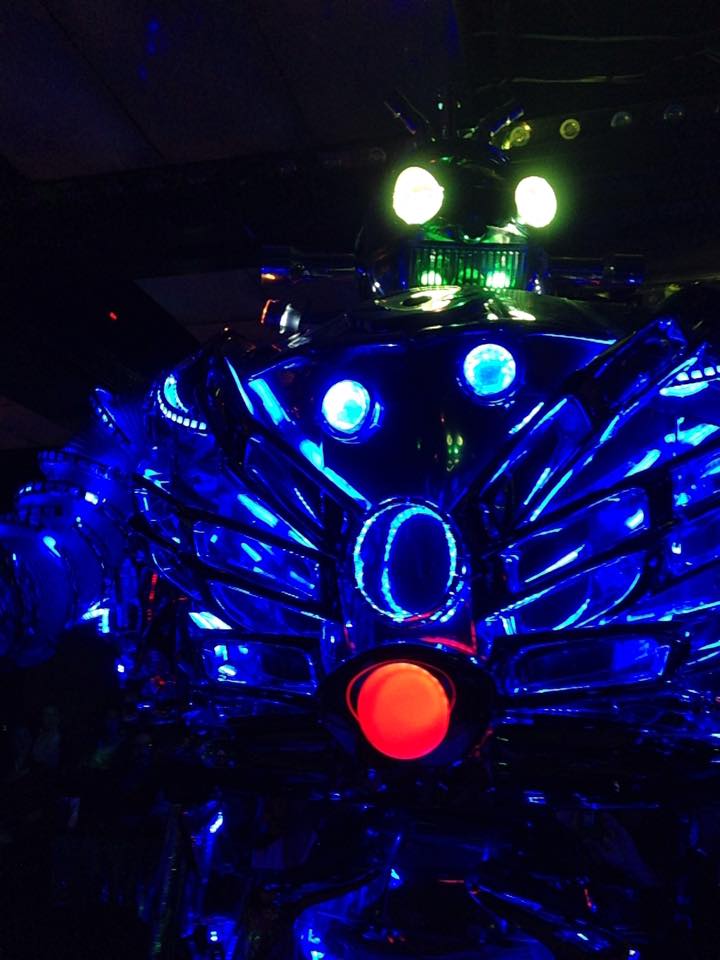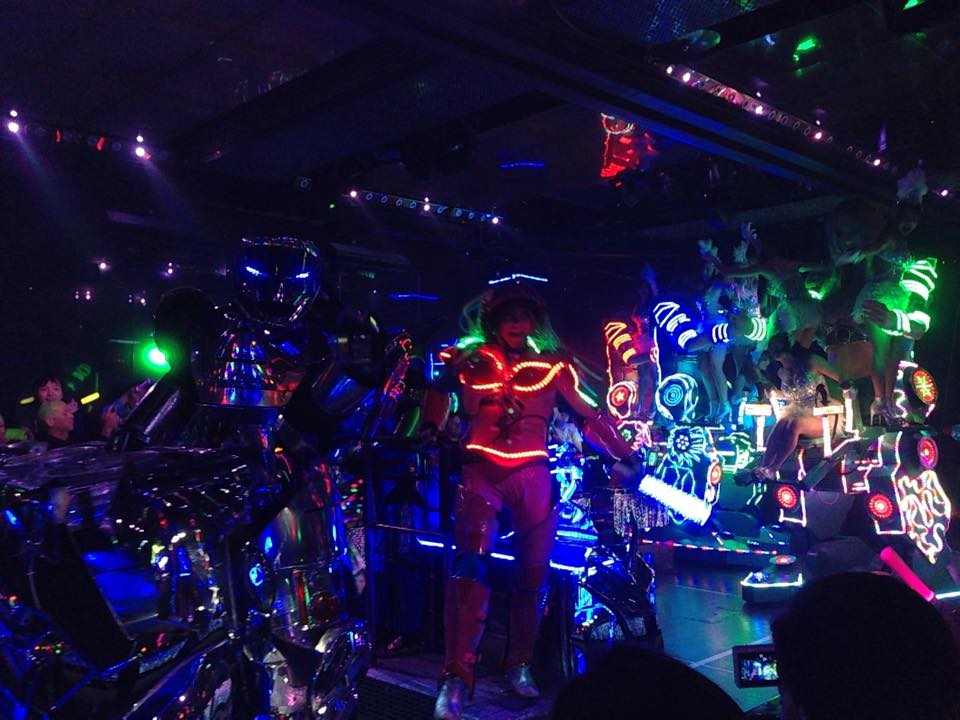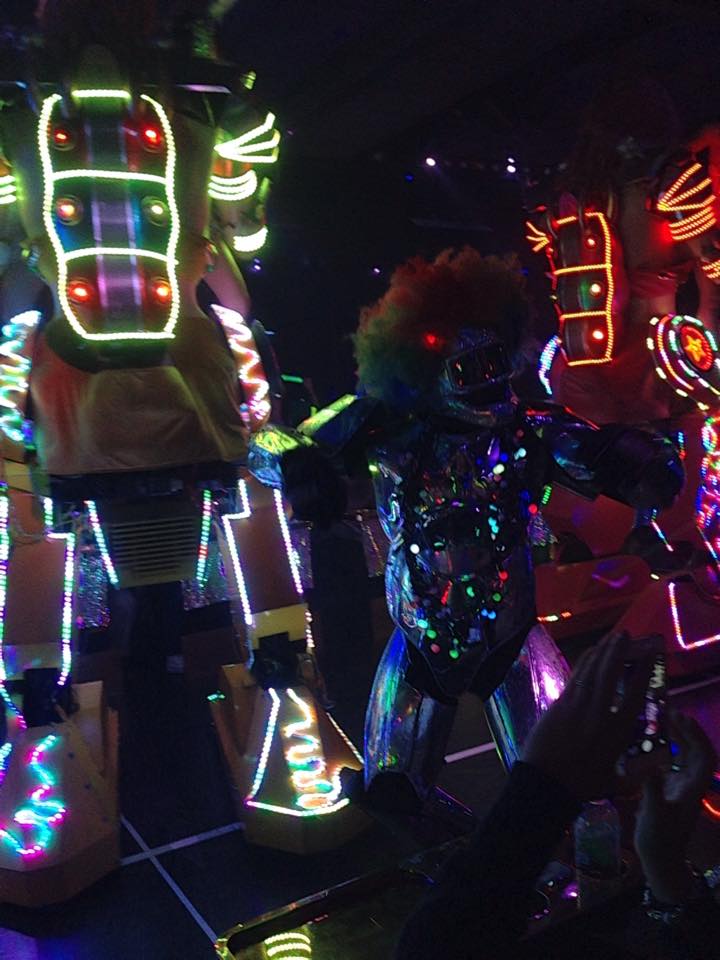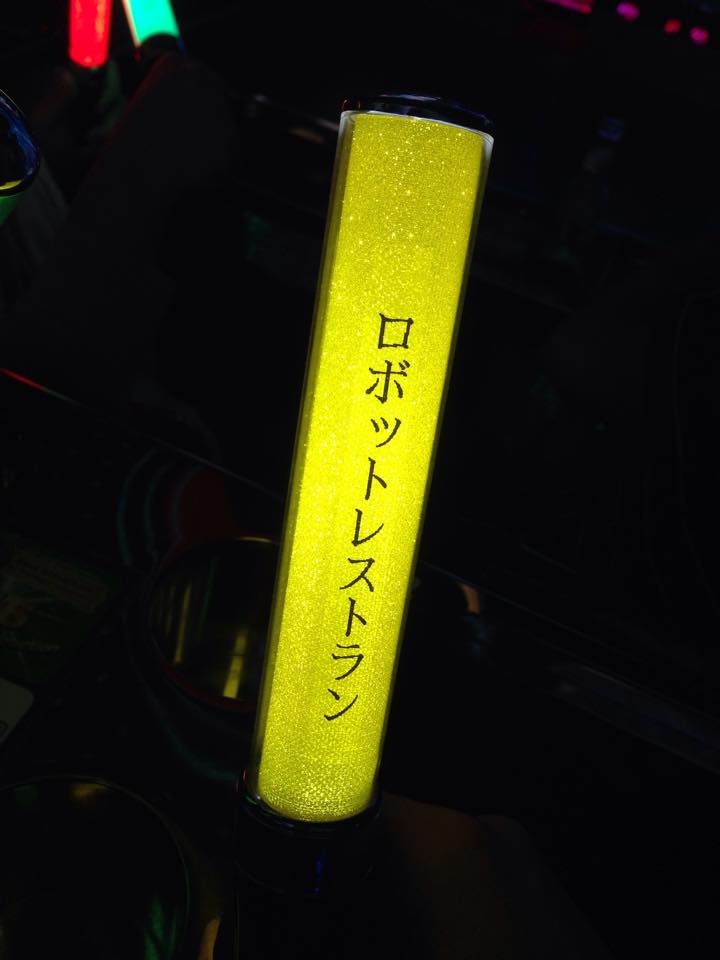 Every audience member was handed one of these light sticks to wave toward the end of the show (no, you can't keep them, but you can buy a souvenir version to keep).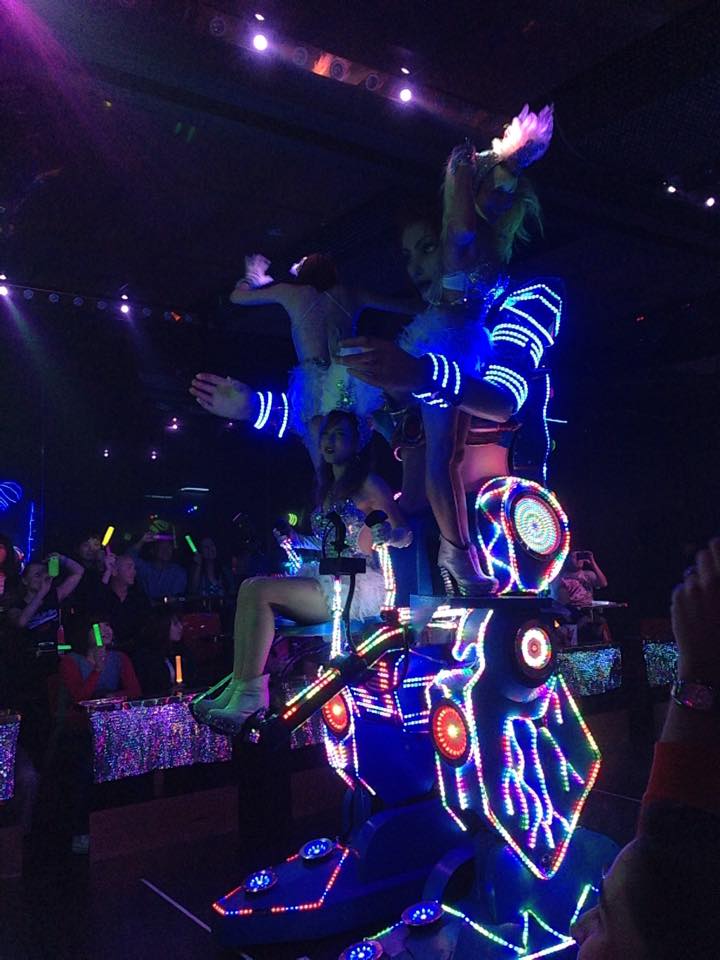 There were giant robot women being driven by girls, with more girls riding on the sides. After this, they stop all of the robots on the floor and give the audience five minutes to come down and get photos with the girls and the robots. I thought this was really cool, and I'm glad that they do this for free (a lot of places would probably charge for professional photos, but here, they just let you use your own camera).
The show itself lasts about 1.5 hours, with a few short breaks between sections.
If you've been reading other articles about the Robot Restaurant, you'll have read that members of the audience seem gobsmacked and first, as if they don't know what to make of it. It's true. I didn't know what to think at first, but by the end of the show I was waving my light stick and couldn't wait to pose for a photo with the dancers and robots. I still hardly know what to make of it, but you just get into it, go along with it, and it's hilarious and a lot of fun. And yes, it is meant to be funny. Bring your sense of humour with you and enjoy one of the craziest 1.5 hours you'll ever have.
Clearly an enormous amount of has gone into this place. Apparently it cost 10 billion yen to fit out the venue. The performers are also talented musicians, singers and dancers.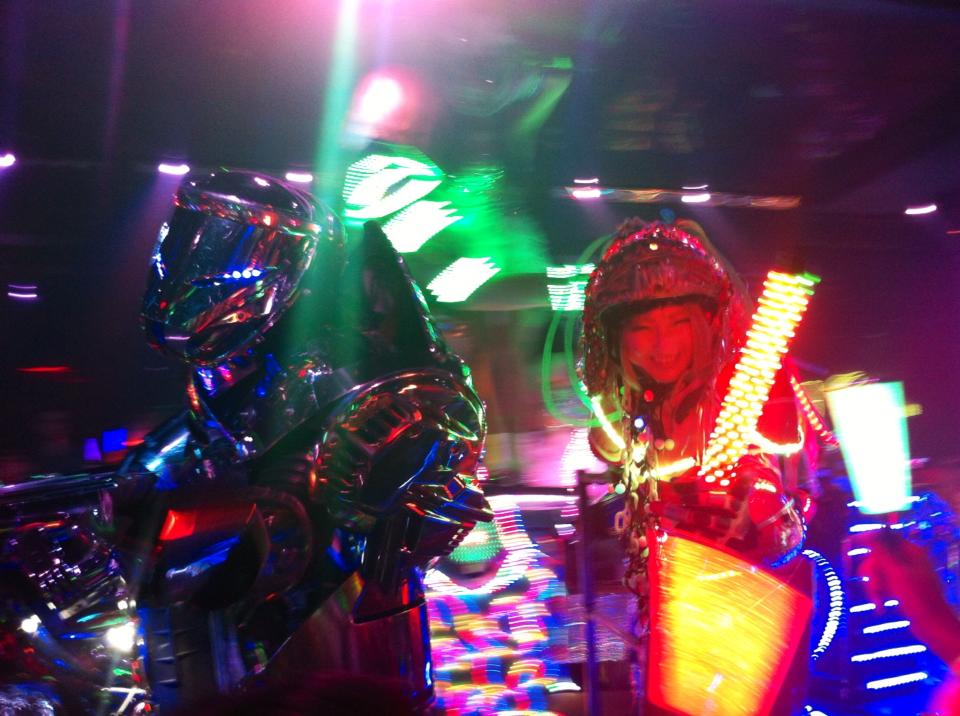 For something different that completely unforgettable, I highly recommend going to the Robot Restaurant at least once. I didn't try the food (I was going out for dinner elsewhere afterwards), so I can't comment on that, but I'm glad that I saw the show.
Note: There are a lot of flashing lights in this show, so if you suffer from epilepsy or a similar condition, you may not be able to watch the show.
It was dark when we left, and here's what it looks like at night: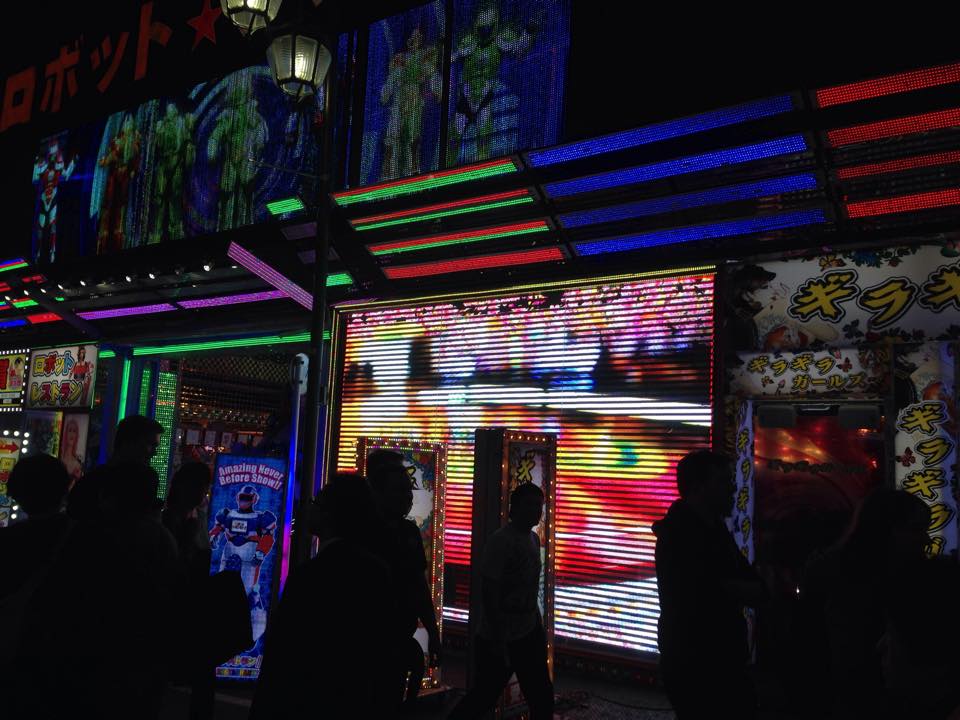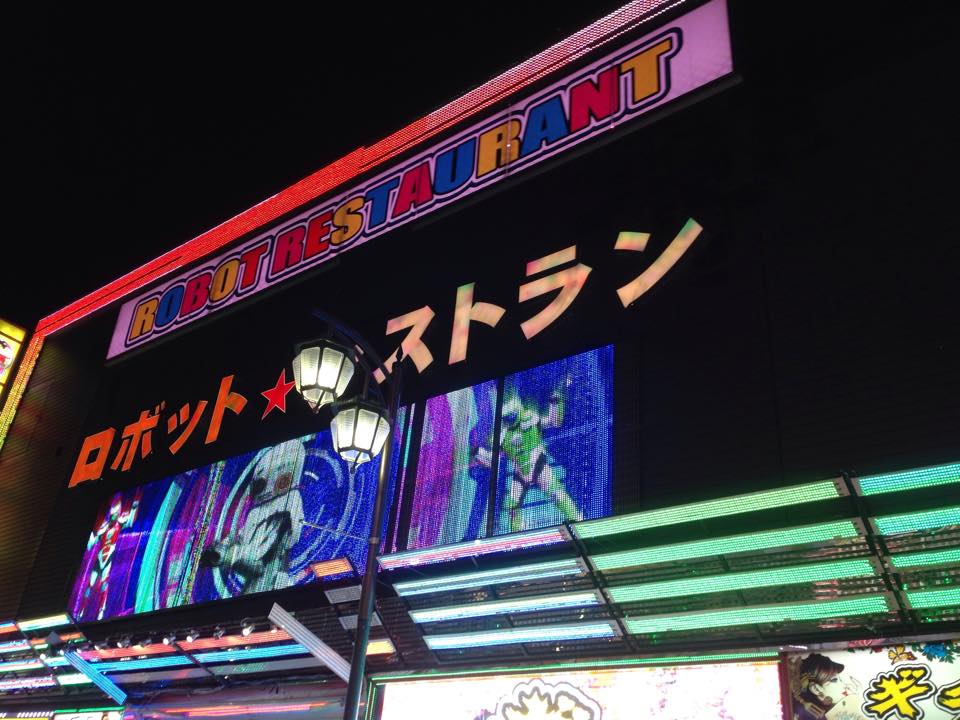 All in all, it was bizarre but kind of brilliant at the same time. Is it a very 'Japanese' experience, though? I'm actually not so sure about that. I get the sense that the Robot Restaurant is a place that Westerners can go to get their 'weird Japan' experience. Just like Harajuku girls, I think the Robot Restaurant is part of the 'weird Japan' that some tourists want to believe in. The thing is, half the staff were Western, with American accents. Most of the audience was the same. I've never seen so many Western tourists – and English-speaking ones at that, with American and Australian accents – in the one place, at the one time, during any other part of a visit to Japan.
So is it 'authentic'? I don't really know. There were certainly aspects of it that were very Japanese, but it's not exactly what you would typically find in a bar or restaurant in Japan. I would definitely see this more as a really fun show that you won't find anywhere else. And if you want to get your 'weird Japan' fix, this place is easier to find than, say, the elusive 'used panty' vending machines that you hear about (more about those in another post – and yes, I did track one down last year). Plus, it's good, clean fun!
Finally, I never expected to be writing that Contiki Tours will be bringing the Shinjuku Robot Restaurant to Sydney, Australia, but here I am. On February 23 and 24 2015, Contiki will be presenting Robots Unrivalled in Sydney, which is apparently coming straight from the Robot Restaurant. I'm hoping to get a ticket for this, as I am in Sydney. I will keep you posted on this.