Halloween is a reasonably new celebration in Japan, with Tokyo very quickly establishing itself as one of the best places to visit for Halloween. Some suburbs of Tokyo such as Shibuya go all out for Halloween. It's a celebration which is becoming bigger and better every year in Japan, and I have spent the past two Halloween seasons in Tokyo. Read on to find out why Tokyo is such a great place to celebrate Halloween.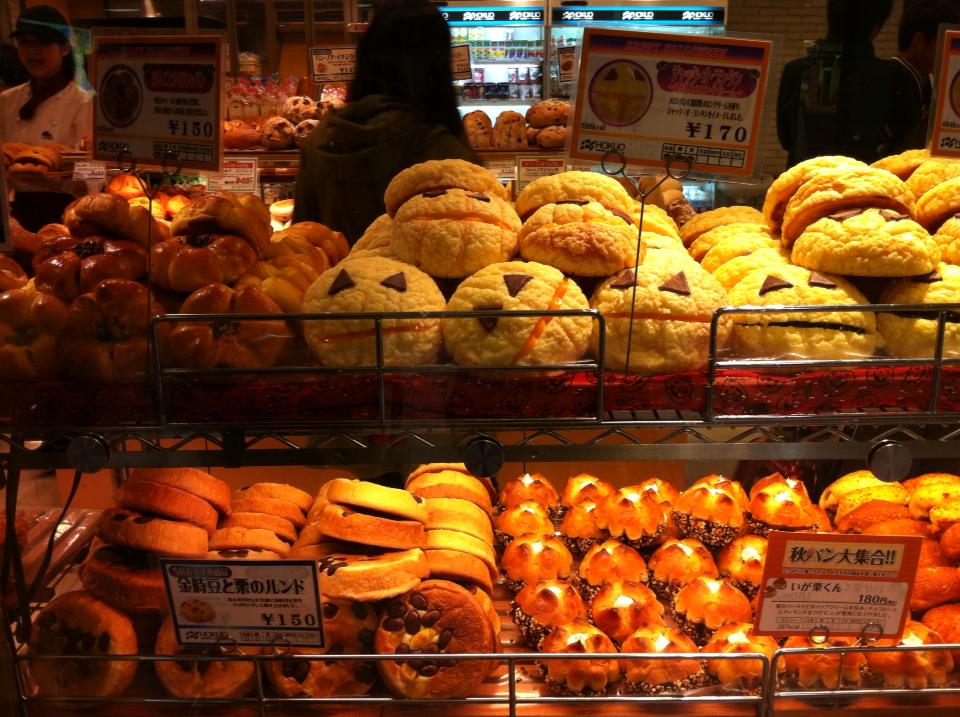 For most people, food is probably not the first thing that comes to mind when you think of Halloween. In Tokyo, the home of themed restaurants, bars, cafes and themed food in general, it's no surprise that during autumn there is no shortage of spooky and kawaii Halloween treats. Food retailers at stations such as Shinjuku (above) sell Halloween themed pastries and cakes for a spooky snack on the go.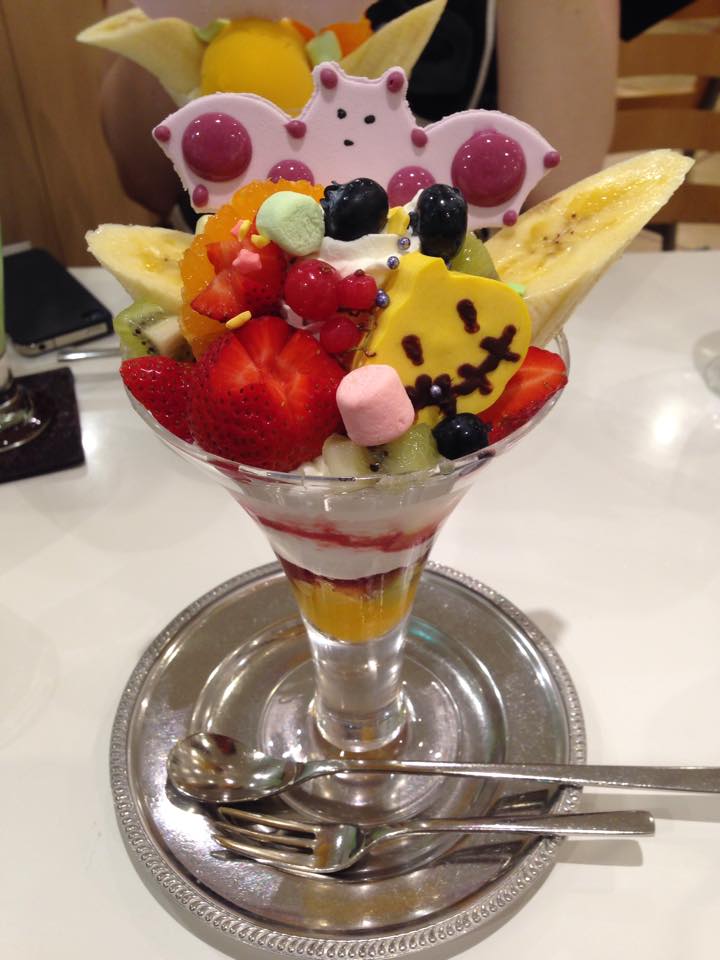 Parfaits are another great treat that you can find in Japan, and they get even better during October when some cafes create special Halloween parfaits.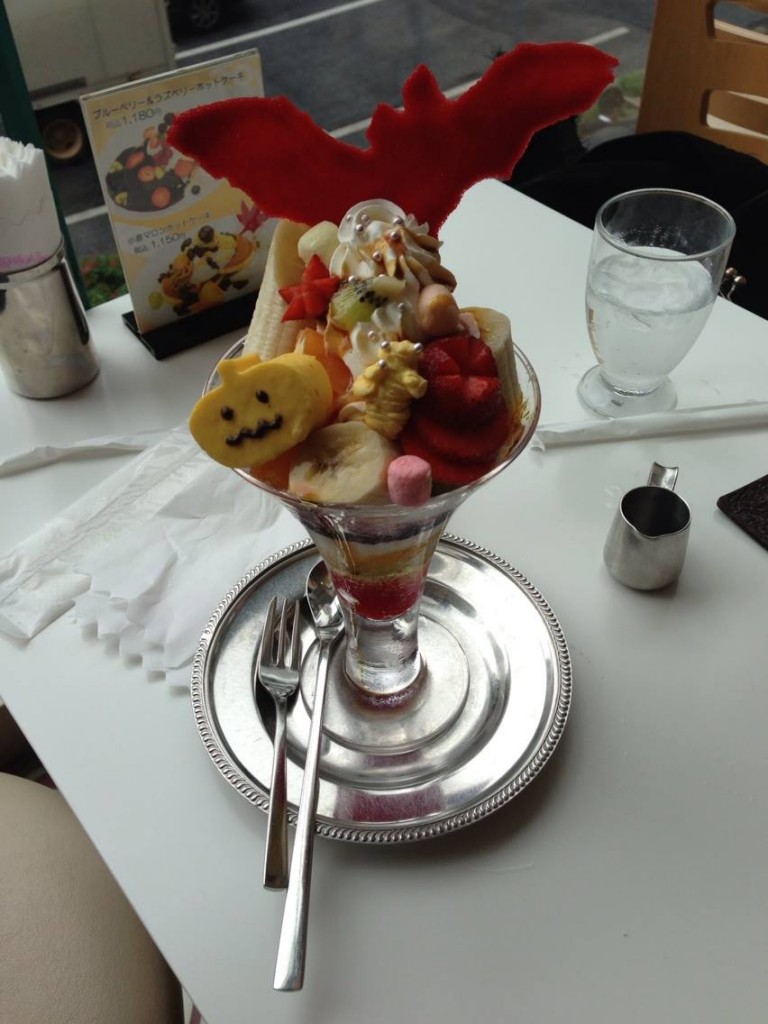 Above: Halloween themed parfaits with bats and pumpkins.
In addition to independent retailers, big chain stores also get into the Halloween spirit. On the dark and spooky side, in 2014, both McDonalds and – more famously – Burger King released black burgers in the lead up to Halloween. For something a little cuter, Baskin Robbins is a great example of a chain that makes super kawaii Halloween treats.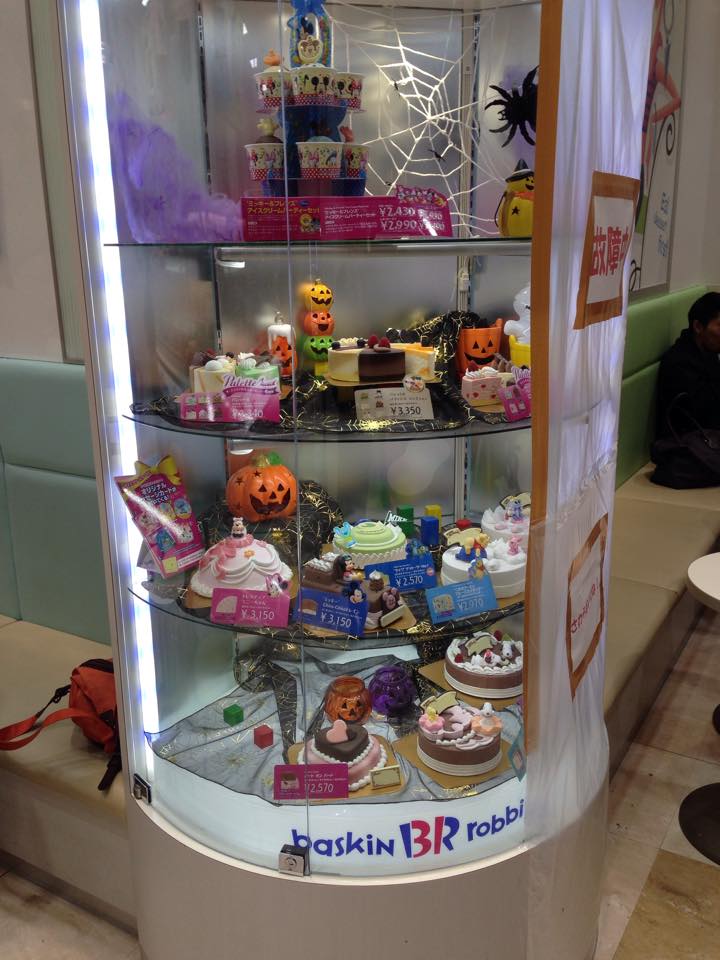 A display of Baskin Robbins cakes and Halloween treats.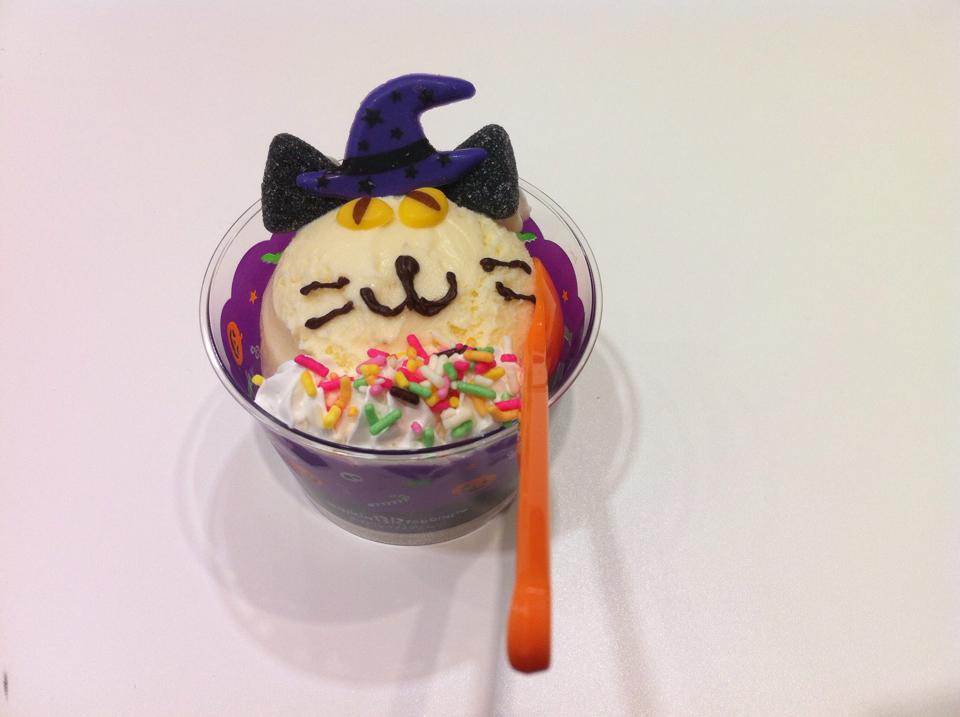 Baskin Robbins Halloween witch cat ice-cream. Even the cup that it came in was Halloween themed.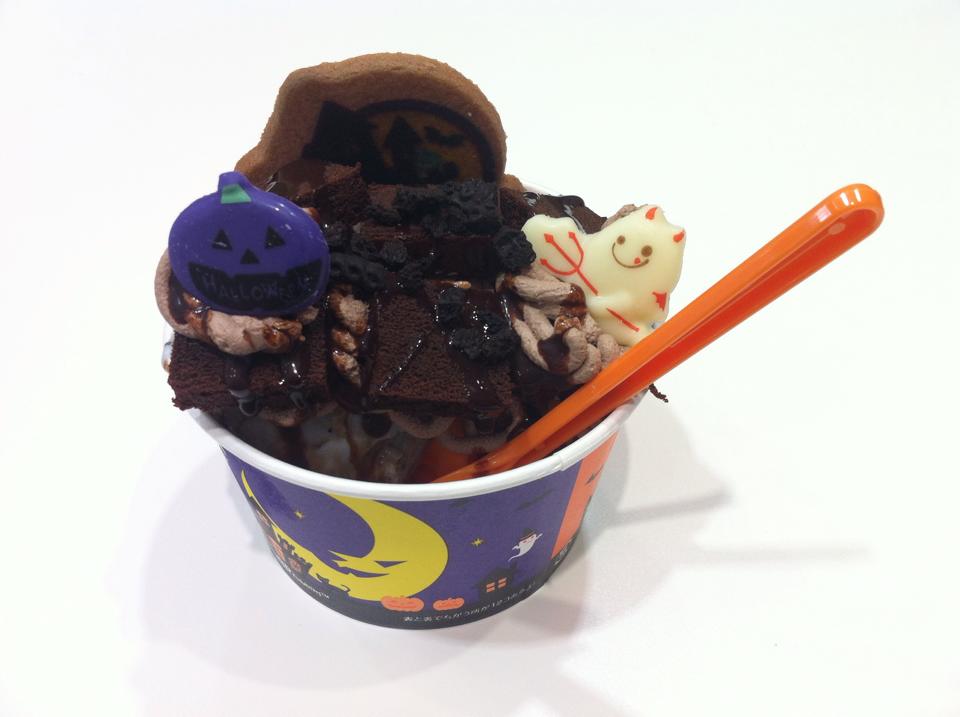 Another very cute Halloween ice-cream.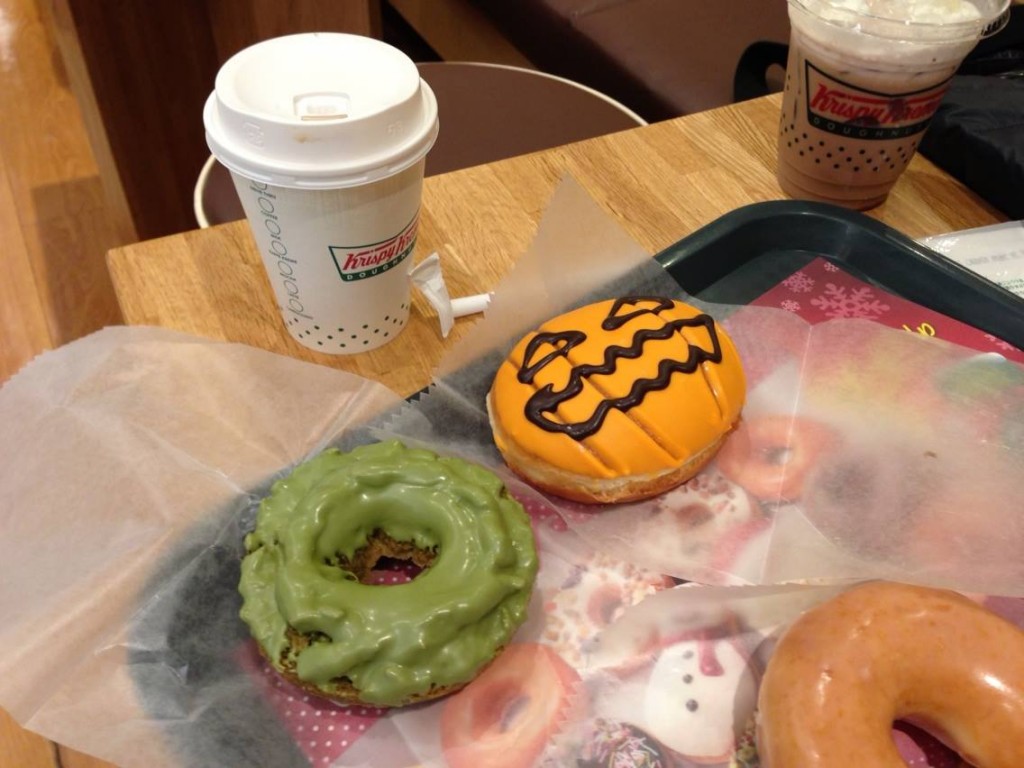 I was pretty excited about trying Krispy Kreme Halloween donuts.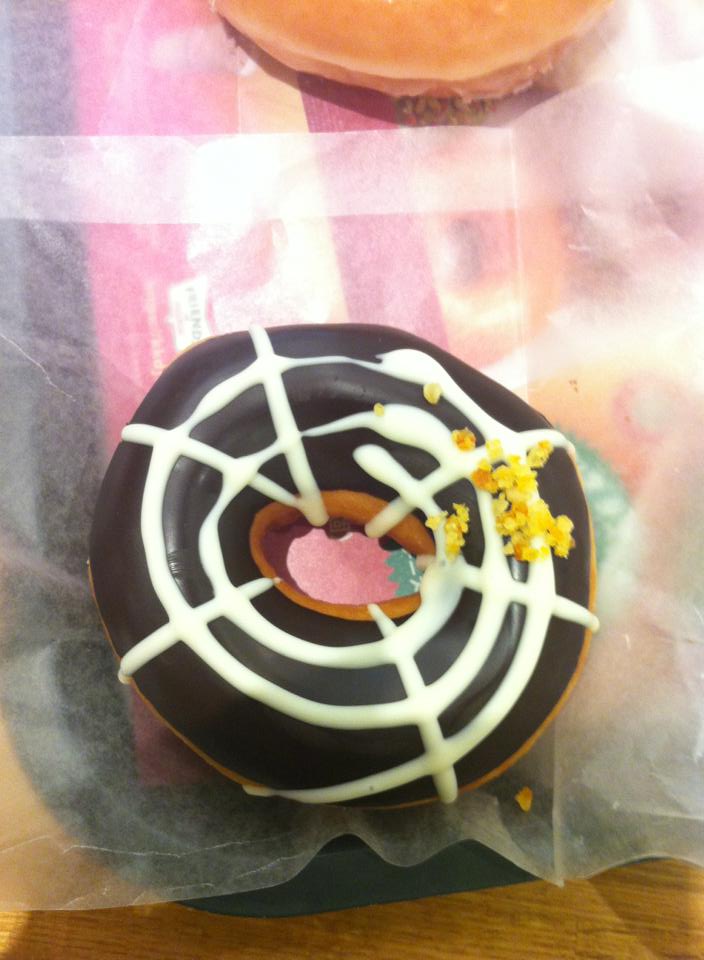 Unfortunately they looked much better than they tasted. I'm not sure whether it was just the ones that we tried, or whether Krispy Kreme in general tastes different in Japan, but they weren't very nice.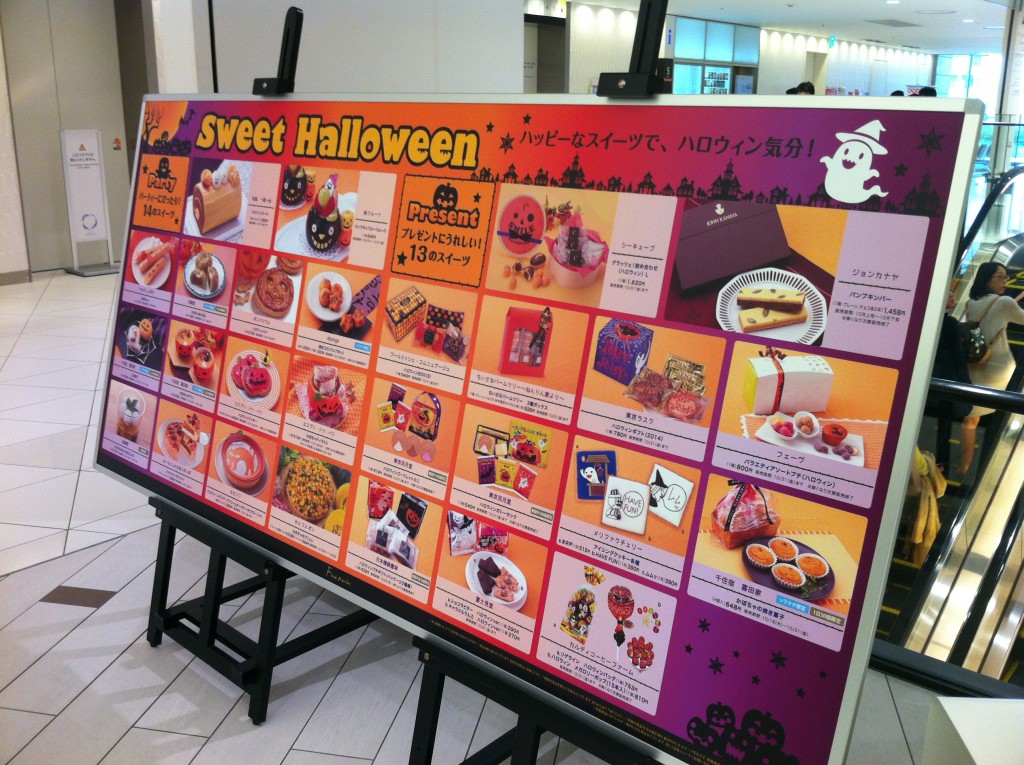 Some shopping centres create entire directories to help you find all of the Halloween treats available.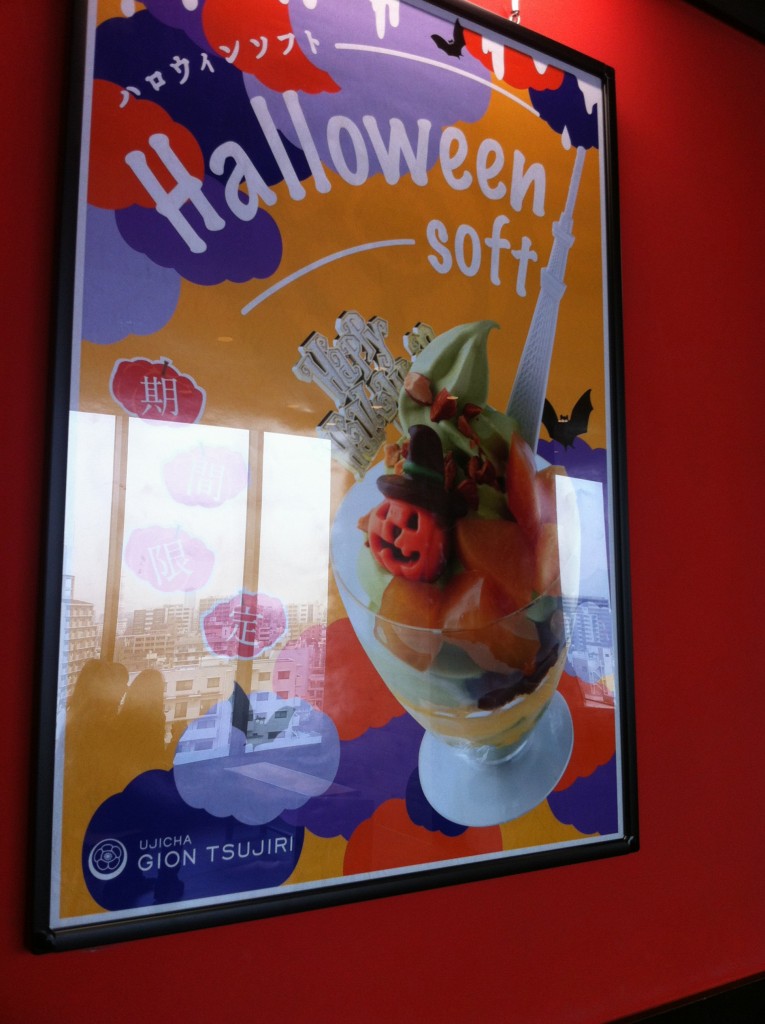 How about a Halloween themed matcha soft serve sundae, complete with a Tokyo SkyTree spoon?
Pop-up Halloween stores will sell everything you'll need to put together a costume at the last minute. Other shops get into the spirit with Halloween decorations – even if they're not selling anything Halloween-related. Plenty of completely normal products have Halloween packaging during October.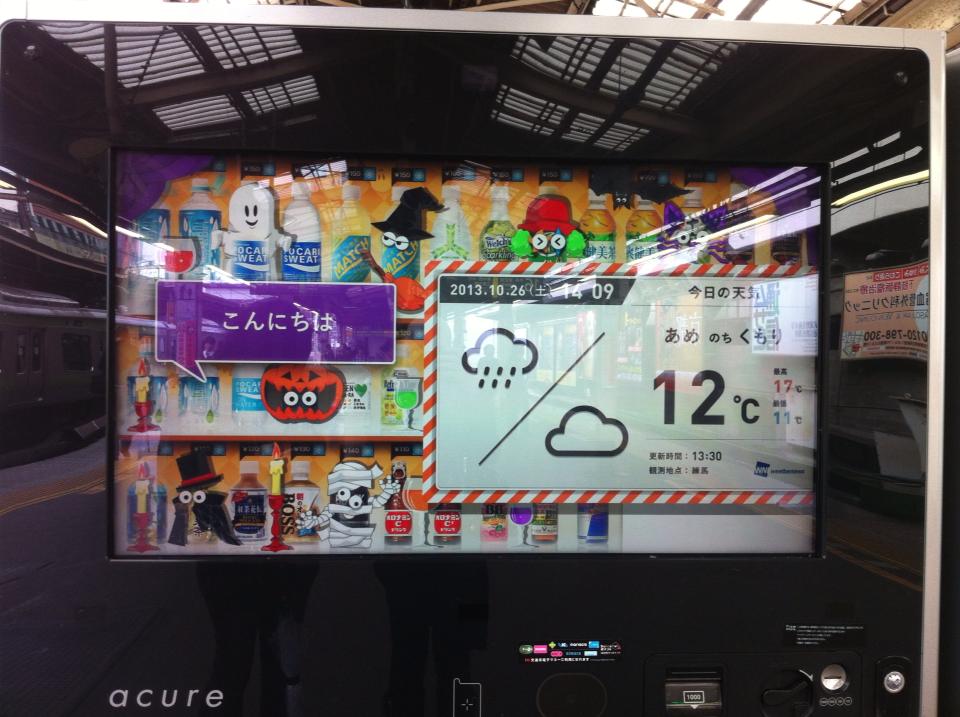 Above: A vending machine displaying Halloween images (along with a weather forecast) at Shinjuku Station.
I'm going off on a tangent here and I realise that I'm going to sound a little jaded – and it's true, sometimes I do feel a little jaded about this. Sometimes I feel like all the token Halloween decorations and product packaging goes too far. A bottle of water is still a bottle of water regardless of the packaging. When Halloween becomes an excuse to make a sale, I feel a little jaded because that's not what Halloween is meant to be about. But then, looking cute and sexy is also not what Halloween is traditionally about. I try to put all of these thoughts aside because if Halloween was only celebrated in a traditional way, not many people would get to enjoy it. Coming from Australia where Halloween is not a big thing, I really do appreciate that I only have to fly as far as Tokyo to get my Halloween fix these days.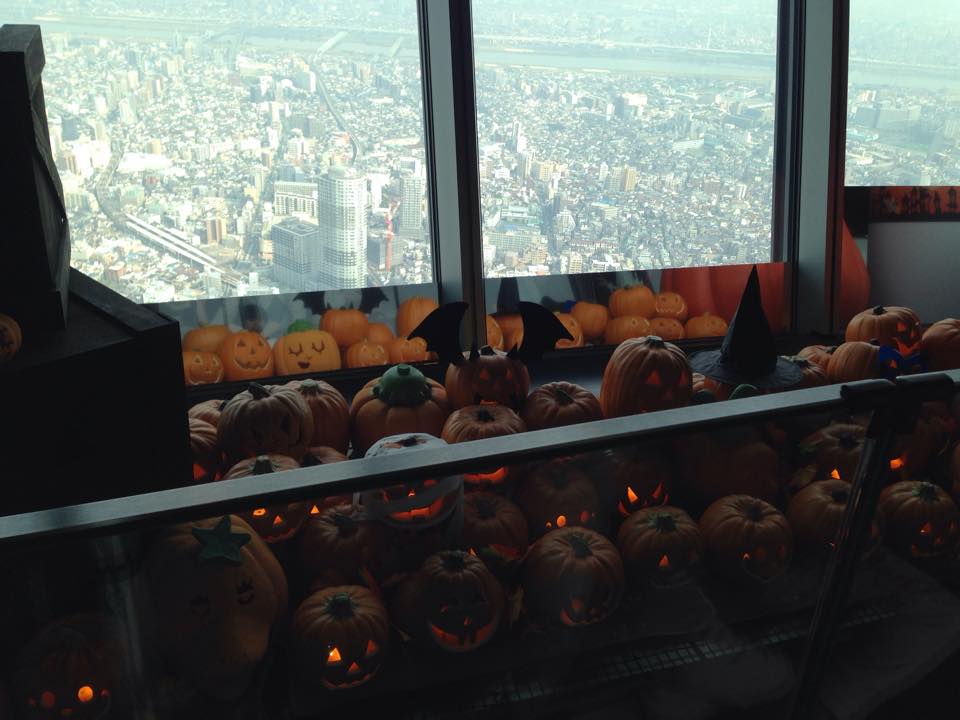 Even tourist attractions include token Halloween decorations. Above, Tokyo SkyTree had some Halloween displays, including one where you could pay to take a Halloween themed photo with a view over Tokyo. (This gets my vote for the Tokyo's tackiest attempt at cashing in on Halloween!)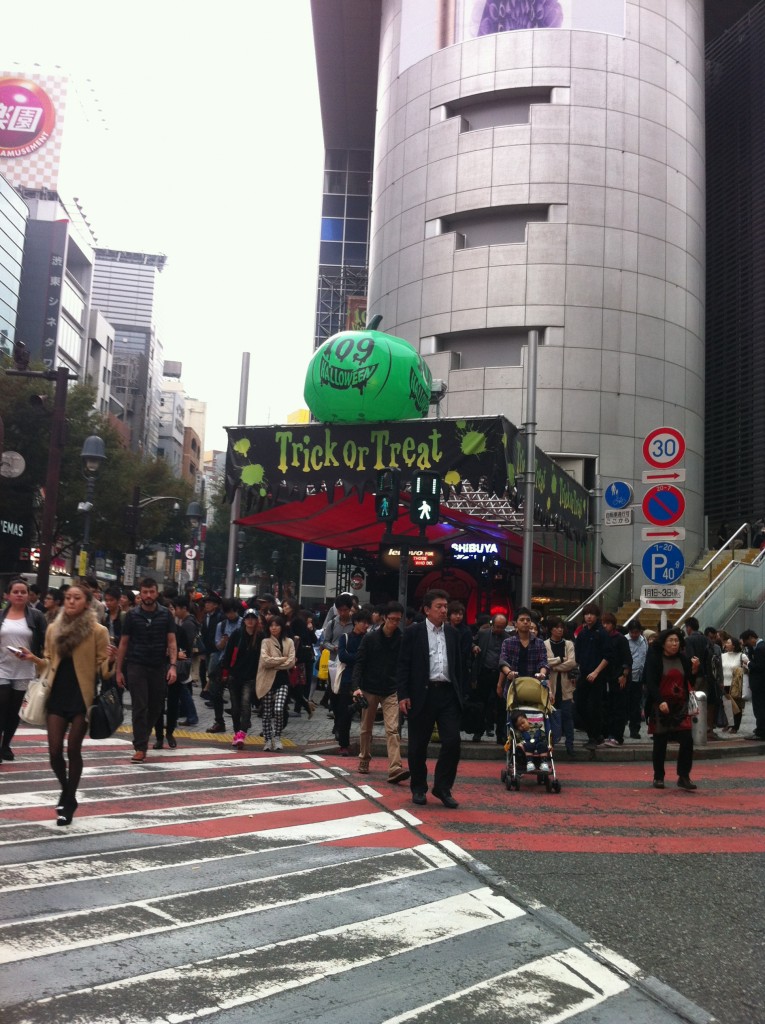 Popular shopping centre, Shibuya 109 is known for getting involved in the Halloween spirit. You can usually find a pop-up Halloween costume shop, a few Halloween treats in the cafes upstairs and Halloween catalogues with all their themed clothing and accessories.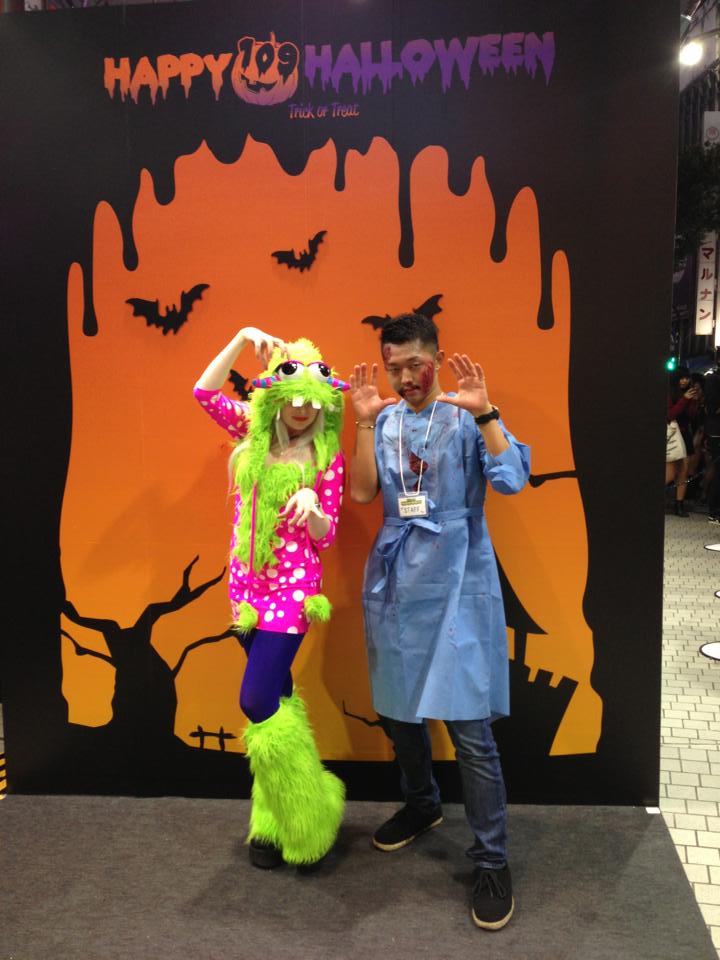 Shibuya 109 also holds Halloween events on the big night, with DJs, costume competitions, and opportunities to pose for Halloween photos (such as the above picture which I took with a good-natured staff member who was in costume for one of the events).
109 Men's – just down the road in Shibuya – usually has Halloween face-painting where make-up artists will do some great Halloween make-up such as gruesome wounds to enhance your costume.
Street parties involve thousands of people in costumes ranging from kawaii to scary, along with plenty of outfits which are hilarious and just plain weird. You can expect to see as many people in impressive home-made costumes as you'll see groups of girls in matching store-bought costumes. If you're lucky you might even catch a glimpse of Super Mario and his friends racing around the streets of Shibuya in go-carts.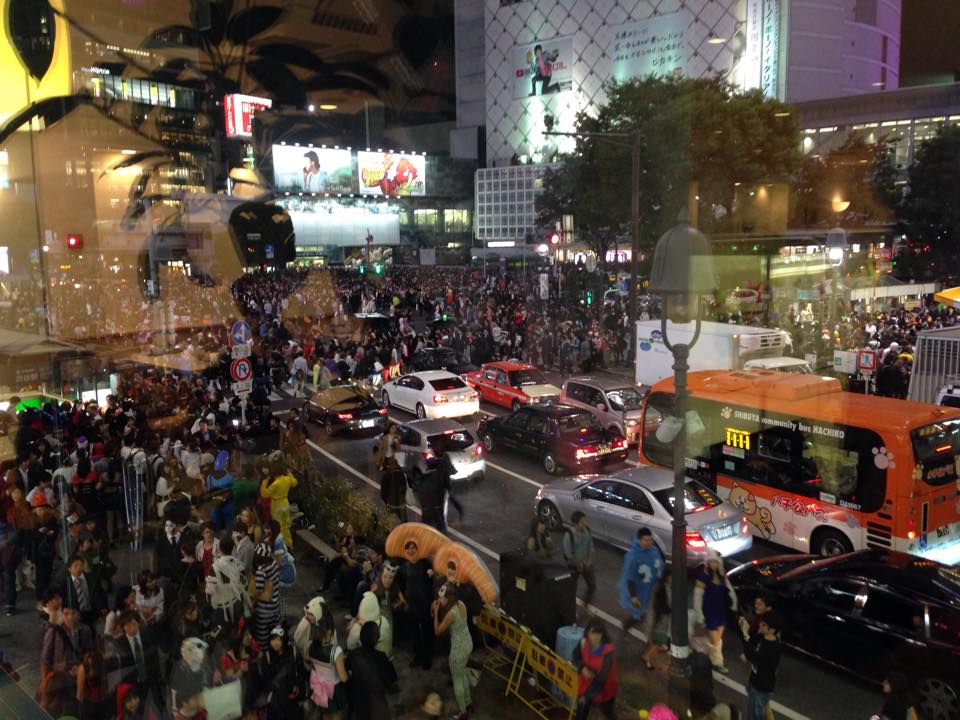 In Shibuya, people go out in costume to events every night of the week leading up to October 31s, with the night of Halloween being the busiest I have ever experienced in Shibuya or anywhere in Tokyo. Shibuya Crossing and the area surrounding it become so packed that you can barely move, and almost everyone is in costume. The vibe is very positive, with lots people posing for photos together. Last year we even witnessed a dance-off on the footpath. As a general rule, it's not considered acceptable to stop on Shibuya Crossing for a photo. However, on the night of Halloween, this is the one time you can probably get away with it – as long as you're still careful to avoid getting in the way of other people, and as long as you still get off the road before the cars come through.
Here are a couple of videos I took of Halloween in Shibuya in 2014:
This might give you an idea of just how busy Shibuya Crossing is on October 31st!
If you want to attend a Halloween themed event such as a dance party or night club, there are plenty of these in the last week of October, and fliers advertising these are easy to find around Tokyo, especially in suburbs like Shibuya. There are also Halloween parades in a number of suburbs such as Roppongi and Harajuku. For a spooky dinner, consider the Vampire Cafe in Ginza (it's a permanent restaurant, so you can go there any time of the year).
Aside from getting out and about in Shibuya, Tokyo Disney Resort is my favourite place to go in the lead up to Halloween. In the first and last week of October, adults are allowed to dress in costumes (as long as they're Disney related, not scary, skimpy, dangerous, etc). To read more about Halloween at Tokyo Disneyland and DisneySea, have a look at the following posts:
Halloween at Tokyo Disney Resort Part 1: the food
Halloween at Tokyo Disney Resort Part 2: Disney's decorations
Halloween at Tokyo Disney Resort Part 3: costumes and cosplay at Disneyland
I'll be back in Tokyo for Halloween again this year, so stay tuned for more as Shibuya gets spooky the coming months.